Build your own Travel Brand!
Ready to go-LIVE travel solutions that helps your travel agency to sell a range of travel services pretty instantly. adivaha® travel solutions make sure you have no boundation over your imagination, you can do everything online, without the need for any technical knowledge or design skills. Easy Backoffice, extensive reporting with integrated Funds Management System. Upload funds easily and instantly through Netbanking, Debit Card, Credit Card. The best part is, we do offer customizations in case you believe it will boost your business!
How Businesses Use API-Booking Technology to Increase Efficiency
If you are an OTA looking to add a hotel booking functionality to your website with an inventory of top-hotels, then API Booking.com is the perfect solution for you.
We provide services for property owners, OTAs, hotel channel managers, and affiliates like media outlets and travel bloggers. Booking.com currently offers more than 29,00,000 properties from around the world. It has over 12,500 affiliates and is available in over 41 languages.
Booking.com is a product of the Priceline Group, which is one of the most renowned travel service providers. It has been around for a long time and it's one of the biggest players in the api booking hotel business. If you are a travel agency, then API Booking.com is the best way of providing hotel booking services to the users. It will allow you to access the inventories of multiple service providers. However, the Priceline group doesn't offer APIs or offer APIs with limited functionalities till a travel agency becomes their partner. That's where adivaha® comes in, we make the Booking.com API integration hassle-free. adivaha® is a travel technology company and offers the most sophisticated products. From building the most high-tech travel portals to the futuristic APIs, we provide everything. We have a dedicated team of experts to focus on the API integration services. Thus, API integration is our forte.Before talking more about our Booking.com integration services, let's talk about what makes Booking.com so special.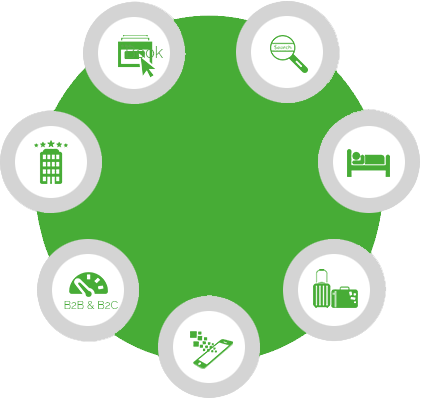 API-Booking Technology Can Increase Efficiency
Booking.com is one of the most renowned accommodation booking websites and provides services all around the world. It is so popular that whenever someone wants to book any type of accommodation Booking.com is their first choice. But how does it actually work?
It works just like a api for travel website agency, acting as an intermediary between the property vendors and the customers. It connects people looking to sell their rooms with the people looking for housing options. And whenever users book through Booking.com, it takes a commission on that.
Housing vendors provide the nightly prices, from those prices Booking.com will deduct its brokerage, which is around 10% to 25%, according to the property type and location.
There are various benefits of connecting with api flight booking. However, the biggest benefit is Booking.com connects your business to the world's largest online travel booking website. It is the biggest accommodation providing platform available in over 41 languages and offers around 1.4 million properties covering 121,000 destinations in 228 countries around the globe. Every day it processes more than 1.5 million room bookings. Hence, if you hotel or other such property, then registering your property with the Booking.com will make it more visible, which in turn will increase air ticket booking api and maximize revenue. Listing your property on Booking.com will not only help you get the best details for your properties, but it also provides you full control over them. Once you are connected you will be able to manage your rates, availability, and reservations from your own computer. Plus, there are some automated tools to aid you in your daily work because manual handing every reservation is a difficult, and stressful task. People end up spending money on handling the data, which takes a toll on the profits.
Booking.com is a customer favorite because it guarantees the best price for all types of housing options from exotic five-star api for hotel booking and business apartments to small family-run bed & breakfasts. Plus, it provides the widest accommodations option in a number of incredible places around the world. The sole aim of creating Booking.com was to facilitate people in their journey and reduce travel friction.
As previously discussed, Booking.com is a product of the Priceline Group, and it is the world's leading online accommodation api for flight booking platform. It is an Amsterdam based site and has 176 offices in around 70 countries across the world. Hence, the fact that it houses more than 1,000,000 booking reservations every day isn't that surprising.
Booking.com uses a channel manager, which is a technology that connects a property management system with Booking.com and other ota api. It sets the occupancy calendars of different channels in line. Moreover, the channel manager is responsible for providing the facility like updating rates, availability, and reservations across many online travel agencies at once. This tool makes the updating of data effortless and efficient. Hence, you can accept more bookings, and you can connect with more OTAs.
There are mainly two cases in which API Booking.com is used.
The first being accommodation reservation by api for travel agency and tour operators. It is very simple, travel providers just need to enroll themselves in the affiliate program, and then they will be able to integrate and use the Bookin.com API. Further, they will also be able to use other affiliates' products for selling rooms for Booking.com inventories for a commission or redirect users to the website.
The second use case is gds api Reservation for channel Manager. Booking.com provides a Connectivity API package. It allows channel managers and other connectivity providers to connect with Booking.com as one of the sales channels. At adivaha® we offer both kinds of integrations.
adivaha® provides the most profound XML API's Booking system integration services. At Adivaha, we focus on understanding your needs first, and according to your necessities, we shape our integration services. In other words, we offer 100% customized expedia api integration. And once the is done, you will be able to offer your users access to a large number of hotels both locally and globally. Moreover, your travel portal will provide a hassle-free booking service to the users. They will be able to search for products with a powerful search function and narrow down their searches with the help of various filters like destinations, hotel names, etc. The results of the search will be based on airports, landmarks, hotels, and locations, and the sorting of the data will be done according to api hotel booking price, star ratings, and recommendations.
Integrating the Booking API is even more beneficial for api for travel booking agents as they can offer a personalized and wider choice to their customers. Customers will be able to compare rates between consolidators, which they like. So, integrating booking.com will also enhance the customer experience.
Our Comprehensive List of Services
adivaha® is a one-stop-shop for all your travel website needs. We offer a multitude of services that empower you to become a market leader. Contact us for more info.
Have Questions?
The Internet is a huge resource, but
if your question requires particular expertise.
Keep Refreshing your customers - Who doesn't want his site to stand out from crowd? adivaha® gives you multiple options for home pages, headers, colors etc. Which can easily be managed from admin via shortcodes and settings. The theme supports almost all the big players in this market ie, WEGO, Travelpayouts, Agoda, Booking, Expedia etc.
Frequently Asked Questions
Below are some of the questions asked by visitors. Do visit our adivaha® Digest for more such questions. Don't hesitate to ask us if you have any questions