Build your own Travel Brand!
Ready to go-LIVE travel solutions that helps your travel agency to sell a range of travel services pretty instantly. adivaha® travel solutions make sure you have no boundation over your imagination, you can do everything online, without the need for any technical knowledge or design skills. Easy Backoffice, extensive reporting with integrated Funds Management System. Upload funds easily and instantly through Netbanking, Debit Card, Credit Card. The best part is, we do offer customizations in case you believe it will boost your business!
How To Get Started Developing an API For OTA
The world is full of people that love traveling. Some like to find new destinations while some want to visit renowned places. Individuals that like traveling are often searching for OTAs (Online travel agencies), which can help plan their entire vacations.
They do not like running from door to door to buy different aspects of their travel. Hence, it has become mandatory for OTAs to serve them each and everything they might need during their journey. There are various API For OTA available in the market with which all services including booking of tickets, api hotel booking, car rental can be easily provided to the customer. adivaha® offers the best APIs that can be easily integrated with your existing online platform. So you will not have to worry about modifying the programming part of your travel website.
adivaha® is a renowned travel technology company with a background in developing the finest travel portals integrated with all the APIs. So, your online website will serve the purpose of a full-fledged travel agency. Facilities like hotel api for travel booking, air ticket reservation, car rentals are provided on a single platform by linking the search engines of every service provider.
Thus, people can find all the facilities at one point. It saves the browsing time that is being spent on many sites searching for each service individually. All the services can be converged in one place with the help of APIs. And adivaha® is known to provide the best airline booking APIs, hotel booking api, APIs for mapping property with content, Vehicles for rent APIs.
There are various other APIs that adivaha® provides. You can find all about the online travel agency api For OTA that we offer on our website with detailed documentation about them.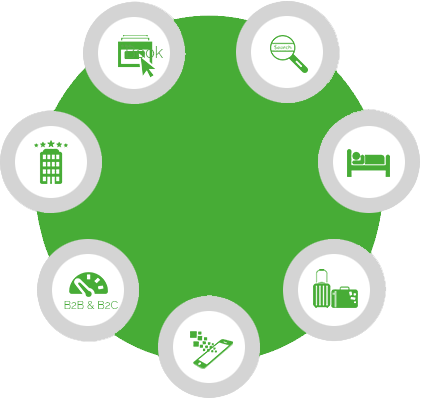 Choosing the Best API For OTA
What are the benefits of providing multiple services through your platform?
The most important benefit of selling multiple services is enhanced customer experience. The more all-round your travel-portal is, the more popular it will become among the public. For example- a hotel booking api free business can let the customers rent a car straight from its website. It will enable the hotel business to put some commission in its pocket. And customers' life becomes easy by eliminating the need to search the internet or download an app to book a cab.
The second benefit of fulfilling all your customer needs from your portal is the increased conversions, hence increased revenue. The more services your portal has, the more time users will end up spending your website. The more time they spend on your web-portal, the more likely they are to shop for their travel through your portal.
adivaha® can help you provide all the important services that your customers will need through your websites. Our API will enable you to directly access the inventories of various vendors. Two types of APIs can be used. One is custom-built APIs that are specially built for a particular client from scratch. The other one is the renowned pre-build APIs that can be directly integrated into your systems like API GDS, API Expedia, api for flight booking.com, etc. There are various benefits of using both of these APIs. The custom-built APIs will reduce commissions that you have to pay for accessing the inventories. APIs like Amadeus GDS API will enable you to offer inventories of multiple airlines without any hassle. The custom-built APIs will have a personalized touch and will be built according to your requirements. Moreover, you can do tweaks to the source code because you will have access to it. While with the pre-built APIs you will not be able to make such tweaks. adivaha® has expertise in both building custom APIs from scratch and integrating the renowned APIs.
Some of the APIs for OTA that adivaha® provide:
Flight reservation APIs, including some of the renowned GDS APIs.
Hotel booking APIs.
Car rental APIs.
Cruise Booking APIs.
Transfer APIs.
Travel insurance APIs.
Let's talk about some of these APIs in detail.
Global Distribution Systems (GDS) API
Global Distribution System API is helpful in reservations and flight booking api integration. It accumulates data from a larger number of airline inventory vendors and gives access to this data to travelers so they can book seats for airplanes, reserve hotel rooms, car rental services, ferries, and cruise lines, and railway reservations.
The most prominent GDS APIs integration that adivaha® offers are:
Amadeus: Amadeus API is a set of two different APIs. The first is Amadeus Web services include services to reserve hotel booking api free rooms, rent cars, book airplane tickets. The second is Travel Innovation Sandbox which is specially delineated for startups' experimental part and prototyping and individuals and students.
Sabre: Sabre offers the same functionality like Amadeus but the API For OTA division is more detailed providing information under more categories like trip and session, profiles, utilities, and management.
Travelport: Under the Travelport, there are three different gds api integration api integration systems: Worldspan, Apollo, and Galileo. adivaha® offers all of them.
All of these APIs are so good that selecting one of them has always been a mind-bending task. Customers often get confused about choosing one of them because they all look the same. However, there are some technical differences and they both cover different markets. It all depends on the area that you want to target for Europe Amadeus will be the right choice, while for North America Sabre will be the most appropriate option.
Even though GDS offers general data about hotels and cars, but if you need a specific hotel booking api or car rental solutions, you have to use dedicated products.
Hotel Reservation APIs
Priceline Group and Expedia are the two main players ruling the hotel API for the OTA market. They both own several well-known service vendors. The Priceline Group has Momondo, Booking.com, Kayak, and expedia api integration owns Trivago, Expedia.com, Hotel.com, etc. If you are looking to add a hotel booking facility, its worth working with these two. However, to fully leverage these APIs, you have to become a partner. That is where adivaha® comes in. We focus on making the whole process of integrating these APIs smooth. So, you do not have to worry about paperwork and other things.
Car Rental APIs
There are chances that the car rental functionality will come with GDS APIs because multiple players are bundling their services with car rentals. The major players in this field are:
Priceline owned Rentalcars.com is currently the largest car rental service provider on earth. So, if you are looking to provide a car rental facility to your customers, it is worth considering Rentalcars. It works in 163 countries around the world in more than 48,000 locations.
CarTrawler is another major car rental provider. It is a B2B service connecting OTAs, international airlines, and api for travel portal agents with local car rental vendors. Its network is spread in about 190 countries.
Our Comprehensive List of Services
adivaha® is a one-stop-shop for all your travel website needs. We offer a multitude of services that empower you to become a market leader. Contact us for more info.
Have Questions?
The Internet is a huge resource, but
if your question requires particular expertise.
Keep Refreshing your customers - Who doesn't want his site to stand out from crowd? adivaha® gives you multiple options for home pages, headers, colors etc. Which can easily be managed from admin via shortcodes and settings. The theme supports almost all the big players in this market ie, WEGO, Travelpayouts, Agoda, Booking, Expedia etc.
Frequently Asked Questions
Below are some of the questions asked by visitors. Do visit our adivaha® Digest for more such questions. Don't hesitate to ask us if you have any questions
I am setting up this plugin for my client's website, I tried registering and received the account activation email, but …

9

views

0

answers

0

votes