Build your own Travel Brand!
Ready to go-LIVE travel solutions that helps your travel agency to sell a range of travel services pretty instantly. adivaha® travel solutions make sure you have no boundation over your imagination, you can do everything online, without the need for any technical knowledge or design skills. Easy Backoffice, extensive reporting with integrated Funds Management System. Upload funds easily and instantly through Netbanking, Debit Card, Credit Card. The best part is, we do offer customizations in case you believe it will boost your business!
How Can an API Help Online Travel and Tourism Service Providers?
Like most industries today, the travel and tourism industry is also affected by the boom of the internet. The internet was designed to help individuals, to make information available to the public in an efficient manner.
Now critical information about everything is just a click away. So, among other things, they can search for their favorite destinations and find the best ways of reaching there. That's why travel and tourism service providers have to make their services available over the internet. Now, every travel agency has travel-portal offering services like airline ticket booking, bus reservations, api hotel booking services, etc. Thus, the customers just have to open a travel agency's portal and they can book their entire journey sitting comfortably at their couches. Therefore, a website has become pivotal for the success of a travel business.
However, a website just full of text and pictures is not enough, it has to provide actual services to the users. These services range from offering an extensive range of travel-related products like destinations, different accommodation, car rental, and many other similar products to secure payment gateways. These features can be easily integrated into the travel websites with the help of API for online travel and tourism service providers.
There is a lengthy list of gds api available in the market, which can help tour operators' business grow tenfold. And, we at adivaha® offers the best in class travel APIs that can help travel businesses reach news peaks in the travel industry. We provide everything from GDS WordPress plugins to car APIs to Cruise APIs and many more. We offer the most economic and the finest software that reduces the overall expenditure of a travel business. And, our Travel XML suite offers every single service, removing the need to integrate multiple suppliers. But what do these so-called APIs mean? Let's understand the meaning first.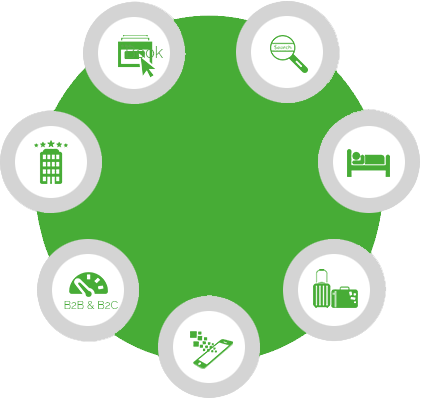 API For Online Travel And Tourism Service Providers
What does APIs mean?
APIs are application programming interfaces that facilitate connecting data streams and functionalities between different software products. In simple words, APIs are pre-build small software that can be easily integrated into any platform without dealing with source code. For example- Earlier, if a travel business wants to increase the functionality of the travel business, developers have to write the code from the scratch and then add it to the api for travel website so companies end up spending more. And sometimes, the outcomes were not as per their expectation. Now, travel solution providers offer pre-build software called APIs that can be directly unified with the existing web-portal of the travel agencies. That results in less investment and better results. There are various APIs that tour operators can use and we at adivaha® offers all major API for online travel and tourism service providers, you name a functionality there are high chances that we have API dedicated for that functionality. Along with airline booking APIs and GDS integration, we also provide some advanced functionalities like bed & breakfast APIs, travel insurance APIs, etc. So in a world full of plugins and plugin providers which APIs and which provider to choose has become a perplexing question for travel agencies? Thus, to make life easier below is a detailed analysis of some APIs necessary for travel business and why to choose Adivaha.
Which API is important for online travel and tourism service providers, and why adivaha®?
As previously discussed, there is a long list of APIs that travel operators can choose. However, these software costs money, and the amount of money spent has a direct impact on the overall profits of a api for travel agency. So, it is necessary to choose the best but not to overspend. Since there is no thumb rule that most expensive products are the best. Expected results can be achieved with not so expensive products. So, travel agencies need to consider some key factors in mind when investing in software. Below are some important plugins for travel operators.
Some API for online travel and tourism service providers
Flight API
Flights are the most important means of global api for travel booking. So, a travel agency must provide an airline ticket booking facility to its users. Moreover, offering a lengthy list of options is necessary because customers like variety. But maintaining inventories of several airlines is not an easy thing to do and often requires expertise. So, an API that not only provides a flight booking facility but also helps to manage the day-to-day work is necessary.
Adivaha's flight booking api integration is one of the best in the market. It can be easily integrated with any travel-portal and provides all the important functionalities to the end-users. Moreover, we also offer the best GDS integration, which provides direct access to inventories of every major airline inventory, so travel agencies won't have to manage the catalogs. Plus, the flight API supports the day-to-day work of a travel agency by self-managing invoices, the price per seats, available flights, etc.
Hotel API
The hotels form an important part of a trip. Thus, providing accommodation options to customers is critical for a travel agency to maximize profits. Moreover, it necessary to provide different housing options. Since every customer is different from one another, some want affordable hotels while some want luxurious hotel api provider. So it is necessary to offer a wide range of accommodation options to users. adivaha® is one of the leading hotel API providers. Along with providing traditional accommodation options our plugins also provide direct access to inventories of Villa vendors, Budget hotels, Cottages, Lodges, hostels, and service apartments.
Car Rental API
Car rental services are important because they help people to reach the hotel by hotel api provider in which they have planned their stay. Moreover, providing car rental services also helps people to visit the locations easily which they have planned while selecting the package. All-in-all, the car rental service paves a smooth way of travel starting from arrival to the end of the journey.
Adivaha's Car Rental expedia booking api allows travel agencies to offer catalogs of various car vendors to their customers. Customers will be able to reserve cars according to their wishes at an affordable price.
Bus API
Bus ticket booking system api is an essential part of the journey. People often prefer traveling with buses and they look for the most comfortable bus services at a reasonable rate. They always want their travel to be hassle-free so that on reaching the destination place their minds are relaxed, and the mood is filled with excitement which may get disturbed due to an uncomfortable means of travel.
Our Bus APIs are the fastest and the easiest way to connect to bus operators. Your customers can reserve book tickets from anywhere around the world. Moreover, they can select the starting point as per themselves and they will get notifications about the bus schedule on their phones.
Travel Insurance API
Online travel agent Insurance covers the costs and losses associated with traveling both domestically and abroad. Unexpected things like an injury or medical emergency or theft or loss of luggage and valuables can happen to even the most cautious travelers. So, travel insurance is the need of the hour.
Adivaha's Travel Insurance API gets every issue covered that travelers can face while traveling. We offer 100% customizable travel insurance API integration. Our insurance plugin comes with inventories of various insurance providers, so top online travel agencies can offer end customers various coverage choices for their travel.
Along with the above-mentioned APIs, we also offer various other APIs like tour ota api, cruise API, bed & breakfast API, boutique hotels API, and many more. All our software are built with automation at their core, so along with providing functionalities they also help in reducing the overall workload of travel agencies. And we develop our software with the latest technology to ensure maximum profits.
To know more about the best API service providers contact us at: info@adivaha.com
Our Comprehensive List of Services
adivaha® is a one-stop-shop for all your travel website needs. We offer a multitude of services that empower you to become a market leader. Contact us for more info.
Have Questions?
The Internet is a huge resource, but
if your question requires particular expertise.
Keep Refreshing your customers - Who doesn't want his site to stand out from crowd? adivaha® gives you multiple options for home pages, headers, colors etc. Which can easily be managed from admin via shortcodes and settings. The theme supports almost all the big players in this market ie, WEGO, Travelpayouts, Agoda, Booking, Expedia etc.
Frequently Asked Questions
Below are some of the questions asked by visitors. Do visit our adivaha® Digest for more such questions. Don't hesitate to ask us if you have any questions
I am setting up this plugin for my client's website, I tried registering and received the account activation email, but …

21

views

1

answers

0

votes