Build your own Travel Brand!
Ready to go-LIVE travel solutions that helps your travel agency to sell a range of travel services pretty instantly. adivaha® travel solutions make sure you have no boundation over your imagination, you can do everything online, without the need for any technical knowledge or design skills. Easy Backoffice, extensive reporting with integrated Funds Management System. Upload funds easily and instantly through Netbanking, Debit Card, Credit Card. The best part is, we do offer customizations in case you believe it will boost your business!
API-Connected Travel Agency - What it Means for You
adivaha® is a renowned Travel API providing api integration company offering API XML integration for travel agencies and agents all around the world.
Our team is a team of experienced professionals with tremendous experience in each required field leaves no stones unturned to get the client's travel business on top wordpress theme marketplaces. We consider that third party API creates a bridge with many services providing companies and ease down the processes like data collection, creation of the data, and transmission. All-in-all, API for a travel agency is the best way for it to increase revenue, enhance services, and attract more customers. That's why travel businesses around the globe are using APIs that can help to run their business smoothly because API Travel Agency not only provide functionality like ticket booking but they also automate much of the business process like inventory management, price management, etc.
Adivaha's XML APIs can be integrated with the b2b portal wordpress theme of travel agencies and starts providing services from the word go. The assistance is provided in real-time so that they can handle the data and information as per their wishes and requirement. We provide many API travel agencies, including API GDS, API Expedia, API Booking.com, etc. We offer an efficient and modern Integration method of API integration facility to manage the online travel agencies or businesses. So, let's talk about some of our API is detail.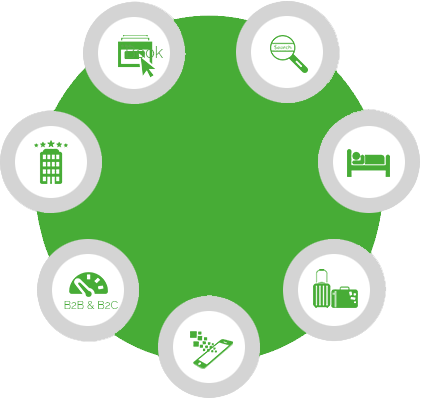 Benefits of API-Connected Travel Agencies
GDS API
What is GDS?
Global Distribution System is one of the easiest and safest ways for the travel business to establish their names in the global ticket booking wordpress plugin market. It helps to form a good network of contacts related to the online travel industry across the globe. GDS provides real-time access to inventories of services vendors including, airlines, hotels, car rentals, etc. So, a travel agency with GDS integrated into its website can provide a large number of choices to its customer and increase the revenue.
Why use Adivaha's API GDS?
Earlier GDS used to form an integral part of the air ticket booking system, but now the GDS is not limited to airlines. It is being used in hotel businesses, car rentals, and other such industries. We provide GDS APIs that can offer access to inventories, multiple service multi vendor wordpress theme, as well as single service vendors like API GDS.
For Api travel agency that only want to add a single functionality to their web portals like only hotel booking service, dedicated APIs are the best woocommerce themes options. So, let's talk about some of the best-dedicated hotel APIs and Car rental APIs.
Hotel APIs
Hotel APIs like GDS systems provide access to inventories of Hotel vendors. Booking.com and Expedia are two big names in the hotel market. They have the biggest inventories and the largest customer base. However, both of these APIs are offered to the partners, so api travel form agencies must become a partner of booking.com and Expedia to be able to offer their inventories to the end customers. Becoming a partner is not a hassle-free business, but, at Adivaha, we not only provide both of them, but we make the whole process smooth. We take care of the partner thing so you can focus on your partner. Overall, API integration is our forte, and we specialize in integrating API booking.com and API Expedia.
Car Rental APIs
Vehicles for rent forms an important part every journey. Hence, along with other services like air ticket booking and hotel booking, it is necessary to provide car rental flight information service. Rentalcars.com and CarTrawler are the two biggest names in the car rental industry.
Rentalcars.com works in 163 countries in more than 48,000 locations around the world. It is evident to imagine the customer base of Rentalcars.com, so integrating it with your travel portals can increase your revenue tenfold. CarTrawler is not as popular as Rentalcar.com, but it is quite big. It is spread across 190 countries.
Besides Car Rental APIs, GDS APIs, and Hotel booking api integration, we also offer several other APIs like travel insurance API, Cruise booking API, etc.
Benefits of using API for Travel agency
Single API for both the international and domestic customers.
Integration, implementation, and use is quite simple.
Almost all important service providers are covered.
Most of the API offers the best offer, best deals in the market.
Integrating API increases the worth of pre-existing business as it adds a good value to it.
APIs are a onetime investment that requires a minimal amount in investment to make a good start.
The ticket booking system provided is smooth, error-free, and fast api.
A single API can perform, search, book, and confirm functions.
Reliable and trustworthy services.
Enhancement of profits.
Simple setup and supple integration.
Top-notch support system.
Perfect inventory abiding all the terms and conditions properly.
Leads are converted to reservations and profits.
Maintain strong tracks and reports.
Helps to establish your name as a brand.
Features of Travel Agency API
Easiest way of adding air ticket booking, hotel booking, car rental functionality to a best travel booking plugin wordpress portal.
Holds a good margin for retailers and distributors.
Transactions are secured safe, and instant.
Quick benefits in the margin.
Unlimited API features.
One can make n number of retailers travel distributors and resellers through your panel of API.
Easy to use and user-friendly interface for filtrations and reports.
adivaha® as the preferred company for Travel API
We provide integration support.
One of the trusted and profound companies.
Unique ideas of marketing to maximize return on interests.
Customer support system available for 24*7.
Investment in adivaha® which is one time yields lifetime profits and income.
Instant feedback option to fulfill the functional needs and requirements of the clients.
Fast service delivery and minimal low cost flights.
The applications facilitated to the client are efficient and stable.
The integration process is designed specifically on the industry based criteria.
Provides complete reliable and scalable results.
Good maintenance at minimum efforts.
To know more about our services you can contact us at info@adivaha.com