Build your own Travel Brand!
Ready to go-LIVE travel solutions that helps your travel agency to sell a range of travel services pretty instantly. adivaha® travel solutions make sure you have no boundation over your imagination, you can do everything online, without the need for any technical knowledge or design skills. Easy Backoffice, extensive reporting with integrated Funds Management System. Upload funds easily and instantly through Netbanking, Debit Card, Credit Card. The best part is, we do offer customizations in case you believe it will boost your business!
How to Create an Activity Booking System for WordPress
Get your business up and running quickly by following this tutorial on how to create an activity online booking system for WordPress. Make sure your customers can book activities with ease!
Setting up an activity booking system for WordPress can help streamline the process of customer reservations and payments, helping you ensure a smooth user experience. In this tutorial, we'll show you how to create an activity booking system for your wordpress website templates in just a few easy steps.
Install a WordPress Plug-in for Online Bookings.
Once you've decided which activities you'd like to offer to your customers, the next step is to install a WordPress plugin that will enable online bookings. There are several options to choose from, each tailored to a different use case — it's important you choose one that meets your needs. Some popular wordpress booking plugin include The Events Calendar and WPBookingSystem. Once installed, you can customize the settings of your plugin directly from your WordPress dashboard. Once the plugin is activated, you will likely need to configure its settings to set up the booking system. This will vary depending on the plugin you choose, but generally, you'll need to set up things like booking time slots, payment options, and email notifications. You should now have a best booking plugin wordpress for online installed and ready to go. Just make sure to test it thoroughly before launching it on your website.
Create User Profiles in the Plugin.
After the plugin is installed and activated, you will need to create user profiles for your customers. This can help streamline the booking process and make it easier for customers to view their bookings as well as manage their payment information. The specific steps to create user profiles will vary based on the plugin that you are using, so be sure to consult the documentation of your chosen plugin during this stage. User profiles allow users to personalize their experience on your white label travel portal website. By including information such as their name, email, and preferences, users can receive customized content and recommendations. User profiles can help improve the security of your website by allowing you to assign specific user roles and permissions. This means that users only have access to the parts of your website that they need, reducing the risk of unauthorized access. By allowing users to create profiles, you can encourage them to engage more with your website and community. For example, users may be more likely to leave comments or participate in forums if they have a profile. User profiles can be a powerful tool for marketing and lead generation. By collecting information about your users, you can target them with personalized offers and promotions. User profiles can help you collect valuable data about your users, such as their demographics, interests, and behavior. This data can then be used to improve your white label travel website and marketing efforts.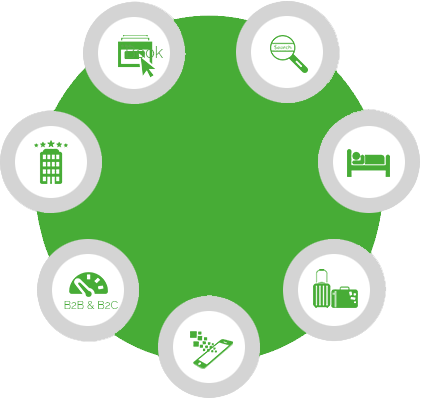 Building an Activity Booking System with WordPress
Configure Permissions and Fields Your Users Need to Complete their Bookings.
After your user profiles have been set up, it's time to configure the permissions for each activity type and the fields that customers need to complete in order to book. Permissions can be set up based on user roles, such as allowing only Admin users to access certain activities or settings. Additionally, you can specify the information that customers will need in order to book their activities - this can include their name, email address or payment details. Make sure that all of these settings are configured correctly before proceeding to the next stage. By configuring the permissions and fields that users need to complete their bookings, you can create a streamlined and user-friendly white label booking engine process. Users will only see the fields that are necessary, reducing the likelihood of confusion or errors. You can also control who has access to your booking system and ensure that sensitive information is protected. For example, you may only want authorized users to be able to view or modify bookings. Configuring permissions and fields allows you to customize the booking process to suit your business needs. For example, you may want to collect additional information from customers or restrict certain features to certain user roles. By configuring permissions and fields, you can create an efficient booking process that saves time and resources for both your customers and your white label business.
Design the Activity Booking Page on Your Website.
Once your activity types and booking settings are in place, it's time to create the bookings page on your best wordpress websites. Choose a page on your website where you want to display the activity booking form, such as a dedicated booking page or a page for a specific activity. Start by designing the page layout with a drag-and-drop plugin like Visual Composer or Elementor. This will allow you to customize the look of your online activity bookings page, adding elements such as dropdown menus, buttons, and images to make the page more visually appealing and user-friendly. Make sure you set up the page in a way that allows customers to easily navigate through different activities and complete their white label booking engine. Customize the booking form layout by using CSS or custom templates. This will depend on the plugin you are using and the level of customization options available. Include a brief description of the activity or experience, highlighting its key features and benefits. Add high-quality images or videos that showcase the activity or experience and help users visualize what they will be booking. Include pricing information and any applicable discounts or special offers. Test the booking form to ensure that it is functioning properly and that all required information is being collected. Publish the page and promote it through your website, social media, and other marketing channels.
Integrate Payment Options Within Your Plugin and Website.
To start taking payments from customers online, you need to integrate a payment provider within the activity wordpress booking system. This will make it easier for customers to pay for activities in a secure and convenient environment. You should also provide a variety of payment options such as Credit Card, PayPal, or bank transfer. To make sure your payment system is compliant with online security requirements, always use an SSL-secured built-in payment gateway. Install and activate the payment gateway plugin for your chosen provider. This will depend on the plugin you are using and the payment gateway you have selected. Add a payment option to your booking form or checkout page. This will depend on the plugin you are using and the level of customization options available. Customize the payment option to match your web design services and branding. Include clear instructions and information about the payment process, such as accepted payment methods, security measures, and refund policies. Test the payment option to ensure that it is functioning properly and that payments can be processed successfully. Publish your website and promote it through your marketing channels.
Our Comprehensive List of Services
adivaha® is a one-stop-shop for all your travel website needs. We offer a multitude of services that empower you to become a market leader. Contact us for more info.
Have Questions?
The Internet is a huge resource, but
if your question requires particular expertise.
Keep Refreshing your customers - Who doesn't want his site to stand out from crowd? adivaha® gives you multiple options for home pages, headers, colors etc. Which can easily be managed from admin via shortcodes and settings. The theme supports almost all the big players in this market ie, WEGO, Travelpayouts, Agoda, Booking, Expedia etc.
Frequently Asked Questions
Below are some of the questions asked by visitors. Do visit our adivaha® Digest for more such questions. Don't hesitate to ask us if you have any questions
What all GDS and Providers are connected in the platform?

27

views

1

answers

0

votes