Build your own Travel Brand!
Ready to go-LIVE travel solutions that helps your travel agency to sell a range of travel services pretty instantly. adivaha® travel solutions make sure you have no boundation over your imagination, you can do everything online, without the need for any technical knowledge or design skills. Easy Backoffice, extensive reporting with integrated Funds Management System. Upload funds easily and instantly through Netbanking, Debit Card, Credit Card. The best part is, we do offer customizations in case you believe it will boost your business!
Simplify Your Airline Operations with Our Guide to Airline CRS
Implementation of various travel technologies has not only made things easier for people in the travel business but has also helped in their growth.
Multiple technologies like Global Distribution System (GDS), Hotel Central Reservation system, Vacation Rental Software and other travel technology solutions have helped businesses perform better. The customers have loved adivaha® Travel Portal Solution's commitment to providing you with the latest and the best travel technology. We have been providing the best travel API integration and the best travel portal solutions across the globe. We have come up with the best CRS System, and we also offer Airline CRS Systems.
The travel space has seen a lot of inventions which has made running of the business very manageable and smooth. But, the CRS System is one of the most successful technologies that has ever hit the travel industry. A Central Reservation System is an all-round system for a business like a hotel, flights, rentals etc. which can manage almost everything. It is a software that automates most of the tasks reducing the burden from the team and helps manage things in a better and efficient way. A CRS System is explicitly designed to meet the requirements of a specific business to make the business running experience more smooth and accessible. It manages inventory, rates and all processes related to reservation of a hotel, flights, rentals etc. The main problem that travel people in business faced earlier was the lack of communication between the service providers and service distributors. The lack of management and communication between the two caused business losses for both parties, and the overall customer service experience was not up to the mark. Introduction of CRS System to various branches in travel industries gave birth to technologies like Airline CRS Systems, Airline CRS, Hotel CRS etc. It made their business more profitable and their service much better to the customers. The functioning of the processes was made simple, and it saved a lot of time that went into day to day tasks.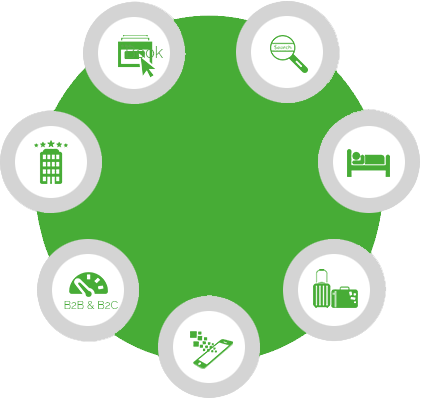 Unlock the Power of Airline CRS
Similarly, for years, the airline ticketing system industry was suffering and required software that would improve their whole procedure. There were a lot of gaps between the entire system, and that took a big hit on profits of both airlines and travel agencies. Because of no proper software to manage all the things, both airlines and travel agencies lost many opportunities in terms of potential customers. But, the Airline CRS Systems has proven to be a blessing for both. Selling tickets to travellers has become a straightforward process. The Airline CRS has introduced a lot of features that have helped both travel agents manage their inventories, improve sales and get better brand recognition. An Airline CRS Systems brings a lot of features that help the business function and run operations more streamlined and efficient.
An Airline CRS Systems helps travel agents manage their flight ticket-selling business better. It has improved the ticket selling process for travel agencies tremendously. The CRS System integrated to their website provides them with real-time inventories. The agent has access to prices, availability, the number of seats and other aspects in real-time. It has reduced the burden off the shoulders of travel agents by a vast margin because getting access to flight information could not be more comfortable than this. The agent no more has to go to websites of each airline ticket booking api company individually and check the availability of flights from one place to another. adivaha® Travel Portal Solutions provide an Airline CRS Systems that brings everything necessary at one place, improving the efficiency and reducing the time consumption that goes into a booking. We give a CRS System system that is self-sufficient in a lot of terms. Although many airlines have their Airline CRS adivaha® Travel Portal Solution's Airline CRS Systems provides comparisons to almost all the major airlines giving you a lot more options than ever before. We offer our Airline CRS with any channel you want. Whether you have a B2B, B2C, B2E or B2B2C channel, we got you covered with our high tech Airline CRS System. Our Airline CRS Systems provides you one-click search and booking option to make the booking experience seamless. It keeps accurate track of all the information about flights, availability, seats etc. and gives you peace of mind. Our reliable system is all you need to run a successful flight ticketing business.
adivaha® Travel Portal Solutions has been providing with the best travel technologies like GDS integration, CRS systems etc. to customers. We have the best GDS integration in the industry, and we support primary GDS services like Amadeus GDS, Galileo, Sabre etc. Our GDS integration has helped many travel agencies target customers globally and improve sales. The Global Distribution System (GDS) helps distribute services globally. Our best GDS integration helps the Airline CRS Systems reach the target travellers. We have integrated our CRS System well with the GDS to help you achieve maximum sale numbers. A global reach is necessary to grow your business and build your brand. The more people use your service, the more you earn, and this results in an excellent reputation worldwide. International recognition is vital for the growth of any business and our Airline CRS along with our high-end GDS integration provides you just that.
We have laid out a tool which is comfortable to use. Our Airline CRS Systems, is not only practical but is also easy to use. We do not believe in making things complicated, and our approach towards designing an interface of the software is simple, we make tools easily accessible. Our airline reservation system CRS is well thought out and laid out in a manner that anyone can use it with minimal learning. We build software than have a straightforward learning curve because a sophisticated design can affect your business severely. Our this approach results in the more efficient working of your business. Since the software is easy to use, the results you will get will be extraordinarily useful. An intuitive interface means you or your staff can use the software quickly and can access its features. This efficiency in running processes of your business will lead to better performance and better sale numbers. Not only this, but our CRS System is also easy to use for your website's visitors too. We have made the flight searching mechanism simple for travellers so that they are not confused between a plethora of useless options. Our Airline CRS Systems provides travellers with features like one-click booking, easy comparisons of rates and easy search. It makes the experience of the marvellous traveller building a loyal customer base for you.
We have been in the travel technology space for a long time now, and our expertise in this field has enabled us to create such fantastic travel technologies for you. Our interface is highly responsive and loads faster. Our interface is highly responsive and intuitive and loads quickly on any device, whether it be a laptop, computer, phone or a tablet. Our Airline CRS System comes with various options, and all are modifiable according to your needs. We provide flight price api booking APIs, Flight booking and reservation engine, GDS integration of Airline CRS and a lot more. Our services are highly reliable, and you can choose from a plethora of them. Our Airline CRS Systems does not only help you in managing your flight booking business in a better way but also enables you to scale your business. Our tools help you expand your business and be ahead of your competitors. We have a dedicated team of engineers who are working hard to bring you the latest technologies so that your business can be made more streamlined. We help you expand globally by giving you access to features like multi-currency support. It ensures that no matter where the traveller is, he gets the best flight booking experience on your website.
We have integrated many features to our Airline CRS System to attract more and more buyers for you. Our advanced algorithms are always trying to create best offers for flights which attract buyers. In this competitive travel space, the buyer always searches for inexpensive alternatives. The traveller today wants services with the best value for money proposition. Our CRS System will help you attract more buyers by giving them offers and limited-time deals. These offers attract buyers and make them your long term customers because who wants to leave best offers on flight bookings. These facilities give you a competitive advantage over your competitors, and you can grab more customers. Not only this, but we also provide travellers with a lot of features like cancellation of airline booking api anytime, instant notifications of any booking or annulment and a flexible payment interface. It makes the flight booking experience of the traveller convenient. Not only this, but we also have an engine that provides the traveller with secure refund options. It ensures that the trust between you and the traveller becomes more robust, giving beneficial results for you. We always try to make the experience of the customers better, and that is why we always come up with these type of facilities. We know providing extra to your customers at a competitive price will boom your sales by a vast margin, and that is why we never lack behind in giving you the best Airline CRS.
British Airways API::
British Airways is a full assistance worldwide aircraft based out of the United Kingdom. British Airways offers designers REST APIs for the combination of BA information into outsider applications. Current open API contributions include: flight NDC Track this API (New Distribution Capability) for booking, flight data Track this API, flight offers Track this API, in-flight amusement Track this API, associate flight offers Track this API, lodging Track this API and vehicle Track this API data and bundles.
Our best Airline CRS System makes your business streamlined and increase revenues. Not only this, but we also help you minimize your operational costs. Since we all know, automation has reduced the need for human resources assisting businesses to run smoothly with less operational costs. Our Airline CRS helps you by doing the same. Since the software itself does most of the management, you don't need specialized staff for things like accounting and management. Our CRS System helps you manage your finances better. We have the best financial management system ever integrated into an airline api integration CRS System. It enables you to keep a track and manage your finances much more comfortable than ever. With our Airline CRS, you can further reduce expenses by keeping an eye on every penny you spent. You can plan out how much you need to spend on a particular thing and can save a considerable amount of capital. Many businesses earn a lot of income, but still, the revenue of some is very less because of poor financial management. Our CRS System helps empowers you with best business management tools so that you perform better in every aspect.
We bring flexibility in our Airline CRS because we want to give your customers the best experience. We offer transactions with almost all payment gateways making sure the traveller can book seamlessly by any transaction method. Not only this, but we also have the most secure and reliable transaction gateways ever. It makes sure that none of your information is under threat ever. We implement the latest and greatest technologies in the cybersecurity industry and follow every protocol to ensure your safety.
To sum it up, adivaha® Travel Portal Solutions provides you with the best Airline CRS which has features like:-
User-friendly interface
Best GDS integration
Financial management
Best in class security
High flexibility and scalability
We at adivaha wordpress theme® Travel Portal Solutions have the best customer support team to help you with your problems. Our team is always trying to give you the best there is in the travel technology space. We have helped numerous business reach heights of success with our high-end technologies, and we welcome you to be a part of us. We support Airline CRS integration in many technologies like PHP, Angular, jQuery etc. and we always welcome new tasks and challenges. With our customer base in almost every continent, we can guarantee you the best service. We have the best reviews from our 10,000 plus customers, and we continue to provide them with the best service. Not only this, but we also have the most affordable pricing so you can choose services according to your budget. Contact us to get started and get the best Airline CRS in the industry now.
Our Comprehensive List of Services
adivaha® is a one-stop-shop for all your travel website needs. We offer a multitude of services that empower you to become a market leader. Contact us for more info.
Have Questions?
The Internet is a huge resource, but
if your question requires particular expertise.
Keep Refreshing your customers - Who doesn't want his site to stand out from crowd? adivaha® gives you multiple options for home pages, headers, colors etc. Which can easily be managed from admin via shortcodes and settings. The theme supports almost all the big players in this market ie, WEGO, Travelpayouts, Agoda, Booking, Expedia etc.
Frequently Asked Questions
Below are some of the questions asked by visitors. Do visit our adivaha® Digest for more such questions. Don't hesitate to ask us if you have any questions
Hello team, can you tell me if I can connect several APIs in one platform or website?

20

views

1

answers

0

votes