Build your own Travel Brand!
Ready to go-LIVE travel solutions that helps your travel agency to sell a range of travel services pretty instantly. adivaha® travel solutions make sure you have no boundation over your imagination, you can do everything online, without the need for any technical knowledge or design skills. Easy Backoffice, extensive reporting with integrated Funds Management System. Upload funds easily and instantly through Netbanking, Debit Card, Credit Card. The best part is, we do offer customizations in case you believe it will boost your business!
Building Scalable Travel Applications with Amadeus Flights API
Amadeus, a world leader in the travel industry, provides IT services to companies worldwide, enabling them to manage reservations, flight management, data distribution, billing, and more. As api based travel booking script research and bookings have moved online, Amadeus is challenged to make its services more scalable and reliable to support increased traffic while lowering operating costs. Amadeus is transitioning to a cloud-based private infrastructure to facilitate this shift in the industry. Without affecting the stringent service level agreements for these workloads.
We seek entrepreneurs who are committed to what they do and work together to deliver the latest technology to enhance the traveling experience. If you have a viable product or are looking to break into the world of travel, amadeus flight api has something to provide your business. Take a ride on the startup Amadeus adventure.
Amadeus launches a new and improved version of its flagship web services solution: Amadeus flight api . This powered solution will provide travel agencies with global access to new content and fares from our airline customers through the NDC connection.
What is Flight API?
Flight APIs are web-based services connecting deals on flights from consolidators and suppliers. The Flight API allows travel agencies, airlines, travel companies, and tour operators to access global deals on flights and related information such as round trips multi-city, on-way, and group bookings.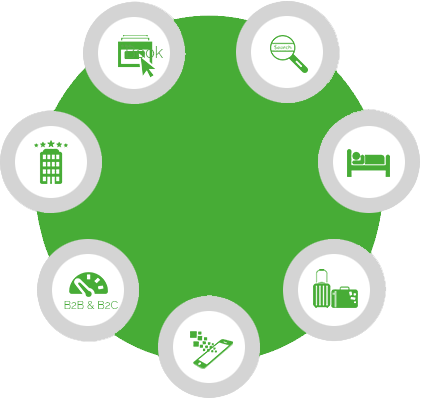 Amadeus Flights API for Your Travel Application
Do you work as an agency or travel business looking for a Flight API Provider to create an online booking engine for flights?
Let's discover which the best Flight API Provider is for your company.
Amadeus is a leading Flight API provider that offers the best Flight API Integration Solution for Airline, Travel Agents, and travel companies worldwide. We offer Flight API integration within existing or new travel websites. Integration of Flight API connects travel agents to the global airline inventory and assists businesses in increasing revenue.
We will discover why a travel Agency needs a Flight API in Travel Industry.
Amadeus is a leading Flight API Provider that delivers the best Flight API Integration Solution for travel industry businesses.
Flight APIs allow travel agents to incorporate all relevant content related to flights from different flight companies to offer their customers the most curated deals on flights and low prices. We offer Flight API integration within your new or existing travel site.
API Providers take an active part in continually improving flight content to stand out from the crowd. The Flight API Integration connects travel agents with the top airlines. The Flight API Integration is among the most trusted and efficient global distribution systems that allow travel websites to provide all the services they need in one location. Flight API connects all flights in one place and assists travellers in finding the best bargains.
Flight API Providers offer a variety of fleets of flights, from low-cost carriers to luxury flights. Our Flight API consists of flights by major airlines, low-cost airlines, and hybrid fleets of corporate airlines. The Flight API can assist travel agents in selling an enormous amount of flights, growing into the global market, and boosting the amount of money they earn.
Amadeus airline API
This company is structured around two areas: its worldwide distribution system and its information technology business. Amadeus provides real-time search, pricing, reservation, ticketing, and other services to suppliers and travel agencies through its Amadeus CRS distribution business. It also offers computer programs that automate processes such as reservations, inventory management software, and departure control systems. It directly serves customers such as airlines, hotels, tour operators, insurance companies, car, and rail rental companies, ferry and cruise lines, travel agencies, and individual travelers.
Amadeus was initially created as a neutral global distribution system by Air France, Iberia, and Lufthansa and content with travel agents and consumers in real-time. The idea behind the creation of amadeus web services api was conceived to provide Amadeus as a European Alternative to Saber, an American GDS. At first, the systems were dedicated to airline reservations and focused on the PNR, the passenger's travel record. Slowly,
Amadeus launches a new and improved version of its flagship web services solution: Amadeus flight API. This NDC-powered solution will provide travel agencies with global access to new content and fares from our airline customers through the NDC connection.
Amadeus was actively designing the solution and has had live NDC bookings since last year. Coinciding with the global launch of the solution, some travel agencies will be early adopters and gain access to the solution and content offered by our airline customers through the NDC connection.
The change reflects Amadeus' ongoing commitment to advancing the NDC through its program and will help airlines and travel agents deliver more personalized and differentiated travel experiences. amadeus travel api is an API that integrates with travel agents' existing systems and allows them to create their own personalized travel booking application. This will be gradually rolled out worldwide. The solution will deliver exceptional functionality to Amadeus travel agency customers in the following ways:
Access to new content and prices from airlines through the NDC connection and content from traditional technology. NDC is a core part of the Amadeus Travel Platform: a platform that brings together all travel content from a multitude of sources in one place and enables travel agents to search for deals.
Simplified management of stores, orders, and payments, thus guaranteeing a more pleasant experience that reflects the consumer's purchasing process. Cross-selling of ancillary services and up-selling of branded rates. Change and cancellation feature to include refund, void, or exchange options.
Acceptance of cash and cash payments with integrated reconciliation with technology at business and operational levels, ensuring that NDC reserves are fully integrated into the chain processes of agencies.
Enhance Your Business Growth with Amadeus's API
Flight API of amadeus hotel search api allows access to content from over 200+ LCCs and more than 750 GDS airlines worldwide. We aid travelers, and other service companies improve their businesses, finding new opportunities, and developing new value chains using our worldwide airfare inventory.
For Travel Industry Business Explores New Dimension

Amadeus is the top Flight API Provider delivering the most efficient Flight API integration solution for businesses working in the field of travel. Our Flight API allows passengers to purchase flights on the internet.

Integrating APIs for Flight is among the most reliable and efficient worldwide distribution methods that allow travel websites to provide all of their services in one location. Flight API integrates all the flight services in one location and allows travelers to locate the best deals.

amadeus hotel api is integrated with GDS Flight API, allowing travel agents and portal sites to book flights online. We have also designed booking engines integrating GDS features that highly benefit travel agencies. Additionally, we have partnerships with the best GDS providers such as Sabre, Travelport, Worldspan, and many others. We offer a comprehensive collection of software designed for aviation. We strive to keep improving the quality and our flight API to keep ahead of our competitors.

Amadeus API is one of the Most Innovative Travel Technology Solutions

Amadeus is among the top, most well-known flight API providers that help amadeus travel agents become more efficient by offering travel technology solutions to tour operators. B2B travel agents, travel agents on the internet, and travel management firms and companies that manage destinations.

Flight API integration links travel agents with all major airlines. This Flight API will help travel agents sell substantial flight inventory and increase the global market. And generate more revenue. Integrating with our API allows your travel agency to improve its processes and make day-to-day operations more efficient.

Flight APIs enable travel agents to incorporate the entire flight-related content of different flight companies to offer their customers the most competitively priced flights and low prices. We offer Flight API integration within your new or existing travel portals.
Flight API Provider to Set Up a Flight Booking System
We would like we integrate with amadeus crs system API integration service to offer your customers APIs that provide the best travel experience possible. We offer you an innovative end-to-end solution and ensure that you're booking system works round all hours of the day and can serve your customers without any issues or issues.
We offer a wide range of assistance for integrating our XML Travel API, consolidated with various service providers across the globe's travel market. Additionally, with our outstanding assistance being an XML API provider. We assist you in installing XML capabilities to your travel website.
This will help you succeed in leaps and bounds. Each member of our team is an expert in their area of expertise. Each solution is a combination of effort and hard work. Our expertise has always been able to meet the needs regarding technology for travel. A comprehensive travel portal development offers compatibility and the ability to connect with the XML API.
Why Is Amadeus API Important for Travel Agency?
We incorporate our Flight API to allow you to reach the most significant number of customers and business partners. The integration will boost your company's revenue, efficiency, and business productivity.
It can reduce operating expenses and help you expand and capitalize on new market possibilities in real-time. We incorporate Flight API into the Flight API for small and medium-sized travel agencies to assist them in selling a vast range of on-site flights.
With Amadeus, We will grant you use of the Flight API by integrating it into your site so that you can include it on your list of options. Our team offers all-inclusive integration assistance, allowing customers to make bookings in real-time through your site.
How do they work?
Airline APIs represent an essential element in the evolution of digital business, so much so that we have long been talking about the API economy. But how to ensure that their proliferation does not risk increasing the complexity of the management of the application park to the detriment of their effectiveness? And again: how to be sure that the implementation of an API does not conflict with another or does not open risky flaws in the security of the applications? The answer comes from API management solutions. Let's see the main features and functionalities.
Airline APIs offer various benefits to the end user. They are primarily for programmers. The Airline APIs are usually provided by software developers so that programmers of other applications can use them. The Airline APIs determine how information and data are received and returned between modules. For this purpose, a specific standard is then used, to which the external software must adhere.
Find flights

Take advantage of discounted airfares from hundreds of airlines across the globe, including baggage restrictions, airports of departure, and much more.

Find out the final price.

Make sure the fare is available. Check the prices for additional services and add luggage or additional legroom. Look up the price at the final destination on the plane.

Fully booked

You can make reservations for flights or other services and give your customer identification card for booking as well as the details of the reservation.

Offer high-quality content for flights.

Finding the best flight is vital to an enjoyable trip. Let your customers search for flights and make reservations with more than 500 airlines worldwide. You can also provide crucial information like baggage allowances, ancillary charges, and baggage allowances and can utilize filters and an interactive calendar to identify the best flights for their needs.

Make sure to take off as quickly as you can

Access to accessible and user-friendly REST/JSON APIs enables you to create your booking engine in a matter of minutes. Learn about tools, documentation, and resources to get started and make the most of more than 30 years of Amadeus experience in the business of travel. This will aid you in expanding your booking business quickly.

Combine, build and expand

If you're an established company or growing, we have amadeus flight api that can fulfill your needs. Combining the Booking System with other Amadeus solutions can enhance the booking engine of your company by adding seat maps, booking administration, and the ability to search for inspiration.

Amadeus APIs will power your app.

Amadeus APIs let you access the resources and features required to create innovative new solutions for travel. Explore a wealth of travel-related content to guide your customers through their trip and utilize powerful ideas, search, and booking capabilities to propel your company to the next step. Go to amadeus travel software for Developers to access the Amadeus for Developers portal to start building your app using Amadeus APIs.

Travel content that is rich and informative

Access the vast world-class information on travel that is the basis of top travel brands worldwide. Find hotels, flights, train transfers, destination content, and more.

End-to-end capabilities

From inspiration for travel to flights and hotel reservations, amadeus reservation system's functionality and the content will assist your customers throughout their journey.

Innovative solutions

Get the latest technologies like AI APIs. Develop intelligent solutions powered by more than 30 years ' worth of Amadeus data.

Access to information quickly and easily.

You'll immediately have access to everything you require to build your app in just a few minutes: guides, documentation tutorials, and much more.

Flexible pricing

Pricing models that fit your business's needs. Pricing is pay-as-you-go for rapid development and launch or a customized pricing model to grow your business.

Flight Offers Search API

Flight Offers Search API searches more than 500 airlines to locate the most economical flights on a specific route. The Amadeus API allows you to search for flights that connect two cities, conduct multi-city searches for more extensive itineraries, and search for one-way combinable fares, which provide the most affordable options. The Amadeus API offers a listing of flights with price and details on the fare, including baggage allowances, airline names, and departure terminals for each flight.

This Amadeus API is the initial stage in the booking flight process. When a flight is selected and confirmed, check the current price with Flight Offers Price, and make the booking using flight Create Orders.

Flight Create Orders

The Amadeus API offers an individual booking ID and information once the reservation has been made. The API is the last stage in the booking process. Utilize it after you have completed an online search for flights using the flight offers to Search and verify the current price and availability by using flight Offers price.

Trip Purpose Prediction

Understanding the primary purpose behind the trip can help you provide travelers with more customized searching and booking. This Amadeus API gives insights into travelers' motivations by predicting whether a trip will be used for leisure or business. The Amadeus API uses Artificial Intelligence and Amadeus's previous data to calculate the likelihood that a plan is intended for a business vacation or business.
Conclusion
Amadeus is creating a more personalized, connected, and sustainable future for the world of travel: we are reinventing travel distribution. We facilitate dialogues in the industry, creating connecting technologies and uncovering new opportunities to make travel more satisfying. Amadeus APIs thus become an indispensable tool for quickly delivering those services that the business requires, thanks to Amadeus flights API.
Our Comprehensive List of Services
adivaha® is a one-stop-shop for all your travel website needs. We offer a multitude of services that empower you to become a market leader. Contact us for more info.
Have Questions?
The Internet is a huge resource, but
if your question requires particular expertise.
Keep Refreshing your customers - Who doesn't want his site to stand out from crowd? adivaha® gives you multiple options for home pages, headers, colors etc. Which can easily be managed from admin via shortcodes and settings. The theme supports almost all the big players in this market ie, WEGO, Travelpayouts, Agoda, Booking, Expedia etc.
Frequently Asked Questions
Below are some of the questions asked by visitors. Do visit our adivaha® Digest for more such questions. Don't hesitate to ask us if you have any questions