Build your own Travel Brand!
Ready to go-LIVE travel solutions that helps your travel agency to sell a range of travel services pretty instantly. adivaha® travel solutions make sure you have no boundation over your imagination, you can do everything online, without the need for any technical knowledge or design skills. Easy Backoffice, extensive reporting with integrated Funds Management System. Upload funds easily and instantly through Netbanking, Debit Card, Credit Card. The best part is, we do offer customizations in case you believe it will boost your business!
Find the Best API Integration Company for Your Business
adivaha® is the world's leading travel API integration company offering profound technology solutions for travel businesses both domestically and globally.
Our services involve travel-portal development, GDS integration, XML integration, and many more. We also offer travel API to help travel and tour operators gain travel offers from various hotel vendors, car rental agencies, etc, throughout the world.
Nowadays, it has become necessary for api travel agency businesses to provide every important travel-related service like flight booking facility, a long list of hotels and other accommodation options, vehicles for rent, etc, in one place i.e. through their portal. Otherwise, they will not succeed in their businesses. And it is difficult to describe the importance of a travel portal for travel and tour operators in today's digital world. A website has become the center of their business since customers' behavior has changed over time and the evolution of the internet has played a big part in that. Now, customers can purchase anything from anywhere around the world with their smartphones. They have the facility to go through any number of airlines, housing options, excursions, and vehicles for hire from anywhere around the globe. Moreover, today's travelers like to plan and book their entire journey through a single platform, not a dozen. They do not want to book flights, hotels, and cars from different vendors. Thus, a travel portal loaded with every important feature is necessary for travel businesses. Regardless of the amount of money that a travel business spends on the traffic generation and promotions, it will not get expected results unless completed api integration.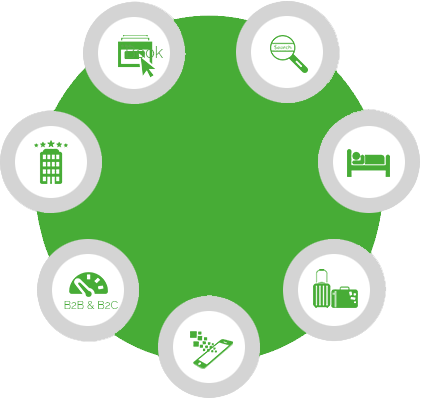 Find the Best API Integration Company
adivaha® is a one-stop-shop for all travel agency needs. We provide hotel API integration, flight API integration, GDS integrations, and many more such services. For sustainable growth, a company needs to have the right set of services and products at competing prices. And our APIs will open up to the route to the huge amount of critical information like our hotel API provides direct access to different hotel deals, flight API enables end-users to retrieve data about n number of flight prices, bus API allows customers to book bus tickets of their choice through a travel agency's website, etc.
Moreover, adivaha® is a renowned travel API integration company with expertise in every aspect of travel. Our team of experts is known for providing the finest API integration in Delhi with inventories of major service providers from the global market. And our software also helps in enhancing the overall customer experience. Though we offer a full suite of travel-related APIs, but below are some of the best API integrations that we provide. These integrations have helped our clients to reach new peaks in their businesses and made us the best woocommerce themes integration company.
Flight Booking APIs
International travel is not possible with the involvement of flight information service and sometimes domestic travel too, that's why flights are the most important means of travel. Thus, Flight booking APIs integration is necessary for travel agencies. Here are some of the best airline booking APIs present in the market.
Skyscanner Flight Search API
Skyscanner is one of the most well-known travel search platform offering millions of options to choose from. And its flight search api gateway is one of the easiest ways to provide available flight info to the end-users. Through Skyscanner flight search API end users will be able to benefit from the best flight deals, search for flights, flight prices directly from Skyscanner's database. They will also get real-time quotes from ticketing agencies.
Amadeus APIs
Amadeus has the largest user base among all the flight API. Amadeus has a low-fare search API that finds the best prices for the flights while its flight choice prediction api travel form can forecast customers' shopping choice. It also offers a GDS that can be directly integrated with the travel portals. The GDS system provides direct access to the flight inventories of major airlines. The integration of Amadeus API will let end users access sales reports, fares, flight information, and book tickets.
Expedia API
Expedia is another popular flight search engine API. It is used both as a travel plugin fare aggregator and a metasearch engine. By integrating Expedia's Flight API in your web-portal, your users can easily check information like flight availability, the price per seat, restrictions (if any), booking notices, and many more.
Hotel APIs
Amadeus Hotel Search API
Hotel Search API facilitates users to find hotels as per location and time. People can search from an extensive list of hotels or narrow down their searches with the help of powerful filtering features.
Travelers are provided with details related to their stay and can select the most suitable options based on location, price, and service level.
Booking.com Connectivity APIs
Booking.com Connectivity APIs are specially developed to manage information about properties. If this API is connected to hotel booking API and the hotel vendors modify any aspect (rates, rooms) the same will be reflected on the travel agencies' website. Thus, it removes the human-involvement. The Connectivity APIs are primarily used by property owners b2b plugin for woocommerce:
Creating new content and modifying existing content.
Adding rooms and their prices.
Adding new properties and closing not fit to live properties.
Car Rental APIs
Sabre Car API
Though Sabre is famous for its GDS system, however, it also has decent car APIs. The company works with 40+ car rental brands, and it provides three-car APIs.
Car Location API
The integration of this API will let the users search for cars as per car types, address, city, etc. The users can set the pickup location, calculate the rent, and choose the cars of their choice.
Book Car Reservation API
This API Integration Company can be integrated to allow users to rent one or more cars. This API provides an extra set of information while reserving a car like flight arrival, location code, address, billing number, and different return address.
Car Availability API
This API will show users cars available wordpress theme for b2b website rent and their pricing as per pickup location and date. Basically, it works as a vehicle information API displaying data like available rental cars closest to the specified location, rate of vehicles, and rate plan type (inclusive, negotiated/corporate, prepaid).
Skyscanner Car Hire Live Prices API
Along with providing flight APIs, Skyscanner also provides car rental API. Its Car Hire Prices booking.com api wordpress is a global car distribution channel with a catalog of a large number of vehicles. End users will be able to access the following thing after Skyscanner API integration:
Live price of cars
A decent car searching function
Renting vehicles of their choice
Travel companies also have the option to have their own custom flight booking api for wordpress instead of using famous pre-existing APIs like Sabre, Amadeus, etc. There are benefits in both the cases, and some advantages of both the methods are mentioned below.
Advantages of using custom and multiple XML integration:
They can have prices directly from the original suppliers without having to pay commissions to the intermediaries.
APIs built from scratch are flexible in development, implementation, and integration.
They are free from the intervention of the third-party vendor's product strategy.
Customization can be done easily, and the APIs can be scaled as per need.
Advantages of Single Consolidated API integration:
There is no need to contact multiple suppliers.
No coding has to be done so they can be integrated quickly.
Perfect for start-ups.
The invested amount is very much less than custom build APIs.
adivaha® has expertise in both kinds of integrations. Along with offering services for integrating the best APIs in the market, we also develop 100% customized APIs. All-in-all, adivaha® is one of the finest API's integration company.
Currently, we are situated in Delhi, to know more about our services you can contact us at:info@adivaha.com
Our Comprehensive List of Services
adivaha® is a one-stop-shop for all your travel website needs. We offer a multitude of services that empower you to become a market leader. Contact us for more info.
Have Questions?
The Internet is a huge resource, but
if your question requires particular expertise.
Keep Refreshing your customers - Who doesn't want his site to stand out from crowd? adivaha® gives you multiple options for home pages, headers, colors etc. Which can easily be managed from admin via shortcodes and settings. The theme supports almost all the big players in this market ie, WEGO, Travelpayouts, Agoda, Booking, Expedia etc.
Frequently Asked Questions
Below are some of the questions asked by visitors. Do visit our adivaha® Digest for more such questions. Don't hesitate to ask us if you have any questions
I am setting up this plugin for my client's website, I tried registering and received the account activation email, but …

9

views

0

answers

0

votes