Build your own Travel Brand!
Ready to go-LIVE travel solutions that helps your travel agency to sell a range of travel services pretty instantly. adivaha® travel solutions make sure you have no boundation over your imagination, you can do everything online, without the need for any technical knowledge or design skills. Easy Backoffice, extensive reporting with integrated Funds Management System. Upload funds easily and instantly through Netbanking, Debit Card, Credit Card. The best part is, we do offer customizations in case you believe it will boost your business!
Choosing the Right B2B Travel Agency Software for Your Business
If you are willing to know about the travel agency software. Then you have no choice but to read this post to the end. In it, we will reveal all the secrets for you to be successful in your tourism business, that is, in your travel agency.
Your travel company needs travel software appropriate to your business's circumstances and aligned with the prevailing needs that the market is placing in the minds of the consumer and the professionals in the tourism sector. Your travel agency software should have state-of-the-art features to run your business quickly and efficiently.
Quick because it must give an immediate response to any client, whether they are in the process of making a reservation, traveling to the place where they have chosen, or at the point of destination. Today's tourist wants to feel surrounded by exquisite customer service, and this can currently only be achieved by having the most powerful B2B technological tools on the market within reach.
A travel agency client will not wait more than three seconds before a computer or mobile screen for a response. If these three seconds are exceeded, you do not doubt that it will go to a portal of your competition. Let's come and learn more about B2b travel agency software in detail.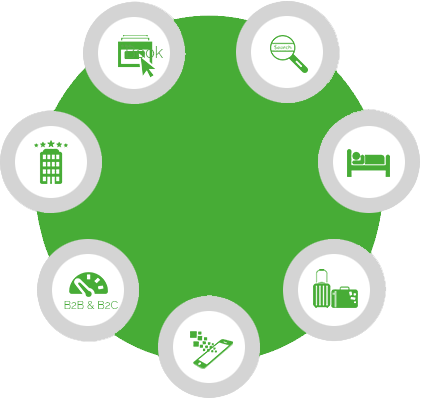 Choosing B2B Travel Agency Software
Definition of software for travel agencies
Software for travel agencies is a computer tool installed on your computer and, in this way, allows you to optimize all the commercial and administrative processes of your business. With this travel system, you will be able to achieve;
Manage files
Consolidate the relationship with the different hotels of the agency.
Manage the financial part.
Manage airline tickets and hotel reservations.
All this is always to be able to improve your service by offering your customers quality and the profitability they need.
It is a technological tool that automates all travel agency processes. With this automation, responses to customers will be speedy while eliminating human error.
With this software, designed solely and exclusively for travel agencies, you can automate all internal business processes. These internal processes cover billing, finances, or the marketing strategies necessary to make yourself known in the most varied channels.
Another essential aspect is having an endless number of tourist products from one or several providers. The travel agency will be able to sell that product earn a commission, or prepare a personalized package for a specific client.
Who can use this type of software? In reality, it is designed for all the agents related to the tourism sector. It can be used by wholesale travel agencies, which are in charge of buying the product from large suppliers to offer it to retail travel agencies and selling it to the end customer. Therefore, it is a technology suitable for wholesalers and retailers. Still, given the complexity of the tourism sector, it can also be used by physical travel agencies, incoming agencies, broadcasters, or OTAs.
Travel Agency Software: What Is It, And What Is It For?
Travel agency software, also called travel agency management jargon, is a computer system used to optimize business processes to allow greater production efficiency and improve the quality of work. It may seem strange today to talk about these things again, but when it comes to small travel agencies, saving time in daily operations is undoubtedly an economical and productive advantage for a travel agency.
Managing daily activities is essential for a travel agency manager to keep improving the business. But what operations can travel agency management software optimize for a travel agency? Travel agency software allows you to refine, check and improve.
Management of reservations
Administer receipts and payments
Customer and supplier management
Track sales
Creation and sale of tours
Up-selling or cross-selling offers
Issuance of a travel quote
Management of electronic invoicing
After-sales assistance
Availability management
Relationship with the suppliers of tourist services
Inventory management and accounting
E-commerce
In essence, this information system helps to streamline and implement those activities that would otherwise usually require more time for their execution.
How to Choose a Travel Agency Software
So let's see what to know to choose this business tool wisely.
Functionality

The functionality or purpose of a business management system is the first point to clarify before buying one.

There is much management software on the market; some have characteristics suitable for the purpose, while others outperform, and their exclusive use becomes practically impossible. Therefore, having a clear idea of what you need to make a computer program is the first step. As listed above, the reasons for buying tour operator software differ and depend on the type of business organization, the problems you want to solve with the use, and the result you want to achieve.

Easy To Use

Productivity and efficiency can be achieved if the software is intuitive and easy to use. Nobody likes to waste precious time entering data in a complex management system. Therefore the choice must also and above all fall on the experience of use as a whole. In this regard, it is always advisable before buying it to obtain access to a demo or trial to understand if it is the right tool or not.

Server or Cloud

When it comes to choosing management software, access is also essential. For this reason, the software should be in the Cloud to be able to connect in real-time and synchronize information. Furthermore, the cloud management of this service allows you to access documents securely.

Assistance and Training

Before purchasing business management software. It is good to stipulate a training and assistance contract to obtain specific training and after-sales service to protect yourself from inconveniences that could create problems for the business. In this regard, purchasing an hourly assistance package for updates or specific operations is possible.

Scalability and Customization

Dynamism is a highly sought-after factor in travel agency software. Software must adapt to business changes, not the other way around. Therefore it is always advisable to prefer soft scalable or modular software according to a business organization's needs.

The ability to customize software is another factor sought by entrepreneurs. For this purpose, however, it is good to orient yourself in having customized software created by computer designers. Some software on the market is standard and does not require changes or upgrades.
Benefits and advantages of software for travel agencies
Control the stock

Stock control is essential; without good software, it is mission impossible. A travel agency must try to sell products from different providers to satisfy the customer. Your database must have beds from different hotel chains or airline plane air ticket booking. They are the most requested products, but all kinds of activities or experiences can also be offered.

However, many agencies are selling these same products. If they do not have this technology, they could make the grave mistake of selling a particular product already assigned. This duplicity would cause a severe loss of reputation that would endanger the business itself. That's how vital stock control is. Travel agency software eliminates human error one hundred percent. The complexity of the tourism sector requires robust tools to satisfy the most demanding customer.

Increase cart price

A database with products from different suppliers increases the chances of selling more in the same shopping cart. We are already getting into what is called cross-selling or cross-selling. Let's take an example to understand it much better. Imagine that a tourist wants to buy a trip to a coastal area. The first thing you will do is to choose the dates on which you want to travel. Then you will choose the hotel, and within this option, you will decide on bed and breakfast, half board, or the entire board.

You can buy your plane or train ticket if the software has the appropriate technology. The transfer service from the airport to the hotel can be offered to increase the purchase and for the travel agency to earn more money in a single operation.

Once the traveler is at the destination point, it is not too much - to continue increasing the price of the cart - to offer all kinds of activities. These activities can be from a ride on a jet ski to a ticket to a b2b theme wordpress park, offering you a table in the best restaurants, or tickets to a show.

The purchase price will increase if all these products are offered, benefiting the travel agency. But it is no less accurate that the customer will also feel delighted for having organized their vacations from the same point of sale and not having to go to different platforms. Therefore, everyone wins. The travel agency has seen its income increase, and the tourists have resolved their travel needs very quickly.

Create personalized tourism product

As we have already mentioned, wholesale wordpress travel theme agencies are in charge of buying large quantities of products from suppliers. Once the product has been purchased – which, being in large quantities, tends to have a very competitive price – it is offered to retail travel agencies, who earn a commission for each product sold.

However. Does this mean retailers can't put together personalized tour packages tailored to each customer? Of course not. You can offer as many personalized tour packages as possible if you have those products in your database. This is what is called within the tourism sector, the dynamic package, an unstoppable trend, on the other hand. Customized packages because each client needs a unique experience. Personalized tourist or dynamic packages can only be created if the appropriate technology is available, that is if there is state-of-the-art software for travel agencies.

Better customer service and greater visibility

With everything we have told you so far, you can already guess that one of the great benefits of travel agency software is having exquisite customer service. With this technological tool, you can show your product on your wordpress theme for b2b website and all those channels you consider necessary.

This white lavel booking software will allow you to publish your content on your chosen social networks and send personalized e-mails to publicize your new products or offers. Remember that one of the most effective and cheapest actions to sell is the so-called e-mail marketing. In other words, when you have a new need, go to your travel agency to solve it. Another thing you will achieve is that this satisfied client becomes an ambassador of your brand and recommends you to other clients.

In short, more sales. By being able to launch all your messages through different channels, there is no doubt that your tourism business will have much more visibility.

Improve internal processes

Selling tour packages is the essence of travel agencies. But other processes are needed to know that you are on the right track.

This software lets you control your business's evolution straightforwardly and intuitively. You can generate situation reports; manage payments, and much more. You will also be able to establish internal operating processes for all your staff so that everyone will know what state the stock is in. What we are saying is that you are going to reduce human error to zero.

Software for travel agencies

Ours is an innovative company that provides customers with cutting-edge tools that will allow you to quickly start your travel agency and, above all, manage it and make it grow better. Adivaha's solutions will be evaluated and developed by professionals who will allow you to meet all your needs and those of your customers, however, at a relatively low cost. In particular, we specialize in developing and implementing b2b travel software. Our consultants will be by your side not only in the design and development phase but also in the post-sales one, allowing you to enjoy practical assistance for any problem.

Travel agency software that makes your life easier

Our travel agency management software has been designed and developed specifically for your needs and, therefore, for those who work in the tourism sector, allowing you to quickly fulfill all the possible needs that could arise both in the front end and in the back office. You will be able to manage a series of functionalities that will allow you to intuitively process any operation. Such as the query on the status of practices in progress, requests for reservations for holiday packages of your customers.

And process a trip with a step-by-step guided application and so much more. Our travel agency tour booking software wordpress is a professional and customizable product for your habits and the characteristics of your business that will allow you to offer customers top service.

Simple, reliable, and customizable software for travel agencies

Our company has appropriately qualified professionals who have improved their skills thanks to years of experience in the sector. We can offer a practical, intuitive, and reliable final product thanks to them. The management system designed for the travel agency will be tailor-made for your needs, customizing it in every aspect, even in terms of graphics. Our b2b online travel software will also be in line with the provisions of the legislation that regulates and protects privacy. Above all, it will be able to protect all the sensitive data of your business and your customers—a complete and reliable solution.

Choose DST as a partner for your travel agency.

In short, our software for travel agencies is the ideal solution for your needs as it was created specifically for you by qualified personnel. Among other things, we will also be by your side and, above all, in the post-sales phase with an active assistance service in real-time. One of our technicians will immediately deal with your support report, thus resolving the specific problem. You can therefore minimize your inconvenience and those of your customers.

Furthermore, if your needs change over time, our staff will be at your disposal to change the characteristics of our management airline booking software free for travel agencies. And thus making it perfectly useful even many years after its first use. Do not hesitate to contact us to find out more or to make an appointment to evaluate a quote for your needs without obligation.

Automate operations in travel agencies

This travel agency software is travel software designed exclusively for travel agencies and tour operators to automate sales, operations, and reservations and manage a wide range of travel products such as best flight search apis, hotels, and services. Allowing you to increase your income, provide quality to your online reservations and optimize the customer experience.

Restore your brand.

We provide travel agencies with the launch of personalized websites for online reservations with numerous providers of hotels, best api for flight booking, tours, transfers, and activities in a single travel system. Search, book, and centrally manage all your reservations and payments. Adivaha offers a complete travel system and advanced functions, and digital.
Conclusion
This B2B Technology software is one of the best tools to boost your businesses, increase productivity, and increase sales; large companies use technology for most of their operations and invest significant amounts in digital transformation. Working, convincing, and giving clients the best service and options is not easy at all, but there is software for travel agencies that will make your work easier. You will be able to lighten the workload and help you to be able to offer your clients more personalized attention.
The tourism sector is becoming most competitive, and we see b2c travel portal agencies offering their services everywhere. You must consider all this when highlighting and building customer loyalty. To make your agency's daily processes easier and thus boost your business, you must include the technology that meets the demands of the current market and tourism. B2b travel agency software and the tourism sector facilitate the management of services to increase your profitability and customer satisfaction.
Our Comprehensive List of Services
adivaha® is a one-stop-shop for all your travel website needs. We offer a multitude of services that empower you to become a market leader. Contact us for more info.
Have Questions?
The Internet is a huge resource, but
if your question requires particular expertise.
Keep Refreshing your customers - Who doesn't want his site to stand out from crowd? adivaha® gives you multiple options for home pages, headers, colors etc. Which can easily be managed from admin via shortcodes and settings. The theme supports almost all the big players in this market ie, WEGO, Travelpayouts, Agoda, Booking, Expedia etc.
Frequently Asked Questions
Below are some of the questions asked by visitors. Do visit our adivaha® Digest for more such questions. Don't hesitate to ask us if you have any questions
I am setting up this plugin for my client's website, I tried registering and received the account activation email, but …

21

views

1

answers

0

votes