Build your own Travel Brand!
Ready to go-LIVE travel solutions that helps your travel agency to sell a range of travel services pretty instantly. adivaha® travel solutions make sure you have no boundation over your imagination, you can do everything online, without the need for any technical knowledge or design skills. Easy Backoffice, extensive reporting with integrated Funds Management System. Upload funds easily and instantly through Netbanking, Debit Card, Credit Card. The best part is, we do offer customizations in case you believe it will boost your business!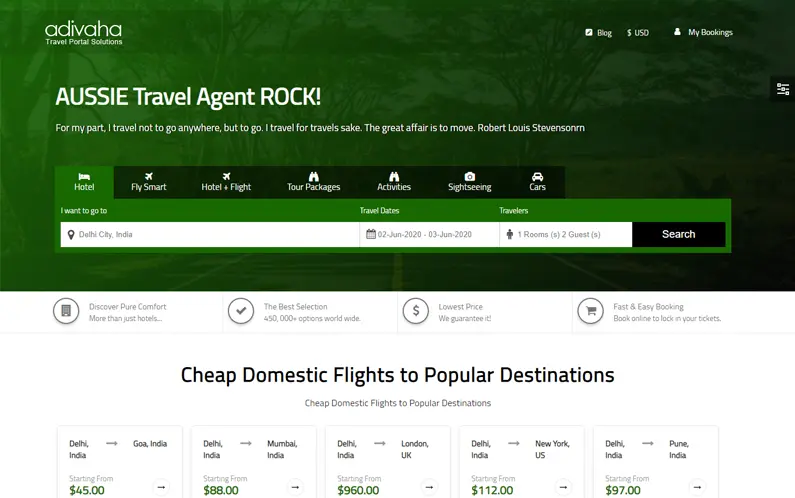 The Ultimate Guide to Car Rental Aggregators Portal Development
adivaha® Travel Portal Solutions have provided many businesses industry-leading travel technologies, and our wide variety of travel api integration tech has been one of many reasons for our loyal customer base.
We have provided our customers with the best corporate travel portal solutions and given them the best customer support that no other travel technology company can provide. We have always ensured that our customers get the best product and service from us and that is why our products and services are most reliable. Our various services like GDS integration, XML Hotel Central Reservation System, third party API integration.have earned us an excellent reputation in the travel technology industry. We also provide the best aggregating services like travel aggregators, car aggregators, flight aggregators, hotel aggregators etc.
At adivaha® Travel Portal Solutions, we provide you with the best aggregating services. We provide you with the best Car Aggregating services that will enable you to have the best prices for your customers. We have been the best Car Aggregators for many companies and have helped them improve their business. The Car Aggregator business model works differently. In this model, you will get a plugin that will search the best rental cars and deals on them for you at a place. In general aggregating services like hotel aggregators, flight aggregators etc. search the best deals and prices for the same on the internet and provide you with the best prices and comparisons. For example, if a customer wants to book a flight booking api integration from Singapore to London, he can either check for prices of airlines one by one by visiting their website or can go to a website that does the work for him by getting the best prices and deals. The sites which find the best prices for these flight hotels and rentals use aggregating services.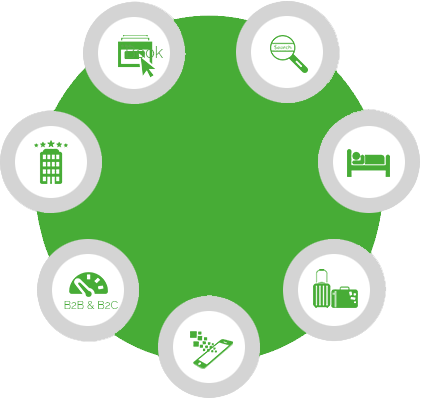 Developing a Powerful Car Rental Aggregators Portal
You can start a travel business right now with adivaha® hotel engine corporate travel Portal Solution's Car Aggregators services and earn revenue. A Car Aggregators platform can be a good start for your business if you are thinking of getting into the travel space. A car rental platform will also be beneficial for you if you have any other travel business. Car Aggregators platform will help your business by providing your customers with the best combination of services when they choose you. If you are a hotel owner, you can integrate the Car Aggregators services and can provide rental cars to your customers right at the hotel itself. It enhances the experience of the customer because the customer gets a car rental service at his doorstep; this not gives you a competitive advantage over your competitors but also becomes a secondary source of income. adivaha® Travel Portal Solutions provide you with the most customizable Car Rental booking services. We have the best platform to expand your business and help you in your business growth. We have designed our platform to help your business by providing you with the most efficient car rental bus booking software available in the market.
We know the value of a well-designed api integration platform, and that is why we have created a platform that can be used by anyone. Whether it is a computer expert or a newbie, anyone can understand and start using our car rental software in just a matter of minutes. We have seen other software with poor usability and efficiency. A poorly designed software interface can not only affect the experience of the user but can also cause damage to the reputation of the business. An interface is the first thing the end customer sees, and if the customer sees a lacklustre interface, chances are you will lose most of the customer there and then. Everyone likes our Car Aggregators platform because we have worked to make it look appealing, efficient and full of features. We have the best car rental software, which is designed to look modern and fresh. It has helped many businesses improve their profits. The platform is not only suitable for the travellers, but we have also kept many things in mind about giving you a better interface too. We make the usability of the software highly interactive for travel agencies, tour operators, and car rental companies. We make sure that the one who handles bus booking system can make most out of the software to improve sales numbers and increase profit. Our Car Aggregators platform makes sure that the person sitting behind the computer screen does not waste any time puzzled and searching for different options. Your experience with the software is as crucial for us. That is why our platform is highly intuitive, interactive and user friendly. You do not need to be a tech geek to use that because all options and features are highly thought out and laid out in a simple yet effective fashion. It is one of the reasons why many travel agencies, car rental companies and other businesses who want the best car rental software choose adivaha® Travel Portal Solutions for Car Aggregators over others.
We have a highly flexible and customizable Car Aggregators and car rental software solutions. We know that one particular kind of software cannot fulfil the needs of everyone. Every business or agency has different needs, and one type of solution can't satisfy those requirements. That is why we have a wide variety of packages designed to fulfil the requirements of businesses like car rental agencies, tour operators etc. We have custom packages because we know that different companies have different needs. We have the best custom-tailored car rental software solutions that will satisfy the needs of many businesses. Our Car Aggregators engine is the most powerful and most reliable sabre reservation system that you can get. We have implemented the best and the latest technologies to make sure that your business runs at a faster pace. We have designed our car rental engine to be the fastest. Our Car Aggregators software is finding out results for a search faster than any other Car Aggregators platform. We provide you with Car Aggregators, which will give you the best prices of rental cars across the board. Our integration to an Online travel agent makes sure that you get the best-priced vehicles, and you offer the most competitive prices in the market. To be ahead of the competition, you have to provide customers with the best services at the lowest prices, and we at adivaha® Travel Portal Solutions help you achieve that. Our Car Aggregators engine has helped many businesses by giving them a platform that has given them a competitive advantage. Growing a business faster is not tough if you offer something that no one else can offer. We at adivaha® Travel Portal Solutions make sure that we give you that advantage so that you make outstanding profits and grow immensely.
We provide the best services at nominal prices. Getting amazing deals does not only attract buyers, but it also helps them save money, and this makes sure that your customer base sticks with you for a very long time. Once customers understand who provides the best services for a lower price, they know who to choose, and we want to make you the first choice of every customer who wants to use a car rental service. We not only ensure your satisfaction but ensure the comfort of your customers. We provide guest customization services and give them the best rental car booking experience by giving them a platform that is inexpensive, easily accessible and full of offers to save money. Our Car Aggregators platform will provide your customer features like real-time availability of cars, instant corporate booking tools for travel with confirmation and highly inexpensive rates. We make sure that the booking procedure for your customer is smooth and is least time-consuming. We make sure that customers can book cars at a click. Not only this, but we also make sure that when we provide you with our Car Aggregators engine, the customer can use it on any device seamlessly. We ensure the experience is smooth and intuitive on any device, be it a laptop, mobile or tablet. Whatever the customer uses, your website runs smoothly on everything providing customer most seamless experience ever.
We have designed our Car Aggregators platform in such a way that you get everything in one place. We have created this platform to simplify crs bus booking procedures. We make bookings easily manageable and accessible, helping you understand your sales better. We help you understand your business statistics by providing you with features like financial reporting. It will not only help you make decisions to reduce costs but will also help you know where to invest more and where to spend less. Our Car Aggregators platform is an all-round system that will help you in many ways. Our engine, along with financial management, also is integrated with technologies to help you manage your employees and keep a check on their performance. It provides facilities for managing distribution partners and also helps you in tracking rental cars. We have helped many travel consolidators and agencies by providing them with our robust software solutions. We have helped many small firms grow their business and become successful. Not only this, but we have also helped many established companies to improve their sales numbers by providing them with the most advanced Car Aggregators platform. Many small and big businesses use our platform, and we continue to provide them with the best Car Aggregators services.
The car rental business is one of the fastest-growing industries in the travel technology space. Since not everyone can afford cars, travellers usually prefer renting cars and booking a car online is a breeze for a customer. Everyone wants everything at their doorstep, and we with our Car Aggregators services have created a lot of business opportunities for many travel agencies, car rental services and tour operators by providing them with the best platform they can get. We give you not only the best Car Aggregators services but also the best customer support. adivaha® Travel Portal Solutions is renowned for providing the best travel software and the best technical support. We have the best professional team which is always available for you. We, with our team of highly trained and skilled engineering teams, are capable of providing you with the best solutions in a small time frame. Our customer support is the best you can get. We offer industry-leading services at affordable prices. Our affordable rates are one of the reasons why we have grown so fast in travel technology space. Our Car Aggregators technology is highly flexible. It means you can choose features according to your needs. Our low-cost services make sure that you get the best output for your investment in our car rental software. Our cheap Car Aggregators service is highly secure. We have the most secure transaction systems that will make sure that every cent is protected.
Not only this, but we also have the best measures to ensure the safety and security of cars for car rental companies. We make sure that security features like restricted access manager overrides etc. are available to you so that you can run your business peacefully. We provide real-time tracking of vehicles so that you can keep an eye and figure out anything suspicious quickly and avoid any damage. Not only this, but real-time monitoring will also help you with managing bookings better because it will help you in preventing double bookings. Overall, we at adivaha® Travel Portal Solutions provide you with the most technologically advanced and modern Car Aggregators engine. We also offer other services like GDS integration, Hotel crs official website and other travel technologies. adivaha® Travel Portal Solutions is your one-stop for all travel technology needs because we provide you with the best travel technology at the best prices. Choosing adivaha® Travel Portal Solutions for travel portal solutions means selecting the best company in the travel technology space, which will result in better sales for you. Get in touch with us now to get the best travel portal solutions now!
Our Comprehensive List of Services
adivaha® is a one-stop-shop for all your travel website needs. We offer a multitude of services that empower you to become a market leader. Contact us for more info.
Have Questions?
The Internet is a huge resource, but
if your question requires particular expertise.
Keep Refreshing your customers - Who doesn't want his site to stand out from crowd? adivaha® gives you multiple options for home pages, headers, colors etc. Which can easily be managed from admin via shortcodes and settings. The theme supports almost all the big players in this market ie, WEGO, Travelpayouts, Agoda, Booking, Expedia etc.
Frequently Asked Questions
Below are some of the questions asked by visitors. Do visit our adivaha® Digest for more such questions. Don't hesitate to ask us if you have any questions
Do you have cruising ? And if not can we create our own(fake) package itineraries so we can insert cruise …

23

views

1

answers

0

votes
Contact
Have something unique in mind? Drop a message.
Estimated reply time: 3-5 Working Days