Build your own Travel Brand!
Ready to go-LIVE travel solutions that helps your travel agency to sell a range of travel services pretty instantly. adivaha® travel solutions make sure you have no boundation over your imagination, you can do everything online, without the need for any technical knowledge or design skills. Easy Backoffice, extensive reporting with integrated Funds Management System. Upload funds easily and instantly through Netbanking, Debit Card, Credit Card. The best part is, we do offer customizations in case you believe it will boost your business!
Expedia API Integration
Do you have a business? Maybe you have an online travel agency and you want to incorporate hotel reservations and bookings into it then all you need is Expedia API integration. Somewhat easy to do because the Expedia API is a leading network in bringing and giving out the best hotel and accommodation services to users all over the world it has a friendly interface easy and simple to use tools.
On a layman's level or the users level, all they notice Is that they don't leave the online travel agency's site or app, but they have booked a hotel room, made reservations at a diner, gotten a car to take you around the country you're planning to take a trip to, all without leaving the agency's site. The wonderful thing is that it is the API that makes this possible.
API stands for Application Programming Interface. It is a cutting edge technology that connects and links softwares, servers, applications, websites, into one network or system. It is a technology which involves the addition and altering of a few URLs that makes the API to receive request and respond to these requests in a small amount of time. It gathers data from various sources and analyzes them into a response.
There are various types of Application Programming Interface APIs this day, but it is not know to most people because of the technicalities, only integration companies and coders make use of them. The first time I heard of APIs I was thinking it was another operating system or an app because it is obscured from the eyes of many. Now Expedia Affiliate API have brought this to many people without them knowing what it is. Most travelers would just hail and praise their online travel agency for giving them everything they need to have a perfect trip. We all have needs and while giving in to these needs we want it to be stress free as possible. This is what the Expedia API integration does, it gives the users the ease of getting hotels in any part of the world, even before they leave their country for their next destination. API sole function is to please the users, because we all know how unpleasant it is jumping from tabs to tabs to look for stuffs, this is what API does, it integrates everything any user would need into one system. This network is a powerful tool that is created and optimized to work efficiently in every type of device there is, from desktop, mobile, laptops and others devices. There are various tools embedded in it as well to ease the navigation for the users. Nothing traces back to the Expedia API as it hold the brand name of the online travel agency at the homepage. Everything appears to be part of the agency's website.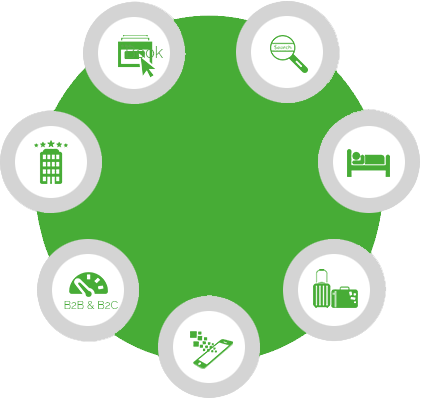 Expedia API Integration
The users won't see the Expedia API until hotel bookings and reservation is complete, then the users are exposed to other suggestions according to their location and preferences. Coupled with the flexibility of the API in different types of devices, it is also adapted to different viewing format to give the users the best navigating experience.
Expedia API integration as said links two servers together as a whole, in addition to this, the Expedia API server handles all the process of this reservation from getting the right hotel and making the payments as well. The Expedia API servers makes sure the reservation is made and completed through a secure payment channel. The personal debit and credit card details of the user provided is supplied to an SSL website which is then forwarded to the Expedia Affiliate Network API. All information sent here are securely stored by taking only the last four digits, saving it in the website as a form of inventory. When payments are made, there's a confirmation on the website and also sent through email. This process is also very easy to undergo as the website is easy to navigate and the user can see every step of what they are doing and getting the confirmation both on the website and in their mail.
A lot of API producing companies do not really pay attention to some features that are beneficial to the users in the that they attract their attention, through navigation and screen adaptability. Expedia APIs uses Bootstrap in designing the websites and this websites are optimized and search engine friendly. Bootstrap makes the websites produced appealing to mobile phone view, desktop view laptop and tablet views as well. This design makes it possible for the website to auto adjust to whatever screen you check them from, easy to zoom in and out too. This brings about a perfect use and view for anyone logging to the website. This is one of the website's strength.
The Expedia Affiliate Network API has a support of over 35 languages all over the world which makes it possible for communication to flow effectively. Any issue that arises can be easily settled through the correspondents.
Contracts are drawn during the integration laying out the terms of service and every other useful information for swift transition between both servers. One of such is how the Customers receive confirmation for their already booked or reserved hotel rooms. The contract my differ slightly, but the user would get the confirmation for their reservations and bookings via a mail sent from either server of the online travel agency website or the server of the Expedia Affiliate Network API.
Traveling around the world gas never been this easy and stress free. Before after sorting out the traveling tickets, you would have to contact the hotel yourself and sometimes this seems futile. But with the help of Expedia solution, you do everything at one go and in one place. It is like entering a mall or a supermarket where you can get everything you want from clothing to groceries and even laundry tools. It give the user the ease of doing things.
Our Comprehensive List of Services
adivaha® is a one-stop-shop for all your travel website needs. We offer a multitude of services that empower you to become a market leader. Contact us for more info.
Have Questions?
The Internet is a huge resource, but
if your question requires particular expertise.
Keep Refreshing your customers - Who doesn't want his site to stand out from crowd? adivaha® gives you multiple options for home pages, headers, colors etc. Which can easily be managed from admin via shortcodes and settings. The theme supports almost all the big players in this market ie, WEGO, Travelpayouts, Agoda, Booking, Expedia etc.
Frequently Asked Questions
Below are some of the questions asked by visitors. Do visit our adivaha® Digest for more such questions. Don't hesitate to ask us if you have any questions
I am setting up this plugin for my client's website, I tried registering and received the account activation email, but …

21

views

1

answers

0

votes