Build your own Travel Brand!
Ready to go-LIVE travel solutions that helps your travel agency to sell a range of travel services pretty instantly. adivaha® travel solutions make sure you have no boundation over your imagination, you can do everything online, without the need for any technical knowledge or design skills. Easy Backoffice, extensive reporting with integrated Funds Management System. Upload funds easily and instantly through Netbanking, Debit Card, Credit Card. The best part is, we do offer customizations in case you believe it will boost your business!
Understanding and Using the Expedia API for PHP Development
Traveling, and the process of making a travel or a trip happen has shifted from what it was before, sitting opposite travel agents with desks stacked with different documents and, books and newspapers.
The hassling, the back and forth, just to get information about hour to get the right things done for first trip or next trip. Now we have traveling agents online and everyday these agencies try to bring all round perfection to catering for the needs of their customers. This has brought about the utilization of APIs in travel industries and companies for them to produce better services to their customers. The urge to produce ease and better services to their customers has made the integration of Expedia API with their online travel agencies. PHP is a very powerful tool and its integration with Expedia is a good one. Because its practically impossible to have a website without an hypertext processor
Expedia is a renowned flight affiliate api in the traveling industry, its sole aim is to make the process of taking a trip and traveling an easy one. Expedia has started this journey a few years back now and the way it does this is that over the years it has created an affiliate of companies that render services and products in the line of traveling and taking trips and partnering with them to bring their products and services to more people and also giving the users the ease of finding and getting everything they need in one place thereby reducing the normal stress that could have risen as a result of going from one place to another. Expedia also makes sure that transition between these tools and features are smooth and easy to use. Because the programs, services, and products affiliated with expedia api integration are more than one.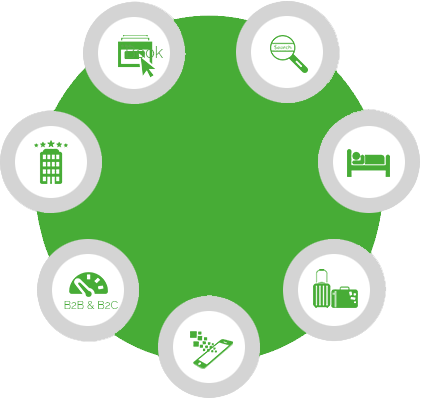 Using the Expedia API for PHP Development
It becomes easy for the users to get everything they need for their trip some of the things they would need include:
Information about different hotels in their destination, their sizes, locations and price range
Ease of movement, customers and travelers would want to move around when they get to their destination and would need either public transport, taxis or car they can rent for a fee.
Need images of the hotel rooms, the cars for rent to have a basic knowledge of what they would get.
Tickets to tours and sightseeing
All needs are the basic things that the affiliates of Expedia would provide for the user and all at once in the same place without having to jump around. The following are the affiliates of Expedia:
Restaurant reservation and bookings
Gift and card stored
Hotel reservations and bookings
Motor booking and rentals
Tour and sight seeing bookings and reservations.
These brand companies of these industries are not owned by expedia hotel api, they have just partnered with Expedia to gain more customers and this has formed an affiliate brand network, bringing them with Expedia when it integrates with an online travel agency. The partnership with these brands is what brings about the ease in the process of trip planning and execution because everything the intending traveler needs and would later need is already catered for. Integration of Expedia which is affiliated with the necessary brands together with the online travel agency is done by a program called an ean api.
What is API?
expedia apis is a technological term that describes a control panel that connects two separate entities together. The entities can either be, software, servers, networks, website or system apps. Its is an acronym and what it means is Application Programming Interface. It creates a ground where two server, system, network or software can interact like one. The full potential of APIs have not been understood as different things are been discovered that are its functions, but in the with travelling, it links the Expedia affiliate with the online best travel agency app .
What is Expedia API
expedia api integration is a travel company affiliated with various other brands with business relating to the ease of the process of planning trips. The aim of Expedia API PHP is to create an atmosphere where a user or customer is relaxed and fulfilled and also making it easy for them to navigate and plan their trips. These is made possible with the aid of the various tools embedded in the website. Tools such as the SEO optimized search engine the brings results of the users request in batches of relevance, reputation, and the number of time that the same keywords of hotels, car rentals and the likes were searched.
Most of the offers rendered by the affiliates of expedia affiliate api have to do with booking, rentals and reservation, flight booking, hotel and accommodation bookings or reservation, car rentals. Making reservations, booking and renting cars make use of money and that is why Expedia has a secure system of making payments and doing transactions
What is PHP?
PHP is a website tool derived from the tools of the Personal Homepage. It is a script language mostly used by Linux server for its interpretational functions.
PHP is an acronym that stands for Hypertext Processor. It is a programming language that works on the servers of the website unlike Java script which works on the clients.
expedia api example PHP is just the programming language of the Expedia API integrated websites of the online travel agency. What the Expedia API does is that when it is embedded in the website, Expedia system would interpret the request of the user before it is sent.
However, The drupal api integration does not work alone in the web page of the website, it has to be embedded with HTML on the sites that would receive the request for the hypertext processor to process by interpreting the page before the user can see it.
expedia affiliate api Technology is a very powerful tool in the Expedia network, because it is what is also responsible for the different designs and sleek navigation that the website of the online travel agency. It helps them to adapt to whichever device by collecting the info about the device and interpreting it before the results that were requested will be displayed.
Our Comprehensive List of Services
adivaha® is a one-stop-shop for all your travel website needs. We offer a multitude of services that empower you to become a market leader. Contact us for more info.
Have Questions?
The Internet is a huge resource, but
if your question requires particular expertise.
Keep Refreshing your customers - Who doesn't want his site to stand out from crowd? adivaha® gives you multiple options for home pages, headers, colors etc. Which can easily be managed from admin via shortcodes and settings. The theme supports almost all the big players in this market ie, WEGO, Travelpayouts, Agoda, Booking, Expedia etc.
Frequently Asked Questions
Below are some of the questions asked by visitors. Do visit our adivaha® Digest for more such questions. Don't hesitate to ask us if you have any questions
I am setting up this plugin for my client's website, I tried registering and received the account activation email, but …

18

views

1

answers

0

votes