Build your own Travel Brand!
Ready to go-LIVE travel solutions that helps your travel agency to sell a range of travel services pretty instantly. adivaha® travel solutions make sure you have no boundation over your imagination, you can do everything online, without the need for any technical knowledge or design skills. Easy Backoffice, extensive reporting with integrated Funds Management System. Upload funds easily and instantly through Netbanking, Debit Card, Credit Card. The best part is, we do offer customizations in case you believe it will boost your business!
Integrate the Expedia-API for Seamless Travel Booking
The human life has always looked for ways to make everything that they need to do as easy as it I could possibly be, this is why a lot if things were invented, to give man ease in every of his endeavors to make him or her achieve the highest success percentage.
There was a time when traveling was filled with stress but this has been reduced through the invention of mobile phones and the internet. This has ushered a new age where things are being done online and the success rate is on the increase as well. Travel agent ate not left behind as they have moved their services online as well. To help cater for a lot of people in the least time possible. Expedia API is doing this in bringing the online travel booking api provider agencies and the resources of different industries that offer traveling services close to the people, the clients that make use if these resources or those that would eventually make use of it.
Now, Expedia might be somewhat foreign to most people because a lot of people are not aware of the underground work that goes into making sure they have a stress free successful trip to their destinations. Same way API is bit strange to people who are not really the tech savvy type. Those who do not know anything about technology. So what is flight api? What is Expedia and what is Expedia Integration?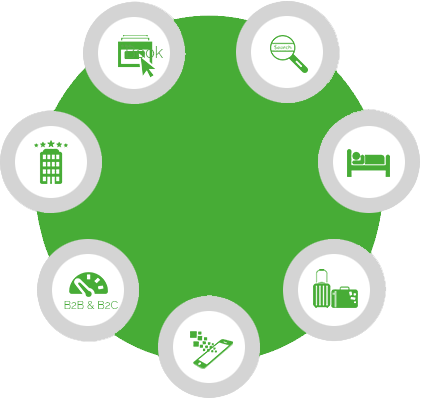 Integrate Expedia-API for Hassle-Free Travel Booking
What is an API?
flight booking api has been used in various industries over a long period of time, some have even used it without knowing it is what they are making use of. It is a technology term that stands for: Application Programming Interface. Several companies makes use of this interface because it is very useful when you want to diversify, or branch into a new business or network without leaving the one you are currently operating. There are also several types of API depending on the company making use of it and what it works for. Expedia API is like a control panel that links two servers, network, system, any two technology entity together for it to function as one without any hitch or problem. You can think of the flight api provider in india as the panel inside your remote control that let's out interact with your television, your DVD players etc. You can even think of it as the CPU of your desktop computer, because it links your monitor, keyboard, mouse, speakers, and scanners together for them to function as one, a computer.
Depending on the different industries using the flight apis, there are different types. Some of the following are examples of the travel companies that make use of API.
Expedia
ProTraveler
Booking. Etc.
What travel APIs do is link online traveling agencies with companies that offer traveling services such as hotel reservations, flight booking engine, car rental and a lot more.
What is Expedia?
Expedia is a traveling agency that strives to bring the best air tickets search engine traveling services to the clients and other people intending to take trips. Expedia does not own these services but has form a great deal of network of these services by partnering with these brands through affiliation. Some of these brands are from industries that have a kind if relationship with travelling and travelers. Some of these industries include
The hotel industries
Car rental industries.
Public transport and taxi businesses
Food and restaurant industries
Tours and sightseeing industries.
Expedia has various brands from these industries and it does not own them, but is flight booking api provider in india a partnership with these brands through affiliation. Meaning it has gathered this network of brands in order to bring their services straight to the people that need it and to make sure that these people are not searching vigorously for something they can snap their fingers and get which is what The Expedia solution is all about, linking Expedia's network of affiliated services with an online travel agency SK that the clients of these agencies can get everything they want in one swoop without ever leaving the online websites for any thing. Everything the client wants is already embedded in the website for easy access. Expedia gathers these brands and their self service api to make the trips of people around the world and their planning an easy and smooth one.
Expedia does not own any of these brands and even if it is going to own one, it would come later and would not appear as if it is owned by Expedia, it would just appear like every other affiliate of Expedia.
What is Expedia System
Having established that Expedia is a traveling agent that is working towards creating a playground where people who want to travel can get all the resources they need without any stress.
Expedia system is a means of bringing all these services gathered by the company to the online travel agencies worldwide and the flight booking api I'd there to link this two companies together. This is done by integration through various portals present in the company's system. To get started what should happen first is the integration of Expedia engine with the online travel agency, this needs people with skill and experience some of who are available in Expedia as well, but there are agencies whose job is to do this integration, it is their sole duty. An example of this company is the adivaha® travel portal solutions, they offer their services in integration as well as offering them to third party agents.
Expedia traveling company taking the lead in its industry because it does not only offer Hotel reservations, but flight booking and information about prices and destination. Some other things that flight booking api free does is that it allows the clients of the online travel agency to:
Make hotel reservations and bookings
Make restaurant reservation
Rent cars
Have access to public transport and taxis
Its offers the clients every bit of in information, from hotel pictures to other flight information and sightseeing and tours that are going to happen to.
To cap it all flight booking api php system offers a sleek website pleasing to the eyes and is adaptable to different devices as well as securing the personal information of its clients.
Our Comprehensive List of Services
adivaha® is a one-stop-shop for all your travel website needs. We offer a multitude of services that empower you to become a market leader. Contact us for more info.
Have Questions?
The Internet is a huge resource, but
if your question requires particular expertise.
Keep Refreshing your customers - Who doesn't want his site to stand out from crowd? adivaha® gives you multiple options for home pages, headers, colors etc. Which can easily be managed from admin via shortcodes and settings. The theme supports almost all the big players in this market ie, WEGO, Travelpayouts, Agoda, Booking, Expedia etc.
Frequently Asked Questions
Below are some of the questions asked by visitors. Do visit our adivaha® Digest for more such questions. Don't hesitate to ask us if you have any questions
I am setting up this plugin for my client's website, I tried registering and received the account activation email, but …

21

views

1

answers

0

votes