Build your own Travel Brand!
Ready to go-LIVE travel solutions that helps your travel agency to sell a range of travel services pretty instantly. adivaha® travel solutions make sure you have no boundation over your imagination, you can do everything online, without the need for any technical knowledge or design skills. Easy Backoffice, extensive reporting with integrated Funds Management System. Upload funds easily and instantly through Netbanking, Debit Card, Credit Card. The best part is, we do offer customizations in case you believe it will boost your business!
Using the Expedia Affiliate API for Your Travel Website
Traveling is a very technical thing to process and when it is not done right, it leaves loopholes that can make individuals, businesses and organizations stranded in a place where they are not familiar with anything or anyone.
There were times when traveling involved a lot of rigorous process of going back and forth to get papers and documents signed to enable the individual and corporate bodies to travel. There are still some documents signing and all, but some other aspects of traveling has been changed from the rigorous process to one that is just a click away. The world has gone digital and so are some other simple and complex stuffs we do too such as traveling, we now have online travel agency app whose job is to guide and help with this process. With the advent of online travel agencies people can now undergo this process without the underlying stress that comes with it. This ease in the process of travel with online travel agencies was brought about by expedia api integration. It helps the customers to focus their energy on other important stuffs.
What is An API?
An expedia hotel api is an interface that links two servers together for both servers to be able to function as one, get request and give out responses as well. It works as a panel of control linking two software together without having any interaction with the source code. What this does in the travel agency is that an agency that provides people with hotel accommodations can have a rental agency have cars ready for their users to use just by using an expedia api php to connect the online travel agency with the hotel and car rental service. Travel APIs search and then analyze travel data such as flight booking to hotel booking and costs, their availability, the destination of flights and many more, then also allowing third parties to get access to this information and also making use of the resources. In order to start using travel APIs such as the Expedia affiliate API, it has to be integrated first and this is where developers like adivaha® travel portal solutions do. They help in integrating APIs and also being actively involved in the terms and conditions. They help in the implementation, and when it has been implemented, there is an opportunity for third party users can connect to this expedia api free and then the system makes a request which then allows every partner and third party to get the info.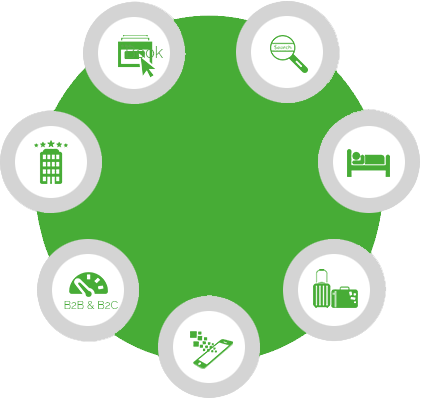 Guide to Using Expedia Affiliate API
A travel API is a series of website service that is harnessed to get access to various travel data from different companies and industries.
Affiliate API embodies a lot of perks that deals with travel and that are steered towards making the process of travel a easy and successful one. The important types expedia api example are
Ticket reservation and bookings
Car bookings and rentals
Room booking ad reservations
Taxis and public transport
Touring and sightseeing
Hotel reviews
Restaurant reservation and bookings.
The Expedia affiliate API is a versatile network of APIs, but is works very easy with users if online travel agencies all over the world. There are different types of expedia api integration as listed above and they all serve unique and important features while also coming together to form an affiliate of APIs. There is also a very extensive network of these APIs working towards helping travelers have the ease of the traveling process. Some of the functions of these APIs to the users are the following
Help users get access to public transport and taxis
Give users the best information about hotels reservation and bookings.
Give users the best information about flight destinations, costs locations and time of departure
Give the users to car rentals and bookings
Helps the users to book and reserve restaurant seats.
Helps the users to get spots on sightseeing tours
Helps the users to make hotel room reservations
Helps the users to book flights
Helps the users to cancel already made reservation
Helps the user to make sure that they are paying for the right package and that their payment is secure
Expedia api doesn't not deal with one alone example is the Expedia Hotel API. This is not the only API present in Expedia affiliate, there are car rentals and flight bookings. All these APIs come together to form one big affiliate which is the affiliate API solution and when this is integrated with an online travel agency it helps the users to be able to do everything they want to do on the online travel agency's website. What this implies is that, we know Expedia has APIs such as car rentals, hotel bookings and reservation flight booking and payments. Now users would be able to perform all these tasks on the online travel agency's website. I.e. users would be able to book and reserve hotel rooms, book and reserve flight seats on airplanes, reserve cars that would move them around from one place to another when they get to their destination. All this they would start and complete while still being on the online travel agency's website.
Expedia affiliate api system when integrated has sleek and professional look that is adaptable to different screen sizes and shapes. It is also compatible with the various everyday devices that we use such as our laptops, our mobile phones and our desktop computers. The ean api management is equipped to adapt and function properly on every device. The system is also programmed to make SEO friendly searches and also sorting the results according to request of the users gibing them the result according to relevance, reputation and most searched by people. The results are response to what the user search, either car rentals, hotel accommodation, or flight booking information.
The system of payment is also secured and it forms one of the strength of the flight api because people trust organization that can not only give them a good service but can safeguard elements of their personal lives.
Our Comprehensive List of Services
adivaha® is a one-stop-shop for all your travel website needs. We offer a multitude of services that empower you to become a market leader. Contact us for more info.
Have Questions?
The Internet is a huge resource, but
if your question requires particular expertise.
Keep Refreshing your customers - Who doesn't want his site to stand out from crowd? adivaha® gives you multiple options for home pages, headers, colors etc. Which can easily be managed from admin via shortcodes and settings. The theme supports almost all the big players in this market ie, WEGO, Travelpayouts, Agoda, Booking, Expedia etc.
Frequently Asked Questions
Below are some of the questions asked by visitors. Do visit our adivaha® Digest for more such questions. Don't hesitate to ask us if you have any questions
I am setting up this plugin for my client's website, I tried registering and received the account activation email, but …

21

views

1

answers

0

votes