Build your own Travel Brand!
Ready to go-LIVE travel solutions that helps your travel agency to sell a range of travel services pretty instantly. adivaha® travel solutions make sure you have no boundation over your imagination, you can do everything online, without the need for any technical knowledge or design skills. Easy Backoffice, extensive reporting with integrated Funds Management System. Upload funds easily and instantly through Netbanking, Debit Card, Credit Card. The best part is, we do offer customizations in case you believe it will boost your business!
How to Get Started with Expedia's Hotel API Integration
Making sure your customers have easy access to hotel accommodation and booking without going through any rigorous steps is what every online travel agency application agency wants and while a lot of people put this into consideration, some others do not know how to go by it, or how to get it running.
A few years back when you decide to travel or take a trip either long or short, what most people do is seek out the travel agency offline in their office and sort out the steps, from traveling to booking a flight booking api, but what is always left out then is the Hotel accommodation. Most people just leave it till they get to their destination and this sometimes causes a few to be stranded with hotels fully booked especially when it is a festive period. With the emergence of the internet, the stress reduced to a minimum but what remains was the stress if getting Hotel rooms booked before leaving and that is where Hotel affiliate integration comes in.
Expedia is a travel APIs that brings affiliate tools from all over the world to make the movement of people, businesses and organization from one place to another a stress free one. It is dedicated to making sure that an online traveling agency has everything it needs to make sure that a user or potential travel can do everything he or she wants to do without moving from one spot to another and without having to resort to different companies. How this happens is that Expedia Hotel API expedia api integration has created an affiliate or a gathering of more than everything that would make a person's trip memorable, pleasurable and easy. It has done this by bringing things such as a large number of hotels scattered all over the world, car rentals, city tours and many other things under one roof– the Expedia. What happens is that it does not own them but has partnered with them to bring their services to more people all over the world. It did this with API which is a means of linking two separate entities for them to work together as one. Example is Hotel reservation. Expedia has linked in a partnership with various hotels and integrated itself with online travel agencies all over the world. Expedia Hotel integration now means that all of the hotels affiliated with Expedia are now affiliated with any online travel agency that is in affiliation with Expedia.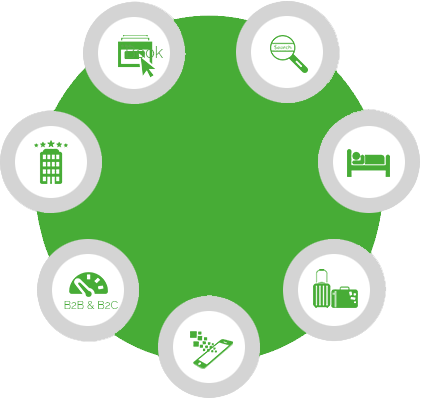 Guide to Expedia's Hotel API Integration
Expedia Hotel api integration has a lot of perks about it and all of which is targeted at customer satisfaction. The integration of expedia api php Affiliate Hotel is done through APIs, so what are APIs? API is technological acronym for Application Programming Interface. All it does is make itself a hall where two parties can interact as one, most times the hall belonging to a member of the party. In this case the online travel agency. Expedia API integration has worked well with APIs to help online travel agencies that it has become the most used affiliate among the whole affiliates that Expedia boasts of. It has however become an household name among other travel APIs that offer hotel services to travelers all around the world. Expedia Integration with an online travel agency would enable the user or intending traveler sort out their hotel accommodations even before they leave for their destinations. And all these they would do without leaving the website of the online travel agency, what happens is that they search for the hotels of their choice still under the online travel agency's brand name, make a reservation or booking, and make payments all under the brand name of the online travel agency without ever leaving the agency's upi website integration at all. That's where the ease come from, the users not jumping from one website page to another just to make a trip, they have all the things they need in one place, and would do it at one time as well, no back and forth.
With all the great tools that expedia api free Hotel API integration provides one would think everything is going to be clogged together and not easy to use, but the integration comes with a friendly and super easy use of access. For searching for hotels it has an embedded search engine that is SEO friendly which means that it gathers information about the hotels that are frequently searched and booked, then is shows them in order of importance or how large the numbers of reservations they have had I.e. their reputation. The user can also chose which one is peculiar and MRE appealing to them. This Expedia system also helps the users in bringing contents that not just describes the hotels but makes it easy for them to choose. The integration is so sweet that it is easily adaptable to different screen types, from mobile phones, desktop computers to laptop computers too. It is also adaptable to different devices as well which makes it easy for any user to use from anywhere in the world, the expedia api example Hotel solution also comes with over 30 languages which makes it easy for non English speaking users to use.
Some of things that expedia api integration would allow you to do on the online travel agency's website or application. Maybe desktop application or mobile application or website you'd be able to perform these functions
Get a list of hotels, especially the ones associated with Expedia
Get the pictures of these hotels and their rooms to have a general idea of what you are going for.
Book a room: maybe a suite, penthouse or anything that would suit your needs
Create your schedules, retrieve them too
You can also cancel any reservation you have made, if you feel you don't like it or want to change the room or the Hotel.
Make your payments
All these things are what you would be able to do while on the online travel agency's website or app because expedia flight api affiliate Hotel has been integrated with the agency. Expedia makes sure you have everything you need about hotel and accommodations while using an online travel agency.
Our Comprehensive List of Services
adivaha® is a one-stop-shop for all your travel website needs. We offer a multitude of services that empower you to become a market leader. Contact us for more info.
Have Questions?
The Internet is a huge resource, but
if your question requires particular expertise.
Keep Refreshing your customers - Who doesn't want his site to stand out from crowd? adivaha® gives you multiple options for home pages, headers, colors etc. Which can easily be managed from admin via shortcodes and settings. The theme supports almost all the big players in this market ie, WEGO, Travelpayouts, Agoda, Booking, Expedia etc.
Frequently Asked Questions
Below are some of the questions asked by visitors. Do visit our adivaha® Digest for more such questions. Don't hesitate to ask us if you have any questions
a. What security measures are in place to protect sensitive customer data? b. Does the API comply with data protection …

5

views

0

answers

0

votes