Build your own Travel Brand!
Ready to go-LIVE travel solutions that helps your travel agency to sell a range of travel services pretty instantly. adivaha® travel solutions make sure you have no boundation over your imagination, you can do everything online, without the need for any technical knowledge or design skills. Easy Backoffice, extensive reporting with integrated Funds Management System. Upload funds easily and instantly through Netbanking, Debit Card, Credit Card. The best part is, we do offer customizations in case you believe it will boost your business!
Understanding Expedia-TAAP API Integration
expedia affiliate network api is a leading travel agency with lots of clients scattered over all over the world, they have this numbers because they are the best and offer virtually every travel service any client or agency can think of, from hotel reservations, car rentals and bookings as well.
Expedia offers a large network services and products. They also have the Expedia TAAP API what this stands for is The Expedia Travel Agency Affiliate Program. This is an expedia api that allows travel agencies to be affiliated and hosted with the Expedia system. Over the years Expedia has carefully built and optimized its Travel Agent Affiliate Program (Expedia TAAP API) with amazingly new features that would be of great important and benefit to its Travel agents and their customers in the long run. These features are designed to make navigation and work on the website as simple and easy as possible by offering more enhanced product and service.
This has continued as Expedia is sparing no effort in bringing in new enhanced features to their Expedia travel agency app agent affiliate program API (Expedia TAAP API). These features are not only aimed at increasing the user friendly platform of the Expedia TAAP API, but to also make available to the partners of the online travel agency, information that would in turn help them to increase the growth of their business. The Expedia TAAP API has made available technology that would enable their numerous agents be able to adjust and cancel bookings and reservations without fees such as amendment fees or cancellation fees that is present in most hotel reservations. Expedia TAAP API Integration also has an information bank that provides agents with advance knowledge of hotel reservations, flight affiliate api bookings that are still yet to happen. There's also a feature that holds a map of the different locations of these hotels, this is a great power for the agents, because it enables them to seek out hotel accommodations based on specific locations that can be targeted by the agents. Some other travel agencies are in competition with the Expedia TAAP drupal api integration, and these agencies whether standing on their own or affiliated with other companies are losing because the Expedia Travel agent affiliate program (Expedia TAAP API) Has established a ten percent commission to its agents on hotel reservations.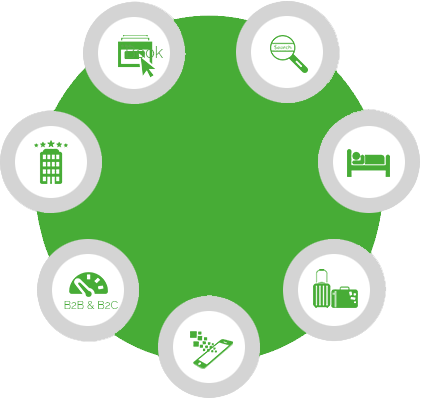 Expedia-TAAP API Integration for Travel Agencies
Some of the programs strong point and strength is that the platform has a user friendly interface and this has been proven to be one of the reasons why it attracts more agencies all over the world. The Expedia TAAP API has over a whooping 365,000 hotels and over 400 airlines and this is increasing by the year. It also has a very large number of rental companies for different types of vehicles. These are what attracts agencies, organizations and corporations worldwide, because by increasing what they offer they increase the number of clients as well. Expedia TAAP API Integration can also help its agents the means to get more business, because the prices of the hotels on the expedia affiliate api website is the same with that on the online travel agency's website. This makes sure that the agents get all the clients and this boosts their business, because the risk of clients going to other agency is reduced to a bare minimum. This Also fosters the clients agency relationship because the clients are getting the best deals.
expedia apis has integrated lots of incentives that eases the processing of the travels, it has successfully incorporated travel management companies, retail agencies that also deal with travels and some other ones.
expedia api php has established itself as an household name in the travel business, its tools are top notch so are the staffs that work round the clock to see that everything put in place is working perfectly and that it continues to ease the traveling process for its online agencies and their clients by giving them the fastest way to get the things they want.
In a bid to create a more easy and revenue generating atmosphere for its agencies, the Expedia TAAP API is already put in place to cater for this problem. It has given its agencies an offer which is an opportunity to choose expedia hotel api that have commissions this way the agencies can get more money and their business can grow as well. Expedia TAAP API is also known for having a platform where it receives feedbacks from the agencies so as to implement more incentives that would help them. Expedia TAAP ean api free Integration was created to actively get reactions from the agency and their clients in a bid to serve them better. When these feed backs are received it helps Expedia to know what to add, remove and what to leverage on in terms of the hotel reservation that has the best customer service and commission and then give the agency's clearer information to go on with, such as the hotels that pay higher commission and how long it takes for the commission to be processed.
expedia api example believes that this addition would be of benefit to its agents and other travel companies that are affiliated with them, because this comes with an added advantage of a larger flexibility on hotels that you can pay for in advance or on site.
Expedia TAAP API is linked with various online travel agencies in a bid to make the world of traveling for people a successful and easy one through its network of affiliate of travel companies. Brands are also embracing expedia api integration because it gives them an opportunity to give their services to more people across the globe. This would in turn help the agencies because some of these brands also give discount to clients that go through the agency to get these services as well as commission to the online travel agency. This way it becomes a win win for the three parties. Expedia, the agency and their clients.
Our Comprehensive List of Services
adivaha® is a one-stop-shop for all your travel website needs. We offer a multitude of services that empower you to become a market leader. Contact us for more info.
Have Questions?
The Internet is a huge resource, but
if your question requires particular expertise.
Keep Refreshing your customers - Who doesn't want his site to stand out from crowd? adivaha® gives you multiple options for home pages, headers, colors etc. Which can easily be managed from admin via shortcodes and settings. The theme supports almost all the big players in this market ie, WEGO, Travelpayouts, Agoda, Booking, Expedia etc.
Frequently Asked Questions
Below are some of the questions asked by visitors. Do visit our adivaha® Digest for more such questions. Don't hesitate to ask us if you have any questions
I am setting up this plugin for my client's website, I tried registering and received the account activation email, but …

21

views

1

answers

0

votes