Build your own Travel Brand!
Ready to go-LIVE travel solutions that helps your travel agency to sell a range of travel services pretty instantly. adivaha® travel solutions make sure you have no boundation over your imagination, you can do everything online, without the need for any technical knowledge or design skills. Easy Backoffice, extensive reporting with integrated Funds Management System. Upload funds easily and instantly through Netbanking, Debit Card, Credit Card. The best part is, we do offer customizations in case you believe it will boost your business!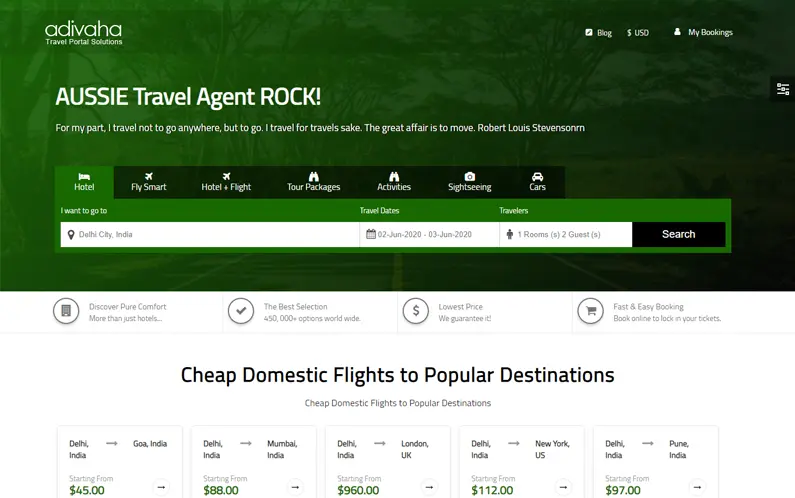 Easily Find the Best Flight API Provider in India
If you've been trying to find the most reliable flight API service to build your next app, you're in the right place. It was when travel agencies had to create their apps from scratch, which required considerable funds and time. Nowadays, we have flight data and other APIs for travel solutions that process and collect the data that CRM systems provide. This allows you to access this data easily without any additional programming. You can buy the license today and begin using it in your application. This article will help you find the most reliable Flight API provider in India.
Before we go ahead and know about it, we will first know what flight APIs are and how they can help your business.
WHAT IS THE API OR APIs?
A few years ago, some countries began to require airlines to send them advanced information about passengers boarding flights to or from their territories to manage their customs more efficiently and know reliable statistical data on tourism and immigration.
More recently, some countries have also begun to require information about people who make reservations to travel to or from their territories, arguing for more excellent air safety. This additional information allows countries to know, before they arrive in their territory, the people who intend to travel there, knowing additional data to those usually provided to the airline.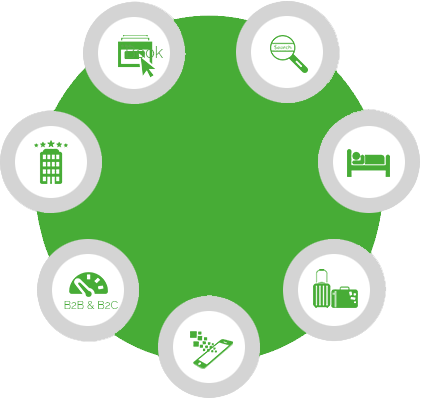 Discover the Top Flight API Providers in India
Multiple choices
Using APIs to build your travel app, you open up more opportunities like travel booking, flight tracking, and flight queries, rather than just building one or two of them. API gives you more functionality under one roof.
Economic
APIs can save you a lot of money and give you more functionality. Most APIs come with a lot of features at an flight booking api price.
Automation
Using an API means automating a whole set of tasks without relying on humans. In return, it dramatically reduces cost, time, and effort. This is a quick way to get things done with minimal resources.
About Flight API
Not long ago, finding a flight was a much more inconvenient and complicated task than it is today. The two possibilities were going by phone or physically to the point of sale. Travel agencies or the windows of the airlines themselves were the only sources of consultation for those who needed to book a destination. The airlines were precisely the ones that promoted information technologies in flight booking management. The flight booking api is essential to offer your customers a better service. And if you offer a better service, there is no doubt that you will generate more income and more business.
What is the main advantage of this Flight API? Well, it will allow you to have a air ticket search engine that, in real-time, will connect you with flight providers and attend to your customer's demands in milliseconds. Without them losing a second and without you losing a customer.
How do you connect your business with these flight api integration in php providers? Well, through XML integrations. The computer language, XML, allows information to travel at the speed of light so that a question from one of your customers can be answered in milliseconds. Connecting with these providers is the best guarantee of having enough flights to meet your customers' demands.
And what do you need for it? Well, both to install a flight booking api free engine and to access XML integrations, you only need a web page. At Adivaha, we do the rest. We connect your flight booking engine and make the XML integrations with the companies selling these flights. As simple as that.
1. Time-Saving

Specialized system knows the destinations well, which allows them to offer good recommendations based on what each client is looking for. If you don't see the goal, you have the knowledge and contacts to obtain the necessary information to inform the client.

The era of digitization and globalization has transformed the world of travel for the better. Travelers have more information and can share it with millions of users. Before we could compare two places, we can now compare hundreds if we know how to search.

A specialized agent will save us time searching for what interests us most, based on our tastes or expectations, since the excess of information makes us lose ourselves. Travel agents often complain that many clients call them for information and then arrange the trip independently. As in everything, some practices are not ethical.

2. Security

Travel agencies have obligations, and we must present a series of guarantees to the Administration so that they give us a license and be able to carry out and organize trips in which different services are combined. A travel offer must go under a licensed title. This indicates that a travel agency carries out the journey with guarantees before the Administration.

3. Saving Money

As travel agencies, we are dedicated to negotiating to have the most competitive conditions to offer our clients. In the case of passes in the United States and Canada, it has been shown that the difference between contracting through an agency and doing it directly can mean considerable savings.

The same happens with airlines, transfers, and accommodation. The different operators keep us informed of offers that are more difficult to reach the direct customer. We often believe that hiring through an agency is more expensive, but it is not.

4. Personalized Attention

Travel agents are in charge of your trip proposal from the beginning, offering recommendations, resolving doubts, and providing support after the trip. The more information you provide, the better the proposal.

In the event of an incident, agencies usually offer a 24-hour assistance telephone number in which they are in charge of assisting with the trip. We always show it and anticipate possible eventualities.
Many other advantages of the Flight API
It has the great advantage of having direct access to the large airline ticket providers, but with our flight booking api providers engine, you will have many others:
First, you will have absolute control on the same computer screen of all the reservations you make. Both reach you via the Internet through XML integrations and those made to you in person or by telephone. This way, you and your team will always know which flights are available and which have already been offered.
You will be able to show your client the most exciting flights that you have chosen.

You will also be able to create as many web pages as you want or make landing pages that show an exclusive destination. This way, you will be able to segment your product much better. On that website page, also known as a landing site, where you are able to include images, videos and as much data as you'd like. Information that can draw interest of the customer.

Once your customer has booked the flight with you, there is nothing stopping you from presenting him with an auto rental service or hotel room. This is a great method to keep your client as he doesn't need to go to different websites to purchase additional items. Additionally you can increase the size of your shopping cart. In essence, you'll be more successful in business.

In this reservation system, you can load as many rates as you want, however complicated they may be. You will also be able to issue invoices, bonds, and all the operations you need to manage your business. With this booking engine, you will spend less time and be very productive, both you and your entire team.

Flight API for designed to position

The API we set up for you was created and designed to be used in the location. What does that mean? It is possible to place your product on the first page of Google results using appropriate content and marketing strategies.

Around 80 percent of Internet users searching for a particular product or service don't go past one page. Therefore, it is crucial to be at the top of the list. It's about how you can position yourself above your competitors and attract more clients. Select the appropriate keywords place them in the correct locations on your website and then add relevant and valuable information. All this is easy with our ticket booking api engine. These are comfortable reservation systems and are easily indexed through search engines. Additionally, using the latest technology, we provide at Adivaha. You can also publish your content to some of the top social media platforms where your customers are. We shouldn't ignore an opportunity to send emails to your clients via the newsletter following creating databases with their email addresses. This is known as email marketing and is among the most efficient ways to generate sales.

Flight API is linked to tourism.

Airlines and flight providers are companies that are closely linked to tourism. And tourism is a sector that generates excellent benefits for a particular area or country. Without going any further, India receives about 70 to 80 million tourists a year. The majority of them use the plane to travel around. Thus, the opportunities for business are virtually infinite.
Improve the capabilities of Flight Booking Service
At Adivaha we offer the most effective and user-friendly tools to begin and grow your travel business. Find, book, and manage flights efficiently using a single platform. Adivaha is located in India and is among the top, most respected flight API companies that help the travel industry by offering technology solutions for travel agents, tour operators, online Travel agencies, and travel management firms worldwide.
Our flight API offers a wide range of low-cost and full-service airlines. We continually upgrade our content to stay ahead of the competition. Explore our various collections of deals developed in collaboration with selected partners with whom we've built a lasting partnership. Our API for Flight API allows travelers to purchase tickets for flights online and plays a crucial role in the evolution of airlines in the present.
In the Modern Era, it's time to move the process of booking flights using offline methods to online modes. Adivaha's Adivaha API for travel API can help your company boost revenue while automating processes and decreasing the time and effort needed to make a booking with an apis in airline.
Fully private label versions are also supported, which means we can alter the entire layout to meet the client's particular requirements. Applications developed using our API can also be used with multiple devices, using the latest technology that responds, automatically altering the screen's layout to suit the display of the device being utilized.
We design and develop various software to help airlines market their products directly and indirectly. Our API is comprised of information that comes from major airline companies, discount airlines, hybrid airlines, as well as corporate fleets.
This Adivaha airline booking API can aid your business in increasing its revenues by automatizing processes and cutting down on the time and effort needed to finish a booking with an airline.
How Is Flight API Integration One of the Most Innovative Solutions?
We provide Flight API Integration Solution- one of the most trusted and reliable Global Distribution Systems (GDS). This helps travel websites find the most reliable service providers to promote their services to the public and, in turn, generate massive traffic to websites as well. The integration we provide is Flight API, allowing your business to be reached by the highest number of customers and business partners. This integration can boost the revenue of your business, increase the efficiency of your operations and increase the efficiency of your business.
It will lower operating costs, help you grow, and allow you to profit from the emerging market in real time. We have integrated Flight API for small and medium-sized travel agents, which help them sell an enormous selection of flights.
At Adivaha, we give you full Access to Flight API by integrating the API on your site to allow you to include it in your service list. Our team offers a complete integration service, enabling customers to book flights in real time on your website. We are specialists in developing an online booking engine that is affordable and cost-effective. It's an application that swiftly assists the tourism and travel industry in getting flight reservations.
This booking engine aids consumers in booking flights both internationally and domestically and with other online services. This Flight API offers a content combination and shopping solution that covers all types of available fights and other ancillaries.
Step up in Travel Industry with our Flight API Integration
The API Integration for Flight API Integration provides:
Powerful computer reservation software.
A top-of-the-line travel system.
Internet solutions XML for the travel industry globally.
Our integration with airlines allows your travel company to connect to various online sales channels and travel products, enhancing your sales strategy.
Our Flight API allows travel websites to have the best flight api service providers to showcase their effective postal services. This can bring massive traffic to their website. API is an excellent tool for the availability and booking of airlines. Our API Integration for Flight API Integration can help you connect with the top airlines.
The Flight API integration lets you connect with customers and other service providers via various channels. It will benefit you and your customers by reducing costs and generating profits. We assist you in taking your business to the highest standing, and we are proud to offer the same services that the ideal travel website needs.
We have Flight API integration is one of the most trusted and reliable worldwide distribution systems that allows travel sites to provide organized services all in one location. It also assists travel agencies in demonstrating their value to generate a significant increase in traffic. The system combines all services and assists travelers in finding the best deals around the world.
Our team of experts at Adivaha can provide the full Flight API integration according to your requirements. We offer reliable and stable mapping using static data. This can also increase the amount of XML API integration. We offer Flight API Integration with a specially trained team that can perform the tasks required. Our team can assist you in connecting with various suppliers worldwide by integrating XML/API services. We also can assist you in managing XML API functionality for your portal, which will increase the number of customers you can serve.
Our team provides dedicated support by providing maintenance and regular updates on the recently in-use XML API. We are experts in API Integration systems, including all types of integration XML/JSON available from various XML API suppliers.
Our flight information provides much information about the schedule and current flights from and to the airport. The Flight API provides a portion of this data available to developers. Ground handlers and airlines supply the Central Information System with lots of information. The fragments of this data are now accessible to developers through Rest API Flight Information. The Flight API offers flight information from cargo and traveler flights. The web-based application will be linked to the reservation system for flights via API to retrieve the online inventory of Air Tickets from the backend and display it on the front of the application's interface using a GUI format.
We are experts in travel-related websites and brands. Our solutions are robust and suitable for small, medium, and large-scale travel operators and agents. Adivaha offers expedia flight api integration in your brand new or existing travel site. Flight API integration allows you to connect travelers and agents across the globe, expanding your reach to the world.
We provide Flight API Integration Solution- one of the most reliable and trustworthy Global Distribution Systems that helps travel websites find the most reliable service providers to advertise their efficient services to their portals and generate massive web traffic.
Our integration integrates Flight API, allowing you to reach the highest number of business partners. The integration will boost your company's revenue, boost efficiency in operations, and improve the efficiency of your business. It can reduce operational expenses, aid in growth, and take advantage of the latest market opportunities in real time. We have integrated Flight API for small and medium-sized travel agencies, assisting them in selling their massive selection of flights quickly.
At Adivaha, We give you total accessibility to Flight API by integrating a similar API into your website to allow you to add it to your service list. Our team offers a complete integration service, allowing customers to book in real time through your site.
Conclusion
By now, we hope you can appreciate how API is not just another acronym. Flight API provider in India make technology more user-friendly and efficient and have made a world of innovation possible in the flight software industry. Suppose your flight technology solutions do not yet have open APIs, which allow for the integration of complementary systems. Flight API System is projects that will help the airline reservation business offer its customers a simple and automated online processing system.
Tourism is one of the few product sectors whose figures increase yearly. You cannot miss out on the opportunity for your business to grow. For this, you have to have the right technological tools. And these tools happen because you install a powerful flight booking engine.
Consult us without commitment about the possibility of installing this system. We believe it will assist you in growing, and you'll be able to draw in more customers. We can give you a demo, install your flight API system and explain how it works. You'll see how simple it is. From the first day, observe how your productivity takes an upward curve you have never imagined.
Our Comprehensive List of Services
adivaha® is a one-stop-shop for all your travel website needs. We offer a multitude of services that empower you to become a market leader. Contact us for more info.
Have Questions?
The Internet is a huge resource, but
if your question requires particular expertise.
Keep Refreshing your customers - Who doesn't want his site to stand out from crowd? adivaha® gives you multiple options for home pages, headers, colors etc. Which can easily be managed from admin via shortcodes and settings. The theme supports almost all the big players in this market ie, WEGO, Travelpayouts, Agoda, Booking, Expedia etc.
Frequently Asked Questions
Below are some of the questions asked by visitors. Do visit our adivaha® Digest for more such questions. Don't hesitate to ask us if you have any questions
Do you have cruising ? And if not can we create our own(fake) package itineraries so we can insert cruise …

23

views

1

answers

0

votes
Contact
Have something unique in mind? Drop a message.
Estimated reply time: 3-5 Working Days