Build your own Travel Brand!
Ready to go-LIVE travel solutions that helps your travel agency to sell a range of travel services pretty instantly. adivaha® travel solutions make sure you have no boundation over your imagination, you can do everything online, without the need for any technical knowledge or design skills. Easy Backoffice, extensive reporting with integrated Funds Management System. Upload funds easily and instantly through Netbanking, Debit Card, Credit Card. The best part is, we do offer customizations in case you believe it will boost your business!
How to Easily Integrate Your App with a Flight Search API
While starting a new business, there are number of questions in one's mind. It is always beneficial to clear up all the confusions at first and then proceed for anything.
Similarly, while establishing a travel portal it is important that one should have all the latest softwares in order to grow business and an overwhelm response from the customers. It is the foremost duty of every travel company that they provide their customers with best option in real mean time.
Flight Search API Integration is one of the software solution that merges all the flight related searches at a same place and accordingly, shows the most desirable and feasible option for the travelers. In modern era, it is time to shift from offline galileo flight booking tickets to online mood. Everything around is digitalize now as well as everyone has easy access to internet. In this era of technology, ever person wants to do his/her work by a single click of button. This is what Flight Search API Integration is giving to travelers. By just entering the required data that is just like providing the travel dates and the destination.
What is Flight Search API?
API stands for Application Programming Interface. It is a way in which one company to contact the product of another. adivaha® Travel Portal Solutions provide access to Flight Search API Integration to its customers. This software decodes the entered data of the travelers and sends the requirements of the travelers to the service providers. When airlines receive the queries, they provide customers the best option, deal or any discount available or the travelers. Flight cost api Integration provides travelers a platform where they can search their queries and get response back from airlines within no time and in this travelers get of their choice and the portal using Flight Search API Integration software gets a great response for their business.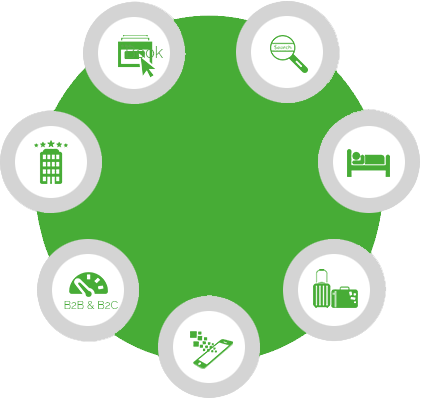 Integrating Your App with a Flight Search API
Importance of Flight API Integration
adivaha® Travel Portal Solutions provides Flight Search API Integration that could help your business grow. Everyone books a flight for an itinerary which has become a common habit of every other traveler. In order to search a desirable flight to their relevant destination, travelers use to browse several travel portals at a time. Flight Search API Integration provides travelers with best response and integrates the services which travelers are looking for. In this way, Flight Search gds api integration gives a privilege to a travel portal to serve its customers with best within no mean time and this helps them to grow their business as well. To reach the destination faster and in a smarter way, customers tries to see all the services of travel agents at a time. Following are the some of the characteristics of Flight Search API Integration:
Trustworthy and Reliable
Increase profitability
Provide better customer service
Built the solution that best meets your business needs.
Provides instant booking confirmation
Provides fast and error free online airline reservation system facility
Complete solution with inventory, content and other requirements
Provides instant booking confirmation
Features of Flight API Integration
Following are the some of the features of Flight API Integration:
Reliable and Robust
Build and update customized travel galileo booking system applications
Custom designed solutions which maximize efficiency
Independent of language and application framework
Browse and live prices feeds
Continually optimized product solutions
Real time streaming of prices or your customers
Decreased development costs and time to market
Built on scalable open system architecture
Flexible, scalable and easy to integrate and implement
adivaha® Travel Portal Solutions provides the best Flight Search API Integration according to customer's necessities. We have a strong and fixed mapping with static data which will help in escalating the volume of galileo api integration service with multiple suppliers available globally. API integration allows to fetch the online inventory on Air Tickets from the backend and to publish it on front end of the application in GUI format. It connects travel agents and customers from all over the world whilst extensively broadening your sales reach. It is one of the most reliable and most trusted Global Distribution System (GDS) that helps the travel portals to get best service providers by their side to broadcast their effective services at portal which will bring huge website traffic. Integration will also increase your business revenue, improve operational efficiency and boost business productivity. On the other hand, it will reduce your operating cost, help you grow and capture the new market opportunity in real time. At adivaha® Travel Portal Solutions, we provide you with complete access to Flight Search API Integration by integrating the same on your website.
At adivaha® Travel Portal Solutions, we provide you with complete access to Flight Booking and Search API Integration by integrating the same on your website. Some of the types of api for flight booking and Search API Integration are:
Direct Flight Booking API Integration
In Direct Flight Booking API Integration, airline gives the direct API to integrate it in portal. This service is provided to a TMC with large operations and turnover. It is a costly procedure as aircraft charges high to give the API and integration process additionally takes a ton of time and cash. Also trip specialists can't depend on only one carrier's API Integrated, as the client needs choice to look over. Travel agents need to put resources into galileo gds or outsider API integration too.
3rd Party Flight Booking API Integration:
A third party Flight Booking API supplier has GDS and the LCC (Low cost bearer) aircraft incorporated in its API. Generally The LCC can be of the habitant nation. Travel offices having residential and outbound travel business incline toward this sort of outsider API joining. A third party API supplier can likewise have gds api cost and overall LCC aircraft coordinated in its API. Third party API of overall LCC with GDS are costly in examination with GDS with nearby LCC. Travel offices having in bound travel business or business from numerous nations incorporates this sort of outsider API joining.
Our Comprehensive List of Services
adivaha® is a one-stop-shop for all your travel website needs. We offer a multitude of services that empower you to become a market leader. Contact us for more info.
Have Questions?
The Internet is a huge resource, but
if your question requires particular expertise.
Keep Refreshing your customers - Who doesn't want his site to stand out from crowd? adivaha® gives you multiple options for home pages, headers, colors etc. Which can easily be managed from admin via shortcodes and settings. The theme supports almost all the big players in this market ie, WEGO, Travelpayouts, Agoda, Booking, Expedia etc.
Frequently Asked Questions
Below are some of the questions asked by visitors. Do visit our adivaha® Digest for more such questions. Don't hesitate to ask us if you have any questions
Hello team, can you tell me if I can connect several APIs in one platform or website?

20

views

1

answers

0

votes