Build your own Travel Brand!
Ready to go-LIVE travel solutions that helps your travel agency to sell a range of travel services pretty instantly. adivaha® travel solutions make sure you have no boundation over your imagination, you can do everything online, without the need for any technical knowledge or design skills. Easy Backoffice, extensive reporting with integrated Funds Management System. Upload funds easily and instantly through Netbanking, Debit Card, Credit Card. The best part is, we do offer customizations in case you believe it will boost your business!
Understanding Flight White Label Solutions – A Comprehensive Guide
Uncover the power of white label flight solution with this comprehensive guide! Learn how you can use these solutions to leverage data into marketing opportunities and more.
This step-by-step guide will help you understand and leverage the power of these solutions, cutting through the clutter and enabling you to maximize your airline's potential.
What are Flight White Label Solutions?
Flight white label solutions are specific software products and services that enable airlines to access and utilize customer data. By leveraging this data, airlines can gain insights into market trends, identify cost savings and efficiencies, optimize their marketing activities, drive greater customer loyalty, and more. It permits businesses to customize the platform with their own branding, logo, and color scheme which helps to create a more seamless customer experience and build brand recognition. A business can quickly and easily launch a new travel booking platform without the need for extensive development or IT resources. This can help to save time and money. Travel technology providers invest heavily in the latest technology and infrastructure, which can be expensive for businesses to develop in-house. With a white label solution, businesses can access advanced technology and infrastructure without the need for large capital investments.
The Benefits of a Flight White Label Solution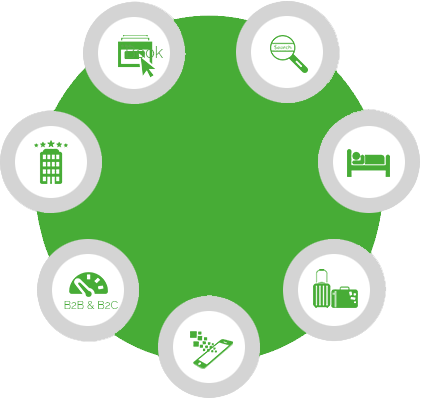 Guide To Understanding Flight White Label Solutions
Flight white label solutions offer a wide range of advantages for airlines. These include the ability to track real-time customer data, access reports on important metrics such as revenue per flight, target customers with optimized offers and campaigns, and maximize customer loyalty. With a white label solution, businesses can create their own branded travel booking platform that looks and feels like their own. This can help to build brand recognition and create a more seamless customer experience. The service providers managed the backend technology which includes the booking engine, payment processing, and customer support. It helps to reduce operational costs for businesses and offers them to focus on marketing and promoting their travel booking platforms. This provides greater insights into customer buying habits, making it easier to identify cost savings opportunities while also providing airlines with valuable data-driven marketing capabilities. Businesses can generate additional revenue streams and increase their customer by offering a platform under their brand name. Developing a travel booking platform from scratch can be expensive and time-consuming. With a white label solution, businesses can access advanced technology and infrastructure without the need for large capital investments. By using a white-label solution, businesses can quickly launch a new travel booking platform without the need for extensive development or IT resources.
How to Utilize Data From White Label Solutions
White label solutions can provide airlines with valuable customer data that they can use to enhance customer experience and drive sales. These solutions often come with a significant amount of data that can be leveraged for various purposes. Airlines should utilize this data through analytical programs in order to gain an understanding of customer buying patterns, such as the types of flights customers book, when they tend to book them, and which channels are most successful in converting customers. By leveraging this data into marketing strategies, airlines can better target potential customers and offer personalized offers that generate interest and loyalty. white label travel site solutions often come with features that track customer behavior, such as browsing habits, purchase history, and preferences. By analyzing this data, you can gain insights into your customers` behavior and preferences, which can inform your marketing strategies, product development, and customer service. White-label solutions can provide valuable data that can inform your product development process. By analyzing customer feedback, usage patterns, and preferences, you identify areas of improvement and develop new features or products that better meet your customer's needs. By analyzing customer data from white label solutions, you can optimize your marketing campaigns to better target your ideal customer. This can include creating more personalized and targeted campaigns, improving your ad copy and creativity, and targeting specific demographics or customer segments.
Strategies for Optimizing Performance Through White Labeling
Airlines can further maximize their white labeling solutions with the following strategies. First, airlines should utilize automated marketing tools to optimize performance and efficiency in their campaigns. Automated systems allow airlines to quickly analyze customer data to effectively target potential customers using personalized offers. Additionally, shoppers should be offered dynamic pricing models that can adjust throughout the day or week, depending on market conditions. Lastly, airlines should use multilingual tools to ensure their campaigns are accessible regardless of a user's location or language. By white label products or service, you can free up resources to focus on your core competencies. This can lead to more efficient use of resources and improved performance. White labeling can help you build brand recognition and customer loyalty. By rebranding a product or service and selling it as your own, you can build a reputation for quality and reliability. White labeling can provide access to products or services that you may not be able to develop. This can enhance the customer experience by providing a more comprehensive offering and improving customer satisfaction. White labeling can help you get to market faster. By leveraging an existing product or service, you can avoid the time and cost associated with product development and testing.
Integrating Flight Apis with Other Platforms to Expand Reach
One of the great capabilities of flight white label is their ability to integrate with other digital platforms. Flight APIs (Application Programming Interfaces) can be integrated with other platforms to expand the reach and offer new services to customers. Integrating flight APIs with travel booking websites can provide users with real-time flight information, availability, and pricing. This can improve the user experience and increase conversion rates by providing customers with a comprehensive travel booking platform. By integrating different online channels, airlines can easily expand into different markets and attract more customers. This integration enables customers to book flights on various platforms like TripAdvisor, Skyscanner, or other airline ticket portals. Additionally, connecting flight APIs with social media sites allows airlines to further customize marketing campaigns by leveraging customer data from different sources and providing personalized offers. Integrating flight APIs with corporate travel management company can provide with access to real-time flight information, pricing, and availability. This can improve the booking process and help companies manage their travel expenses more efficiently.
Our Comprehensive List of Services
adivaha® is a one-stop-shop for all your travel website needs. We offer a multitude of services that empower you to become a market leader. Contact us for more info.
Have Questions?
The Internet is a huge resource, but
if your question requires particular expertise.
Keep Refreshing your customers - Who doesn't want his site to stand out from crowd? adivaha® gives you multiple options for home pages, headers, colors etc. Which can easily be managed from admin via shortcodes and settings. The theme supports almost all the big players in this market ie, WEGO, Travelpayouts, Agoda, Booking, Expedia etc.
Frequently Asked Questions
Below are some of the questions asked by visitors. Do visit our adivaha® Digest for more such questions. Don't hesitate to ask us if you have any questions
I am setting up this plugin for my client's website, I tried registering and received the account activation email, but …

21

views

1

answers

0

votes