Build your own Travel Brand!
Ready to go-LIVE travel solutions that helps your travel agency to sell a range of travel services pretty instantly. adivaha® travel solutions make sure you have no boundation over your imagination, you can do everything online, without the need for any technical knowledge or design skills. Easy Backoffice, extensive reporting with integrated Funds Management System. Upload funds easily and instantly through Netbanking, Debit Card, Credit Card. The best part is, we do offer customizations in case you believe it will boost your business!
Google Hotel API
adivaha® Travel Portal Solution's Google Hotel API is a service providing the performance of finding and reserving hotels.
It makes the domain name of the online booking website. You are given a chance to provide customers with choices to pick their stay location that is perfect in a particular city. Therefore, your company is enhanced by Hotel API as you can give your customers better services. Company Expansion, giving your customers better hotelling experience and access to a vast database of hotels is what our Google Hotel's API will provide you. Together with the lodging options available so enormous, along with the booking interface, the adivaha® Travel Portal Solution's set Hotel API example for others on how the Hotel System should be integrated to travel websites. With adivaha® Travel Portal Solutions Hotel Solution, you can concentrate on promoting the company, and it will attract more and more visitors to your site, increasing your client base. Client Satisfaction for Folks and organizing a vacation for them has become an easy job because of our Google API. Therefore it is our task to make the procedure of the booking as smooth and comfortable for your business.
By offering one platform that lets you reserve and search several resorts to your customers, you'll make their lives easier and surpassing their expectations, and this is how we have set Hotel Integration example in the industry. We have adopted new methods and technologies for reducing the time taken in every booking procedure to make the process of reserving resorts a lot faster. It is primarily because of confirmation and a user-friendly interface.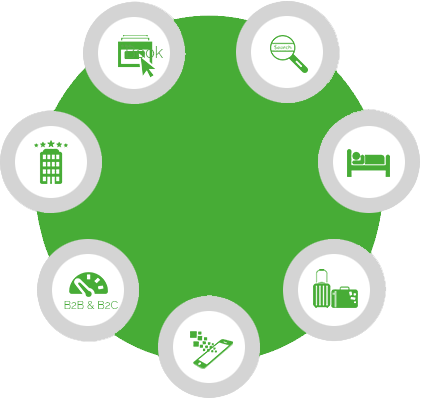 Google
Hotel API
You don't have to input information on multiple events, as our Hotel engine API will maintain information and all the details you need in one spot. Cost savings will likely be evident in several locations. Our API's ability to reserve availability on screen and with pricing and immediately decreased expenses will conserve an enormous amount of time. Integration with the adivaha® Travel Portal Solution's Google's API can provide you access to resorts and all of the providers we have partnered with to get a one-time fee. As a consequence, you won't need to shell out anything on the material or machine creation at any moment in the long run. adivaha® Travel Portal Solution's API allows you to incorporate the services we provide to your databases, systems, and sites. It will let you host an internet booking engine instantly and which asks real-time data displays the results for use. It is integrated with a proper payment gateway to give you safe transactions.
We are the one-stop that supplies travel agencies the best travel portal solutions. We give our customers the ability to provide travellers with the best booking and travelling experience. The need for the market right now is to identify travellers' requirements and this what travel companies are failing to achieve. We provide you with the Google Hotel API that is among the first search options, which helps the travel agencies and travel providers offer the travellers with the most beneficial and very best lookup results they can seal the deal together with the offer. The portal site, the software alternative has to learn more about the need of the travellers concerning the hotel booking and gets the search data. It must incorporate the landing-place of the rooms along with the budget of the traveller. Travellers requirements must be taken into consideration much seriously than it is taken now. A perfect travel portal site should direct it to the resorts which genuinely offer the solutions as well as the results. adivaha® Travel Portal Solutions provides the chance for the travel portal sites to cultivate their company by giving Hotel API Integration solution that is effective and reasonable.
adivaha® Travel Portal Solutions provides you with the most dynamic and vibrant travel content. Link to over thousands of lodging with abundant material and aggressive prices for travellers. Our recommendations permit you to provide your travellers with the best hotels, resorts and vacation rental recommendations based on various technologies that we have implemented in it like Machine Learning and Artificial Intelligence. Never have we taken a step back in terms of using newer techniques to improve your business. We have used these technologies every time for your advantage. We always have tried our level best to integrate these technologies in the best way so that you can make the most out of your travel business.
Our API provides thousands of bright geography definitions that match traveller search questions to lodging the most accessible places, serving your visitors with all the prices and availabilities they're searching for in just a click of a button. It has a massive number of options in terms of travelling categories, from resort to hotels, flats to treehouses and much more like vacation rentals etc. It helps you cover your target market's every need, from business travellers to households and cheaper alternatives to luxurious staying options. Millions of fabulous hotels, rooms and vacation rentals are waiting to be booked, and our integration helps you to capitalize on these opportunities. We help you grab every opportunity and earn the profit. It has viable options in terms of availability of hotels and rental properties, and we help you provide them to your customers at a fantastic price. adivaha® Travel Portal Solution's modular structure permits for flexibility to fit your distinctive business requirements. Modular architecture allows you to incorporate what you need. We have one of the most flexible approaches in the travel business. All of our services are flexible and are designed to fit the needs of all businesses. Whether you have a large travel business or a small startup trying to make a name in the travel space.
We have solutions for every need of yours, and we are always making efforts to improve them more and more for you. We have used many technologies to get you the best Google Hotel API integration. An accessible API route with URL linking means that targeted orders, and that means you can deliver the information you want to and give customers the service that you feel is the best. Upsell possessions and conversion by acquiring the best travel recommendations. Based on how big your company is, as your experienced travel portal providers, you can benefit from the knowledge and support of our outstanding accounts supervisors. They assist you in identifying and expanding opportunities. From launching to client support, your account manager will maintain standard reviews to be sure that you're getting everything you want and expect from our resources, services, and products. And it will not stop there. We will discuss best practice and allow you to identify opportunities, organize much more, and training if necessary. Before your service goes live, we will take you through a thorough onboarding process that will assist you to begin, ensuring all of your questions are answered, and you're clear about how the service functions, from connections to procedures. And we do not stop there, and we believe that we should be with you in the long term so that we can help you grow. That is why we can offer training if you would like to improve your in-house skillset. Scaling up can be a struggle when you are raising your booking volume but do not have the team to ensure support for your travellers. Our highly trained and skilled staff can offer support while growing your organization, you will get fantastic service for each booking.
We supply gives you the very best prices and packages. Our relations with numerous travel merchandise providers make sure we get exact details on rates and availability. Makes sure that you find the best packages throughout the board on your site, so you stick out from the others. Because providing the client what's currently available on the marketplace won't direct your company anywhere. It would help if you are noticed, make sure others aren't able to provide the value to your clients that others aren't offering. Above all, make the client's expertise around the mark. Meaning you'll be superior to your opponents. Your service is what matters to people. We intend to help travel companies around the globe by supplying them with the very best applications, which permits them to succeed and enhance earnings. This rapidity of the procedure will improve your site's usability. It'll make your website popular amongst users and will enhance your site traffic. This updated approach towards enhancing the consumer experience is what's made our Google Hotel API the best option in the business for Hotel APIs. adivaha® Travel Portal Solution's is what you require, and we are sure that you will make the most out of it.
Our Comprehensive List of Services
adivaha® is a one-stop-shop for all your travel website needs. We offer a multitude of services that empower you to become a market leader. Contact us for more info.
Have Questions?
The Internet is a huge resource, but
if your question requires particular expertise.
Keep Refreshing your customers - Who doesn't want his site to stand out from crowd? adivaha® gives you multiple options for home pages, headers, colors etc. Which can easily be managed from admin via shortcodes and settings. The theme supports almost all the big players in this market ie, WEGO, Travelpayouts, Agoda, Booking, Expedia etc.
Frequently Asked Questions
Below are some of the questions asked by visitors. Do visit our adivaha® Digest for more such questions. Don't hesitate to ask us if you have any questions