Build your own Travel Brand!
Ready to go-LIVE travel solutions that helps your travel agency to sell a range of travel services pretty instantly. adivaha® travel solutions make sure you have no boundation over your imagination, you can do everything online, without the need for any technical knowledge or design skills. Easy Backoffice, extensive reporting with integrated Funds Management System. Upload funds easily and instantly through Netbanking, Debit Card, Credit Card. The best part is, we do offer customizations in case you believe it will boost your business!
Google Travel partner API
With a broad selection of hotelling choices in each area, each supplying different pricing and accessibility, the job of browsing through multiple providers could be made easy with Travel partner API by adivaha® Travel Portal Solutions.
By incorporating our Holiday API with your Traveling portal site, you as an Online Travel Agency may find it most comfortable to conquer Travel service bargains to your prospective customers. adivaha® Travel Portal Solution's Holiday API is a valuable resource for your business. Our Travel partner Solution provides unrivalled travel search and booking technologies designed to fulfill all your requirements. Our Holiday API presents rich travel content that's usually not provided by other Travel Portal Solutions provider. Our online booking system empowers you to get our enormous travel inventory from any place in the world quickly. adivaha® Travel Portal Solution's most exceptional travel booking engine is specialized in booking hotels on the internet with the best resorts, vacation rentals, and flights available. By incorporating our Holiday API together with your software option, you, as a travel service provider, might offer for your customers that are difficult to conquer by your competitors. It aids in the tourism and travel industry to get the Hotel booking done readily.
Google Travel partner API provides detailed descriptions of hotels such as room types, pictures, and amenities, of properties globally. It gives full information on flights like seat availability. Our API also helps run Car Aggregating business better and offers real-time inventories for them as well. Our solutions are integrated, analyzed, and maintained by a seasoned group of specialists. It is flexible, scalable, and simple to incorporate and execute. adivaha® Travel Portal Solution's Holiday API lets you construct and upgrade customized travel booking software. We have a custom-designed set of solutions that maximize efficiency, and it is highly reliable and robust and offers Real-time loading of costs for your customers, which intelligently optimizes merchandise alternatives. adivaha® Travel Portal Solution's Holiday API empowers Online Travel Agencies (OTAs) and Travel Management Firms (TMCs) and company organizations to search, publicize and handle relevant travel information.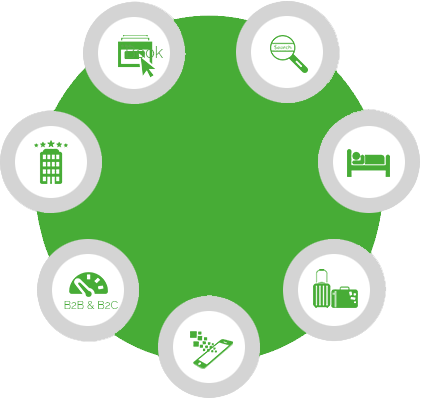 Google Travel
partner API
adivaha® Travel Portal Solutions is a top API supplier which enables travellers to create more easy bookings, modifications, and cancellations directly from the site. We also help top hotels, automobile aggregators, airlines, tour operators and travel organizations to incorporate APIs which help scale their business. Our successful Holiday API solutions give live statistics on your site without spending hours online study. It makes your website more user friendly and guarantees higher conversion. Our principal focus will be to make you aware of the ideal Google Travel partner API and Holiday API solutions that can allow you to increase your organization's business and revenue generation. You can incorporate booking into your software. Convert your site traffic to confirmed, commission-free reservations with our Holiday API integrated systems. We utilize innovative tools and technology to create search engines, which can help travel agents and tour operators to make the most of their earnings. If you've got a Tour & Travel site and are interested in the very best holiday packing system or vacation booking site to redesign, join with us. We're among the best travel portal company as we supply full travel booking applications for the tourism business, with the luxury tour and vacation bundle modules. The Holiday API by adivaha® Travel Portal Solutions is essentially a set of web solutions for obtaining travel deals from other travel suppliers. Our Holiday API is an entirely web-based software, which aids online travel brokers to make its packages efficiently. Utilizing our bundles booking engine applications, online travel agents may offer numerous choices to your clients who will choose from a broad selection of available packages as per their requirements. We supply Google Travel API, which fulfills your client requirements. We provide a fully customized Holiday API that enables your clients to attach and straightforwardly right to your system. Together with our GDS systems, you can give your clients real-time prices, stock, discounts, access to rooms, and descriptions.
Additionally, travellers may achieve the capacity to connect to internet travel agencies (OTAs) via our Google Travel partner API platform. We supply it with an OTA-branded booking engine that's available through a site or a mobile app. Travellers may finish their itineraries in a single compact step instead of attempt to take care of airlines, hotels, and airport transfers independently. We are among the world's biggest travel portal solutions websites featuring reviews and tips on hotels, flights, resorts, holiday rentals, holiday packages, travel guides, and much more. adivaha® Travel Portal Solution's Holiday API enables access to company information on travel destinations. Our Google API integration yields sufficient information on ratings, costs, location, and testimonials of travel-themed lodging, restaurants, transportation, and hotels. We provide a robust service for locating and booking trips, such as holiday excursions. We also enable users to share tours, thoughts, information, and media in previous outings with friends and fellow travellers. Our Holiday API allows developers to incorporate trips and book reservations via their programs or websites.
Holiday package booking engine by adivaha® Travel Portal Solutions is a customized instrument and supplies the attribute to the customer for faster, simpler interfaces for bookings directly from the site. We have an exceptionally detailed booking management instrument connected with a travel booking engine in which it enables smooth booking operations. It provides features such as developments, modifications, and cancellations, together with notes and distinctive standards to boost your customer service, along with the booking history being secured at one location in the package search engine. We are an award-winning travelling portal company working with international travel management companies to provide high-quality travel applications and CRS systems, and facilities such as dynamic packaging. Dynamic packaging allows travellers to make their bundle of flights, lodging, and car rentals rather than purchasing a predefined package for all three. With lively packaging, a travel agent or tour operator could supply a tailor-made bundle that best reflects its wants and feels and looks for the traveller's needs. With these specialized applications, it is possible to provide lively packages to your clients directly from the site. A seasoned travel software business may design your own body and give a viable vigorous package solution for travel retailers. Our holiday package booking engine supplies a speedy and secure reservation experience and needs minimal efforts to reserve the desirable package on the web. Our Holiday API enables you to book your hotel room earlier, especially up to 6 weeks ahead of time. The standard hotel booking system just novels rooms up to five weeks ahead of time. Our System includes holiday packs which entitle you to particular speedy pass tickets without an established return period. It consists of a guidebook which details the advantages of the sort of package you have. The guide includes a listing of kinds of beverages you'll be able to purchase and where.
The construction of the API and also our specialized API documentation are constructed to guarantee smooth integration to our customers. We've had a complete customer alliance as few as 5-7 days. However, the average is 12-15 days. Upon registering for the API arrangement, you'll be assigned an API technical support person who will direct you through the comprehensive integration procedure. We have helped businesses like Hotels, Villas, Meta-search Businesses, Travel Management Firms (TMCs), and other Corporate Businesses with their travel portal needs. We have given them access to the best in class technology in the travel space.
Websites that have used our technologies like Travel's partner API, Hotel CRS, Vacation Rentals, and Car Aggregators are well rounded and maintain a high reputation among clients who've been vacationing with them. As a travelling portal company, we supply Holiday API integration handling journeys and tours. We create highly personalized and interactive travel portal sites for travel agencies to permit them to give better services to their travellers. If you're thinking of getting your own travel company, we're here to assist you with all of your B2B and B2C travel portal necessities. Also, we give the innovative holiday packing applications for tour operators, which enable you to make a bundle, handle stock, group travel, manage clients & travel brokers. Our Holiday API entirely automates your sales process, update your solutions arranging, handle accounts, and gain complete insights into your travel company. We create a fully customized vacation package system that enables travellers to create more straightforward bookings, modifications, and cancellations directly from the site. We provide affordable and reasonable booking engines to many businesses, including Tour Operators, Travel Agencies, etc.
adivaha® Travel Portal Solutions is among the world's most prominent travel firm providing flights, hotels, car rentals, vacation packages API, and much more. adivaha® Travel Portal Solutions Google Travel partner API enables access to company information on travel destinations. Besides, we do programmatic access to functions that will allow clients to reserve flights, hotels, cars, and excursions from the websites. Our Travel Portal lets users create bookings through leading software. Our Holiday API attributes include the ability to filter and sort supplies by different characteristics, and full-text look of providing descriptions. Our travel tech specialists have comprehensive expertise in the travelling domain and applications to turn-out the many favourite travel technologies software. We're loyal to providing excellent service and keeping up long-term client satisfaction. Typically, API's make the principles that developers ought to use so that they can interact appropriately utilizing a programming language. The computer software permits the user to get data in real-time. The API serves as an intermediary between the authentic origin of information and what the consumer finally views in their smartphone/pc.
Our Holiday API provides you with a large quantity of power, letting you exploit the potency of our award-winning booking platform and combine it with your system. And because the API is standardized for many of our clients, any third party which has united a technology for a different corporation will then have the ability to encourage your stock readily also. Our Google Solution will enable your transaction partners to look for accessibility, regain your descriptions, and make reservations with credit cards on the accounts. We offer online booking supplies to clients or end-users going to the site. Our clients who run travel portal sites comprises of essential qualities to their clients. Our API is a hotel booking for local and global resorts. Our Holiday API is an auto-booking engine that may encourage a user to reserve the vehicle rental of his pick in his preferred place & one of a kind travelling and destination vacation packages. Our solutions include travel deals such as flights, hotels, and vacation rental applications, which end users or B2B agencies may reserve online. The travel inventory could be associated via the GDS APIs provided by adivaha® Travel Portal Solutions or even self-contracts. adivaha® Travel Portal Solutions is among the world's leading online travel portal solutions and site development company, offering Holiday API integration across the globe. We construct personalized travel portals that are packed with all innovative features to help clients make bookings fast, reserve hotels and air tickets, tour packages, car rental providers, and creating their trip a success. We provide you with a vacation API based solution that assists you in delivering customers together with the essential info on your website and permitting them to achieve that ultimate decision quickly. There is no reason at all why you should not choose adivaha® Travel Portal Solutions for your Holiday API and integration. We have everything you need, and we deliver everything that you expect from a top travel portal company. Therefore, feel free to contact us and let us be your best API provider and start growing your business now!
Our Comprehensive List of Services
adivaha® is a one-stop-shop for all your travel website needs. We offer a multitude of services that empower you to become a market leader. Contact us for more info.
Have Questions?
The Internet is a huge resource, but
if your question requires particular expertise.
Keep Refreshing your customers - Who doesn't want his site to stand out from crowd? adivaha® gives you multiple options for home pages, headers, colors etc. Which can easily be managed from admin via shortcodes and settings. The theme supports almost all the big players in this market ie, WEGO, Travelpayouts, Agoda, Booking, Expedia etc.
Frequently Asked Questions
Below are some of the questions asked by visitors. Do visit our adivaha® Digest for more such questions. Don't hesitate to ask us if you have any questions
hello team, I want to know the cost of hiring your services. could you please provide full-fledged information regarding this?

29

views

1

answers

0

votes