Build your own Travel Brand!
Ready to go-LIVE travel solutions that helps your travel agency to sell a range of travel services pretty instantly. adivaha® travel solutions make sure you have no boundation over your imagination, you can do everything online, without the need for any technical knowledge or design skills. Easy Backoffice, extensive reporting with integrated Funds Management System. Upload funds easily and instantly through Netbanking, Debit Card, Credit Card. The best part is, we do offer customizations in case you believe it will boost your business!
The Best Hotel Central Reservation System For Your Business
There is no one better than understanding the needs of Travel agents than adivaha® Travel Portal Solutions.
Over the years, we have developed numerous travel technologies to help the travel industry by making their work easier. Our software and integration have created some industry-leading travel solutions for our clients, which have benefitted them immensely. Due to adivaha® being with them, they have seen ultimate growth in their revenues because we were the ones helping them with our XML hotel booking mobile app System, Hotel CRS, and Hotel Central Reservation System. adivaha® is not only leading the XML Hotel Booking System marketplace but is providing the customers with the best service by improving technology standards every time. We aim at providing customers with the best Hotel CRS, and that is why we partner with the best suppliers all around the world to give you the best XML Hotel Booking System.
It's is not surprising to anyone that adivaha® Travel Portal Solutions has been the leader in providing the best GDS integration services in the travel technology business. We have supplied and given many failing travel businesses a second wing and helped them turn around their destinies. It is a well-known fact that our GDS integration services have been successful because of our quality, price and customer support we give to our clients. Our customers have always admired the services we have provided them, and the success of our XML Hotel Booking System and hotel extranet system Booking is proof of that. We, with our high-quality Hotel CRS, have helped many travel agencies and hotels improve their business.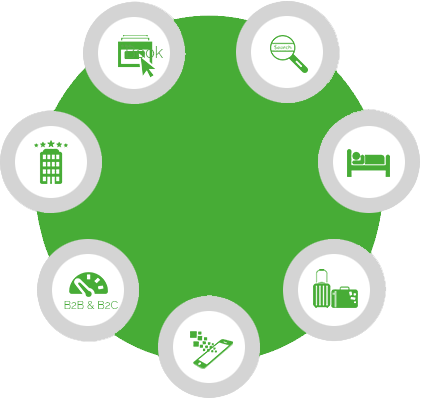 Choose the Perfect Hotel Central Reservation System
We design high-quality solutions to fulfil all your requirements from a Reservation System. We know what a travel business's needs are, and we develop technologies that aimed at fulfilling them, and so far, we have succeeded in doing so. We provide the best XML Hotel Booking api System because we create the perfect blend of Hotel CRS and GDS. This integration between the two not only helps travel agencies increase their reach but also helps hotels increase their sales. We provide top-notch GDS services like the Amadeus GDS system, which has been leading the GDS system market for a very long time. We make sure that our Hotel Central Reservation System makes full use of Amadeus GDS integration to improve sales of travel agencies as well as hotels. This GDS API integration has proven to be the missing link for many hotels and travel agencies, and using adivaha® Travel Portal Solutions XML Hotel Booking System along with it has done wonders in terms of profits for them.
Choose the most feature-packed Hotel's Booking Software
Our XML Hotel Booking System does not only includes hotels, but it also contains lodges, guest houses and inns. Our Hotel CRS means you will get access to countless hotels at various places ensuring you get your traveller what he needs. Our hotel booking software technology offers a vast majority of features. These features have made booking, distribution and accessing of hotels far more accessible than before. We receive praises worldwide for our XML Hotel Booking System because of its impact on the travel industry. Our B2B, B2C and B2B2C hotel booking systems have been the industry benchmark for a long time, and we remain the first choice for Hotel CRS and Hotel Central Reservation System. We at adivaha® Travel Portal Solutions provide you with a Hotel engine fully loaded with lots of tools, features and benefits. Our premium Hotel CRS provides facilities like Accounting system management, Back end profile management, Agent controlling and Currency Control access. These features previously were divided into bits and pieces, and no travel technology company provided them with all in one place. We, with our highly skilled and dedicated engineering team along with a clear vision of providing the best XML Hotel Booking System services, we have been able to achieve it. We provide you with the best set of features and tools that you need for a Hotel CRS. We have extensively studied the needs of our clients and have laid them out in perfect fashion. With our new reservation System, you surely will have a better sale report than your competitors.
Our API brings you the most massive collection of hotels from over the world. Not only this, but our advanced API also brings you features like description and images of hotel rooms. Our System brings you things like room availability, prices, payment processing in one place. It means you do not have to waste time searching for different details. You get everything at a click of the mouse. Our XML hotel booking api integration System works in real-time to give you the exact numbers. We have the most advanced system that will help you manage your bookings better. This actual time availability of rooms, guests etc. will help you give your travellers the best travelling and hotel experience. This feature makes sure that your travellers do not run into any kind of problem after reaching their destination.
Be less dependent on others
As we know, any kind of middleman in business always takes a chunk from your margins. Depending on your dependency on that middleman determines the price you are paying. Not only this, but reliance also reduces your freedom. Your dependence will cause hurdles in your business because you won't be able to make changes in your business according to you, it highly depends on third party software you rely on. Our XML Hotel ticket booking software System frees you from dependencies on others. We bring you an all in one Hotel CRS which will enable you to do maximum things by yourself. We have eradicated the need for an intermediary to handle your bookings. We have one of the most flexible XML Hotel Booking System in the market to give you the best experience ever.
You don't have to pay for a airline business travel agency or be dependent on other software to fulfil your needs. We give you the total control of your business so that you can cut the unnecessary costs that reduce your profits. We give you the authority of being the visionary for your brand and run your company as you want it to, not how some business you are dependent on. Our Hotel's Central Reservation System is robust. We have the most reliable Hotel's Solution in the industry, and we are known for our reliability. We build systems that will hold up well in the future. Our Hotel CRS is future proof, and that is why you will get peace of mind choosing us. You do not have to be worried about your business falling behind due to the introduction of new technologies in the travel industry. We always are up to date with the latest technologies, and we implement them to make our XML Hotel Booking System better and better. We make sure that you make better sales, and that is why we don't leave any opportunity to make your experience better. Your business growth is our priority.
Get the best user interface
We not only make the most robust systems but also create the best interface for those systems. Having a non-interactive interface not only makes using in more hardened but also reduces efficiency. Many Hotel CRS comes with a lot of features but are buried by cluttered and is not user friendly at all. Meanwhile, using this kind of interface ruins your business rather than fixing it. There are more unfortunate effects of using a cluttery interface than its advantages. It can have a considerable learning curve meaning more time is wasted in getting to know the interface and figuring out how to use it. This wasted time is a huge deal breaker because competition today is so high that someone can steal a lot of your opportunities. We understand the competitive behaviour of this market, and that is why we have created a hotel booking company System, which is not only easy to learn but is easy to access and easy to use. Our XML Hotel Booking System has an interface that can be used by anyone. We have created a Hotel CRS to gain maximum output in a smaller time frame. We believe that the functionality of a system is more important than anything. A Hotel automated software with a properly thought out and crafted set of tools is far better than a system with thousands of features that are hard to find and use. It is the reason why adivaha® Travel Portal Solution's XML Hotel Booking System has been so successful and continues to dominate.
Give your customers the best experience ever!
Our interface is not only friendly for our clients but the end customer too. Our fully automatedSystem provides an interface to your website that is modern, simplistic and easy to use. Many travel websites are integrated with a Hotel CRS, which has a terrible interface for customers. The procedure of flight booking apis a hotel on those websites is so hectic that customer tends to find other options. It translates to huge losses because most of the customers shift to something better. You cannot afford to give any advantage to your competitors because it can create a huge business loss. That is why we have the most streamlined software that integrates with your website to make the booking experience of your customers as comfortable as possible. A customer creates an image in his mind based on the online booking experience he has seen, and that is why we make the best first impression on your customers, making a more extensive customer base for you, translating to higher revenues. Our Hotel CRS run smoothly on all type of devices, meaning you can catch the attention of more customers. We, with our best XML Hotel Booking System, have put many businesses on the map and are continuing to grow our customer base by providing them with the highest quality System.
We not only give the best online travel agency features to you, but our unique XML Hotel Booking System will help you attract more and more customers by offering them discount coupons, limited-time deals and exclusive offers. These things catch the attention of the buyer and help you to make more profit. As the buyer gets better rooms for a lower price on your website, he will continue to be a part of your customer base and meaning a more extensive loyal customer base. Our Hotel Central Reservation System creates these offers and deals by itself, meaning you don't have to find deals by yourself or contact hotel chains to give you special offers. We make sure that everything is provided to you by us so that you enjoy using the best XML Hotel Booking System ever. Our advanced Hotel Technology not only reduces human input errors but helps you to examine your business in a better way. Save a lot of precious time by using our Hotel CRS and use it to analyze your business more extensively. We believe that a Reservation System should not be a hurdle in your business in any way. We guarantee you peace of mind because our XML Hotel Booking System is highly secure. Every transaction made through our well secure System is highly protected so that you don't have to worry about being at risk. Not only this, but our Hotel's software also provides international transactions in multiple currencies. We know that for global business, sticking to one currency type will be a huge bummer, and that is why our transaction system is highly advanced.
Be a part of the adivaha® family now!
We at adivaha® Travel Portal Solutions have a customer base of over 10,000 all over the world, and our services are appreciated globally. We, with our GDS flight booking api free, XML Hotel Booking System and other travel technology API services, have helped many businesses reach their maximum potential. So do not hesitate to be a part of adivaha® Travel Portal Solutions for your travel technology needs and grab your XML Hotel Booking System now.
Our Comprehensive List of Services
adivaha® is a one-stop-shop for all your travel website needs. We offer a multitude of services that empower you to become a market leader. Contact us for more info.
Have Questions?
The Internet is a huge resource, but
if your question requires particular expertise.
Keep Refreshing your customers - Who doesn't want his site to stand out from crowd? adivaha® gives you multiple options for home pages, headers, colors etc. Which can easily be managed from admin via shortcodes and settings. The theme supports almost all the big players in this market ie, WEGO, Travelpayouts, Agoda, Booking, Expedia etc.
Frequently Asked Questions
Below are some of the questions asked by visitors. Do visit our adivaha® Digest for more such questions. Don't hesitate to ask us if you have any questions
I am setting up this plugin for my client's website, I tried registering and received the account activation email, but …

9

views

0

answers

0

votes