Build your own Travel Brand!
Ready to go-LIVE travel solutions that helps your travel agency to sell a range of travel services pretty instantly. adivaha® travel solutions make sure you have no boundation over your imagination, you can do everything online, without the need for any technical knowledge or design skills. Easy Backoffice, extensive reporting with integrated Funds Management System. Upload funds easily and instantly through Netbanking, Debit Card, Credit Card. The best part is, we do offer customizations in case you believe it will boost your business!
Guide to Setup Joomla-Amadeus API Integration
adivaha® is launching a new API system with the standard Joomla API apollo integration which will allow travel agencies to access airline content via NDC.
adivaha® announces the launch of a new version of its Joomla Amadeus API solution. This API solution will offer best travel agency agencies global access to new content and prices for pilot airlines via NDC connectivity. Joomla Amadeus APIs allow you to build up high-quality, whether you are a developer, a startup, or a leading travel brand.
By implementing this Joomla Amadeus flights api integration, while increasing the Agency's revenue in the field of online tourism, you can expand sales and service delivery outside the borders and you can also manage your tours or sell your colleagues' tours, you can Access more than 55,000 hotels around the world, book them online for your users, and set airline ticket prices according to your business policy.
Joomla Amadeus API is an API that integrates with existing travel agency systems and allows them to build their own personalized travel iata ticket booking software applications. It will be gradually deployed worldwide.
This tool will offer access to new content and airline fares connectivity, as well as content from traditional technologies such as APIs.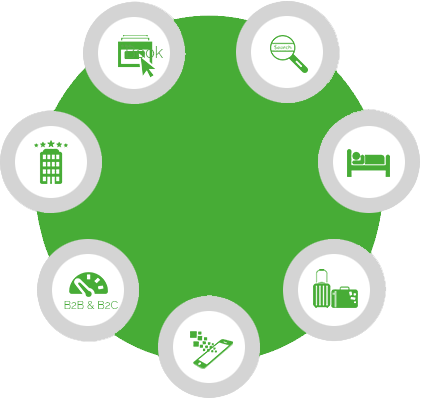 Full Potential of Joomla-Amadeus API Integration
(NDC)New Distribution Capabilities an integral part of the joomla search module Amadeus API Platform-a platform that concentrates travel content from multiple sources in one place, making it easy for travel agencies to search for deals. The Joomla Amadeus API solution will offer the following functionalities, a press release underlines:
Simplified purchasing, ordering, and payment workflow, guaranteeing a more pleasant experience based on the consumer's journey.
Additional sales of services and up-sell proposals
Modification and cancellation functionalities including reimbursement, cancellation, or exchange options.
Acceptance of credit card and cash payments with integrated reconciliation with middle and back-office technologies, guaranteeing the full integration of NDC reservations in the downstream processes of the agencies.
Optimized to work on multiple interfaces so that customers can initiate a reservation on a mobile device and choose to flexibly conclude it on a desktop computer, or vice versa.
Serving in many countries, Joomla Amadeus API galileo api integration continues to expand its service network. The improved version of the adivaha® Company's new service, Joomla Amadeus API, aims to help airlines and travel agencies offer more personal and diverse travel experiences while allowing travel agents to access more content and functions. Joomla, which started to make live API reservations is one of the leading customers of the Amadeus'APIs program and contributed to the design of the solution.
With the global launch of the solution, some travel agencies will join the solution and the contents of the company's airline customers through the Joomla Amadeus API connection. Among the first to adopt the solution is the company such as Adivaha.
Joomla Amadeus API Will Be Released To the World
Joomla Amadeus API that integrates travel agencies with their existing inventory management system and enables them to set up their own customized travel reservation applications, Amadeus API Integration will gradually spread around the world. On the other hand, this move also reflects adivaha® commitment to developing API through the APIs program.
adivaha® looks forward to seeing what kind of new and exciting content airlines can offer for Amadeus gds api integration adoption worldwide. adivaha® takes pride in pioneering in this field by acting together with leading travel players and delivering truly innovative solutions to all our customers.
What Does Joomla Amadeus API's Integration Provide?
The improved version of Joomla hotel booking api integration provides access to new airline contents and fares connection; Simplified shopping, ordering, and payment flow, cross-selling of ancillary services, and the addition and sale of branded fees, refunds, cancellations and cancellation functions, which guarantee a smoother experience that reflects the consumer journey, are fully integrated into the downstream processes of Amadeus API reservations. credit card and cash payment process with a reconciliation system integrated into the middle and back-office technology to ensure integration
We believe that the potential of APIs to advance travel technology is only the beginning. Adivaha, Joomla Amadeus sabre api integration enables partners to access data, content, and processes that accelerate experimentation at the forefront of travel.
Joomla Amadeus API Integration helps travel evolve and builds better journeys.
Amadeus API provides access to travel content and services as well as API solutions for all resource developers who need to take full advantage of these APIs.
Joomla Amadeus API was the first GDS to introduce a structured API. Since then, we published a new version based on API and Amadeus Web Services.
Joomla Amadeus API System supporting the development of creativity
Amadeus APIs is a unique access point for all adivaha® content, built on scalable open system architecture and APIs format, ensuring that our customers are always at the forefront of architecture and technology.
Adivaha is currently building a new Joomla Amadeus API inspired by New Distribution Capabilities to provide a high level of aggregated business capabilities. We want to give travel agencies access to all types of aviation content through the Adivaha Travel Platform.
Joomla Amadeus API Integration helps advance travel and build better journeys.
Adivaha provides access to APIs solutions that unlock travel content and services, as well as to all resources developers that may need to take full advantage of Joomla Amadeus APIs.
Joomla Amadeus API Solution helping creativity to flourish.
Joomla Amadeus API Integration services are a unique point of access for all Amadeus content and have been built on scalability.
adivaha® OTAs are introduced to a new joomla plugin development Amadeus API inspired by New Distribution Capabilities to offer high level aggregated business functions. adivaha® wants to enable travel agencies to access any type of air content through the new Joomla Amadeus APIs Integration.
Travel agencies must continue to raise standards to meet the needs of increasingly complex travelers. To do this, many rely on Joomla Amadeus API, a leading provider of advanced technology solutions for the international travel industry. With this new platform, Joomla Amadeus joomla api integration, adivaha® OTA has achieved better customer service, improved platform availability, simplified operations, and reduced time to market for new services.
Thanks to adivaha® for Joomla Amadeus APIs' technology, the travel industry is performing at its best.
Our Comprehensive List of Services
adivaha® is a one-stop-shop for all your travel website needs. We offer a multitude of services that empower you to become a market leader. Contact us for more info.
Have Questions?
The Internet is a huge resource, but
if your question requires particular expertise.
Keep Refreshing your customers - Who doesn't want his site to stand out from crowd? adivaha® gives you multiple options for home pages, headers, colors etc. Which can easily be managed from admin via shortcodes and settings. The theme supports almost all the big players in this market ie, WEGO, Travelpayouts, Agoda, Booking, Expedia etc.
Frequently Asked Questions
Below are some of the questions asked by visitors. Do visit our adivaha® Digest for more such questions. Don't hesitate to ask us if you have any questions
hello team, I want to know the cost of hiring your services. could you please provide full-fledged information regarding this?

29

views

1

answers

0

votes