Build your own Travel Brand!
Ready to go-LIVE travel solutions that helps your travel agency to sell a range of travel services pretty instantly. adivaha® travel solutions make sure you have no boundation over your imagination, you can do everything online, without the need for any technical knowledge or design skills. Easy Backoffice, extensive reporting with integrated Funds Management System. Upload funds easily and instantly through Netbanking, Debit Card, Credit Card. The best part is, we do offer customizations in case you believe it will boost your business!
All You Need to Know About Using Joomla For Travel Agencies
Unlock the potential of Joomla for travel agencies! Discover the comprehensive guide to enhance your online presence with Joomla and learn how to take your travel business to the next level. Explore the power of Joomla and stay ahead in the competitive travel industry.
In the fast-paced world of travel, ensuring a seamless online presence is critical for travel agencies to thrive and succeed. At Adivaha, we understand the unique needs and challenges faced by travel businesses, and that's why we're here to provide you with valuable insights into harnessing the potential of Joomla, a powerful content management system (CMS), to elevate your online presence. In this extensive article, we'll delve into the world of Joomla for travel agencies, covering everything you need to know to enhance your digital footprint.
How can Joomla transform a travel agency's online presence?
● Dynamic Website Creation: Joomla empowers travel agencies to create dynamic and engaging websites. With its user-friendly interface and extensive template library, online travel agencies can craft visually appealing websites that capture the essence of their services, destinations, and unique brand identity. Adivaha recognizes the significance of a visually appealing online presence in the travel industry, and Joomla provides the ideal platform for achieving this.
● Content Management Simplified: Joomla excels in content management, allowing travel agencies to update, modify, and organize their content effortlessly. This is particularly valuable in the fast-paced travel industry, where keeping travel information up to date is vital. Adivaha understands the importance of timely content updates to keep travelers informed, and Joomla streamlines this process.
● SEO Optimization: Adivaha recognizes that visibility in search engines is essential for a travel agency's success. Joomla offers built-in SEO features, making it easier for travel agencies to optimize their websites for meta search engines. This can result in higher search engine rankings and increased organic traffic, driving more potential travelers to their website.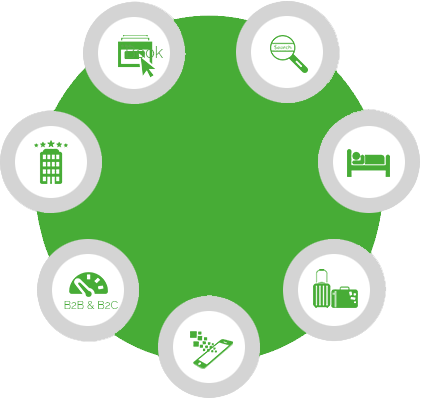 Guide to Using Joomla for Travel Agencies
● Responsive Design: In an era where travelers access information on various devices, responsive travel website design is paramount. Joomla enables travel agencies to create websites that adapt seamlessly to different screen sizes, including desktops, smartphones, and tablets. Adivaha understands the significance of providing travelers with a consistent and user-friendly experience, irrespective of the device they use.
● E-commerce Capabilities: Online bookings and transactions are the lifeblood of a travel agency software. Joomla offers a range of e-commerce solutions that enable travel agencies to manage reservations, payments, and transactions securely. Adivaha acknowledges the importance of reliable e-commerce capabilities in the travel industry, and Joomla provides the tools to achieve this seamlessly.
● Multilingual Support: As travel agencies cater to a global audience, multilingual support is indispensable. Joomla's multilingual capabilities allow travel agencies to create websites that speak the language of their international customers. Adivaha appreciates the significance of reaching travelers worldwide and understands that multilingual support is an invaluable asset.
What are the initial steps for setting up a Joomla website for a travel agency?
Domain Name and Hosting Selection: The journey begins with selecting a suitable domain name that reflects the agency's brand and services. Once the domain is chosen, opt for a reliable web hosting provider offering Joomla hosting services. Ensure that the hosting plan aligns with the website's storage and bandwidth needs. This step lays the foundation for the website's online presence.
Joomla Installation and Configuration: Install Joomla on the selected hosting platform. Many hosting providers offer one-click Joomla installations for convenience. Follow the installation instructions, create an admin account, and configure the essential settings. This step sets up the content management system for website building.
Template Selection and Customization: Choose a Joomla template that suits the agency's branding and website objectives. Customize the template to incorporate the agency's unique colors, logo, and visual identity. This step ensures that the website is visually appealing and aligns with the agency's brand.
Installation of Key Joomla Extensions: Install essential Joomla extensions that cater to the needs of a white label travel agency. These may include a booking system, content management tools, and SEO plugins. Configure these extensions to enhance the website's functionality and user experience. This step equips the website with critical features tailored to the travel industry.
Content Creation and SEO Optimization: Begin creating content for the website, including destination descriptions, travel tips, and service offerings. Organize this content into clear categories and sections. Simultaneously, optimize the website for search engines using Joomla's built-in SEO features. Customize page titles, Meta descriptions, and URLs to boost search engine rankings. This step combines content creation with SEO for better visibility.
Testing, Security, and Launch: Thoroughly test the website for functionality, performance, and cross-browser compatibility. Address any issues or bugs that arise during testing. Implement security measures to protect the website and customer data. Use strong passwords, keep Joomla and extensions up to date, and monitor for vulnerabilities. After successful testing and security measures, launch the website. Promote it through various marketing channels to attract visitors. This step marks the transition from website development for travel agency to active online presence.
What Joomla extensions are essential for travel agencies?
A robust booking and reservation system is the backbone of a travel agency's website. This extension allows travelers to book flights, accommodations, tours, and other services directly through the website. It should provide features such as real-time availability updates, secure payment processing, and user-friendly interfaces. Such a system streamlines the booking process, enhances customer experience, and boosts sales for the travel agency.
❖ While Joomla offers core content management features, additional content management extensions can elevate your website's ability to organize and present travel information. These tools simplify content creation, editing, and categorization, making it easy to maintain an up-to-date and informative travel website.
❖ To enhance your website's search engine visibility, SEO and metadata extensions are essential. These tools provide the means to optimize your content for search engines. They allow you to manage critical elements like Meta titles, descriptions, keywords, and URL structures, ultimately improving your website's rankings and visibility in search engine results.
❖ Visual appeal is crucial in the travel industry. Image gallery and media extensions enable travel agencies to create captivating photo galleries, showcase videos, and provide immersive visual experiences of travel destinations, accommodations, and activities. High-quality visuals engage visitors and help them envision their travel experiences.
❖ Building trust and fostering engagement are key goals for travel agencies. User review and rating extensions facilitate user-generated content, allowing travelers to share their experiences and insights. These extensions provide a platform for customers to leave reviews and ratings, helping future travelers make informed decisions.
❖ As travel agencies cater to a global audience, multilingual and translation extensions are indispensable. They enable the creation of content in multiple languages, making it easier for international travelers to access information in their preferred language. These extensions broaden your reach and appeal to diverse markets.
What e-commerce solutions does Joomla offer for travel agencies, including online booking and payment processing?
Joomla offers various e-commerce solutions that are well-suited for travel agencies, enabling them to provide online booking and secure payment processing for their travel technology services. Here are the key e-commerce solutions that Joomla provides for travel agencies:
HikaShop: HikaShop is a popular Joomla e-commerce extension that offers a wide range of features for online booking and payment processing. Travel agencies can use HikaShop to create product listings for flights, accommodations, tours, and other travel services. The extension allows customers to browse, select, and book services directly from the website. HikaShop also supports various payment gateways, ensuring secure and convenient payment processing for customers.
Virtue Mart: Virtue Mart is another e-commerce solution for Joomla that can be adapted for travel agencies. It provides a platform for creating product listings and managing inventory for travel services. Virtue Mart offers payment gateway integration, allowing travel agencies to process payments securely and efficiently. It is highly customizable and can be tailored to specific travel agency needs.
J2Store: J2Store is a lightweight yet powerful e-commerce extension that simplifies the online booking process. It's particularly useful for travel agencies looking for a straightforward solution. However, when seeking a comprehensive platform to elevate your travel agency's digital presence, Adivaha offers advanced functionalities, including seamless API integration and real-time data updates that can enhance your offerings.
DJ-Catalog2: DJ-Catalog2 is primarily a product catalog extension but can be adapted for travel agencies to showcase their services. While it's a useful tool for presenting travel services, it doesn't provide the full spectrum of functionalities that a dedicated travel technology solution, like Adivaha, can offer.
Red Shop: Red Shop is another Joomla e-commerce solution that can be employed by travel agencies. It supports product management and payment gateway integration, making it suitable for handling corporate online travel booking. However, it's essential to note that for travel agencies aiming to provide a more comprehensive and integrated online experience, Adivaha®'s travel technology solutions offer a superior level of sophistication and performance.
In conclusion, "All You Need to Know about Using Joomla for Travel Agencies" illuminates the profound potential Joomla holds in revolutionizing the digital presence of travel agencies. Joomla, as a versatile and powerful content management system, offers a treasure trove of features and capabilities specifically tailored to the dynamic needs of travel businesses. In the dynamic landscape of travel website development, the partnership between Joomla and Adivaha isn't just an option; it's the difference between a travel agency that thrives and one that merely survives. As the world continues to travel, explore, and seek memorable experiences, Adivaha stands as a trusted ally, providing the advanced tools travel agencies need to excel in a rapidly evolving digital world.
Our Comprehensive List of Services
adivaha® is a one-stop-shop for all your travel website needs. We offer a multitude of services that empower you to become a market leader. Contact us for more info.
Have Questions?
The Internet is a huge resource, but
if your question requires particular expertise.
Keep Refreshing your customers - Who doesn't want his site to stand out from crowd? adivaha® gives you multiple options for home pages, headers, colors etc. Which can easily be managed from admin via shortcodes and settings. The theme supports almost all the big players in this market ie, WEGO, Travelpayouts, Agoda, Booking, Expedia etc.
Frequently Asked Questions
Below are some of the questions asked by visitors. Do visit our adivaha® Digest for more such questions. Don't hesitate to ask us if you have any questions