Build your own Travel Brand!
Ready to go-LIVE travel solutions that helps your travel agency to sell a range of travel services pretty instantly. adivaha® travel solutions make sure you have no boundation over your imagination, you can do everything online, without the need for any technical knowledge or design skills. Easy Backoffice, extensive reporting with integrated Funds Management System. Upload funds easily and instantly through Netbanking, Debit Card, Credit Card. The best part is, we do offer customizations in case you believe it will boost your business!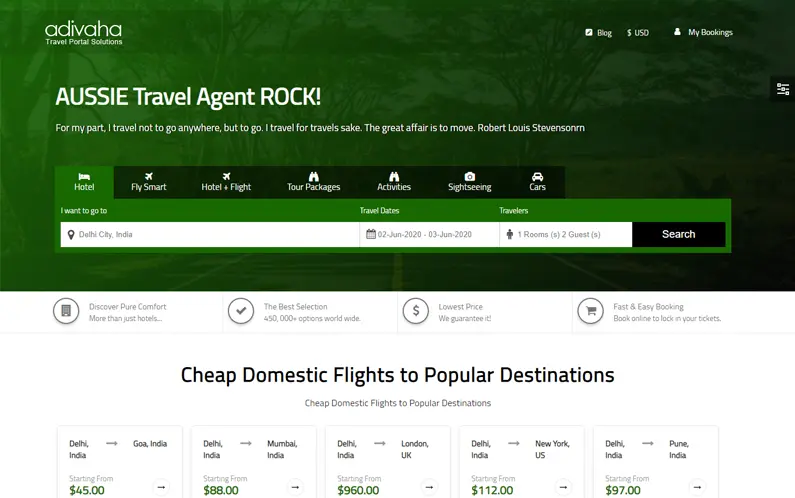 Find the Best Online Travel Booking Script for Your Business Need
Are you part of the tourism sector? The difficulties and challenges in managing and monitoring your booking flow can be exhausting. Are you thinking of possibly implementing a reservation system on your website or creating your online reservation system?
You've come to the right place. We're here to aid you in understanding the advantages of online booking and drawbacks for tour operators. An online travel booking script is software that lets you manage important dates like appointments and meetings, reservations, and so on.
What exactly is a reservation script?
Online travel booking system are part of a program utilized for managing reservations. It permits hospitality and travel businesses to accept online reservations as well as manage personal and mobile bookings in a much better manner.
The online booking and reservation system can easily be integrated into your site or social media pages. Customers visit your website, select the services they want to book and complete the reservation form. After that, they pay using the payment gateway to transfer the money to you. The process takes several minutes for the first booking and is much shorter for repeated bookings.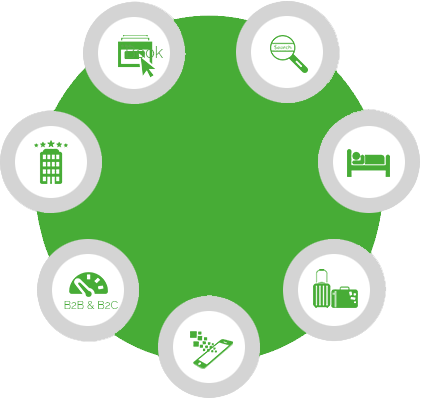 Pick The Best Travel Booking Script For Your Needs
The system is updated with any changes in schedule and information and then displays these changes in real-time to ensure that both the customer and you can see it. All data is stored securely and protected with security measures such as encryption and SSL security protocols.
The benefits of online booking software vary. If your enterprise involves any booking, you can profit from web-based software for booking. Hotels, travel portal development company operators, and hospitality businesses are the biggest clients of booking websites. They are also utilized in rental properties and holiday activity portals, training and classes, transportation services, and other services.
Why an online travel reservation script system?
In a world where we can do everything online, if you run a business, you need to make sure you can market online. For tour and activity companies, this means having a website that allows customers to book the product online for a specific date and time.
You need your website to meet certain technical characteristics to accept online reservations. If so, you can be sure that you are offering your potential customers top-quality service.
Online booking scripts system online is a computer programming that allows potential customers to pay for their bookings through your website or other channels. A online booking software can assist you in doing more than simply accepting reservations and online payments. Reservation technology (res-tech) has grown to now a central platform to manage all aspects of your company, from marketing to logistics to distribution.
Think about your successful relationships, business or otherwise. Their common denominator is likely to be effective communication and cooperation. We can apply the same principles to your hotel business. If your systems don't sync perfectly in real-time, the likelihood of them working the way you want is low.
This travel reservation script system's two most important gears are your website and the booking engine. These two systems need to sync unless you want mistakes, erratic results, and confused or irritated customers.
Automated system for travel agencies.
For complex tasks, very well-thought-out solutions are required. Unlike other travel agency reservation systems, Adivaha offers a comfortable online travel agency api script system to promote Flow and review diversified reservation plans and manual and characteristic support for dynamic checking. In addition, it is an unheard-of orientation toward the hospitality industry. It helps you monetarily and expands your service business for your trip.
Adivaha travel software is a highly functional solution and sophisticated management tool for travel activities and online booking systems. Some tourism services include online flight reservations, car rental, hotel, transfers, excursions, tours, suitcases, cruises, boat rentals, yachts, etc. Among countless aspects, some of the best online travel agencies and tour operators are equipped with Adivaha to manage and sell tourism services efficiently and effectively for Business to Business and Business to Client.
Adivaha comes with useful tools in the form of detailed bid proposals that do not just boost sales but also increase the conversion rate. It's a bidirectional automated system that lets users verify and inform of both the necessary entry and exits from online travel agencies and independent tourism agencies.
Travel and tourism agencies and tour operators from all over the globe can instantly combine and plan activities for their areas and offer online reservations to their travel services using Adivaha's various modules. The integrated reports and statistics offer unbiased hotel rate comparisons, allowing swift decisions and deals.
Adivaha's main goals are to provide customers satisfaction and offer time-saving and cost-effective solutions for every aspect of the tourism and hospitality industry. Online travel reservation script is a complete instrument for managing and executing travel plans and other services if you're an operator, travel agent, sub-agency, or business associate.
Stand out opportunities:
It aids in organizing it easier to manage, structure, and organize marketing and advertising campaigns seamlessly.
Manage reserve and manage financial analysis efficiently.
It provides a seamless connection to third-party portals via XML connection.
Control and conduct everyday tourism operations that aren't available.
This is the set of attributes:
It provides an interactive content management system that is a built-in CMS system.
It is a solution that is built on the latest technology.
It provides a flawless management system of finances and accounts.
Provide excellent customer service via your CRM.
Reducing the steps for booking to the minimum. The simpler your experience for the customer more likely they'll be able to manage their reservations on the internet via your web-based travel site.
Organize and collect travel assistance from around the globe.
It seamlessly integrates the XML interface to an external system.
Increasing conversion rates with a simple and fast booking experience is possible.
It is possible to save time by simple and quick installation
It is possible to eliminate manually entering data with instant integration
Make better choices using the information you have available to you
You'll gain an edge over competitors who haven't yet implemented this program.
Reasons to use an online travel reservation script.
There are many reasons for adopting an online travel reservation script system for your hotel, and few are against it. We try to clarify the benefits and identify the problems you may encounter that this technology can solve.
You need a quick and efficient booking system

So that your rooms are immediately bookable through your website. Research shows that most guests will log into the online travel agency website and the property's website before deciding. Offering an easy way to book directly on your page increases the chances that customers will do it directly with you when they are ready to book.

So that you are not completely dependent on OTAs

These are excellent methods to make your name known on the internet. Your business is displayed in the results of searches for your location, and your guests will be able to trust your business's presence, but this could reduce the revenue you earn if all your reservations are made via third-party websites. How can you increase your earnings by receiving a portion of your reservations directly?

To pay far fewer commissions.

Bookings through your property's website cost significantly less than bookings through an OTA. This means that any direct booking will have a big impact on your bottom line.

To increase your bookings.

There are many reasons why guests are more likely to book at your property when you have a built-in online booking portals. Firstly, your engine is open 24/7, while your front desk may not be so that customers can book regardless of personal factors, such as time zones. Second, once travelers land on your site, the engine allows them to click and book - instead of going back to the OTA to book and being distracted by other options.

Easy process payments.

A great advantage of an online booking system is that guests can pay directly by credit card. The system will automatically process the booking details, saving you time and hassle. This includes extra payments such as deposits or charges for additional services such as breakfast and cleaning fees.

To check the guest's experience during the entire duration of their trip.

When prospects enter your property's website, they interact only with your chosen content. This means you can use your brand throughout the process and play a key role in making the user experience positive.

To allow guests to pay using their language and in their currency.

A travel reservation script can let customers book their reservations in the most familiar language and pay using the most sensible currency. This provides them with the convenience and convenience that many customers seek and exceeds their needs before they arrive at your location.

You can be flexible about the kind of promotions you provide

Your travel reservation script can create last-minute deals and extended stay discounts in only one click. These promotions increase customer loyalty and improve the chances that guests will have an enjoyable experience and leave a positive review.
The Benefits that you can get from Online Booking Script
An online travel reservation script system means offering clients a tool to obtain your service easily and reliably.
To accept reservations online, your website needs to meet the following conditions to ensure that your customers receive the most efficient service. In the age of online reservations, where everything is possible online booking engines, presenting a picture of trust and professionalism is crucial. It can only be achieved by having a reliable online booking system.
Every hotel's objective is to increase the number of rooms sold and generate income. But without an online booking platform, the hotel will need to rely on telephone calls and walk-ins to book reservations. This is why we want to highlight the main benefits that a reliable hotel booking system must bring you. Here are ten features that are a must when it comes to online booking...
They Work 24/7

An online booking tool operates all day long. This travel reservation script allows prospective guests to book rooms at any time they'd like. It also boosts sales since you're not restricted to working hours. Research has shown that an online 24/7 reservation system significantly increases the number of hotel reservations.

Hassle-Free Management of Bookings

This reservation system can help your staff be more efficient. They won't have to be stuck waiting for guests' calls. Additionally, you'll be able to accept reservations throughout the day, seven every day of the week.

Learn more about your company

Typically, such systems are equipped with different analytics tools. They will keep track of every reservation as well as all related information. So, you'll have all the data you need to understand your customers, who are most likely to be interested in what upgrades you are selling most. This way, you'll be able to define the areas you must concentrate on and expand your business.

Increase Revenues Thanks to Upselling

Another advantage of the online reservation api integration platform is it's simpler to design publications, advertise, and sell add-ons and packages online. You can mix them up or let your customers pick their preferred package. This can further boost the amount of revenue you make while your customers will be able to receive exactly what they need.

The Number of No-Shows Will Decrease

Potential guests who book rooms online are more likely to show. If nobody shows up, your booking system online will immediately free up the space and make it accessible to book. Reminders for appointments are great ways to ensure that your customers show up on time.

Payments are Easier and Faster

The payment process is also made easier through an online booking platform. You can ask the guests to pay once they book, making more money and not worrying about payment when they show up. Additionally, you can retain some of the funds to compensate if there is a no-show.

Are you able to access your account in real time?

This is the most crucial characteristic that a booking engine must be equipped with. A simple contact form used as a booking method isn't enough. If you have only 20 spots to offer a tour, you can receive 30 requests daily. This could result in an overbooking that could affect your customer's experience. It will not be an issue when you control your stock on a real-time basis since only the seats available are reserved. With the reservation system online booking engine for hotels, you'll be able to monitor the use of your planned events, change the number of seats available, and schedule new and other tours. With our software, your company remains up-to-date with the most recent.

Use the highlight booking feature on your site.

If there is a booking system on your website, make sure that people know about it. You can employ various strategies to ensure potential customers can find it. For instance, ensure you include a 'book now button. Also, ensure it is prominently displayed and active with an effective call-to-action on the page. If you do this, people will know that your site accepts online reservations.

The booking script is as easy as it can be.

No one wants to take 15 minutes or more to make reservations online. They would like it to be fast and simple. This means they must process the booking with as little effort as feasible. When selecting the booking engine, you will use, make sure it permits the customer to book reservations through your website in a breeze.

Cut Your Workload

Online reservation systems ease the burden on your employees and improve customer service. They can ensure that bookings are synced and availability is updated for every booking process. A well-designed hotel reservation system can make the procedure easy.

A New Booking Trend

The world is now online. Today, people use the internet to find out what they need to know. You're probably missing out on many opportunities if you do not already have an internet presence. If you want to use the most recent booking techniques, you should api integration your reservation platform into those of your pages for products.

Meet the New Self-Service Portals

Booking systems online are created to offer all the functions available on self-service sites. Visitors can book services by referring to open dates suggested by the package management software. Of course, you'll need to provide personalized customer service to address any questions. However, with a properly-maintained hotel reservation system, you'll never need to interact with your clients directly.
Conclusion
Online travel reservation script is the most convenient way to research and book holidays or business trips. Travelers browse the different travel sites to search for hotels, flights, car rentals, sightseeing tours, attractions, and more. Using hotel booking engine methods, travelers can often book and organize an entire trip in a very short time, sometimes even using just a website. Planning a trip with the resources offered by the network has never been easier.
Online travel booking systems are also used by companies to manage business travel. In addition to making bookings, organizations can take advantage of booking tools by viewing real-time data on business travel costs and making decisions on related policies. Online travel booking script is also the best way to securely book your travels and, for hoteliers, is a guarantee of greater visibility and simplification of processes.
Our Comprehensive List of Services
adivaha® is a one-stop-shop for all your travel website needs. We offer a multitude of services that empower you to become a market leader. Contact us for more info.
Have Questions?
The Internet is a huge resource, but
if your question requires particular expertise.
Keep Refreshing your customers - Who doesn't want his site to stand out from crowd? adivaha® gives you multiple options for home pages, headers, colors etc. Which can easily be managed from admin via shortcodes and settings. The theme supports almost all the big players in this market ie, WEGO, Travelpayouts, Agoda, Booking, Expedia etc.
Contact
Have something unique in mind? Drop a message.
Estimated reply time: 3-5 Working Days