Build your own Travel Brand!
Ready to go-LIVE travel solutions that helps your travel agency to sell a range of travel services pretty instantly. adivaha® travel solutions make sure you have no boundation over your imagination, you can do everything online, without the need for any technical knowledge or design skills. Easy Backoffice, extensive reporting with integrated Funds Management System. Upload funds easily and instantly through Netbanking, Debit Card, Credit Card. The best part is, we do offer customizations in case you believe it will boost your business!
Find the Best Online Travel Booking Script for Your Business Need
Streamline your travel business operations with our comprehensive guide to choosing an online booking script. Discover the importance of user experience, integration, and security. Learn how Adivaha sets new standards in the industry.
Why is discovering the ideal online travel booking script crucial to your business requirements?
Understanding why finding the right online travel booking system script is so essential for your unique business needs is like realizing how a perfect puzzle piece fits snugly into its place. Just like Adivaha, we get that each travel business has its own style and challenges. With Adivaha, we're all about giving you the tools that make your business shine. Whether you're a small travel agency software or a big tour operator, our script can be customized to match what makes you unique. We're not just about a one-size-fits-all solution – we're about making it uniquely yours.
We know every business to business is different. That's why Adivaha lets you tweak and adjust the script to work perfectly with your other systems and the way you do things. We're always up to date with the latest trends so that your travel business can keep up too. When you pick Adivaha, you're choosing more than just a tool. You're picking a partner that wants to see your business grow and succeed. We believe that when you do well, we do well – and that's why Adivaha is here to help your travel business thrive.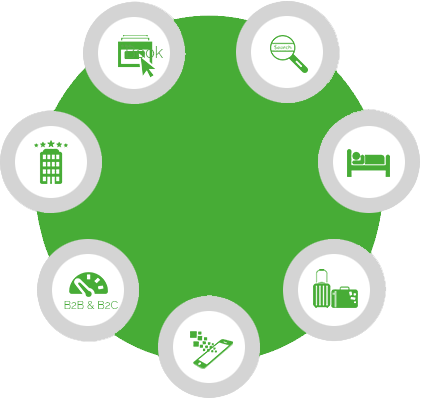 Pick The Best Travel Booking Script For Your Needs
What key aspects should you prioritize while in search of an online travel booking script that aligns with your business?
When you're on the hunt for an online booking software that truly fits your business like a glove, there are several important factors to keep at the forefront:
Customization: Customization goes beyond just changing colors and logos. Look for a script that allows you to tailor the booking process, forms, and other aspects to match your brand's identity and the way you do business. This ensures that your customers have a consistent experience that feels uniquely yours.
User Experience: The booking process should be smooth and intuitive for customers. A user-friendly interface reduces friction and encourages customers to complete their bookings. Look for a script that offers clear navigation, easy-to-understand forms, and a straightforward checkout process.
Mobile Responsiveness: Many travelers use their mobile devices to make bookings. Ensure that the script is responsive and adapts seamlessly to different screen sizes. A mobile-friendly experience enhances customer satisfaction and captures bookings from users on the go.
Integration: Integration capabilities are vital to your workflow. A script that integrates with your existing systems (custom travel website, CRM, payment gateways) streamlines operations, reduces manual work and prevents data discrepancies. This enhances efficiency and accuracy.
Support and Maintenance: Technology can encounter issues, and having reliable support is essential. Choose a provider that offers responsive customer support and ongoing maintenance to address any technical glitches promptly. This ensures smooth operations and minimizes downtime.
What distinguishes particular online travel booking scripts, like Adivaha, positioning them apart within the market landscape?
Distinctive booking scripts like Adivaha often come equipped with an extensive array of features that cater to various aspects of the travel industry. These features may include advanced search options, real-time availability, multi-language support, and the capability to manage complex itineraries seamlessly. Unique scripts like Adivaha excel in integration capabilities. We seamlessly connect with various systems, APIs, and third-party services that travel businesses rely on. This integration eliminates data silos, streamlines operations, and enhances overall efficiency.
Scripts that stand out often keep a keen eye on emerging trends and incorporate innovative technologies. For instance, they might offer virtual reality (VR) experiences, Blockchain-based security, or AI-powered Chabot's to enhance the booking process and customer engagement. Leading scripts prioritize user experience, providing intuitive interfaces, easy navigation, and seamless booking flows. They go the extra mile to reduce friction, enhance engagement, and improve conversion rates. Standing out in the market often involves providing excellent customer support and consistent updates. These scripts offer reliable customer assistance, addressing concerns promptly and ensuring the script remains up-to-date with the latest industry developments. Unique scripts often come with a proven track record of success, demonstrated through case studies, testimonials, and positive reviews from satisfied travel businesses that have benefited from their solutions. Exceptional scripts like Adivaha may offer insights and expertise that go beyond travel technology company. They might provide valuable resources, such as industry reports, webinars, and guides, to help businesses stay informed and make informed decisions.
How can you ascertain that the chosen online travel booking script resonates with your unique business objectives and circumvents specific challenges?
Ensuring that the selected online travel booking script aligns seamlessly with your unique business objectives and overcomes specific challenges involves a strategic evaluation process:
Define Your Business Objectives: Start by clearly outlining your business goals and objectives. Identify what you want to achieve through the online booking script – whether it's increasing sales, expanding your customer base, streamlining operations, or enhancing customer experiences.
Identify Pain Points and Challenges: Pinpoint the specific challenges and pain points your business currently faces in its booking process. These might include issues with integration, customer engagement, conversion rates, or scalability. Understanding these challenges will help you identify solutions that address them.
Feature Alignment: Evaluate the features and functionalities offered by the script. Check whether they directly support your business objectives and help mitigate the identified challenges. For instance, if high bounce rates are a concern, prioritize scripts with user-friendly interfaces and quick load times.
Customization Options: Assess the level of customization the script offers. Ensure that you can adapt the script to match your branding, workflows, and specific business processes. The ability to customize is crucial for aligning the script with your unique identity.
Integration Capabilities: Consider how well the script integrates with your existing systems and tools. Ensure that it can seamlessly connect with your custom website, CRM, payment gateways, and other essential platforms. This integration minimizes disruptions and enhances efficiency.
Scalability and Future Needs: Think about the future growth of your business. Does the script have the scalability to accommodate increased bookings, traffic, and evolving customer demands? Choosing a script that aligns with your long-term vision prevents the need for frequent replacements.
User Experience Testing: Test the user experience of the script from the perspective of your customers. Walk through the booking process and see if it's intuitive, easy to navigate, and engaging. This step helps ensure that the script resonates positively with your customers.
Consultation and Demos: Engage with the provider to understand how well they comprehend your unique challenges and objectives. Request demos and consultations to see how they propose tailoring the script to your needs. A provider that takes the time to understand your business is more likely to offer a suitable travel portal solution.
Client References and Case Studies: Request references from businesses similar to yours that have successfully implemented the same script. Analyze case studies to see how the script addressed challenges and contributed to their objectives. Real-world examples offer valuable insights.
Feedback and Continuous Improvement: Choose a provider that values feedback and shows a commitment to continuous improvement. This indicates their willingness to adapt the script to evolving business needs and challenges over time.
In what way does the pricing structure factor into your decision-making process when zeroing in on an online travel booking script?
The pricing structure of an online travel booking script is a critical aspect that influences the decision-making process for businesses. It plays a significant role in ensuring a viable return on investment while aligning with the budgetary considerations of the business. Here's how the pricing structure factors into the decision-making process:
Every business has a budget allocated for travel technology solutions. The pricing structure of the script should align with this budget. It's essential to find a script that delivers the necessary features without stretching the financial resources of the business. Consider the total cost of ownership, which includes not only the upfront costs but also ongoing expenses such as maintenance, support, updates, and potential integration costs. Calculating the total cost over time provides a more accurate picture of the investment. While a script might have an initial cost, it's important to assess how the pricing scales as your business grows. Will additional bookings or users incur extra charges? Businesses need to ensure that the pricing structure accommodates future expansion without unexpected costs. Analyze whether the features offered by the script are in line with its price. Some scripts may have advanced features that justify a higher price, while others might offer basic functionalities at a lower cost. Ensure that you're paying for features that directly benefit your business. Compare the pricing of the script with other similar solutions in the market. This comparison provides insight into whether the pricing is competitive and aligned with industry standards. Carefully review the terms and conditions to identify any hidden costs that might emerge later. These could include additional fees for support, updates, or customization.
Conclusion
Choosing the right online travel booking script can significantly impact your business's success. By considering factors such as features, user experience, integration, security, and scalability, you can make an informed decision that aligns with your unique business needs. With options like Adivaha, your travel business can harness the power of travel technology software to provide seamless booking experiences and stay competitive in the dynamic travel industry.
Our Comprehensive List of Services
adivaha® is a one-stop-shop for all your travel website needs. We offer a multitude of services that empower you to become a market leader. Contact us for more info.
Have Questions?
The Internet is a huge resource, but
if your question requires particular expertise.
Keep Refreshing your customers - Who doesn't want his site to stand out from crowd? adivaha® gives you multiple options for home pages, headers, colors etc. Which can easily be managed from admin via shortcodes and settings. The theme supports almost all the big players in this market ie, WEGO, Travelpayouts, Agoda, Booking, Expedia etc.
Frequently Asked Questions
Below are some of the questions asked by visitors. Do visit our adivaha® Digest for more such questions. Don't hesitate to ask us if you have any questions
Hello team, can you tell me if I can connect several APIs in one platform or website?

20

views

1

answers

0

votes