Build your own Travel Brand!
Ready to go-LIVE travel solutions that helps your travel agency to sell a range of travel services pretty instantly. adivaha® travel solutions make sure you have no boundation over your imagination, you can do everything online, without the need for any technical knowledge or design skills. Easy Backoffice, extensive reporting with integrated Funds Management System. Upload funds easily and instantly through Netbanking, Debit Card, Credit Card. The best part is, we do offer customizations in case you believe it will boost your business!
Travel Portal Software Development Company
Thinking to initiate a new website and finding it difficult to go with a trustworthy travel software development company? Then choose Adivaha, a travel portal software development company that offers various services for the travel industry. Learn all features of the company and get started with your own travel brand!
In today's fast-paced digital world, the travel industry is experiencing rapid growth and evolution. To keep up with changing trends, it's essential to have reliable and efficient travel technology software. Fortunately, there are several top travel portal software development companies that offer customized solutions for your business needs. These companies use cutting-edge technology to provide seamless integration with airlines, hotels, car rentals, and other travel-related services to make your life easier as an owner of a travel agency or a tour operator.
Introduction to Travel Portal Software Development Company.
As a service provider, we offer unparalleled travel portal development solutions custom-tailored to meet your specific business needs. Our expertise and use of cutting-edge technology have made us one of the top companies in this highly competitive market. We understand that travel is constantly evolving and that staying ahead of the innovation curve can be difficult. That's why our services are designed to make your life easier as an owner of a best travel agency websites or a tour operator. From seamless integration with airlines, hotels, car rentals, and other travel-related services, our software solutions have everything you need to stay ahead of the curve and grow your business.
Our Services.
Adivaha, offer a wide range of travel technology services to meet the demands of the ever-changing travel industry. Creating a visually appealing and user-friendly website that showcases the travel business`s offerings and allows customers to book trips online. we have developed a content management system that allows travel businesses to easily manage their website content, update prices and availability, and manage bookings. We have integrated a secure payment gateway that allows customers to make payments online. Integrating with third-party suppliers such as airlines, hotels, car rental company, and activities providers to expand the range of offerings available to customers. Our services include ongoing maintenance and support to ensure that the software solution is up-to-date, secure, and functioning smoothly.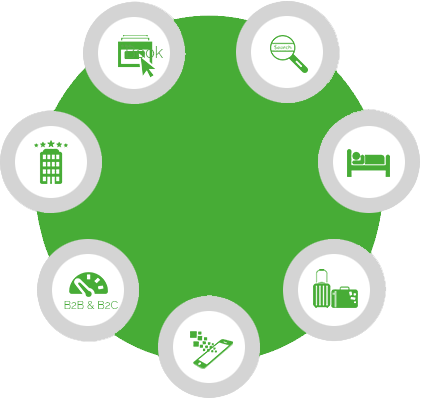 Travel Portal Software Development Company
Customization.
Customization refers to the process of modifying or adapting a software solution to meet the specific needs and requirements of a particular business or organization. Customization is important because every business has unique needs and workflows that may not be fully met by a generic, out-of-the-box software solution. Customization can involve making changes to the user interface, adding new features or functionalities, integrating with third party booking system, or modifying the existing codebase. The goal of customization is to create a software solution that is tailored to the specific needs of the business, which can result in efficiency, improved productivity, and a better user experience. Customized software can be designed with the user in mind, resulting in a more intuitive and user-friendly interface. Customization can also be costly and time-consuming and may require ongoing maintenance and support. Therefore, it's important to carefully evaluate the costs and benefits of customization before deciding whether it's the right solution for your business.
Our software offers a streamlined booking process, easy management of inventory, and seamless integration with third-party vendors.
Adivaha offers unparalleled travel technology company that are tailored to the unique needs of businesses in the travel industry. A streamlined booking process is essential for travel businesses as it reduces the risk of booking errors and helps to enhance the customer experience. Seamless integration with third-party vendors is also crucial, as it allows businesses to expand their offerings and provide customers with a huge range of options. Additionally, our software allows for easy management of inventory, helping you keep track of available rooms, flights, or other services. In addition to these features, it`s also important for travel software solutions to have advanced search and filtering capabilities, real-time availability and pricing updates, multi-language and multi-currency support, mobile responsiveness, and secure payment processing. With our best travel technology solution in place, you can offer an outstanding customer experience and streamline your operations to drive growth for your business.
On-Page Optimizations:
In addition to our many tailored technology solutions, we also offer crucial on-page optimizations for travel portals that help improve user experience. On-page optimization refers to the process of optimizing individual pages on the travel portal website to improve their search engine rankings and attract more organic traffic. Pages should be linked to each other internally, using relevant anchor text. This includes optimizing page load speeds and making sure your travel website portal is mobile-responsive, which can greatly impact your SEO ranking as well as user engagement. We also provide customized search filters to help customers find the perfect travel options according to their preferences and budget. Our focus on user experience ensures that your customers have a seamless, hassle-free booking experience with your business, leading to increased satisfaction and repeat business.
Our Comprehensive List of Services
adivaha® is a one-stop-shop for all your travel website needs. We offer a multitude of services that empower you to become a market leader. Contact us for more info.
Have Questions?
The Internet is a huge resource, but
if your question requires particular expertise.
Keep Refreshing your customers - Who doesn't want his site to stand out from crowd? adivaha® gives you multiple options for home pages, headers, colors etc. Which can easily be managed from admin via shortcodes and settings. The theme supports almost all the big players in this market ie, WEGO, Travelpayouts, Agoda, Booking, Expedia etc.
Frequently Asked Questions
Below are some of the questions asked by visitors. Do visit our adivaha® Digest for more such questions. Don't hesitate to ask us if you have any questions
I am setting up this plugin for my client's website, I tried registering and received the account activation email, but …

18

views

1

answers

0

votes