Build your own Travel Brand!
Ready to go-LIVE travel solutions that helps your travel agency to sell a range of travel services pretty instantly. adivaha® travel solutions make sure you have no boundation over your imagination, you can do everything online, without the need for any technical knowledge or design skills. Easy Backoffice, extensive reporting with integrated Funds Management System. Upload funds easily and instantly through Netbanking, Debit Card, Credit Card. The best part is, we do offer customizations in case you believe it will boost your business!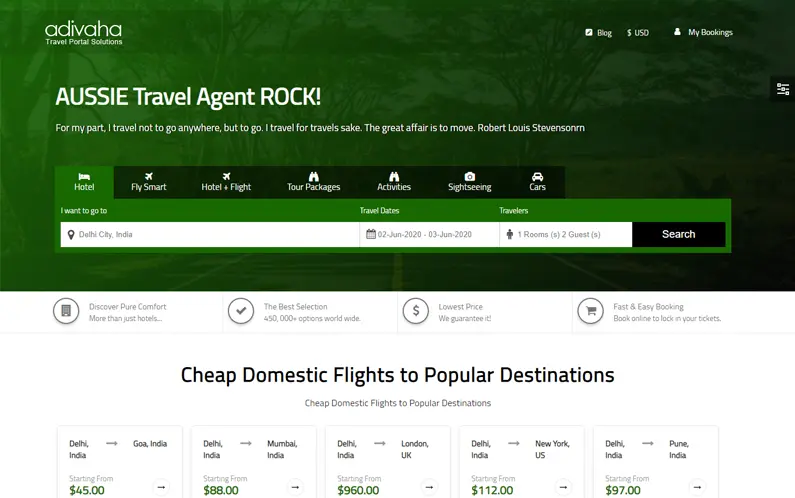 Choosing the Right Travel Portal Solutions For Your Business
With the changing consumption habits, companies compete to offer their customers an easier and faster shopping experience. To become a leading company in your sector, you must identify customer needs and requests and follow innovations closely and accurately. In competitive market conditions, buyers prefer companies that make them feel special and offer ease of purchase and personalized opportunities. Therefore, customers are much more likely to gravitate towards vendors where they can track current order status, manage payments/invoices, view bank statements, and get product information.
Adivaha Group, which has determined the needs of companies and customers in this field, has developed a web application that can communicate directly with customers, Travel Portal Solutions.
Travel portal software overview
Indians love to travel and are increasingly opting for online travel booking tool on a travel portal for package tours. You can easily get your dream vacation via travel portals if you do not need personal advice from a travel agency. But the research showed that the operation of the portals differs significantly in some cases.
We all long for a break from everyday life and dream of the most beautiful beaches in the world. In the current uncertain times, many travel portal website solutions on the internet offer flexible booking with free cancellation and rebooking. But how comfortable can the next dream vacation be booked via the portals? And which providers can customers expect good service from? To answer these questions, the Adivaha.
Traveling in the modern world is not as complicated as it was in the past. The internet has made it simpler to book flights and travel portal arrangements. Overall costs have dropped significantly, and low-cost airlines have been established. Competition there is intense, and offers are so numerous that it's easy to get lost.
Here is a personal ranking of websites relating to travel in general that offers the best offers and embraces the entire travel planning: airlines, hotels, hostels or apartments, tourist packages and holidays, and travel insurance.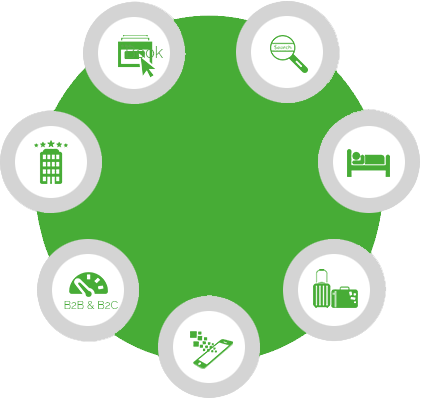 Business with the Right Travel Portal Solutions
With the rapid changes in the technology market, tons of information is published on the internet every day. However, the overwhelming social media and information are causing people to struggle to find the most suitable one.
In the context of travel and tourism, customers have claimed that they have a hard time browsing the websites of thousands of tour companies to plan their vacations. As a result, the travel portal solution was born to solve these problems. As a comprehensive travel marketplace, travelers and agents can buy everything they need in one place, at competitive prices, from searching for flights to booking hotels.
Why is travel portal development important?
Travel portal software is an online marketplace that allows users to get information by comparing the travels and services of various companies on a single site. Currently, a travel portal development company offers mobile and web app software instead of just the website form in the past.
The best travel technology improves the efficiency of the travel business process and encourages consumer engagement to increase savings and profits. Key features include travel software, tour operator software, B2B/B2C travel portals, hotel, flight, car, transfer, package, and activity booking systems, hotel booking, travel CRM software, and destination management software of the best travel technology. The best travel technology and API solutions provider, offering the most advanced travel technology solutions. The company helps hotels, flights, tours, travel agents, and travel companies to provide optimal customer experience, increase travel bookings and grow business in the travel industry.
We offer the most competitive travel portal solution for opening a travel agency online. B2B, B2C, and B2E sales with a detailed back office and a very advanced XML/API connectivity.
It has a very low cost. Because of XML links, booking engines are ready, tested, and approved many times. All operating parameters can be configured, and all user and screen designs can be redesigned.
We offer world-class support with constant new XML links and free updates.
Travel Portal Future of Tourism
In the app, there are four popular types of travel portal software:
Airfare, train, or bus ticket reservation system:
Vacation packages booking:
Hotels and accommodations:
Car rental booking:
The most attractive aspect of travel portal development software is that it directly compares various options from many vendors in the market. Also, due to competition in the market, sellers have an incentive to offer promotions and discounts to attract customers' attention. Therefore, users approach a more affordable price than booking on the original site.
Recently, many travel agencies and entrepreneurs are requesting to buy travel portal software as the demand for online advance travel booking is predicted to increase even after COVID19. Yet many experts believe the travel industry will rebound in early 2021, with the travel portal seemingly king.
However, finding the appropriate travel portal development company may not be a review task, as so many software outsourcing companies are in the market. The best travel portal development vendors will comprehensively understand your expectations and requirements. Generally, you can outsource the entire development process, where the travel software developers will be responsible for the complete process from design to distribution.
How does the travel portal benefit the tourism industry?
Cost efficiency

The travel agency portal is believed to reduce the travel portal development company cost of adopting various travel planning and booking tools. In addition, due to the significant traffic volume to the portal site each month, the travel company has a better chance of approaching the customer, reducing advertising and promotion costs. In the business context, the travel market appreciates the transparency of companies and the services they offer. Customers rarely face fraud or financial risks. Then they can enjoy a better product at lower prices. Travel companies continue to grow due to increased orders rather than reducing their margin profit.

Reducing maintenance costs and effort

As a virtual platform, the travel portal development company marketplace helps agents save the amount they invest in office facilities, printed flyers, and brochures. Thanks to the digital form of all materials, customers can easily access them on their smartphones, while companies can avoid the hassle of storing the hard format of these materials. In addition, the cost of running and maintaining the travel portal software is the responsibility of the application owners and vendors outsourcing their software. In this scenario, an in-house development team will be accountable for ensuring that the travel website operates efficiently.

Transform Tourism into Online Immersive Experience

Portal Solutions easily converts traditional printed travel materials into online ones. Embed a 3D panorama of different attractions directly into online travel magazines, brochures, and guides, so viewers can experience it as if they were on the scene and choose the right place to go.

Publish Travel Online Once And For All

Portal Solutions helps you upload your travel materials online once to increase your work efficiency, and you can use it differently. For example, you can embed online travel magazines directly on your travel portal website, and then all website visitors can translate, enjoy and decide. Or you can share the travel feed with your target customers in emails via the link. And most importantly, if there is a mistake in online posts, a direct change you make will be seen by all people who open the link, saving more time, energy, and explanation.

Grab Attention with Interactive solution

People like videos, audio, images, subtitles, etc., in the modern world and are more interested in interactive media. To attract more attention, it is necessary to make your online travel publications more interactive. You can easily add any media with just a few clicks. Embedding a video about real-life scenes in a particular travel destination is worth more than a thousand words, and more travel information will be communicated.

Branding Your Online Travel Promotion Materials

The importance of branding cannot be overemphasized. Customers trust your brand and come to you whenever they need it. Portal development not only provides a solution for you to publish travel promotional materials online but also provides a solution to increase brand awareness. Customize your brand logo and put it on every page of online materials, or change the URL under your domain name so that audiences will notice your brand name when browsing the information.

Real-time access

Clients and travel professionals can access deals in real-time without manual controls. With the real-time update from independent sellers, deals on a travel portal application are updated regularly with real-time pricing, slots available, and offers. In addition, most travel portals allow tourism and travel companies to access their databases of customers to track customer behavior. By doing this, they can alter their business plan to align with changing trends in the travel industry.

Automatization in customer support

Travel application technology can offer 24/7 customer support, reducing hiring staff costs. The travel portals typically develop solutions that provide immediate Q&A support. Customers receiving their answers fast will have greater satisfaction and, in turn, an increase in the rates of orders.

The clear booking process but expandable filter options

In terms of user-friendliness, light and shadow were sometimes very close together. All providers solved the booking process well: all important information about the trip and booked services were summarized transparently in an overview. Additional services such as travel insurance were also offered as an option.
The search results could almost always be sorted by price and customer rating, less often by hotel category. The presentation of the results was mostly flawless. However, in almost half of the portals examined, the testers missed the option of creating a customer account to manage their trips online. Search options for specific characteristics such as a quiet location, air conditioning, or a hotel with entertainment were also unavailable in more than half of the portals examined.
What trends will shape the development of the global travel portal?
More potential is followed by more competition. Not all travel portal software businesses do well in the market. Other than business spiraling out of control, failing to keep up with technology trends is causing many companies to lag. Let's summarize what travel portal software will look like in the future.
The power of data, big data analytics

Big data may no longer be the future technology but a present gift. Travel portal software promises to collect data from various sources, accessible via mobile device apps. Most travel software solutions combine machine learning, which provides instant data analysis and helps travel companies plan their future strategies. In addition, with a shared database, the business will access insights from other organizations, making their market performance clearer. This allows travel professionals to design assembly packages that meet customers' needs easily.

Focus on B2B trips

Luxury travel can be difficult to approach a large group of clients due to the high cost beyond the affordability of the majority. However, business and leisure trips are another side of the story where companies are more willing to pay for luxury tourism. Selling travel for the business sector helps travel agents effortlessly sell a large package.

On the other hand, the enormous amount of travel packages come with complex management and promotion, causing the market to have built-in credit and reputation. Predictably, this decade will witness the explosion of the B2B travel agency portal that requires verified players and clients.

Increasing security

As long as privacy and cybersecurity are not a problem for b2b travel software companies. According to reports, every 40 seconds, there is an incident of cyber-crime where you are, with personal information being stolen every second. The most popular cyber-related attraction is payments, making the website business at risk.

Recently, travel portal development india often integrates with payment gateway, allowing customers to pay on the portal without redirecting to another site. It undeniably provides convenience and motivation to retain customers and poses a cybersecurity threat to businesses and customers. In the future, travel portal development india will focus more on countering cyber temptation by improving security features.
Tips to improve your Online Travel Portal
If there is a sector in which the competition to get new clients is fierce, that is undoubtedly that of online travel agencies and portals.
Every day we see how new pages emerge that try to attract the attention of network users through offers, promotions, discounts, experience packs, and endless strategies that make it very difficult for consumers to retain their loyalty.
But do not spread panic! Here we bring you tips that will make you have no competition.
Avoid that your website has a loading time of more than three seconds and that it shows any error so that users do not abandon it.
Your portal must be visible, whatever the device used.
You can create your web application to facilitate mobile navigation on your site. It creates exclusive offers for those who install it to promote its use.
Your website is your letter of introduction, so you must take utmost care of the visual aspect, using the colors, typography, and calls for attention that best fit the message you want to convey.
Incorporate a fast, easy-to-use, and intuitive search engine on your website that allows you to catalog your services and products.
You must be very careful with the descriptions of your products. It provides reliable data and truthful information. Be creative and, of course, original.
You must use your high-quality photographs. Also, using videos is the best way to evoke emotions in the user, so you should complement your descriptions with this type of multimedia content.
Your blog should be a tool to tell your experience, show your knowledge, and, above all, advise your potential clients. Express yourself clearly and pleasantly. Do not forget that you have to be concise and direct. Show yourself close and take advantage of the keywords to obtain a better positioning.
It is very important that you publish periodically on your social networks and that you encourage interaction on them through contests and raffles.
If there is something unforgivable today, it is not offering different payment methods so that the customer can choose the right one that is most reliable and comfortable.
Do not forget to reward those who invest their time in assessing your website or services. If you make them feel rewarded, they will trust you again and may even recommend you.
A good option to differentiate yourself from your competitors is to allow the user to make the final configuration of his trip. Make him feel that this is unique and unrepeatable.
Offer complementary services that minimize the client's effort to make so that their getaway is perfect. Car rental, airport pick-up, or the purchases of tickets for emblematic sites are just some of the services that you can put at your fingertips.
Decide if you want to be present in the different comparators and search engines that exist in the market and enhance your presence in them.
Finally, the most important thing: specialize in what you do. Thousands of agencies sell all kinds of trips, but few offer details, experiences, tricks, and recommendations that help the consumer know everything before deciding on their next destination.
These are tips you can practice to increase your travel portal sales and gain customer loyalty. Don't waste any more time and make this summer your summer.
Conclusion
The hospitality and travel industry is one of the areas where customers are very sophisticated. The competition level is extremely high and continues to increase. To survive and compete in this environment of competition, local and international businesses must be agile and efficient.
The needs of each travel business are unique, and ready-made travel portal development solutions may not always fully meet all the needs of the business. They are also not amenable to fulfilling every change request from customers.
Alternative develops fully customized software and technology solutions for all institutions in the tourism sector. We develop a wide range of custom software and technology solutions, from Travel Portal Solutions and reservation engine software to restaurant software solutions and property management systems to vacation rental and timeshare management software.
Our Comprehensive List of Services
adivaha® is a one-stop-shop for all your travel website needs. We offer a multitude of services that empower you to become a market leader. Contact us for more info.
Have Questions?
The Internet is a huge resource, but
if your question requires particular expertise.
Keep Refreshing your customers - Who doesn't want his site to stand out from crowd? adivaha® gives you multiple options for home pages, headers, colors etc. Which can easily be managed from admin via shortcodes and settings. The theme supports almost all the big players in this market ie, WEGO, Travelpayouts, Agoda, Booking, Expedia etc.
Contact
Have something unique in mind? Drop a message.
Estimated reply time: 3-5 Working Days