Build your own Travel Brand!
Ready to go-LIVE travel solutions that helps your travel agency to sell a range of travel services pretty instantly. adivaha® travel solutions make sure you have no boundation over your imagination, you can do everything online, without the need for any technical knowledge or design skills. Easy Backoffice, extensive reporting with integrated Funds Management System. Upload funds easily and instantly through Netbanking, Debit Card, Credit Card. The best part is, we do offer customizations in case you believe it will boost your business!
Right WordPress Vacation Rental Plugin for Your Business
Are you trying to get the ideal WordPress Vacation Rental Plugin? Learn how to improve your vacation rental business by finding the ideal rental plugin WordPress. With our cutting-edge plugin, you can streamline property administration, increase reservations, and provide a smooth guest experience.
The need for unique and customized experiences among travelers has led to a phenomenal expansion of the vacation rental market. Without the right tools and technologies, managing a vacation rental property, bookings, and guest interactions may become burdensome for a business owner. Accept the power of vacation rental WordPress plugin, which offer a simple and effective way to streamline the operations of your company.
Introduction to WordPress Vacation Rental Plugins
Adivaha is aware of the difficulties companies encounter in successfully managing their properties in the evolving vacation rental market. The WordPress vacation rental booking plugin can help you in this situation by providing a comprehensive solution to streamline your operations and grow your company.
Modern software extensions called WordPress Vacation Rental Plugins are made to work invisibly with your WordPress-powered website. As a preeminent third-party service provider, we take pride in providing a selection of premium plugins that improve the functioning of your website and turn it into a powerful and feature-rich vacation rental booking platform. These plugins' main goals are to make managing properties easier, enhance visitor experiences, and boost your internet visibility. They provide a wide range of fundamental elements like real-time booking updates, secure payment methods, customization possibilities, SEO optimization, and efficient guest communication tools. You may effectively use technology to streamline your company's operations by utilizing our sophisticated Vacation Rental Plugin.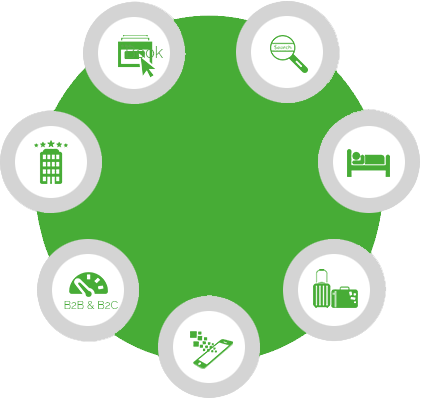 Find the Right WordPress Vacation Rental Plugin
Why you're Company Needs a Plugin for Vacation Rentals?
At Adivaha, we know of the particular difficulties experienced by proprietors of holiday rental properties in today's cutthroat market. Without the correct tools and technologies, managing properties, taking care of reservations, and making sure guests have a wonderful experience may be stressful. This is the reason why your company needs our premium Vacation Rental Plugin, which was created to revolutionize how you run your business and boost your success in the vacation rental sector.
Property administration has become more efficient; gone are the days of laborious property management responsibilities. With the help of the user-friendly dashboard provided by our vacation rental plugin, you can easily add, amend, and manage your property listings. Our user-friendly interface makes sure you save time and money while updating real-time availability calendars and uploading captivating photographs, so you can concentrate on giving your customers an exceptional experience.
Enhanced Guest Experience: The success of your travel technology company depends on your customers' contentment. You can provide prospective guests with real-time booking updates and secure payment channels using our vacation rental plugin, making the booking process simple and hassle-free. Our cutting-edge communication solutions also enable effective interaction between hosts and visitors, encouraging favorable feedback and repeat reservations.
Increased online visibility: It's important to stand out among a sea of vacation rentals. Because of the SEO optimization elements in our plugin, we can guarantee that your website will appear higher in meta search engine results. Your position in the market can be strengthened by attracting more potential customers and increasing your booking volume through enhanced internet visibility.
Customization to Complement Your Brand: Your brand identity is crucial for setting your vacation rental company apart from the competition. You have the freedom to alter the look and feel of your custom websitewith our Vacation Rental Plugin, making it exactly fit your distinct brand identity and company needs.
Regular Updates and Expert Support: We are dedicated to your success as your dedicated service provider. Our skilled support team is available round-the-clock to assist you with any queries or concerns, ensuring a seamless experience with our plugin. Moreover, we regularly update our vacation rental software to incorporate the latest industry trends and advancements, so your business stays ahead of the competition.
Cost-Effective and Value-Driven: We understand the importance of a return on investment. Our Vacation Rental Plugin offers a cost-effective solution that maximizes your business potential. By streamlining operations, increasing bookings, and improving guest satisfaction, our plugin delivers exceptional value to your vacation rental venture.
Factors to Consider When Selecting the Best Plugin for Your Business
At Adivaha, we understand that opting for the stylish WordPress holiday Reimbursement Plugin for your business is a critical decision that can significantly impact your operations and overall success. Our comprehensive approach to plugin development ensures that we prioritize the factors that count most to holiday reimbursement business possessors like you. Then are some crucial considerations to keep in mind when choosing the perfect plugin:
Scalability and Compatibility with Your Website: We know that your business may evolve and expand over time. That's why our Vacation Rental Plugin is designed to be scalable, accommodating your growth without compromising performance. Additionally, our plugin seamlessly integrates with your existing custom travel website, ensuring a smooth transition and hassle-free setup process.
User-Friendly Interface and Dashboard: We believe that technology should be easy to use, even for those without extensive technical expertise. Our Vacation Rental Plugin boasts a user-friendly interface and dashboard, making it effortless for you and your team to navigate and manage your property listings, bookings, and guest interactions with confidence.
Customer Support and Regular Updates: Your satisfaction and success are at the core of our service. Our devoted client support platoon is always available to help you with any inquiries, specialized issues, or guidance you may need. Likewise, we regularly modernize our plugin with the rearmost features and advancements to ensure that your business stays at the van of the holiday reimbursement assiduity.
Integration with Third-Party Services: To give you a comprehensive result, our holiday Reimbursement Plugin system seamlessly integrates with colorful third-party services that may be essential for your business. From payment gateways to channel directors and analytics tools, our plugin system ensures a flawless connection with the services you calculate for a smooth operation. Integration with third-party travel technology services refers to the process of making different software or applications work together smoothly. It allows them to share data and functionality, enhancing their overall performance.
Benefits of Choosing the Right WordPress Vacation Rental Plugin
At Adivaha, we are aware that the success of your vacation rental business can be greatly impacted by your choice of WordPress vacation rental plugin. Our premium plugin provides a plethora of advantages that can completely alter how you manage your properties and communicate with visitors. Here are some strong arguments for why your company needs our vacation rental plugin:
Streamlined Property Management: Say Farewell to the hassles of property operation with streamlined operation. With the help of the smart and stoner-friendly dashboard offered by our holiday rental plugin, you can fluently manage every aspect of your property rosters. Our streamlined system saves you time and trouble by automating the addition and editing of parcels as well as the real-time updating of vacuity timetables, enabling you to concentrate on furnishing excellent guest gests.
Improved Guest Experience: We understand the significance of guest satisfaction in the holiday reimbursement assiduity. With our holiday Reimbursement Plugin, you can offer implicit guests a flawless and stress-free booking process. Real-time booking updates and secure payment gateways enhance the guest experience, icing them feel valued and eager to bespeak with you again.
Increased Bookings and Revenue: Boosting your bookings is vital for maximizing revenue. Our plugin optimizes your online presence with SEO best practices, ensuring your vacation rental website ranks higher in search engine results. This heightened visibility attracts more potential guests, translating into increased bookings and higher revenue potential for your business.
Time and Cost Savings: Efficiency is at the core of our Vacation Rental Plugin. By Automating and simplifying various tasks, you save valuable time and resources. Reduce administrative burdens and operational costs while enhancing productivity, allowing you to invest more time in strategic travel business growth.
Enhanced Online Visibility and Branding: Stand out from the competition with our customizable Vacation Rental Plugin. You have the flexibility to align your website's appearance and functionality with your brand identity. By improving online visibility and branding, businesses can attract more potential customers, build trust, and establish a strong online reputation, ultimately leading to increased growth and success.
Adivaha®'s Role as a Leading Third-Party Service Provider
In the thriving vacation rental sector, Adivaha has established itself as a recognized and dependable name. We have a long experience working with vacation rental companies, and our team is made up of seasoned professionals. Trust us as your strategic partner to unlock unparalleled growth, reduce operational burdens, and drive success. Our track record speaks for itself as we consistently exceed expectations, making us the preferred choice for businesses seeking innovation, reliability, and exceptional service.
Overview and Standout Features of the Adivaha WordPress Vacation Rental Plugin:
Our WordPress Vacation Rental Plugin is the benchmark for effectiveness and creativity in the sector. Our plugin transforms your online platform into a complete vacation rental booking hub by seamlessly connecting with your WordPress travel website. It empowers you to effortlessly handle all aspects of your property management, provide real-time booking updates, and secure transactions through robust payment gateways. Our plugin is a comprehensive package of features designed to optimize your business operations and enhance guest experiences.
One of the pivotal highlights that sets our plugin piecemeal is its exceptional customization capabilities. We fully understand the significance of conserving your brand identity in the fiercely competitive request. Our plugin allows you to confirm your best travel website appearance and functionality, icing it aligns seamlessly with your unique brand image, and fostering brand recognition and trust among implicit guests.
Testimonials from Satisfied Adivaha Users:
As a testament to the effectiveness and reliability of our WordPress Vacation Rental Plugin, we proudly showcase the feedback from our delighted clients. Our satisfied users have experienced firsthand the transformative power of our plugin, leading to increased bookings and heightened guest satisfaction. Don't just take our word for it; the success stories and positive testimonials from our clients reinforce the value and impact our plugin can bring to your vacation rental business.
How Adivaha Ensures Seamless Integration and Support:
Understanding that espousing a new plugin can be a daunting task, we prioritize furnishing a flawless integration experience for our recognized guests. Our devoted platoon of experts is available around- the timepiece to support you throughout the integration process. Any inquiries or specialized challenges that may arise are instantly addressed, icing a smooth and hassle-free transition to our plugin. Our commitment to your success goes beyond the original setup. As part of our unwavering support, we continuously deliver regular updates and advancements to our plugin. This ensures that your holiday rental business stays ahead of the wind, constantly serving from the rearmost advancements and features in the assiduity.
Adivaha®'s WordPress Vacation Rental Plugin, you are not just investing in a travel software solution; you are partnering with a reliable and innovative service provider that is dedicated to empowering your business to thrive in the dynamic vacation rental market. Choose Adivaha today and witness the transformation of your vacation rental business into a thriving and successful venture.
Conclusion:
Adivaha stands as a reliable third-party service provider, offering a top-tier WordPress Vacation Rental Plugin that encompasses all the essential features to take your vacation rental business to new heights. Embrace the power of technology and choose the perfect b2b wordpress plugin to unlock the full potential of your vacation rental business today.
Our Comprehensive List of Services
adivaha® is a one-stop-shop for all your travel website needs. We offer a multitude of services that empower you to become a market leader. Contact us for more info.
Have Questions?
The Internet is a huge resource, but
if your question requires particular expertise.
Keep Refreshing your customers - Who doesn't want his site to stand out from crowd? adivaha® gives you multiple options for home pages, headers, colors etc. Which can easily be managed from admin via shortcodes and settings. The theme supports almost all the big players in this market ie, WEGO, Travelpayouts, Agoda, Booking, Expedia etc.
Frequently Asked Questions
Below are some of the questions asked by visitors. Do visit our adivaha® Digest for more such questions. Don't hesitate to ask us if you have any questions
I am setting up this plugin for my client's website, I tried registering and received the account activation email, but …

21

views

1

answers

0

votes