Build your own Travel Brand!
Ready to go-LIVE travel solutions that helps your travel agency to sell a range of travel services pretty instantly. adivaha® travel solutions make sure you have no boundation over your imagination, you can do everything online, without the need for any technical knowledge or design skills. Easy Backoffice, extensive reporting with integrated Funds Management System. Upload funds easily and instantly through Netbanking, Debit Card, Credit Card. The best part is, we do offer customizations in case you believe it will boost your business!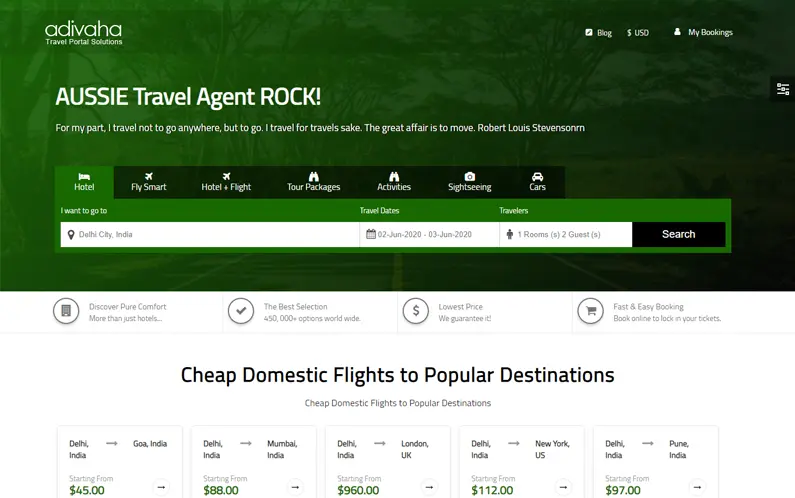 Right WordPress Vacation Rental Plugin for Your Business
Many people think that reservation applies only to hotels and restaurants, but it is not true. Other companies require reservations and appointments. It's a busy world, so don't just rely on email and phone calls to make a reservation. If you want to reserve something, it will take a lot of time for you and your customers. But if you've already been running a website, it's time for you to install the booking plugin.
The wordpress customer portal rental plugin has become an important part of online business. Nowadays, everything happens online. Everyone prefers online if they want to buy or reserve something or visit any place. Whether you run a hotel, restaurant, or any business, you can easily benefit from an online reservation system. This is the best solution for companies that depend on reservations and reservations to assist them in achieving their objectives online.
It is also very beneficial for business owners. They can collect fees and collect payments online directly. In addition, they can use the reservation system to offer rentals or events and schedule them. It helps them manage the day perfectly by looking at the number of appointments taken.
About Vacation Rental Wordpress Plugin
Don't miss out on the best vacation rental WordPress plugin and promote your apartment or house with an eye-catching website. WP vacation rental plugins are a good and useful investment. It's also a lucrative investment and a great way to build long-term residual income streams.
You may have to consider many things to manage properties well. With that in mind, you need to consider the marketing strategies you will adopt to achieve your business goals.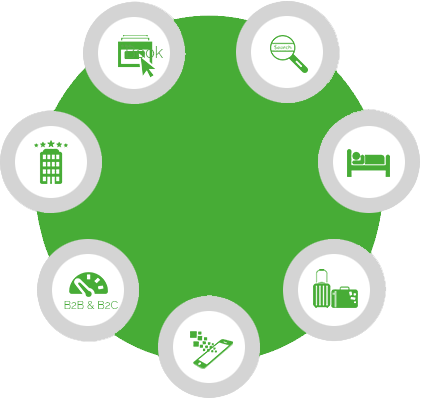 Find the Right WordPress Vacation Rental Plugin
WordPress plugins are ideal for vacation rental as they will give you an easier way to manage your website. Plus, you'll have a secure, scalable, high-performing, and easy-to-use website. That's not all. With rental WordPress plugins, you can easily create a website without compromising quality and functionality. With WordPress plugins built into those themes, managing your website is a piece of cake!
Controlling the rental system isn't as simple. However, having a tool to manage it can be a huge help! Check for this holiday rental WordPress plugin for an appealing online presence. The vacation rental WordPress plugin is a great solution if you want to rent multiple accommodations and turn on instant bookings. It is suitable for villas, guest houses, wordpress vacation rental plugin, apartments, etc. With the vacation rental WordPress plugin, you can easily manage accommodations.
Additionally, this plugin offers real-time search availability, where all booked accommodations are automatically locked. So manual updates and inconsistency are eliminated when you choose this. Its compatibility with the plugin allows you to accept payments in many methods. These include PayPal, Stripe, Braintree, and more.
It is created to facilitate vacation rental companies and travel agencies. The vacation rental WordPress plugin has an intuitive interface, advanced tools, and powerful built-in options to enhance the user experience. As the wordpress travelpayouts theme is compatible with the WP plugin, the sale would be much easier, robust, and functional.
With its compatibility, you can easily mix and match elements to complete your site pages. Since mobile traffic can help drive website success effectively, the vacation rental WordPress plugin ensures the site is mobile-first, retina ready, and fully responsive.  That is possible as this vacation rental WordPress plugin is designed with cross-browser compatibility.
Why Vacation Rental Wordpress Plugin?
It is perfect to use for travel affiliate theme agencies and other related businesses. Choosing a vacation rental WordPress plugin will never give you a headache after installation. With its one-click install feature, you can focus on the content you will add. Also, its cross-browser compatibility gives you an advantage over other topics as your site will be accessible no matter what browser the user uses. Thanks to this plugin, creating a website is just drag and drop!
Feast your eyes on these amazing and powerful vacation rental WordPress plugins. Each of these plugins has a stunning design and amazing functionality. This vacation rental WordPress plugin comes with more than unique demos for real estate agents, agencies, holding companies, etc. The vacation rental WordPress plugin is highly customizable and can be installed with a single click. Therefore, setting up your best travel affiliate website will take only a few minutes.
Also, it is optimized for SEO and speed to expect good search engine rankings. The vacation rental WordPress plugin also allows you to display your listing information on Google Maps as it is integrated with Google Maps. And what is more? This WordPress hotel plugin provides a front-end profile editing page that allows users to edit their profile information. In addition, you can easily manage your property list and reject submissions that don't meet your preferences. It also has a built-in mortgage calculator, social sharing, floor plans, etc.
Importance of WP vacation rental plugin
Whether you offer wordpress vacation rental or tour booking, you must ensure you can reach a wide audience. With that in mind, acquiring the best plugin will be priceless! The vacation rental WordPress plugin is clean, modern, intuitive, and aesthetically pleasing.
It's also built with a vacation rental WordPress plugin, so you'll always have a consistent organization, cleanliness, and clutter-free layout, regardless of the device used.
In addition to the online reservation system, the vacation rental WordPress plugin also includes an impressive selection of pre-built website demos. This helps make the vacation rental wordpress reservation plugin a good choice for creating websites for various vacation rental opportunities, including hotels, bed and breakfasts, chalets, apartments, and more. All designs in these demos have been finished to a high standard, with completely modern designs and components. For example, check out any of the demos. You'll see that your vacation rental website could include a powerful search tool that's helpful if you're listing multiple rental opportunities and an interactive calendar that lets your visitors quickly see what is available.
The demo content that makes up the vacation rental WordPress plugin is also customizable, helping to ensure that you can create the right website for your vacation rentals. Using the WordPress plugin, you can quickly insert more sections and modules into layouts or mix and match your elements to create your unique layouts. Customizing how the reservation system works and other aspects of your vacation rental website is easy, helping you offer and accept the right reservations for your business.
Vacation rental WordPress plugin ready to go but also easily customizable. Thanks to its total dedication to the accommodation business, the plugin is equipped with all the necessary tools to list and rent properties of any type: hotels, vacation rentals, bed and breakfasts, apartments, etc. Additionally, the plugin is widely used by hoteliers and vacation rental owners.
In addition, it allows you to add a real-time search availability form that searches accommodations. Property managers then easily manage all reservations and view payment details, guest information, and notes. Unlike proprietary hotel booking wordpress theme software, the WordPress booking plugin does not charge additional fees and can be used for unlimited rentals.
Possibility of collecting mandatory taxes and fees.
Admin and customer email notifications.
Free backend test account.
Ability to block all or individual properties for a certain time.
Minimum and maximum stay rules for all properties or individual properties.
Availability Check Widgets
Email templates for each email
Integrate the Google Universal Analytics account
Generate one reservation per reservation.
Entries can be stored in cookies
Supports any currency
Allocate unlimited capacity and room type
Calendar view of 12 months of room availability
Search in the list of reservations by date range
Support for the custom post type
Create your custom wordpress car booking plugin forms
Multilingual support or front-end and backend
Admin can decline specific reservations
Reserve Listing Pagination
Add / edit / manage reservation from the administration interface
Store reservations and configurations in your database
They have an unlimited number of rooms, reservations, and clients.
Some Other Key Features
It is the power behind the vacation rentals WordPress plugin.
It is a WordPress Vacation Rental plugin we utilize to power our sophisticated theme for the app. The WP vacation rental plugin can be used as a stand-alone product. Its best when used with themes it was developed to run. The vacation rental plugin for WordPress can transform the theme you choose into a fully-fledged directory. This vacation rental plugin comes with the capability to create new types of posts.
Stylish Holiday Lettings
The theme has an elegant design and strong wp booking system capabilities. It doesn't matter if it's rental villas, rooms, apartments, or even homes. Display your property's appeal with the style you want to present. You can fully control all of your online reservations.
Customizable Rentals Website
The elegant homepage of Vacation Rental is built using the theme's widgets. It is possible to arrange your items on the homepage by moving widgets. Also, add new widgets to alter the look and the information.
Customizable Reservations Form
Manage rentals online and charge the theme's booking and reservation forms. This feature gives you the ability to provide new options for the form.
Add Extra Services
Include additional services that appear in the form for booking. Flexible property management options permit these services to be charged. The theme will then calculate the price of each service when making the reservation.
Multilingual - WPML Compatible
In addition, it is capable of translating and translating the Vacation Rental theme with its. Also, it's WPML compatible. After installing the plugin, it will let you manage your holiday website in multiple languages using the help of a switcher.
Booking Availability Calendar
In Vacation Rental, every room or property you add has a calendar of availability. The calendar lets guests know when there are dates available. Double bookings aren't possible.
Booking Discount Coupons
Make discount coupons that are a percent or in exact amounts. They are a great option to allow you to rent your holiday home more simply. Discounts are calculated using the Reservation Form at the phase.
Easy To Use Online Vacation Rental Booking System
This theme has an extremely simple booking system. Your website can be set up within a short amount of time. After installing Vacation Rental, it is possible to add samples of information. It comes with default settings, widget positions, and a handful of samples of properties. Start adding your listings of properties and their pricing and information. It is possible to use the PayPal payments gateway provided in addition to the method of pre-banking payment. Therefore, you can begin accepting online reservations with payments. You can use it for one vacation home or multiple properties. This theme does not limit you to allowing bookings for only one property. It's entirely up to you. You can, if you wish to, create categories that could be used to differentiate the various properties. The theme is ready for you to include your property's price, images, and prices galleries. You're ready to go.
Set tax
It is simple to define a tax amount and select the property for which tax is to be added to the reservation form.
Set a deposit
Do you not want to charge the entire amount on the first reservations? Like other rental platforms, make a deposit, and the balance will be due upon guest check-in.
Calendar with an availability checker
Through an online booking system designed using the plugin for vacation rentals; you can effortlessly accept payments made against reservations. It is a Vacation Rental WordPress theme has PayPal installed and supports offline payment. Therefore, users can search for availability on the calendar for booking. Users can instantly reserve the rental property by making a payment online.
Create a rental site more quickly and easily using the pre-built booking form. The form allows users to select the date of sign-in and the day of departure and calculates the amount. It has all the necessary fields that a booking form should be made up of. The form was created with care to ensure that it is easy for visitors to use.
Custom-designed background
Do you want to add that distinctive design to your site for your vacation rental? Utilize the real-time customizer to alter the background.
SEO friendly
Install the most popular WP SEO extensions: Yoast Search and the All-in-One SEO. This Vacation Rental plugin is optimized for SEO. Google, as well as other engines, can easily discover your website.
Change colors
You can easily create your unique look and style for your rental site. Select from various colors on the dashboard customizer, allowing you to alter the default theme colors.
Flexible plugin
If you're searching for a simple and flexible plugin, this plugin for vacation rentals on WP is the best and comes with various useful features. This plugin has an option to assist users in hiring or reserving vacations. You can include two or more fields on the product page, specify the start and end date and calculate the current price.
This plugin lets you create custom pricing daily, weekly, monthly, and even at night. It also includes a number of plugins that make it distinct from other plugins. Make use of Pickadate.js to show calendars and set dates. If using the trial version doesn't please you, you may upgrade to the premium version, which has more features.
Social buttons to share
Your website should allow visitors to share content on Twitter, Facebook, Google, and other popular social networks. This is a great method to advertise your vacation home on the internet.
1-click auto install
If you press a single button in the theme's backend, you can create your new theme to appear like the Vacation Rental Demo website.
Automatic updates
The days of having to deal with managing theme file files are gone. This feature will enable you to update your theme through your WordPress dashboard, just as updating plugins.
Documentation in depth
A multi-page guide that includes text, images, and video will make getting to grips with this powerful WP holiday rental plugin simpler.
Third-party plugins are supported.
Use the most popular WordPress plugins, such as Gravity Forms or WordPress SEO by Yoast, to boost the directory even more.
Custom widgets
Show unique content using widgets like Facebook Fans, Twitter Newsfeed, Testimonials Booking widgets, Contact Us, Google Map widgets, Social Media, and many more.
Conclusion
A theme with many features can be a great tool to manage the rental business of your property. To that end, you shouldn't miss the opportunity to review WP Rental, one of the top rental property WordPress themes to look over. The theme includes seven user-friendly, simple-to-use, and unique demos for hosting booking sites. The best part of WP Rental is that it allows hourly and daily bookings. Like other themes on this list, WP Rental integrates most of the most useful WordPress plugins.
It's a plugin compatible with other ones that let you move and drag elements. Amazing, right? Complete web pages as an expert without even touching one piece of code. It's mobile and retina-ready, which means your website will appear crisp, sharp, clean, and organized on all devices. Furthermore, certain users are also able to submit their property. Thus, you make use of a wide range of web revenue.
This article introduces you to the most effective WordPress travel and tourism plugin. The WordPress booking plugin is awe-inspiring, with features and functions that will bring more users to your website. Before using any plugin, take a look at several options and decide by evaluating WordPress vacation rental plugin. Make sure you choose the one that is compatible with your business model. If you've tried any of the plugins, you are welcome to discuss your experience with us and be useful for novice traders.
Our Comprehensive List of Services
adivaha® is a one-stop-shop for all your travel website needs. We offer a multitude of services that empower you to become a market leader. Contact us for more info.
Have Questions?
The Internet is a huge resource, but
if your question requires particular expertise.
Keep Refreshing your customers - Who doesn't want his site to stand out from crowd? adivaha® gives you multiple options for home pages, headers, colors etc. Which can easily be managed from admin via shortcodes and settings. The theme supports almost all the big players in this market ie, WEGO, Travelpayouts, Agoda, Booking, Expedia etc.
Contact
Have something unique in mind? Drop a message.
Estimated reply time: 3-5 Working Days