Build your own Travel Brand!
Ready to go-LIVE travel solutions that helps your travel agency to sell a range of travel services pretty instantly. adivaha® travel solutions make sure you have no boundation over your imagination, you can do everything online, without the need for any technical knowledge or design skills. Easy Backoffice, extensive reporting with integrated Funds Management System. Upload funds easily and instantly through Netbanking, Debit Card, Credit Card. The best part is, we do offer customizations in case you believe it will boost your business!
Building an Advanced Vacation Rental Website with WordPress
Discover the power of WordPress in building an advanced vacation rental website that captivates travelers worldwide. Learn how to custom website themes, integrate essential plugins, and enhance user experience for seamless bookings. Maximize your property's potential with expert guidance from Adivaha, the leading third-party service provider in the vacation rental industry.
Vacation rental websites have emerged as the go-to solution for finding unique and affordable accommodations, offering travelers the flexibility to choose from a wide range of properties, from cozy apartments to luxurious villas. In this digital age, creating a compelling and user-friendly rental website is crucial for property owners and managers to connect with potential guests and maximize their bookings.
Choosing the Ideal Wordpress Vacation Rental Theme for Your Website
At our vacation rental website development for travel agency service, we know the significance of selecting the right theme for your online platform. A well-suited theme tailored specifically for vacation rentals can make a world of difference in attracting potential guests and ensuring a seamless user experience. Our expert team takes pride in offering you invaluable insights and assistance throughout this critical process. When it comes to vacation rental themes, certain key features are essential for delivering an optimal user experience. Our vast experience in the industry enables us to identify and integrate the must-have functionalities in your chosen theme. These include user-friendly search options, interactive maps, and intuitive filter systems, empowering your visitors to find their dream accommodation effortlessly. Moreover, we comprehend the importance of branding and a unique identity for your vacation rental business. Our skilled developers are adept at customizing b2b wordpress themes to perfectly align with your brand guidelines. By incorporating your logo, color schemes, and distinct design elements, we ensure that your website stands out from the competition while maintaining a cohesive and professional appearance.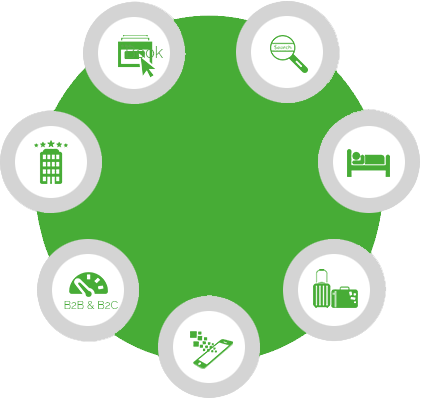 Developing an Advanced Vacation Rental Site
With our dedicated team by your side, rest assured that your vacation rental website will be equipped with the most suitable theme, providing an engaging and immersive experience for your guests. Embrace the advantage of our expertise as a leading third-party service provider, and let us create a visually stunning and fully functional vacation rental platform tailored to your specific needs.
Enhancing Your Website with Key Plugins for Vacation Rentals:
We at our highly regarded vacation rental website building business recognize the value of a simple booking process for your visitors. We integrate premium booking and reservation plugins into your platform to guarantee a hassle-free experience. These plugins were chosen with care to support rapid confirmations, availability checks, and real-time reservations, enabling your guests to easily book their ideal accommodations.
Online transaction security on your b2b website wordpress is a top priority for Adivaha. We ensure that sensitive information about your visitors is always protected by skillfully integrating secure online payment systems. The whole experience on your platform will be improved if you offer dependable and reputable payment choices to your potential guests. We know how crucial it is for guests to have a clear understanding of the property's location and surroundings. That's why, as a leading third-party service provider, we incorporate interactive maps and location-based features into your vacation rental website. By visualizing the exact locations of your properties, potential guests can explore nearby attractions and make well-informed decisions, ultimately increasing their trust and interest in booking with you.
How to Build an Advanced Vacation Rental Website with WordPress
As a top provider of vacation rental website development services, we are experts at creating cutting-edge platforms that increase bookings and grow your travel technology company. The essential steps we take to build a polished and useful vacation rental website using WordPress are listed below:
Strategic Theme Selection and Customization: We carefully select a vacation rental theme suited to your company's requirements, making sure it has all the necessary features including property listings, booking processes, and design customizations. With the help of our knowledge, we modify the theme to reflect your brand identity, resulting in an aesthetically appealing and well-organized booking website wordpress.
Integrating Essential Plugins and Features: Our team installs essential plugins that enhance your website's capabilities. These include booking and reservation systems, secure payment gateways, search filters, and interactive maps. These features provide a seamless booking experience for your guests and showcase the unique features of each property.
Mobile Responsiveness and SEO Optimization: We prioritize mobile responsiveness to cater to the growing number of users accessing websites through their smartphones and tablets. Additionally, our SEO optimization strategies ensure that your website ranks higher in search engine results, increasing organic traffic and visibility.
Engaging Content and Review Management: To build trust and credibility, we enable guest reviews and testimonials, allowing visitors to read about the experiences of previous guests. We encourage content updates to keep your website fresh and engaging, enticing return visits and attracting new guests.
Monitoring and Analytics: Our services include setting up website analytics to track visitor behavior, bookings, and conversion rates. By analyzing this data, we gain valuable insights that help us make informed decisions to improve your website's performance and user experience.
With our seamless process and expert guidance, we ensure the successful creation of your advanced vacation rental website on wordpress travel website. Trust us to develop a platform that not only showcases your properties effectively but also converts visitors into happy guests, driving the success of your vacation rental business.
Tailored Customization Options:
Enhanced Customization: At our vacation rental travel website development service, we leverage the power of WordPress to offer enhanced customization for your platform. WordPress allows us to craft a unique and visually appealing website that perfectly reflects the personality and branding of your vacation rental business. With our expertise, we create a website that stands out from the competition, leaving a lasting impression on your visitors and potential guests.
Seamless Integration: As a trusted third-party service provider, we understand the importance of seamless integration for your vacation rental website. With Word Press's flexibility, we effortlessly incorporate a wide array of plugins and integrations to add essential functionalities. From user-friendly booking systems and secure payment gateways to social media sharing options, we ensure your website offers a smooth and efficient experience for your guests.
User-Friendly Interface: Navigating the world of web development is made simple with WordPress. Our expert team ensures that your vacation rental website features an intuitive dashboard and user-friendly editor. Even non-technical users can effortlessly manage and update their website content, properties, and bookings. This seamless interface empowers you to take full control of your platform, saving time and effort in the long run.
SEO-Friendly: A strong online presence is vital for your vacation rental travel business, and WordPress has a proven track record of being SEO-friendly. Our services include optimizing your website with relevant keywords, meta tags, and meta descriptions to improve its ranking in search engine results. With our focused SEO strategies, we ensure that your vacation rental website attracts more organic traffic, leading to increased visibility and higher booking opportunities.
Role of Adivaha in Building an Advanced Vacation Rental Website
The role of Adivaha in building an advanced vacation rental website is highly significant. As a top-notch third-party service provider, Adivaha specializes in creating exceptional vacation rental websites using the booking platform WordPress. Their vast experience and team of skilled developers enable them to offer tailored solutions that specifically cater to the unique needs of the vacation rental industry.
Adivaha®'s expertise lies in various aspects of travel website development company. They excel at customizing themes, ensuring that your website not only looks visually appealing but also perfectly aligns with your brand identity. By integrating essential plugins, Adivaha enhances your website's functionalities, allowing for seamless booking experiences, secure payment processing, and engaging user interactions.
Moreover, Adivaha goes the extra mile by optimizing your website for meta search engine. This means your vacation rental platform becomes more visible in search results, attracting more organic traffic and potential guests. By ensuring that your website stands out from the competition, Adivaha helps your vacation rental business thrive in a highly competitive market.
With Adivaha as your trusted partner, you can rest assured that your vacation rental website will be in the hands of experts. Their dedication and proficiency in building advanced vacation rental websites empower your business to succeed, driving more bookings and ultimately leading to higher revenue and success in the dynamic vacation rental industry.
Conclusion:
Building an advanced vacation rental website with WordPress presents numerous benefits for property owners and managers looking to establish a robust online presence in the competitive travel industry. By utilizing the expertise of a service provider like Adivaha, businesses can maximize the potential of their WordPress vacation rental platform, ensuring seamless booking experiences for guests and higher returns on investment. With the right approach, a well-designed vacation rental website can become the key to attracting more guests and standing out in the thriving vacation rental market.
Our Comprehensive List of Services
adivaha® is a one-stop-shop for all your travel website needs. We offer a multitude of services that empower you to become a market leader. Contact us for more info.
Have Questions?
The Internet is a huge resource, but
if your question requires particular expertise.
Keep Refreshing your customers - Who doesn't want his site to stand out from crowd? adivaha® gives you multiple options for home pages, headers, colors etc. Which can easily be managed from admin via shortcodes and settings. The theme supports almost all the big players in this market ie, WEGO, Travelpayouts, Agoda, Booking, Expedia etc.
Frequently Asked Questions
Below are some of the questions asked by visitors. Do visit our adivaha® Digest for more such questions. Don't hesitate to ask us if you have any questions
Hello team, can you tell me if I can connect several APIs in one platform or website?

20

views

1

answers

0

votes