Build your own Travel Brand!
Ready to go-LIVE travel solutions that helps your travel agency to sell a range of travel services pretty instantly. adivaha® travel solutions make sure you have no boundation over your imagination, you can do everything online, without the need for any technical knowledge or design skills. Easy Backoffice, extensive reporting with integrated Funds Management System. Upload funds easily and instantly through Netbanking, Debit Card, Credit Card. The best part is, we do offer customizations in case you believe it will boost your business!
Customize Your Site with the Agoda WordPress Plugin
Agoda is one of the fastest-growing online travel booking plugin wordpress platforms in the world, with more than 100,000 hotels and offering services in 38 different languages. The Agoda website is award-winning, fast, easy to use, and uses the most advanced technology in the world.
Agoda market managers maintain close relationships with Agoda partner hotels around the world, creating special promotions and marketing programs to help Agoda deliver the best deals on the web. This competitive advantage is backed by our Best Price Guarantee.And now the adivaha® team offers their clients the best options of Agoda wordpress affiliate theme plugin aimed at achieving the most competitive prices.
What is the Wordpress Agoda plugin?
It is the best plugin, available directly in India that can be downloaded from the WordPress travel affiliate plugin repository. It's one of the best WordPress travel plugins the adivaha® team has tested: easy to use, 100% responsive, works perfectly with all available WordPress versions, and is well documented. It also has a premium version that you can upgrade to if the paid features are worth it.Agoda plugin allows your clients to check the availability and price of the service and then choose the desired day and time to make an appointment or book a stay through the form. As an administrator, you can indicate not Available on those days of the week when the business is closed.
This best agoda wordpress plugin for online reservations with WordPress can also be configured to send an email notification to both you and the user once a request for a booking is sent /confirmed/rejected. Also, you can add all the fields you need to your forms and mark the ones you want as mandatory. To view the reservations and manage them more easily, you can choose views by day, week, or month, as well as filter the reservations using different parameters.
This Agoda plugin is a plugin to manage restaurant reservations with WordPress. For catering businesses, it is the best travel affiliate wordpress theme reservation plugin we have found although it is very simple. Your clients will be able to see if there are free tables at the time they want and, if so, they will be able to make the reservation.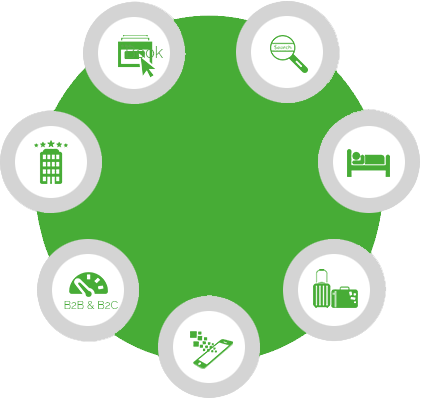 WordPress Site Easily with the Agoda Plugin
Agoda affiliate wordpress theme plugin is a very powerful booking plugin that also has a paid version. Perhaps the design is too simple. But it is also fully responsive; the administration panel is very easy to use (you don't need any programming knowledge). It has very robust functionalities and it has direct integration with WooCommerce through an add-on. Thus, you can take advantage of the cart, the payment methods, and all the possibilities that WooCommerce offers.
The client will see a calendar marked with different colors depending on availability and lack of it (the calendar adapts to your time zone). You just have to select the available date that suits you best and fill in the form next to the calendar.As an administrator, you will be able to modify the fields of the form intuitively. Reservations cannot be overlapped and you can configure automatic confirmation or, if you prefer, you have the option to confirm/reject/edit manually. You can edit absolutely all the texts from the back-end, enable/disable/add languages ​​, and use any currency you want. You can also integrate the agoda wordpress plugin with Google Calendar and Airbnb, for example.
 Advantages of Agoda plugin
Hotel reservations offer some of the highest commissions available online. The agoda wordpress theme Affiliate Program is the world's leading affiliate program with proven success, high conversion, and generous commissions.
Agoda plugin program combines quality tools, the best prices, and a private traffic conversion skill. 
All the features of our Agoda plugin program, from the support of different currencies to the multilingual support, are designed to offer tools to monetize traffic.
Wordpress Agoda plugin offers cookies to help you get the most out of your traffic. 
Wordpress Agoda is an aggregator of a large number of hotels around the world and it is ready to share remuneration by giving a part of its margin.
Commission is 6% of the total value of the reservation when the client checks out.
Wordpress Agoda plugin uses an HTTP referral to track your clients' reservations. 
Register your domain with the Wordpress Agoda plugin: for example, you can activate it for tracking. 
Every 24 hours, Wordpress Agoda synchronizes with the booking engine and records all reservations that have an affiliate ID.
With Agoda, plugin our staff will eliminate duplicate, false, or test reservations. These will not appear in the affiliate center. If you want to make test bookings and follow them up, you will have to do it with a special procedure. 
All actual reservations, whether made by credit card or not, will appear in the Agoda plugin within 24 hours. 
The Wordpress Agoda plugin will display the status of the reservations with messages such as: "customer canceled", "complete reservations", "confirmed", "consumed", and will indicate whether a credit card number has been received. 
Agoda plugin can provide you with instructions to make the test reservation so that this reservation is not identified, deleted, and do not involve any cancellation fee. 
Agoda plugin is a booking affiliate wordpress online booking plugin with the best versions with different levels of functionality. It is designed for all types of travel businesses and has an attractive design. An easy-to-use interface, and can be used in just a few minutes efficiently. Customers can check availability and book directly from the website itself, but the free version does not allow much customization.
We recommend that you take a look because maybe you like it and what it offers is enough. Obviously, for businesses that have constant reservations, this is at all comfortable.The Agoda plugin is also very flexible. Easy appointments are designed to manage previous appointments more than to rent vehicles, equipment, or accommodation wordpress theme. Agoda plugin has been designed to work with hourly bookings. In fact, you can set different calendars per employee, service, and location.
Unlike many plugins for online reservations with affiliate wordpress theme. It has extensive notification options: inform the customer about the reservation, also informs the employee and you can also configure notifications for lists of admin users. From the subject to the content these emails are fully customizable.In addition to the best WordPress plugin that has been recommended, many other premium alternatives are also highly recommended, since with them you can achieve impressive results. And its good example is the Agoda plugin.
Now, be careful because some alternatives are not so recommended. You have to be careful with WordPress online booking plugins that save reservation data on external servers owned by another company. The main problem is that, normally, the user must accept clauses that allow the use of these reservations for other purposes.In no case will that happen to you with the Agoda plugin for online reservations that we have recommended. The reservation affiliate data feed will be stored solely and exclusively in the database of your website.
Conclusion:
The Agoda plugin recommended in this post is quite a flexible tool. Therefore, whether you have a small/large travel business in which you are the only employee or if you have a whole team of people working in the same company, chances are that here you will find a wordpress booking theme Agoda plugin that fits you.
This plugin allows a high level of customization, so you can configure them to suit your needs. It can be integrated with your usual calendar application.If you want to start managing reservations made from your website or create an online tour booking system wordpress for requesting prior appointments in WordPress, we are sure that the Agoda Wordpress plugin will be perfect for you.
Our Comprehensive List of Services
adivaha® is a one-stop-shop for all your travel website needs. We offer a multitude of services that empower you to become a market leader. Contact us for more info.
Have Questions?
The Internet is a huge resource, but
if your question requires particular expertise.
Keep Refreshing your customers - Who doesn't want his site to stand out from crowd? adivaha® gives you multiple options for home pages, headers, colors etc. Which can easily be managed from admin via shortcodes and settings. The theme supports almost all the big players in this market ie, WEGO, Travelpayouts, Agoda, Booking, Expedia etc.
Frequently Asked Questions
Below are some of the questions asked by visitors. Do visit our adivaha® Digest for more such questions. Don't hesitate to ask us if you have any questions
What all GDS and Providers are connected in the platform?

36

views

1

answers

0

votes