Build your own Travel Brand!
Ready to go-LIVE travel solutions that helps your travel agency to sell a range of travel services pretty instantly. adivaha® travel solutions make sure you have no boundation over your imagination, you can do everything online, without the need for any technical knowledge or design skills. Easy Backoffice, extensive reporting with integrated Funds Management System. Upload funds easily and instantly through Netbanking, Debit Card, Credit Card. The best part is, we do offer customizations in case you believe it will boost your business!
The Essential Guide to Setting up Your Agoda WP Hotel Website
Maximize your hotel's online presence with our essential guide to the travel Website development. Enhance user experience, boost SEO rankings, and harness the power of social media to attract more guests. As a trusted third-party service provider, we reveal the key to unlocking Adivaha®'s dynamic packaging solutions for unparalleled growth. Get ready to thrive in the competitive travel industry!
Welcome to the essential guide for setting up your Agoda WP Hotel Website – a powerful platform that empowers travel businesses, especially hotels, to establish a robust online presence and drive bookings. As a third-party service provider specializing in travel-related solutions, we understand the importance of having a user-friendly and feature-rich website to thrive in the competitive travel industry. Agoda WP Hotel Website offers an array of tools and functionalities to help you create an enticing website that showcases your hotel's unique offerings, attracts potential guests, and ensures a seamless booking experience.
Curious about the Agoda WP Hotel Website Platform? Let's explore its key features and benefits together.
At our esteemed third-party service provider, we recognize the significance of comprehending the Agoda WP Hotel Website Platform thoroughly. Wondering what this dynamic platform has to offer your hotel business? Let us take you on a guided tour, where we'll delve into its core features, exceptional benefits, and any limitations you should be aware of. As your reliable travel solutions partner, we're committed to empowering your hotel with the knowledge and tools needed for unparalleled success. So, let's embark on this journey together and unlock the full potential of the Agoda WP Hotel Website Platform!
Features:
User-Friendly Interface: Agoda WP Hotel Website boasts an intuitive and user-friendly interface, making it easy for hoteliers of all levels of technical expertise to navigate and manage their websites effortlessly.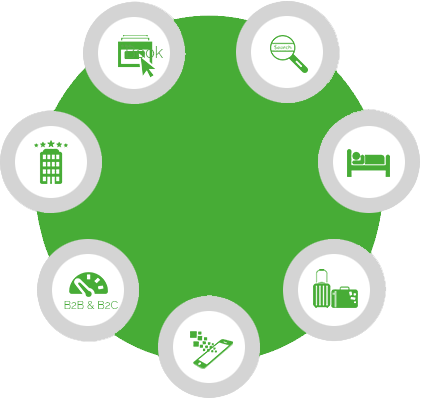 Create an Exceptional Hotel Website with Agoda WP
Customization Options: The platform offers a wide range of customizable travel website templates, allowing you to tailor your website's design, colors, fonts, and layout to reflect your hotel's unique brand identity.
Seamless Booking Integration: Integrating booking and hotel reservation systems into your website has never been easier. Agoda WP Hotel Website ensures a seamless connection, enabling guests to book directly from your site, streamlining the booking process, and maximizing conversions.
Mobile Optimization: With an increasing number of travelers using mobile devices to plan their trips, the Agoda WP Hotel Website prioritizes mobile optimization. Your website will offer an exceptional user experience across various screen sizes, helping you tap into the growing mobile market.
Search Engine Optimization (SEO): Elevate your website's visibility on search engines and attract organic traffic through strategic SEO implementation. Agoda WP Hotel Website allows you to optimize your content, meta tags, and keywords to improve search rankings.
Functions:
This is a very good question because here we will provide an answer that will certainly satisfy you, why book hotels through Agoda WP. As you know, there are lots of online hotel reservation wordpress services on the internet, one of which is Agoda WP. Agoda hotel system itself is the largest hotel reservation site and is well known in the world, especially in India.
Content Management: Easily update and manage your website's content through an intuitive content management system. Keep your information up-to-date and relevant for your potential guests.
Social Media Integration: Connect your social media profiles to your best travel website and leverage the power of social media marketing. Engage with potential guests, build a loyal following, and drive traffic to your site.
Analytical Insights: Gain valuable insights into your website's performance through built-in analytics. Understand visitor behavior, traffic sources, and conversion rates to optimize your custom website for better results.
Benefits:
Enhanced Online Presence: Establish a strong online presence that captivates potential guests and sets your hotel apart from competitors.
Increased Direct Bookings: With seamless booking integration, Agoda WP Hotel Website encourages direct bookings, reducing dependency on third-party booking platforms and increasing your revenue.
Cost-Effectiveness: Building your b2b website wordpress on the Agoda WP platform is a cost-effective solution compared to hiring web developers from scratch.
Time Efficiency: The platform's user-friendly interface and pre-designed templates save time in website development, allowing you to focus on other essential aspects of your travel business.
Setting Up Your Agoda WP Hotel Website Step by Step:
Creating Your Account: Signing up and creating your Agoda WP Hotel Website account is the first step toward establishing a strong online presence for your hotel business. With our step-by-step guide, you'll navigate the registration process effortlessly, gaining access to the platform's intuitive interface and an array of powerful features. Prepare to take full control of your hotel's online identity and digital marketing strategies.
Choosing the Right Template: Explore the treasure trove of stunning website templates offered by Agoda WP Hotel Website. Our expert insights will assist you in selecting the template that perfectly aligns with your hotel's brand identity and captures the essence of your target audience's preferences. With our guidance, your website will exude professionalism, entice potential guests, and stand out in the competitive hospitality landscape.
Customizing Your Website: Unleash your creativity as you discover the vast customization options available on the Agoda WP Hotel Website platform. Tailor your travel website designing, colors, fonts, and layout to resonate with your hotel's unique style and identity. Our expert tips will empower you to create a visually appealing and cohesive website that leaves a lasting impression on your visitors.
Showcasing Your Property: Captivate your potential guests with a captivating portrayal of your hotel's amenities, rooms, and services. High-quality images and engaging content play a pivotal role in highlighting your property's key offerings. Our guidance will help you craft compelling descriptions that entice and inspire potential guests to choose your hotel as their ideal destination.
Integrating Booking and Reservation Systems: Simplify the booking process and provide a seamless experience to your guests by leveraging Agoda WP Hotel Website's effortless integration with booking and reservation systems. Our step-by-step instructions will enable you to set up this vital functionality, boosting direct bookings and enhancing guest satisfaction.
Mobile Optimization: In an era dominated by mobile devices, optimizing your website for various screens is non-negotiable. Our emphasis on mobile-friendly design will ensure your Agoda WP Hotel Website looks stunning and functions flawlessly across smartphones and tablets. Be ready to capture bookings from tech-savvy travelers on the go.
Search Engine Optimization (SEO): Master the art of SEO with our expert guidance. Learn how to implement best practices that enhance your website's visibility on search engines, driving organic traffic to your site. Harness the power of relevant keywords, meta tags, and content optimization to elevate your rankings and attract potential guests actively seeking accommodation options.
Unveiling the Vital Role of Adivaha:
As your trusted partner, Adivaha, a distinguished third-party travel technology services provider in the travel industry, assumes a paramount role in enhancing your Agoda WP Hotel Website experience. Armed with a wealth of expertise in delivering cutting-edge travel solutions, Adivaha becomes your key to unlocking a plethora of travel tools and functionalities, elevating your hotel business to soaring heights of success.
Seamless Integration of Essential Travel Tools: Adivaha®'s proficiency lies in seamlessly integrating a suite of essential travel tools into your hotel website, augmenting its functionality and enhancing user experience. From streamlined flight and hotel booking APIs to effortless reservation systems, Adivaha ensures a frictionless booking process that leaves a lasting impression on your guests.
Dynamic Packaging Solutions: With Adivaha®'s dynamic packaging solutions, you have the power to curate alluring travel packages that combine flights, accommodations, and other travel essentials. These customizable bundles entice potential guests, cater to diverse preferences, and establish your hotel as the go-to choice for comprehensive and hassle-free travel experiences.
Unleashing Advanced Travel Technology: Adivaha®'s cutting-edge travel technology company offers a strategic advantage in the competitive landscape. By incorporating advanced features and innovations, such as real-time pricing and inventory management, your hotel website will stay at the forefront of the industry, ensuring you never miss a booking opportunity.
Personalized Support and Expertise: At Adivaha, we are more than just a service provider; we become your dedicated travel portal solutions partner. Count on our team of experts to provide personalized support and guidance throughout your journey. Our commitment to your success translates into tailored solutions that meet your specific requirements, giving your hotel a competitive edge in the dynamic travel market.
Accelerate Your Hotel's Growth with Adivaha: By embracing Adivaha®'s travel solutions, your Agoda WP Hotel Website becomes a formidable force in the travel industry. Experience a surge in direct bookings, witness heightened guest satisfaction, and expand your reach to a broader audience. With Adivaha by your side, you have the tools and expertise to make your hotel business a resounding success.
Conclusion:
Setting up an Agoda Hotel booking Website wordpress is a game-changer for travel businesses, especially hotels, seeking to establish a strong online presence. By following this essential guide and leveraging the services offered by Adivaha, your hotel can not only attract more guests but also deliver a seamless booking experience that keeps them coming back for more. Embrace the power of technology, and take your hotel business to the next level in the competitive world of travel.
Our Comprehensive List of Services
adivaha® is a one-stop-shop for all your travel website needs. We offer a multitude of services that empower you to become a market leader. Contact us for more info.
Have Questions?
The Internet is a huge resource, but
if your question requires particular expertise.
Keep Refreshing your customers - Who doesn't want his site to stand out from crowd? adivaha® gives you multiple options for home pages, headers, colors etc. Which can easily be managed from admin via shortcodes and settings. The theme supports almost all the big players in this market ie, WEGO, Travelpayouts, Agoda, Booking, Expedia etc.
Frequently Asked Questions
Below are some of the questions asked by visitors. Do visit our adivaha® Digest for more such questions. Don't hesitate to ask us if you have any questions
I am setting up this plugin for my client's website, I tried registering and received the account activation email, but …

9

views

0

answers

0

votes