Build your own Travel Brand!
Ready to go-LIVE travel solutions that helps your travel agency to sell a range of travel services pretty instantly. adivaha® travel solutions make sure you have no boundation over your imagination, you can do everything online, without the need for any technical knowledge or design skills. Easy Backoffice, extensive reporting with integrated Funds Management System. Upload funds easily and instantly through Netbanking, Debit Card, Credit Card. The best part is, we do offer customizations in case you believe it will boost your business!
Getting Started with Amadeus GDS Reservation System
adivaha® provides you with systems built for api based travel booking script agencies and wholesale operators of different sizes. The commercial strategy is based on offering companies, customized and comprehensive SOLUTIONS, to be your technological ally in any tourism project.
The service we provide is of quality, backed by many years of experience in the tourism industry and a firm belief in innovation that focuses its activity on software and data engineering. We use more efficient work methodologies, which allow us to achieve objectives without neglecting other criteria such as cost.
adivaha® is a global provider of travel technology. We excel in analyzing and listening to the specific needs of our clients. We offer our consultation and deliver software that adapts to the size and scale of operations, for online and offline travel agencies, Travel Wholesalers/Aggregators/Consolidators/Distributors, Operators tourist/excursion and activity providers, etc. We have developed special knowledge about what kind of software works for a travel company.
We maintain a wide range of solutions for amadeus travel software companies ranging from a start-up to a large travel company. Our travel software solutions are used by traditional and online travel agencies, travel wholesalers, tour operators, online ticketing agencies, marketing companies of different destinations, intercity transport companies (bus, train, charter) ), rental companies and technology development companies.
The products we develop are major developments for a travel agency and wholesale operator systems. So, they are solutions that will handle all of your agency's needs and can be implemented immediately. We have software that covers all the characteristics of an OTA (Online Travel Agency), mixing the versatility of personalized service and the flexibility of integrations.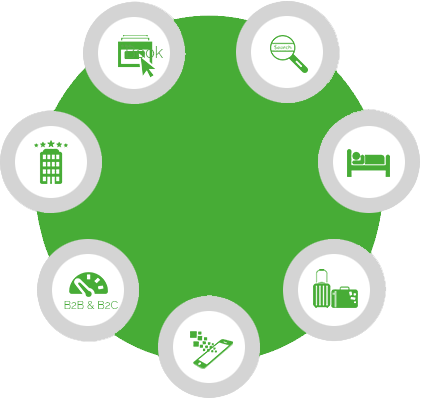 Using the Amadeus GDS Reservation System
We provide you with B2B, B2C, B2B2C booking engines, you can add inventory providers into a single booking engine for hotels, flights, packages, excursions, car rentals, transfers and buses. With the presence of customer management, back end system, business rules, connectivity to third-party systems and CRM.The system has connectivity and integration with global travel inventory providers such as GDS for flights: Amadeus, Travelport, and Saber accommodation providers (such as GTA, HotelBeds, HotelsPro, Tourico, Travco ), car rental, excursions, cruises and many more.
adivaha® is a travel technology company that offers a pre-coordinated Amadeus reservation system for airlines, vehicle rentals, and lodgings worldwide. Amadeus GDS System is one of the most popular booking systems for airlines, which ensures expert travel technology solutions for companies and travel agents globally. It aids travel agents to deliver thorough travel itineraries rapidly and effectively. With Amadeus API integration, your travel website will be able to discover offers from thousands of hotels and airlines in over 50 nations across four continents. adivaha® provides comprehensive Amadeus travel software that encompasses various travel services at a single spot. adivaha® pre-coordinated with Amadeus airline reservation system, which allows total data aggregation of flight plans, seat accessibility and ticket costs from different airlines. We incorporate Amadeus GDS System to get to the stock for flights, lodgings, vehicle rentals, occasions, moves and touring through web administrations. It helps agents to comprehensively deliver their travel itineraries efficiently and very fast. Amadeus GDS Reservation System is a modernized reservation system that empowers operators to book flights, sell seats, issue tickets, book vehicle recruit conveniently. It connects your travel business to Amadeus GDS in the global travel marketplace, thus facilitating its growth. Amadeus Central Reservations System (CRS) can oversee and control conveyances, appointments and rates through a far-reaching foundation of capacities.
As of today, Amadeus GDS is one of the best systems among its counterparts. Online travel content which includes, cars, airline, transfers, sightseeing, hotels, and some other value-added services, are being accessed by Global travel management companies through the use of Amadeus GDS. The highest number of transactions are being generated daily, as well as provisions of powerful applications and new solutions that cater to the growing needs of travel agencies. Amadeus GDS has emerged as the biggest GDS system, as well as the largest travel content aggregator globally in the last two decades. Innovations are constantly being introduced by Amadeus GDS system, thus helping it maintain its leadership position for solutions to the tourism industry, travel distribution and in travel technology globally. A series of solutions, including web amadeus web services api, APIs, e-power suites, and some other value-added services, enable the clients to make their desired choice. Amadeus GDS operating system is designed to offer travel portal solutions professionally. Through it, agents can provide travel itineraries comprehensively, efficiently and quickly. Amadeus GDS is being integrated by adivaha® to be able to control the inventory for transfers, flights, sightseeing, and hotels via Amadeus web services. Amadeus, as a travel technology company, offers custom travel software with white label, B2C, B2B, and corporate module. Top travel agencies can run their business effectively and efficiently through Amadeus GDS.
Amadeus GDS seamlessly integrated into adivaha® expands your travel offerings, thereby permitting your business to flourish. Your platform will be customized and configured by our developers, irrespective of being an intermediary like OTAs or a hotel, for the most vital information to be pulled and pushed respectively for easier accessibility to consumers. Amadeus is among the top leading GDS services that can be used to change and modernize the travelling industry through its travel versatility. Their system is used by thousands of travelling customers and suppliers to enhance market planning, business operations, selling, and so on. Numerous amounts of very important data that OTAs can present to consumers are being offered by the flight tracking api Global Distribution System. Travel agencies through one platform have permission to the inventory of real-time pricing for cars, hotels, airlines, rentals and much more. Many factors, such as dates, time, location, pricing, and airline seating can be implemented to compare many features. Availability of all that information in a single user-friendly interface will facilitate brand loyalty and provide you with a competitive advantage. By integrating the Amadeus GDS system, your travel agency will be taken to the next level, as it will now have permission to numerous set of travel inventories controlled by Amadeus GDS. Businesses have to take advantage of Global Distribution Systems such as Amadeus to facilitate exposure because the travel industry is becoming more saturated.
With the help of Drupal, web developers can create resources, neglecting the difference between the complex and original designs. This significantly distinguishes Drupal from its main free CMS competition, which does not possess the ability to create complex designs. Drupal works at high-speed as compared to the other CMS because of its built-in caching. With the presence of additional functions like built-in queries, forums, and multi-blogs, any project created with the help of Drupal is easy to market. This amadeus gds system has increased its protection and security, making it almost impenetrable. All the above-stated advantages allow comfortable working with the structure and content of the site easily and quickly adapted and possibilities of CMS coding for specific needs of the customer site, and then to extend and supplement them. If you create a site on Drupal, you will experience the full potential of a website.
adivaha® is a specialist in the integration of the Amadeus Software, Amadeus GDS, Amadeus GDS System, Amadeus Travel Software. adivaha® helps provide leisure content in one platform with customer-focused innovative technology and also to bring about a positive change to your businesses and customers. Travel agents are being helped by adivaha® to facilitate sales revenue with many technologies/software-based systems, as well as profits. adivaha® offers Pre-integrated Amadeus GDS, a universal platform for booking car rentals, airline tickets, hotel rooms, holiday packages is also being offered by adivaha® in one place. Also, leading travel providers can effectively and efficiently run their business after acquiring adivaha's services. amadeus flight api GDS Integration provided by adivaha®, giving travel companies access to real-time availability, pricing, centralized data display. adivaha® provides a worldwide distribution system that is most favourable for travel agents as a befitting process of reservation for rental cars, flights, holidays and hotel globally. We provide Consulting development for all the areas of Amadeus API Integration / Amadeus XML / B2B & B2C Amadeus GDS. The Amadeus Software / Booking System is made up of Amadeus Hotel, Amadeus Airline Reservation System for hotel booking, for air booking, travel packages, Amadeus GDS, Amadeus Software, Amadeus Hotel, Amadeus Airline, Amadeus API, Amadeus Booking System, Amadeus XML, Amadeus Travel Software, Amadeus Integration and insurance, Amadeus Airline Reservation System.
GDS API Integration
adivaha® is one of the topmost travel portal development companies with all-round expertise and experience in Amadeus development, integration and consulting for B2B & B2C travel management companies. One of the most sort after requirements of all businesses that function online is the Amadeus Global Distribution System. This system assists in distributing the services in such a way that the audience or clients involved will get the expected outcome from it. It is one of the reliable technologies when referring to the travel world. All over the world, travel operators utilize amadeus travel API integration to reserve vehicle rentals, flight, resorts, vacation packages, and other reservations for travel. At adivaha®, we assist in giving the most effective and complete solution for GDS Integration for the travellers and service suppliers to get the greatest benefit from it. You surely can obtain the best favourable search results for services through involving Amadeus API Integration Solution in your travel website. Before the advent of GDS, the travel industry was not properly integrated. The subsequent integration service has greatly connected the service seekers and service suppliers at a place. Based on the choice of the businesses and the travellers, Amadeus API integration assists in rendering the best effective search result to the travellers, consequently providing the portal with the best and effective services. One of the sensible names for the Amadeus API Integration services is adivaha®. The portals are being helped by this to derive the most satisfactory results for their website at the best time.
Amadeus GDS API Integration
We offer the greatest Amadeus GDS integration and development for travel agencies and global travel management companies worldwide. Amadeus GDS is being integrated by our expert developers to have access to the inventory for car, flights, and hotels through XML and web services. Amadeus Web Services also functions as an Application Programming Interface (API) which is integrated into individual travel portals and web applications to allow them to access via SOAP/XML messages Amadeus functionalities. Many travel management agencies/companies and online travel booking systems utilize amadeus hotel search api web services to get access to Amadeus travel inventory. Travel agents can integrate content related to travel into their accessories such as a Website, booking engine, corporate self-booking tool, and travel agency front-office through Amadeus Web services. Real-time data for Car rental, airlines, package tours, and hotels can be consolidated by integrating Amadeus web-service into your websites, applications or booking engine. The data, as well as its price and availability, will be consolidated once your reservation system is integrated with Amadeus GDS. Building and updating your customized booking with comprehensive content in a cost-effective way. Through Amadeus GDS, travel agents and agencies can serve the traveller by enhancing their business globally, as well as assisting their customers in achieving the best deal. With Amadeus GDS, your travel business, costs and revenues are well managed.
We integrate from end to end:
Online travel agency(B2C, B2B, B2B2C)
Issuing, Receptive, Group Agencies.
Corporate travel agency.
Travel Wholesalers / Aggregators / Consolidators.
Tour Operators Distributors.
Excursion and activity providers.
Fixed packet operator.
Accommodation (Hotel Chains, Springs, Apartments, Villas, Vacation Homes, timeshare, etc).
Ground transportation (bus, car rental, limousine, taxis, etc.).
Destination Marketing Companies / Tourism Associations.
We provide comprehensive solutions with systems for your travel agency.
Solution Suite:
Booking engine for Hotels, Flights, Cars, Packages, Activities, Excursions, Transfers, Cruises, Bus reservations, Spa reservations, Golf etc.
Tourism software, Online travel reservation software, hotel reservation engine, flight reservation software, car rental reservation software, package tour reservation software, excursion reservation software, tourism website, tourism websites, travel agency management, travel agency software, bus booking software, OTA travel agency system, online travel management system.
Inventory management contracted directly through the central reservation system/inventory management system
Content management system (CMS) central travel portal websites (template and custom)
Travel Provider Connectivity (XML API Integration)
Compatible systems with a mobile browser.
OTA Online Travel Agency
Our Web-based Travel Agency Online Sales Software helps amadeus travel api agencies in increasing their online bookings while reducing administrative costs. You can sell your tourism products through multiple channels (B2C, B2B and B2B2C) and manage your operations through our advanced back-end and back-office automation system.
OTAs Website
We offer different CMS-based portals, which are easy to use and allows updation of the content of your site without any technical assistance, which reduces your business costs. Our portals are friendly with all the characteristics seen in a conventional OTA.
Sites with Multilingual Design
You may have wondered what happens when your clients speak another language when consulting their OTA? They can communicate because of a multilingual amadeus system. Our system has all the main languages, including Chinese, Arabic, French, English, Spanish and more.
Easy Content Management
You can easily add content for products or services, including texts, images and videos, as well as general content such as destinations, packages, special offers, NewsLetter registration form, itineraries and much more. At adivaha®, we offer a complete set of B2C / B2B / B2B2C / sales modes for reservations and issuance of flights, hotels, packages, activities and transfers. This type of connectivity between database engines is carried out through different data integrators (APIs, XML, Web service, etc.), thus being able to obtain data from third-party providers and showing the passenger, transparently, all the products offered by operators. Day by day, more suppliers with connection technology join our system and it is here that we provide them with support to connect.
Connectivity with multiple suppliers
adivaha® booking engine can be seamlessly integrated with multiple suppliers (GDS, Channel Manager, Metasearch, Wholesalers, etc.), as well as your own contracted inventory, which allows you to sell with different suppliers simultaneously.
Complete Multi-currency support
Our booking engines allow you to sell your inventories in different currencies, you can convert your values into the currency of your country, apply the currency conversion factors in real-time and allow you to sell in the local currency, without having to worry about the volatility of the market.
Centralized Reservation management
Track each reservation made in your amadeus gds system through a single screen. Your employees can handle cancellation and modification requests offline. Advanced system intelligence will always keep you updated with failed transactions and their causes.
Provider Integration
adivaha® performs integrations for travel agencies to connect with multiple providers at the same time, including all the main GDS, as well as the main providers of Metasearch hotels, packages, activities, transfers and car rental. We also have the integration of Multiple Channel managers, being able to extend the network beyond what was intended. The way to connect to these providers is through different methods, which can be (APIs, Web services, direct databases, flat text files, etc.), with this we can have real-time communication of reservations and movements of data that occurs when a reservation is generated.
World level content
adivaha® is connected to over 100 XML providers, including amadeus hotel booking api, Saber and Travelport for flights; Hotelspro, Hotelbeds, Tourico, Kiwi, hotel.de, JacTravel, MikiTravel and GTA for hotels; Viator for activities and Cartrawler for Car rentals, these are global brands that are used by thousands of international travel service providers.
Integration without complications
adivaha® offers seamless integration with multiple vendors with real-time inventory through a single XML interface. It allows you to initiate a single search against multiple GDS and XML Providers and receive a single integrated response. According to the client's requirements, we are updating our list of suppliers.
Non-duplication of inventory
When you are consulting inventories of multiple suppliers/wholesalers through external connections, you will receive many duplicate products. Our product mapping and non-duplication process ensure that the inventories you are selling from your system are unique and best priced.
Inventory Management System
adivaha's inventory management system will aid you and your vendors to manage your hotel quotas, packages, transfers, activities and car rental with prices, according to scheduled or special dates and you can also manage availability from one place, the accommodations, activities or car rental that has a direct agreement with the service provider, you can see when you have availability.
Exhaustive Business Rules
In this module you can configure the business rules, policies, promotions and differential prices according to the season, customer classes, nationality, etc., as well as you can make a sale stop and excluded dates (for hotels).
Extranet functionality
With adivaha® you will be able to allow your suppliers to log in with their passwords and update the inventory details of their products, by themselves, which saves a lot of your time and effort.
Compatible with channel managers
Our system not only allows you to load your contracted rates with hotels manually, but you can also obtain the values in real-time through Channel Managers, giving the system more versatility.
Accounting and Productivity tools
adivaha® offers several other useful back-end modules, including quote management and the group itinerary builder which improves efficiency and reduces human resource costs.
It allows you to create and send complex multi-product quotes in minutes. Your agents/employees can create custom tour packages with an option to add the products offline.
Social planner module allows planning, discussion and sharing by multiple co-travellers of multiple destination itineraries and making purchasing decisions collectively but pay individually. Reduces a tremendous amount of planning time and provides a great user experience too.
Why choose us?
We offer you the best solution available on the market at the best available rate.
We offer professional, quality and best service at an excellent price
We offer 24hours assistance.
Our Comprehensive List of Services
adivaha® is a one-stop-shop for all your travel website needs. We offer a multitude of services that empower you to become a market leader. Contact us for more info.
Have Questions?
The Internet is a huge resource, but
if your question requires particular expertise.
Keep Refreshing your customers - Who doesn't want his site to stand out from crowd? adivaha® gives you multiple options for home pages, headers, colors etc. Which can easily be managed from admin via shortcodes and settings. The theme supports almost all the big players in this market ie, WEGO, Travelpayouts, Agoda, Booking, Expedia etc.
Frequently Asked Questions
Below are some of the questions asked by visitors. Do visit our adivaha® Digest for more such questions. Don't hesitate to ask us if you have any questions
I am setting up this plugin for my client's website, I tried registering and received the account activation email, but …

21

views

1

answers

0

votes