Android Mobile App
Maximize your return on investment with Private Android Mobile App.
Accept Payments online. Manage your App with your WordPress Admin
Integrated 450000+ Hotels
Integrated API for pulling live inventories with ability to perform real time bookings.
WooCommerce Tours
Sell your own custom tour packages, Accept payments online.
Cartrawler Cars
Online Car Rental with ARC Marketplace - affiliate microsite and CarTrawler.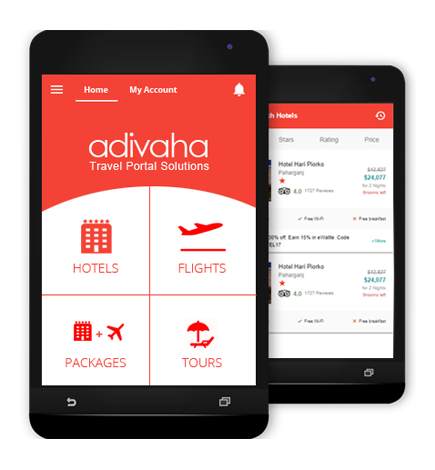 Integrated 912+ Airlines
Engage your audience to find the best deals among 912+ airlines
375000+ Tour Activities
Earn commisions Over 80,000 Things to Do on Viator, a TripAdvisor Company
Resorts
Let your visitors find the Perfect Resort with Android Mobile App for Your Next Vacation with Over 190K+ Resorts Worldwide!
Developing an Engaging User Interface for an Android Mobile App
Android is an operating system created by Google, which is used on many different types of devices. You can download Android mobile apps from the Google Play Store or other app stores that are not owned by Google.
Want to create a captivating UI for your Android mobile app? Our guide provides easy strategies and tips that can help you develop an engaging interface quickly.
Convenience
Android mobile apps are used to provide easy access to information and services from anywhere at any time. It provides users with instant access to information on various topics. Every piece of information is available at the user`s fingertips, making it convenient for them. Users can browse products, compare prices, and make purchases with just a few taps on their screen. Many apps offer features like wish lists and one-click checkout, making the shopping experience more streamlined and efficient. Mobile apps have revolutionized navigation and best travel website. Maps apps offer turn-by-turn directions and real-time traffic updates, while GPS tracking apps can help users find their way in unfamiliar places. Travel apps can provide information on local attractions, restaurants, and hotels, and even offer travel booking website capabilities. Mobile apps can help users stay productive by providing easy-to-use tools for organization and time management. Note-taking apps allow users to capture ideas and important information on the go, while calendar apps keep track of appointments and deadlines. To-do list apps and task managers help users prioritize their workload and stay on top of their responsibilities. Mobile apps offer a wide variety of entertainment options, from streaming music and movies to playing games. Users can access their favorite shows and movies on the go, or play games to pass the time during a commute or break.
Customization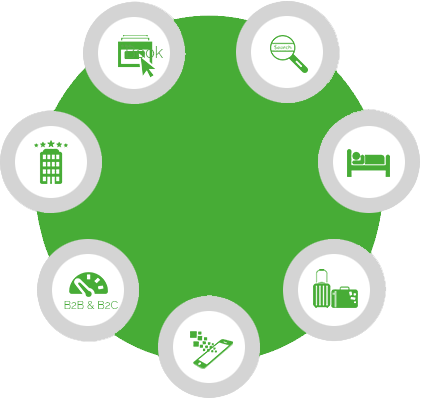 Engaging User Interface for Your Android Mobile App
Android mobile apps can be customized to meet specific user needs, preferences, and requirements, providing a personalized experience for users. Android is known for its high level of customization. It allows users to customize various aspects of their interface or functionality. Many Android apps offer different themes or color schemes to customize the app's appearance. Users can adjust the font and text size in some apps to make them easier to read. Many Travel apps have settings that allow users to modify various aspects of the app's behavior, such as sound and vibration settings, language preferences, and privacy settings. Android widgets are mini-applications that can be placed on the home screen or lock screen, providing quick access to app features or information. Users can create shortcuts to easily use app features or functions, making them easier to access. Users can install third party keyboards on Android devices and customize the keyboard's layout, theme, and functionality.
Enhanced user experience
When you use an Android mobile app, it can provide a great experience. You might get push notifications, have access to features even when you're offline, and have a lot of interaction options. Enhancing user experience means everything about the app should be easy to use, look nice, work well, and be personalized just for you. For example, you should be able to use the app easily no matter what kind of device you're on. You should get information that's important to you, and the app should help you do things quickly and easily. If you like to make changes to how things look or how they work, you should be able to do that too. And of course, the app should work quickly and smoothly, with no frustrating delays. Other things like feedback from other users, good customer support, and security features can all help make the app even better. When you have a really great experience using an app, you're more likely to keep using it and tell your friends about it too!
Increased productivity
Android mobile apps can help users work smarter, not harder by automating tasks and improving workflows. Increased productivity means getting more done in less time with fewer resources. When it comes to travel technology company, mobile apps, and software can help increase productivity by providing tools and features that automate repetitive tasks and improve collaboration. For instance, project management apps can help teams work more efficiently by providing a centralized platform to track tasks and deadlines, share files and updates, and communicate with each other. Note-taking apps with advanced search and organization features can also help individuals manage their tasks and ideas more effectively, freeing up time for more important tasks. Moreover, intuitive and user-friendly mobile apps and software can save time and boost productivity by reducing the learning curve and minimizing errors. Artificial intelligence or machine learning features can also be integrated into mobile apps and travel agency software to automate certain tasks, such as data entry or analysis, freeing up time for more critical or creative work. Ultimately, increased productivity leads to improved efficiency, cost savings, and higher-quality output. This can contribute to greater success and growth for both businesses and individuals.
Cost-effective
Android mobile apps can be developed at a lower cost than traditional desktop applications, making them a cost-effective white label travel portal solution for businesses and organizations. Cost-effectiveness refers to achieving the best possible results while minimizing the costs incurred in the process. In other words, it's about maximizing the value obtained from resources invested. In the context of products or services, cost effectiveness can involve providing high-quality results at a reasonable price point. This can be achieved through various means, such as optimizing manufacturing processes, reducing overhead costs, or implementing more efficient distribution channels. For example, a company that produces mobile apps might use open-source travel technology software or cloud-based services to minimize development costs and increase efficiency. Additionally, cost-effective products or services may offer features or capabilities that meet the needs of a particular market segment without over-engineering or adding unnecessary complexity. For instance, a mobile app designed for a specific industry may focus on providing essential features that address the specific needs of that industry, rather than trying to appeal to a broad range of users. Moreover, cost-effectiveness can involve providing excellent customer service and support to ensure that users are getting the most out of their investment. This can help to build trust and loyalty among users, leading to repeat business and positive referrals. Ultimately, a cost effective product or travel technology service balances quality and affordability to provide the best possible value to its users or customers, which can lead to long-term success and growth.