Build your own Travel Brand!
Ready to go-LIVE travel solutions that helps your travel agency to sell a range of travel services pretty instantly. adivaha® travel solutions make sure you have no boundation over your imagination, you can do everything online, without the need for any technical knowledge or design skills. Easy Backoffice, extensive reporting with integrated Funds Management System. Upload funds easily and instantly through Netbanking, Debit Card, Credit Card. The best part is, we do offer customizations in case you believe it will boost your business!
A Step-by-Step Guide to Integrating Travel APIs With WordPress
Integrating travel APIs with WordPress can be a great way to enhance your website's functionality and provide users with up-to-date travel information, pricing, and booking options.
Are you looking to integrate travel APIs with your wordpress website development? With the right tools and knowledge, you can streamline your search for the perfect holiday destination and provide your visitors with a seamless booking experience.
Determine which travel APIs you want to integrate
Before integrating travel APIs into your WordPress website, it's important to consider which APIs you want to use. It will depend on the travel-related services you want to offer on your site. For example, you may want to offer flight booking, hotel reservations, car rentals, or travel insurance. You need to search a lot to get a reputable provider for travel API integration. Find out each API's features, pricing, and documentation to see if it fits your website's requirements. Make sure the API is reliable, easy to integrate, and offers good technical support. After you've shortlisted the travel APIs, it's time to test them out before integrating them into your website. Create a test environment to check if the API is working as expected and if it meets your website's requirements.
Register for API access
After identifying the travel APIs you want to integrate, the next step is to register for API access. Most travel APIs require registration and may have different requirements or restrictions for accessing their data. To register for API access, visit the website of the travel API provider and look for a section on how to sign up for API access. You may need to create an account and provide some information about your business or project. Some API providers may have a free trial period or offer limited access for free, while others may require payment or a subscription for full access. Make sure to review the pricing and billing information before registering for API access. Once you have registered for API access, you will usually receive an API key or access token that you can use to authenticate your requests and access the API's data. Keep your API key or access token secure and do not share it with unauthorized users to avoid security risks.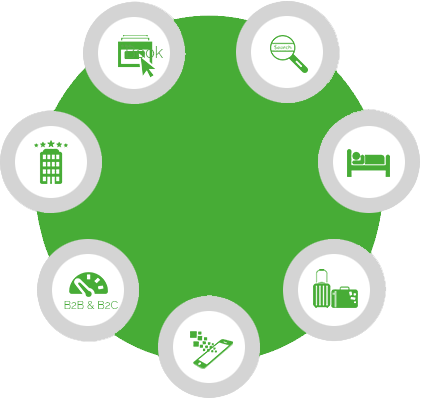 Guide to Integrating Travel APIs With WordPress
Choose a plugin
It is important to choose a website plugins carefully which could meet your requirements. Ensure that the plugin you choose is cooperative with the latest version of WordPress and other plugins you are using on your website. Look for a plugin that provides the specific features you need for your API integration, such as custom endpoints, authentication, and documentation generation. Check if the plugin has good support documentation, tutorials, and a responsive support team in case you encounter any issues. Read through the reviews and ratings of the plugin to see what other users have experienced and whether they recommend it. Make sure the best wordpress plugins is secure and doesn't pose any vulnerabilities to your website. Look for plugins that have regular updates and are developed by trusted developers.
Test the integration
After completing the API integration process, it's important to thoroughly test the integration to ensure that it's working as expected. To test the integration, you can use tools like Postman or cURL to send test requests and receive responses from the API. You should test all the different features and functionalities of the API that you've integrated. For example, if you've integrated a flight booking API, you should test flight search, flight booking, and flight cancellation functionalities. Similarly, if you've integrated a hotel booking API, you should test hotel search, hotel booking, and hotel cancellation functionalities. You should also test the integration with different parameters and edge cases, such as incorrect data input, network errors, and timeouts. This will help you identify any issues that might arise during real-world usage of the API integration. Additionally, you should monitor the logs to catch any errors that might occur during the integration process, such as authentication errors, invalid data formats, or network errors. By performing these tests and addressing any issues that arise, you can ensure that your API integration is functioning as it should.
Customize and optimize
Once the integration is complete, you can customize and optimize your travel booking sites to offer a seamless experience for your customers. Use the API data to create customized travel packages, search functionality, and other features that can enhance the user experience. Depending on the API, you may be able to customize the design of the travel content displayed on your website. This can include changing colors, fonts, and layouts to match your brand. The API integration can impact your website's performance, so it's important to optimize it to minimize load times and improve the user experience. This can include using caching plugins, optimizing images, and reducing the number of external scripts and resources. Many travel APIs offer personalized recommendations based on user preferences and behavior. Consider leveraging this functionality to provide more relevant travel recommendations to your users. Use analytics tools to track user behavior and interactions with the travel content on your website. This can provide insights into what is working well and what can be improved.
Our Comprehensive List of Services
adivaha® is a one-stop-shop for all your travel website needs. We offer a multitude of services that empower you to become a market leader. Contact us for more info.
Have Questions?
The Internet is a huge resource, but
if your question requires particular expertise.
Keep Refreshing your customers - Who doesn't want his site to stand out from crowd? adivaha® gives you multiple options for home pages, headers, colors etc. Which can easily be managed from admin via shortcodes and settings. The theme supports almost all the big players in this market ie, WEGO, Travelpayouts, Agoda, Booking, Expedia etc.
Frequently Asked Questions
Below are some of the questions asked by visitors. Do visit our adivaha® Digest for more such questions. Don't hesitate to ask us if you have any questions
Hello team, can you tell me if I can connect several APIs in one platform or website?

20

views

1

answers

0

votes