Build your own Travel Brand!
Ready to go-LIVE travel solutions that helps your travel agency to sell a range of travel services pretty instantly. adivaha® travel solutions make sure you have no boundation over your imagination, you can do everything online, without the need for any technical knowledge or design skills. Easy Backoffice, extensive reporting with integrated Funds Management System. Upload funds easily and instantly through Netbanking, Debit Card, Credit Card. The best part is, we do offer customizations in case you believe it will boost your business!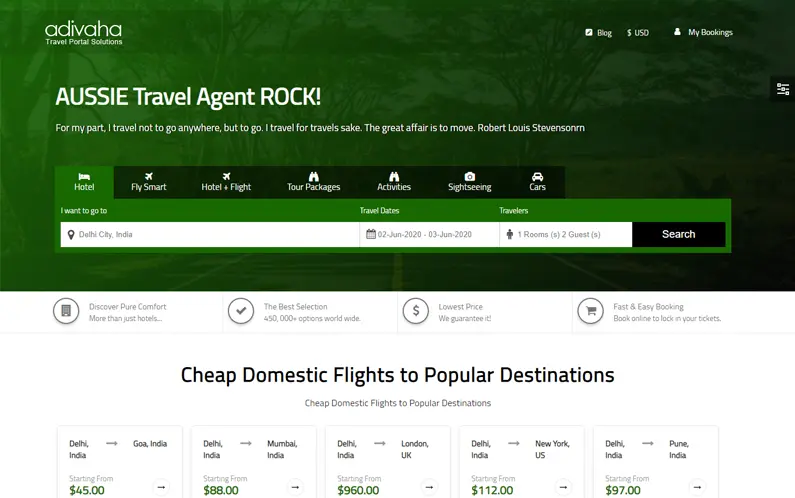 How to Add API Integration to a WordPress-Powered Website
With the travel boom showing no signs of slowing down, the travel industry will grow even more in 2020. If you are a travel agency looking to take full advantage of this market trend. You should modernize your website and business in general, focusing on your core historical competencies. Identify your target audience, organize the best tours for them, communicate with your customers, sell packages, and provide positive experiences to ensure your customers are happy.
With the progress of online search engines and online travel agencies, people look for directions at their fingertips when they want it, whenever they want. If you don't have the information that people are looking for, they will instantly switch to someone else who does.Imagine that one of your customers, looking to book a free flight booking api from India to London, goes to your website and performs a search. To your disappointment, the search returns zero results. What are they likely to do? They will jump to another site and book from there. In that case, if you are looking to expand your travel business, having a large amount of inventory becomes essential to achieve that growth, as, beyond a point, then API Integration b2b wordpress theme free plugin for you.
What is the API Integration plugin?
By integrating the API Integration plugin of a payment gateway, your customers will be able to make secure payments online using their credit card. You do not need to integrate a payment gateway if you make offline payments. API Integration plugin, though a lot of effort has been spent on technology research and development. But we always work hard to focus on the needs of our customers. That flight api provider in india Integration plugin is for the hotel operators and their guests.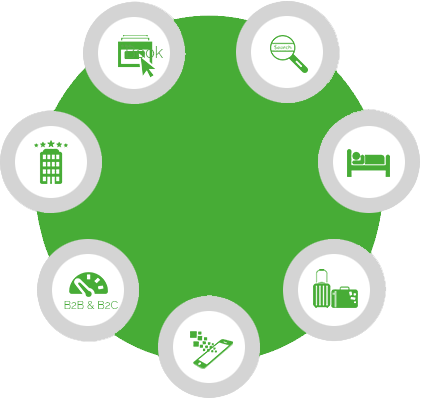 API Integration for WordPress
Once you set these goals, you will probably want to know what technologies are available so that travel agencies, like yours, can achieve their goals. To broaden your list of potential customers and help you build an influential website and transaction support technology, here is the API Integration plugin as a tool to consider. API Integration flight booking wordpress plugin is particularly essential when developing a new website and especially if you are looking for technology for tourism content that is attractive, engages, converts, and nurtures your customers.
By working with API Integration plugins from all over the world daily. We have therefore seen our commitment to our guests and their experiences. We too have that commitment: more than two-thirds of the original teams come from the hospitality industry.
You can add a margin for your agents/end customers
API Integration plugin provides highly dynamic information returned from XML pages
Less content maintenance that lets you focus on your core tasks like marketing and package creation.
Attract new customers with API Integration plugin
If you have no idea how to improve the positioning of your website in Google and acquire new customers more easily, you could start by familiarizing yourself with basic information. airline booking api Integration plugin is determined by more than just content associated with a few keywords. API Integration plugin has a preference for interfaces that show real experiences to users and that generate genuine interactions to help their users.
As a travel agency, it is normal that you are not specialized in creating content. You need a creative muscle that fills your interfaces with fresh, interactive, and personalized content for your brand, with keywords that will give you're positioning strategies a boost. Modern platforms offer more than just content. API Integration plugin technologies for tourism industries include a air ticket booking software Development Kit, and an Application Programming Interface to easily build interfaces, API Integration plugin which will help you increase the engagement of your customers.
Use an API Plugin to Generate Tourist Content
You will need to constantly upload products from different tour operators, hotels, airlines, and other services to sell them. To get all the content you need, you need access to prices in real-time through the API Integration wordpress flight booking plugin , which is fed by travel products, from hotels, airlines, and tour providers, so that they are dynamically updated.
Look for technology providers that allow you to make reservations through the tourist content that you sell to your own customers. Customer engagement with the brand is developed only when the deal is closed, and this is possible, only if your customer can complete the reservation without leaving your website.
Publish your Own Tour Plan and Hook up your Clients
As a tour operator, you would surely like to be able to attract new clients with your own tours. In this case, you will need access to a Content Management System that is flexible enough to upload your own tour packages.
Using the wordpress airline theme free download API plugin will allow you to add different types of tours and packages that can be organized in different ways, such as airline/hotel specifications, multi-day activities, tours with limited space, among others. The best thing is that your solution can be made up of multiple elements or products. Additionally, through the API Integration plugin, your vacation packages can feed not only the content of your website but also other distribution actors. Read more about channel managers in the sixth tool on our list of technology recommendations for travel agency businesses.
Build Flexible Websites with WordPress API Integration
Surely you want to organize all the tour packages that you have obtained through the API Integration and air ticket booking wordpress plugin in a website that groups the options in a dynamic way in regions, countries, or destinations. On the other hand, you may want to show different travel categories or discounts, depending on the interest of your user. You may also be interested in highlighting packages as a special date or holiday approaches or showing pre-set packages available in your discount section that you want to emphasize at any given time.
You require a flexible amadeus online booking tool like the API Integration plugin, where you can prioritize certain tours or alternatives at the right time. Whatever your specific need, you don't need to create a website from scratch. Instead, integrate with an existing platform or work with companies that have connectivity to an API Integration plugin, and the flexibility to support you. Make sure your effort is only required to make custom settings and not to build your page from scratch.
Manage a Reservation System with API Integration Plugin
With the amadeus hotel search api Integration plugin, your tour's website should ideally appear based on their availability. Also, all your tour packages should be connected with a payment solution that is capable of solving the complexities related to the conversion of currency types, credit cards, and returns, among others. In other words, you need a payment solution that is flexible and that links your clients' banks with your own bank account.
Transforming your travel agency wordpress theme into a true e-business means letting your client pay and finalize the transaction when ready. Your website builder should include a section for online payments so you don't have to build it from scratch or connect it to another platform.
Conclusion
Are you ready to digitize your travel agency business? Now more than ever it is simpler than you imagine. Many technology tools have integrations for different types of content, and for your specific needs. With experts in the field, like us, use the API Integration amadeus plugin for wordpress plugin, which, in a few weeks, will allow you to have your virtual travel agency up and running.
Our Comprehensive List of Services
adivaha® is a one-stop-shop for all your travel website needs. We offer a multitude of services that empower you to become a market leader. Contact us for more info.
Have Questions?
The Internet is a huge resource, but
if your question requires particular expertise.
Keep Refreshing your customers - Who doesn't want his site to stand out from crowd? adivaha® gives you multiple options for home pages, headers, colors etc. Which can easily be managed from admin via shortcodes and settings. The theme supports almost all the big players in this market ie, WEGO, Travelpayouts, Agoda, Booking, Expedia etc.
Contact
Have something unique in mind? Drop a message.
Estimated reply time: 3-5 Working Days