Build your own Travel Brand!
Ready to go-LIVE travel solutions that helps your travel agency to sell a range of travel services pretty instantly. adivaha® travel solutions make sure you have no boundation over your imagination, you can do everything online, without the need for any technical knowledge or design skills. Easy Backoffice, extensive reporting with integrated Funds Management System. Upload funds easily and instantly through Netbanking, Debit Card, Credit Card. The best part is, we do offer customizations in case you believe it will boost your business!
How to Add API Integration to a WordPress-Powered Website
Give your WordPress-powered website a more powerful boost with the help of API integration! Learn how to add a plugin to do so in just a few simple steps.
Adding api integration platform to a WordPress-powered website is a straightforward process that involves a few basic steps.
Understand the API
Before integrating an API into your wordpress website development it is important to know what it is and what it can serve. An API is used in different software applications to exchange information by providing a set of protocols, routines, and tools. To know what API you want to integrate, it is important to check its documentation. It will provide an overview of its features, endpoints, data formats, and authentication methods. You can learn how to use the APIs functionality by reading the documentation. If you need more information or want to gain further insight into the API, you can also explore online resources and forums related to the API.
Choose a plugin
It is important to choose a plugin carefully which could meet your requirements. Ensure that the plugin you choose is cooperative with the latest version of WordPress and other plugins you are using on your best travel websites. Look for a plugin that provides the specific features you need for your API integration, such as custom endpoints, authentication, and documentation generation. Check if the plugin has good support documentation, tutorials, and a responsive support team in case you encounter any issues. Read through the reviews and ratings of the plugin to see what other users have experienced and whether they recommend it. Make sure the plugin is secure and doesn't pose any vulnerabilities to your white label website. Look for plugins that have regular updates and are developed by trusted developers.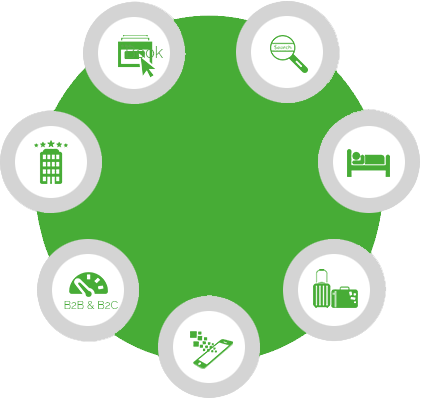 API Integration for WordPress
Install the plugin
Installing plugins to your platform can offer many benefits, depending on the type of wordpress plugin and the platform you are using. Plugins are essential which helps to enhance the functionality of your web browser, content management system (CMS), or video editing software. For example, a web browser plugin like Adblock Plus can block ads, while a CMS plugin like Yoast SEO can optimize your website for search engines. Plugins can also be used to customize your experience with a platform, such as changing the color scheme of websites or adding visual effects to your footage. In addition, plugins can automate tasks and save you time, such as automatically sharing your blog posts on social media or auto-filling passwords and login information for you. Some plugins can even improve the security of your platform, encrypting your web traffic or protecting your whitelabel website from malware and hacking attempts. Additionally, it's important to regularly update your plugins to ensure they continue to function properly and provide optimal benefits.
Review and use the API
Before using an API, it's important to clearly understand how it works. Review the API documentation carefully and make sure you have any necessary API keys to access the data. APIs can be accessed using any programming language that can make HTTP requests. Choose a programming language you're familiar with or one best suited for the task you want to accomplish. Use your chosen programming language to request the API endpoint you want to access. Be sure to include any required parameters and your API key if necessary.
Test and troubleshoot
To ensure that your api integration platform is working correctly, it's important to test and troubleshoot it. The first step is to double-check that you have entered the correct API credentials and endpoints. Then, you can send a test request to the API endpoint using tools like Postman or cURL to verify that it's functioning correctly. After you have confirmed that the API endpoint is working properly, you should test the flow of data between the API and your WordPress white label web design. This is particularly important if you are integrating sensitive data like payment gateways. It's also essential to monitor the logs for any errors that may occur during the integration process, such as authentication errors, invalid data formats, or network errors. By performing these tests and resolving any issues that come up, you can ensure that your API integration is working smoothly.
Our Comprehensive List of Services
adivaha® is a one-stop-shop for all your travel website needs. We offer a multitude of services that empower you to become a market leader. Contact us for more info.
Have Questions?
The Internet is a huge resource, but
if your question requires particular expertise.
Keep Refreshing your customers - Who doesn't want his site to stand out from crowd? adivaha® gives you multiple options for home pages, headers, colors etc. Which can easily be managed from admin via shortcodes and settings. The theme supports almost all the big players in this market ie, WEGO, Travelpayouts, Agoda, Booking, Expedia etc.
Frequently Asked Questions
Below are some of the questions asked by visitors. Do visit our adivaha® Digest for more such questions. Don't hesitate to ask us if you have any questions
I am setting up this plugin for my client's website, I tried registering and received the account activation email, but …

21

views

1

answers

0

votes