Build your own Travel Brand!
Ready to go-LIVE travel solutions that helps your travel agency to sell a range of travel services pretty instantly. adivaha® travel solutions make sure you have no boundation over your imagination, you can do everything online, without the need for any technical knowledge or design skills. Easy Backoffice, extensive reporting with integrated Funds Management System. Upload funds easily and instantly through Netbanking, Debit Card, Credit Card. The best part is, we do offer customizations in case you believe it will boost your business!
Must-Have Features of a Professional Wordpress Booking Engine
Many people don't want to talk on the telephone to schedule a reservation or appointment. Why would you call a number to call anyone if they could accomplish their purpose with one click? Most users today would prefer an online booking api feature that gives the dates and times available to pick from, instead of another method wherein they are required to dial a business or talk to someone and find the necessary details via telephone.
The latter option seems quite outdated. If you have a travel business or offer some services, goods, or equipment, then your WP site should have a best flight booking api engine for WordPress. A Booking engine WordPress is online reservation software that allows accommodations to receive reservations directly on their website, effectively transforming them into a natural sales channel. In this review, we'll observe the main characteristics of a Booking engine, WordPress, how to pick the one that will meet your needs and what will be the most appropriate tool to realize the goal.
What is a booking engine?
If you don't know what a Booking Engine is, for now, you only need to know that it is online reservation software that allows accommodation establishments to receive reservations directly on their website, effectively transforming them into a natural sales channel.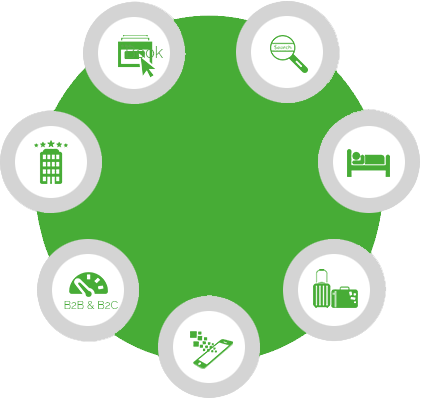 Choosing the Right Wordpress Booking Engine Features
In addition to external web portals such as OTA and GDS, property managers can sell their rooms or tourist apartments online using a personal website and allowing users, through a calendar, to check the availability of real-time properties, rooms, and their rates.
The type of reservation made through a Booking Engine is therefore defined as "direct booking" when the client's action is carried out without the help of intermediary solutions such as OTA or GDS.
What is a Booking Engine for?
The usefulness and significant advantages of using a Booking Engine are apparent in the possibility of receiving direct reservations directly on your website. As we have already said, the unpleasant commissions that online portals apply to reservations are avoided.
However, in the same way, introducing a Booking Engine on your website also allows you to retain your customers and improve their travel experience, thanks to the additional services that can be implemented in the software. Services such as the Payment Manager and the Digital Concierge or Automated Check-in.
Summarizing, therefore, we can say that the advantages of the Booking Engine can be summarized as follows:
A higher profit margin for hosting facilities
A higher conversion rate on the website
Greater security in online transactions
Time savings for both clients and facilities, especially if you combine the use of a Channel Manager.
Why is it essential to implement a booking engine?
For many best hotel api owners, the online reservation system with a reservation engine represents the possibility of direct sales. It is much more than that. From the moment the customer has an e-commerce tool to make reservations on your website; they are directly related to you.
In addition, direct sales are more profitable since they do not require the payment of commissions to third parties, and you do not risk duplicate reservations or manual errors. This is because the booking engine updates in real-time and integrates with other tools. As soon as the customer clicks to complete the purchase, the reservation is made, and your inventory is updated.
OTAs are usually channels with a broad reach to the public. They make this initial bridge between your hotel booking api provider and the guest. Later, with the available booking engine, you can create different marketing actions to convert your guest during your stay. For example, offering incentives, such as discount coupons and promotions, for direct booking returns. And more: you can create and manage special conditions for loyal customers faster and more organized through the tool.
If you have one or several hospitality establishments, a booking engine is an efficient way to increase occupancy considerably. Users have the facility to manage their reservations, choosing the days, times quickly, and needs and comparing the prices that best travel api suit their needs. This makes it easy for them to book without comparing to the competition.
Price and offer management is one of the most relevant features since the possibility of offering attractive prices without losing profitability is crucial. Achieving higher sales margins in the tourism sector is much easier with the help of booking engines as they allow very detailed management of prices and offers for hotel providers.
The best thing about the Internet is the ability to offer your services to people from all corners of the world. Suppose potential clients do not have to contact you directly and can book quickly without worrying about not speaking the language or other difficulties. In that case, the range of people interested in booking at your location will be wide open.
With a booking engine, the user can be required to make a deposit payment for the reservation at the time of making said reservation. Of course, this can be configured to your liking, but the possibility of requiring this deposit considerably reduces the number of last-minute cancellations.
With a reservation engine installed, there are no time restrictions in which clients can make reservations. This also increases the chances of achieving full occupancy without spending more time and energy on it. In addition, the possibility of receiving last-minute reservations is also added.
The booking engines can make online payments safely thanks to their integrated payment managers. In addition, payments are immediate, and there is no need to wait.
These tools usually include graphing functions that allow you to analyze reservation data and extract valuable information to understand your target customer, their characteristics better and their trends.
How to choose the best Booking Engine?
Need to ensure a simple and intuitive booking experience.

A booking engine must offer an easy, fast and intuitive booking experience. In particular, the payment phase must offer an optimal experience to avoid the abandonment rate. In this sense, the aspects to watch more carefully are the responsiveness and the speed of loading and execution of the payment page, which, if too long, can frustrate customers and lead them to appeal to the competition.

The ability to customization and personalize

The ability to customize and personalize your booking engine is another crucial aspect in choosing the best booking engine on the market. Flexibility and adaptation allow you to satisfy all the requests of potential clients, moving from a one-to-many model to a one-to-one model. A booking engine is a valid business card that must reflect the brand identity of your accommodation establishment.

The most critical possibilities when choosing a Booking Engine are:

Possibility to edit the CSS code to adapt it to the appearance of your website.

Multilingual options to expand your catchment area and open your market to as many customers as possible

Ability to accept foreign currencies and integrate with Payment Gateway to automate the entire payment process, receives payments, and sends invoices directly from your site.

Sales and profit maximization strategy

A sales and profit maximization strategy in the hotel and catering sector implies the ability to book promotions made ad hoc for specific clients and the availability to offer additional solutions and services that can improve the client's stay experience and, at the same time, increase the profits of your property.

Channel Manager and PMS

For your prices and availability shown in the booking engine to be displayed in all your distribution channels accurately and like your booking engine, it must be perfectly compatible with the Channel Manager you use. For this reason, choosing a Channel Manager and a Booking Engine provided by the same provider is preferable. And the use of a Channel Manager is mandatory for those who do hospitality: five or more channels get up to 50% more reservations than those connected to one or two channels.

Analytics and Social Networks

The WordPress booking system allows potential customers to compare all the offers available on the different online sales channels and represent a vital connection for a booking engine. Nearly three-quarters of travelers use metasearch engines in the hotel search process!

Multiple languages , and Currencies

Nowadays, guest looks for fast and precise service. Therefore, your powered booking system must be available in the most diverse formats possible. Desktop and mobile are two axes that your technology solution needs to meet.

According to the PayPal survey, 94% of travelers use their smartphones to search for best travel api provider and accommodation. 82% use desktop and laptop computers. Reaching these guests with multiple platforms, languages , and currencies is necessary to reach more audiences and expand direct bookings.

Integration with other hotel tools

A search engine reservation system should be part of a strategy to build a relationship with your customer; it should never be the only part of the process. Connecting to other tools allows you to offer an after-sales service to the customer, to keep in touch with him. Ideally, the system should be integrated with other booking channels, with no duplication and a PMS system.

Security

The last aspect of evaluating the efficiency and quality of a Booking Engine is its security. To do this, the booking engine must always serve URLs in HTTPS protected with an updated SSL certificate to guarantee the security of the data that passes through it.
Essential characteristics that must be met
What is a booking engine, and what is it for are questions that today no longer make much sense if formulated in an environment directly related to the hotel sector?
The theory is well known by all, especially when there is much information about it. In this sense, perhaps it is more accurate to question how far this tool should contribute to achieving the objectives set in the hotel establishment and if working with simple and intuitive software means being less competitive in the market.
Depending on the host, and even the director's point of view, the answer is likely to be different, but it's also likely that it's only slightly different. In the first place, because today, no one doubts that it is necessary to deal with a distribution system that does not allow us to optimize profits and that direct sale is the hotelier's best ally, and secondly, because we all already know what to do with the easy something difficult do not make any sense.
Even so, there are several points that we must take into account before making a decision and acquiring a booking engine. Since we intend to move away from magic formulas, we will bet on a lasting "yes, I want," knowing that nothing is forever.
Easy insertion

Defined embed codes for easy configuration so you can embed the engine on any page regardless of its structure. Combine dozens of variables to offer different engine versions on your website and validate through A/B modules which one converts the most through A/B modules.

Much of all.

Dynamic and modular panel where you have all the necessary information at first glance to start the day. Cleanings, arrivals, departures Comparative graphs, and much more.

Interface agile Y easy

It offers a reservation experience like never before; no matter the device or the place, everything is designed and thought to give as few clicks as possible and convert from the first moment.

Increase occupancy with more direct bookings

Having a WordPress booking engine on your website will increase your occupancy rate. Using a booking engine increases the percentage of your direct bookings, as guests can book instantly and securely and are less likely to book elsewhere or through an online travel agent (OTA). Direct bookings are a great advantage for guests and hoteliers since they do not have commissions, and paying a part to an online best travel api provider in india agency is unnecessary.

Avoid overbookings and make your administration more efficient

Suppose you have a booking calendar or PMS. In that case, you can integrate it with a booking engine, and all your direct online bookings will be transferred to your electronic calendar, eliminating the possibility of human error. This will save you and your staff hours of administration!

Reservations from anywhere in the world

Another benefit of using a booking engine for your accommodation website is that it encourages bookings from abroad as they can pay in different currencies and read content in multiple languages. This facilitates the reservation process.

Reduce cancellations

Booking engines can be configured to require a deposit to be paid when a reservation is made. This helps guests not to cancel their reservations. Reducing cancellations are significant for self-catering accommodation as it can significantly impact business revenue and loss.

Reservations 24/7

Extremely important for foreign visitors in different time zones and those who stay up late and want to book flights api. The booking process has to be as easy as possible for customers, and having a booking engine helps you get bookings while you sleep or are busy.

Business statistics

The best booking engines offer easy-to-read graphs and statistics about your accommodation's website. If you can understand your customer's behavior, you can adapt your website or the best flight booking site process to meet your customer's needs and thus increase their chances of booking.

Do not pay commission.

Customers often prefer to book directly on accommodation websites instead of booking on best travel agency websites because they are cheaper.

A mapping tool that works

Many travel agent booking engines feature a flashy mapping tool that we use only a few times and then forget about. Why? Because sometimes, those map tools are not easy to use, they don't show enough information. They don't allow the use of multiple filters, or they are just slow and frustrating. This is too bad, as, for some customers, location is everything, and having a map tool that works could make a world of difference. That is why Google Maps powers the booking platforms map view showing all best hotel booking api results, and keeps it in the same window as your results. Navigation back and forth from Map to Listing is direct with just one click.

You can also get a photo with the hotel information and book the hotel directly from the map. Easy, fast, precise. Sounds good, right?

A comparison tool to make things easier

The taste is in the variety, and your customers know it. To please them, sometimes it's not enough to give them a reasonable offer: they want to see, compare and make sure their choice is the right one. Many travel agent booking engines require you to go through multiple tabs and windows, which is tedious and complicated for you and your clients.

This tool allows you to easily compare all the features of hotels by placing them next to each other in the same window and then printing it, creating a PDF, or emailing it to your client. It's easy to use, and it's neat, attractive design and professional look will make you stand out in front of your customers.

A cross-selling tool to increase your income

It is excellent to offer you and your customers a wide range of products. While they get a richer experience from their trip, you maximize your sales and increase your income. For this reason, it is a great idea to integrate a cross-selling tool into the booking engine to add activities, transfers, or car rentals easily.

This tool can easily add personal or shared activities, tickets, or transfers within the booking process; saving you time and helping you earn more. And it goes beyond that, proactively suggesting the best activities based on your customers' interests.

Conclusion

Choosing to implement a Booking engine WordPress is, without a doubt, something that will help your business grow, offering a better service faster and adjusted to the new times. Let the Adivaha team take care of everything, and let travel inventory be what allows your company to grow the most.
Our Comprehensive List of Services
adivaha® is a one-stop-shop for all your travel website needs. We offer a multitude of services that empower you to become a market leader. Contact us for more info.
Have Questions?
The Internet is a huge resource, but
if your question requires particular expertise.
Keep Refreshing your customers - Who doesn't want his site to stand out from crowd? adivaha® gives you multiple options for home pages, headers, colors etc. Which can easily be managed from admin via shortcodes and settings. The theme supports almost all the big players in this market ie, WEGO, Travelpayouts, Agoda, Booking, Expedia etc.
Frequently Asked Questions
Below are some of the questions asked by visitors. Do visit our adivaha® Digest for more such questions. Don't hesitate to ask us if you have any questions
What all GDS and Providers are connected in the platform?

35

views

1

answers

0

votes