Build your own Travel Brand!
Ready to go-LIVE travel solutions that helps your travel agency to sell a range of travel services pretty instantly. adivaha® travel solutions make sure you have no boundation over your imagination, you can do everything online, without the need for any technical knowledge or design skills. Easy Backoffice, extensive reporting with integrated Funds Management System. Upload funds easily and instantly through Netbanking, Debit Card, Credit Card. The best part is, we do offer customizations in case you believe it will boost your business!
Getting Started with WordPress Booking Website Solutions
Create a professional booking website in no time with our WordPress solutions. Learn everything you need to know and get started today!
Your website can stand out from the crowd by choosing the right hosting provider, booking plugin, and customization which can help to attract customers to your business.
Choose a Hosting Provider
The first step is to choose a hosting provider for your website. There are many options available, but some popular ones for WordPress are Blue host, Site Ground, and WP Engine. Consider factors like pricing, uptime, customer support, and ease of use when making your choice. Hosting providers offer a range of pricing plans, so it's important to choose one that fits your budget. Keep in mind that the cheapest option may not always be the best choice, as it may come with limited features or poor customer support. Your website should be available to users at all times, so it's important to choose a hosting provider with a high up time guarantee. Look for providers that offer at least 99.9% up time and have a reputation for reliability. In the event that you encounter technical issues with your website, you'll want to have access to reliable customer support. Look for hosting providers that offer 24/7 customer support through multiple channels, such as phone, email, and live chat. Different hosting providers offer different features, such as automatic backups, best website builder, and security tools. Consider which features are important to you and choose a provider that offers those features. If you're new to website hosting, it's important to choose a provider that offers a user-friendly interface and easy-to-use tools. Look for providers that offer one-click installs for popular website platforms like WordPress. It's a good idea to read reviews and compare pricing and features before making your choice. By choosing the right hosting provider, you can ensure that your website runs smoothly and is always available to your users.
Install WordPress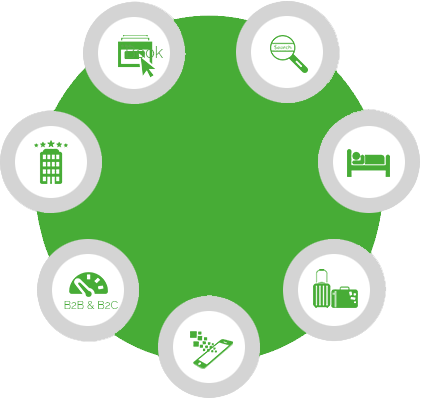 Starting a WordPress Booking Website
Installing WordPress on your hosting provider is usually a straightforward process. Log in to your hosting provider's control panel or dashboard. The exact location of this will depend on your provider, but it's usually accessible from the provider's website. Look for an option to install WordPress. Many hosting providers offer one-click installs for WordPress, which simplifies the process. Follow the prompts to complete the installation. You may be asked to choose a domain name and create an administrator account for your WordPress site. If your hosting provider does not offer a one-click install option, you can still install WordPress manually by downloading the wordpress website software from the official website and uploading it to your hosting account. This process requires a bit more technical knowledge, but there are many online tutorials available to guide you through the process. By installing WordPress on your hosting provider, you can start building your website and creating content. With its user-friendly interface and extensive customization options, WordPress is a popular choice for website owners of all skill levels.
Choose a Booking Plugin
Choosing the right booking plugin for your WordPress website can be crucial to creating a seamless booking experience for your customers. Consider the features you need for your specific business needs. Do you need appointment scheduling, resource management, online payments, or customer reminders? Look for a booking plugin that offers the features you need. A booking plugin should be easy to use and manage, both for you and your customers. Look for a plugin that has a user-friendly interface, customizable booking forms, and simple integration with your website. The booking plugin should be customizable to match your brand and website style. Look for a plugin that offers customizable booking forms, email templates, and calendar display options. Make sure the booking plugin is compatible with your WordPress theme and other plugins. Test the plugin before installing it on your website to avoid conflicts and compatibility issues. Look for a booking plugin that has good customer support and documentation. Check online reviews and forums to see if other users have had positive experiences with the plugin's support team.
Customize Your Website
Once you have your booking plugin installed, you can customize your website to fit your brand and style. Choose a WordPress theme that is compatible with your wordpress booking plugin, and customize the design and layout to create a professional and appealing website. Your WordPress theme determines the overall look and feel of your website. Choose a theme that fits your brand and appeals to your target audience. There are many free and paid themes available, and most offer customizable options for colors, fonts, and layout. Plugins add functionality to your website and allow you to customize specific features. For example, you may want to install a plugin to add social media sharing buttons, a contact form, or a search bar. Custom pages, such as an About Us page, a Services page, or a Portfolio page, allow you to showcase your business and provide valuable information to your customers. Use your theme's page builder or a plugin to create custom pages with unique layouts and content. High-quality images and videos can make your website more engaging and visually appealing. Use images and videos that reflect your brand and add value to your content. Search engine optimization (SEO) is the practice of optimizing your website to rank higher in search engine results pages. Use a plugin like Yoast SEO to optimize your website for keywords and meta tags, and make sure your content is high-quality and valuable to your target audience. After customizing your website, test it to make sure everything works properly and is user-friendly. Ask friends or colleagues to test your website and provide feedback. Refine your website as needed to improve its performance and engagement. Customizing your WordPress website cost can help you stand out from competitors and create a memorable experience for your customers. By using themes, plugins, and custom pages, you can create a unique and engaging website that reflects your brand and provides value to your customers.
Test and Launch Your Website
Before launching your website, test it thoroughly to ensure that everything is working properly. Check that your booking plugin is functioning correctly, that payment processing is working, and that your website is responsive and user-friendly. Once you're satisfied, you can launch your wordpress hosting sites and start promoting it to attract customers. Before launching your website, make sure to thoroughly test it for any issues or bugs. Check all links, buttons, forms, and pages to ensure they work properly. Use different devices and browsers to test your website's responsiveness and compatibility. A slow website can negatively impact user experience and search engine rankings. Use a speed testing tool to identify areas for improvement, such as optimizing images, minimizing code, and using a content delivery network (CDN). Security is essential for any website. Install a security plugin and take measures to protect your website from malware, hackers, and other security threats. Regular backups ensure that you can restore your website if anything goes wrong. Use a best wordpress backup plugin to automate backups and store them in a secure location. Once you've completed testing and optimization, it's time to launch your website. Make sure your domain name is properly configured and your website is accessible to visitors. After launching your website, continue to monitor its performance and make adjustments as needed. Use analytics tools to track website traffic, user behavior, and conversion rates.
Our Comprehensive List of Services
adivaha® is a one-stop-shop for all your travel website needs. We offer a multitude of services that empower you to become a market leader. Contact us for more info.
Have Questions?
The Internet is a huge resource, but
if your question requires particular expertise.
Keep Refreshing your customers - Who doesn't want his site to stand out from crowd? adivaha® gives you multiple options for home pages, headers, colors etc. Which can easily be managed from admin via shortcodes and settings. The theme supports almost all the big players in this market ie, WEGO, Travelpayouts, Agoda, Booking, Expedia etc.
Frequently Asked Questions
Below are some of the questions asked by visitors. Do visit our adivaha® Digest for more such questions. Don't hesitate to ask us if you have any questions
I am setting up this plugin for my client's website, I tried registering and received the account activation email, but …

9

views

0

answers

0

votes