Build your own Travel Brand!
Ready to go-LIVE travel solutions that helps your travel agency to sell a range of travel services pretty instantly. adivaha® travel solutions make sure you have no boundation over your imagination, you can do everything online, without the need for any technical knowledge or design skills. Easy Backoffice, extensive reporting with integrated Funds Management System. Upload funds easily and instantly through Netbanking, Debit Card, Credit Card. The best part is, we do offer customizations in case you believe it will boost your business!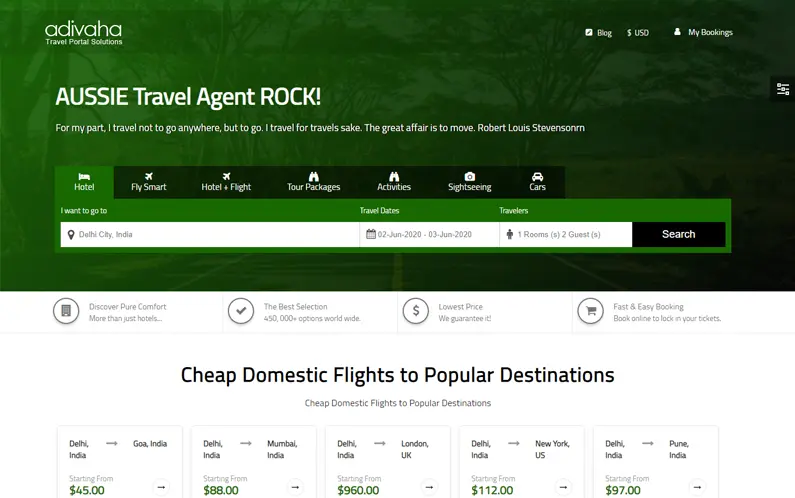 Booking.com Widgets and Plugins for WordPress Websites
If you have been using WordPress for a long time, I assume that you already know the differences between plugins and widgets. But if you are starting in this world you will surely be a bit confused with this matter.
Now with Wordpress and the world's largest OTA, wordpress booking.com, we have introduced the new and best system of Booking.com widget Wordpress. Booking.com widget is installed on the hotel's website, displaying prices per room in three different OTAs. Thus the consumer can compare the hotel's direct rate with that offered by the OTAs, and select the best offer. Booking.com widget has re-included Booking.com rates in its widget, due to the high demand from many of its 8,000 customers.
What is a WordPress Booking.com widget?
Booking.com widgets are blocks that you can add to sidebars using a drag and drop system. In these blocks, you can add social media icons, lists with your most popular posts, recent comments, categories, search engines, subscription and contact forms, location maps, surveys, etc.They allow you to insert almost anything you want in different locations on the build travel search engine website. Therefore widgets are often used to customize the appearance of the page since they are visible by users and can be placed in different places. In fact, to find and configure them within your control panel you have to go to Appearance / Widgets. The sidebars where the widgets can be inserted are usually in the sidebar, the header, and the footer, but depending on the theme they can be located in more places.
Booking.com widget defends that its product provides transparency and improves the relationship between the guest and the hotel. So they are not worried about the booking wordpress themes consequences for OTAs, nor do they believe that OTAs have anything to hide.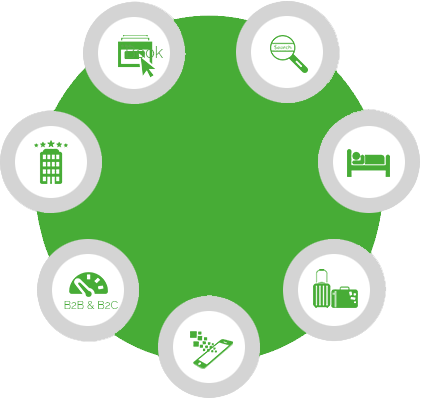 Perfect Website with Booking.com Widgets and Plugins
For hoteliers, the Booking.com widget has become a very useful tool because it reinforces their most profitable channel: its website. Consumers who access the hotel website from other pages are tempted to book directly with the hotel when comparing their prices with those of the OTAs. In fact, Booking.com maintains that its widget helps increase direct bookings by 35%.Clearly, if these numbers are correct, Booking.com would lose a considerable amount of potential commissions paid by hotels. Hotels booking api wordpress of all kinds are beginning to recognize the value of this technology, and how in combination with a website, it can increase direct bookings. The challenge is to do it without risking their relationship with the OTAs because they will also need a stable mix between direct and third-party reservations so that they do not risk everything to a single card.
The Web-booking widget, made using the frame technology, travel booking wordpress allows you to make reservations on the hotel's website and automatically transfer them without commission. 
Key features of the booking.com widget
Automatic generation of module code, which allows you to quickly install the module on sites created in the most popular CMS
Ability to adapt the design of the module to the hotel website
Fast loading of information on prices and availability of rooms
Book multiple rooms at once
Recognition of regular hotel customers
Automatic sending of confirmations
Automatic creation of a reservation for a specific room or "per category", etc.
Possibility to use promotional codes
Integration with payment services
Detailed instructions for installation and configuration
The next version of the form, which is scheduled to be released in 2020, will add the ability to book additional services.

To start showing your visitors' reviews on the site, you just need to log in to Booking.com widget as an account administrator. The booking wordpress theme widget will automatically load comments, after which they will immediately begin to be displayed on your resource. New reviews will be uploaded to your website as they appear on Booking.com.

Filters to select the most relevant reviews

Booking.com widget will help you display only positive reviews or only the most relevant ones. To do this, we added three filters to our widget. You can customize it to display extremely positive reviews; The Exclude By filter will help you showcase only those comments that include the keywords you define, while the Quantity filter will display the number of reviews you want.

Add your rating to rich snippets

To improve the UX of your site, you can display your resource rating in rich snippets. To do this, you need to add the booking.com wordpress widget to your resource, and then just wait for indexing, immediately after which it will start showing directly on the search page.

Demonstrate high customer loyalty

The Booking.com widget header displays a star rating. This is one of the most reliable types of ratings. It also displays the total number of users who have left comments about your business and their profile photo. These details are clickable and redirect to your page on Booking.com.

Modifiable header elements

The header of the Wordpress widget can be easily changed to suit your needs. You can show or remove the profile photo of users who wrote a comment, change the colours of the widget elements, and also, come up with your own title, set the most suitable font and size. You can also turn off the widget header if you don't want to show this element.

Three design templates

With the Booking.com widget wordpress, comments can be easily added to your site while retaining the familiar Booking.com design. By choosing one of the three templates available, you can present testimonials in different ways. The travel booking wordpress plugin Classic option will help preserve the original design of Booking.com reviews, with Bubble you can place information about the author under the comment text, and Spotlight will place all elements in the centre, emphasizing the text.

Four Widget Layout Options

We offer 4 layout options so you can choose the best position for your reviews on the page. The List option will help you to display them as a list; Grid will make it possible to arrange reviews in the form of a expedia wordpress plugin grid; Slider allows you to display a carousel of reviews; any layout allows you to independently determine how many reviews will be displayed on the page.

Adaptive design

Booking.com widget all elements are fully responsive so that you can successfully place reviews on the travel booking wordpress theme free download page. Set the height and width in pixels or percentage. Try all possible combinations and choose the one that suits you best. Plus, no matter what specs you choose, your reviews will look great on mobile and tablet.

Font settings

Text is one of the most important parts of a widget, so you can choose the font size for you. You can also change the font for the title and the review separately.

Color the interface elements

With the Booking.com widget, your reviews won't look out of place in terms of style and color. You can recolor 5 interface elements to match the style of your resource. Among them: review text and background, links, CTA button, and star rating. Try different combinations and choose what works for you.A WordPress widget is a module, element, or block that performs a specific function within a travel booking wordpress pluginfor web page. These widgets can be presented in many formats: text, images, form, menus, categories, comments, etc.
Conclusion
These widgets were created to easily customize a WordPress template. In fact, each template or theme has a "widget area" in which you can easily drag and drop them to see how they look on your website. Of course, although their placement always depends on the design or structure of the template you are using, these elements are usually placed in the sidebar or sidebar and the footer or footer of your website. Therefore, we can say that Booking.com widget WordPress is used to modify the appearance of our business travel booking platform website, allowing us to add additional information or functionalities.
Our Comprehensive List of Services
adivaha® is a one-stop-shop for all your travel website needs. We offer a multitude of services that empower you to become a market leader. Contact us for more info.
Have Questions?
The Internet is a huge resource, but
if your question requires particular expertise.
Keep Refreshing your customers - Who doesn't want his site to stand out from crowd? adivaha® gives you multiple options for home pages, headers, colors etc. Which can easily be managed from admin via shortcodes and settings. The theme supports almost all the big players in this market ie, WEGO, Travelpayouts, Agoda, Booking, Expedia etc.
Contact
Have something unique in mind? Drop a message.
Estimated reply time: 3-5 Working Days