Build your own Travel Brand!
Ready to go-LIVE travel solutions that helps your travel agency to sell a range of travel services pretty instantly. adivaha® travel solutions make sure you have no boundation over your imagination, you can do everything online, without the need for any technical knowledge or design skills. Easy Backoffice, extensive reporting with integrated Funds Management System. Upload funds easily and instantly through Netbanking, Debit Card, Credit Card. The best part is, we do offer customizations in case you believe it will boost your business!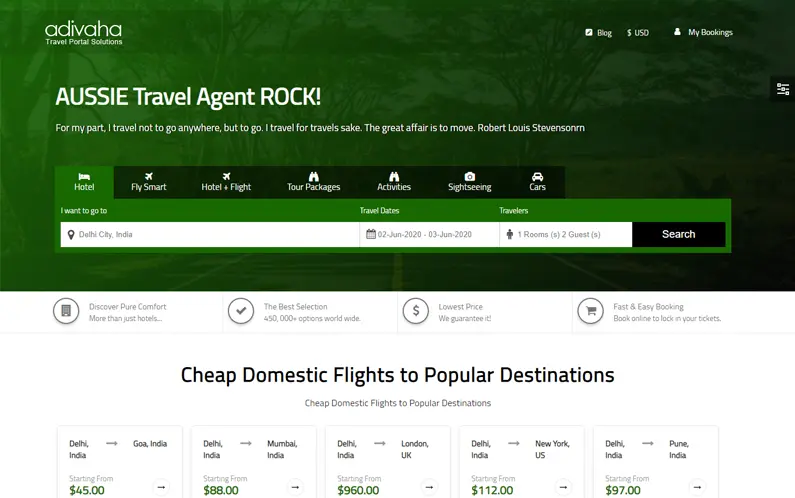 How to Select the Best Car Rental Software For Your Business
It is an online application that can help you as a rental specialist co-op to deal with your appointments, running armada upkeep and managing clients easily. We would have the option to run your organization through a significant administration dashboard.
The car rental software will empower you to effectively oversee online reservations, consequently following accessible vehicles, and setting up adaptable rates for an alternate season. Armada The executives likewise comes simply where we can set up and oversee vehicle classes according to your need. Aside from these essential highlights, the product application likewise offers simple announcing apparatuses, coordinated accounting administration and set-up conventions for retractions, fuel charges, and different possibilities.
Adivaha is the World's Driving Travel Innovation Organization over the globe offers the best Car rental software Answer for the trip specialists, visit administrators, and travel organizations. The arrangements we convey depend on world-class innovation and continually imaginative arrangements that drive long haul an incentive to our clients. We convey the best online vehicle booking framework with continuous associations with top car rental providers. We convey the Car rental Booking Framework to improve your car rental organization with a profoundly adjustable booking framework. Adivaha creates electronic and altered car rental booking framework and portable applications to rental vehicle organizations, travel offices, travel consolidators, and travel organizations. Our car rental framework approves you to oversee online reservations and your whole armada, all from one single control board. Vehicle my crs has made life simple for the car rental organizations, through including highlights like taking reservation, following of the vehicles and checking rate the board. Even though these highlights were accessible prior, with the execution of car rental software, these highlights have been normalized and any car rental organization unimportant of its size has the capacity of commanding the car rental market. Each car rental organization present in the market has actualized vehicle booking software to endure the serious market.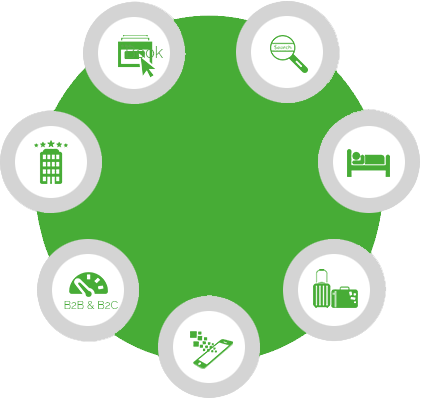 Benefits of Investing in Car Rental Software
Adivaha is a rundown of best Vehicle CRS accessible in the market, alongside lease Vehicle application subtleties and customer surveys. The absolute most helpful highlights of online car rental framework software are fines the board, armada the executives, cites/gauges, reservations the board, vehicle following, make solicitations, web arranging, bookkeeping capacities, multi-language support, vehicle gathering, rate tables, and tenant contracts. Their skill picked up in the Vehicle CRS industry, permits them to manage you in getting the Vehicle CRS, regardless of whether your first experience or not. Through our broad information, we can offer you outstanding amongst other rental vehicle software accessible available dependent on cost, highlights, and backing. A decent Vehicle CRS encourages rent administrators to deal with their business effectively and safely and will have the option to help you in your everyday exercises and in this way assist you with expanding your benefits and encourage your activities. The worldwide Vehicle CRS is blasting in the market with development openings springing up from the corporate travel portal industry part, the ascent in the urban populace, the developing economy and the expansion in discretionary cash flow. These great economic situations, in any case, are not to state that everything is going great for car rental firms. There are a ton of difficulties that accompany working these enormous armadas of cars. Robotization is the basic role of the armada the board apparatuses. In any case, there is a particular variety of Vehicle CRS that is intended to additionally improve armada the executives in car rental stages.
Vehicle CRS is a specialized arrangement which gives car rental early bookings to those sightseers who plan their excursion to visit different goals. Car rental Joining software with software interface not simply make greater detectable quality to the Vehicle travel booking engine Entry yet it additionally encourages your clients to have inventories of numerous car rental booking organizations and XML/Programming interface providers. The Vehicle CRS that we plan and create at our place is an answer which gives online rental appointments of autos through the web utilization of associations which offers the travel industry administrations to the clients in everywhere throughout the world. This precise the huge arrangement has a database connected to it which tracks the appointments consequently extends an away from before clients that which choices are accessible for them and which are most certainly not.
The rental vehicle is in a pattern for quite a while because it is hard for voyagers to go in private vehicles. We give a pursuit, reservation, and corporate booking tool stage for vehicle rentals. It grants explorers to search for rental vehicles and complete reservations. Offices can follow vehicle accessibility and rental action at their areas, while additionally giving an account of deals and breaking down patterns .software interface techniques bolster the recovery of vehicle classes, types and accessibility for determined get and drop-off areas and times.
Techniques bolster the choice of a choice introduced and consummation of the reservation booking process. Our software interface likewise underpins the administration of area working data, for example, staff individuals, open hours, and accessible stock. Our Vehicle CRS assists the Car rental Organizations with managing the statements or sabre booking system, following the client asks about the equivalent through their versatile or through the organization's site. Our Car rental software helps in dealing with your business through a disentangled procedure of compelling administration of armada proficiency. It likewise permits the client to think about the booking status alongside including the component of consumer loyalty.
What are the features of Car rental software?
A Car rental administration software application gives various highlights that make the whole procedure of booking api integration a vehicle simple for clients and maintaining a business bother free for the rental specialist co-ops. It incorporates a few highlights depicted beneath:
CAR RESERVATION FACILITY: It empowers clients to book a vehicle on the web. Clients can visit the site or the versatile application to book a vehicle of their decision. It shows the inexact cost and on the off chance that they go plausible with the client, it makes the procedure for booking.
PROVIDE ALTERNATE OPTIONS: In case, clients can't locate a specific vehicle inferable from inaccessibility; the product shows choices accessible regarding different vehicles or vehicles.
PAYMENT SYSTEM: It encourages for a problem-free instalment framework for clients through outsider applications. It empowers clients to pay in different modes (Money, Wire Move, PayPal, and so on.) and produces a receipt of the equivalent for straightforwardness reason.
MAINTENANCE MANAGER: If drivers feel that the vehicle needs fix, they can include similar data to the product, and it will process the equivalent by planning with the administration. Aside from that, it can likewise make routine upkeep and occasional registration assignments.
Adivaha is a dependable, versatile car rental and armada the executive's application that helps travel organizations deal with all pieces of their business. We give a large group of pre-arranged and customized highlights for overseeing contracts, clients, rates, reservations, reports, support, and organization.
Our answer likewise furnishes clients with a solitary screen registration and the registration process just as encourages them to track accessible vehicles and pending client instalments and ascertain every single rental expense. We try to utilize innovation to change existing Vehicle CRS organizations or help manufacture new car rental aggregator administrations with a white mark car rental application and software arrangement and are available to new highlights and combinations according to your business prerequisites.
Our Vehicle CRS framework is an electronic car rental stage that helps trip specialists handle operational parts of the business all the more productively. The framework can be arranged relying on the particular necessities of the association. Our Vehicle CRS serves car rental business with apparatuses for overseeing on the web appointments, accessibility, support, rates and more. Our Vehicle CRS rental software has come as a blast for the movement the executive's organization, by expanding the degree of consumer loyalty and giving them a framework successful enough in dealing with their business tasks identified with vehicle rental. Our group of industry specialists has been giving and supporting counselling administrations to car rental organizations for over numerous years. We have worked with a few car rental organizations around the globe and have increased genuine experience throughout the years. Our centre is to give the best car rental software that is anything but difficult to use at a moderate cost. We ensure that you get the best help and the most recent instruments and innovation. We program web-based crs bus booking stages that incorporate consistently to visit administrator and OTA sites with modules for planning, schedules, instalments, CRM, and business knowledge, just as create focal reservation frameworks that coordinate with conveyance channels, GDSs, extranets, and Web-based Booking Devices (OBT).
Adivaha gives Vehicle CRS stage to supporting various dialects and monetary forms. It hopes to Access and SQL servers to perform car rental errands, for example, appointments, vehicle following, bookkeeping, investigation and age of modified structures and reports. Utilizing rental vehicle programming, car rental administrations can smooth out all errands applicable to Vehicle CRS, including bookkeeping, following, upkeep, detailing, and examination. It has astounding security highlights, boosting efficiencies and profitability. Besides these, the arrangement permits joint effort from remote areas, empowering clients to cooperate on the web. Our Vehicle CRS The executive's Framework and reservation arrangement are intended to help rental vehicle booking administrations transform their sites into booking entrances. It additionally furnishes clients with the choice to pay on the web and even benefit of ride-sharing. Utilizing the rental vehicle programming, organizations can smooth out their everyday tasks as it connects every single important work process like bus booking system, dispatch and reservation the executives.
What are the advantages of Car rental software?
Car rental booking software is undoubtedly useful for extending the business with no problem. Despite the fact that the advantages of every product applications may shift from each other there are some basic advantages, for example,
HASSLE-FREE ONLINE RESERVATION: The software empowers reservation module to get effortlessly incorporated into your current site in no time. That disposes of the need of web designers over the long haul.
AUTOMATIC TRACKING: The software encourages for auto following the vehicles during voyaging. Thus, you can immediately come to think about their topographical nearness and smooth running of activity by taking a gander at the guide sitting before the computer
FLEXIBLE RATE FIXING: Customers love to know insights regarding any vehicle before booking. Car rental booking software can oversee armada the board where it will show vehicle subtleties according to the client needs anytime.
FLEET MANAGEMENT: It can plan upkeep design and can make fix arranges intermittently. Not simply that, it can likewise monitor the upkeep cost and the harms happening from time to time.
MAINTENANCE PLANS : The software will run an investigation on different execution lists and will show them on the dashboard. It will permit you to keep a track on the key lists those should be dealt with for making more benefit.
EASY REPORTING: Few top car rental reservation system software in the market additionally give coordination to visit administrators where affiliates can make reservations and survey their payments with no problem.
BUSINESS PROTOCOLS: With only a couple of guidelines, you can set up rules for crossing out, fuel overcharges and other kind of possibilities.
INTEGRATED BOOKKEEPING: No need of extra accounting likewise as the product is single headedly proficient enough to guide into your accounting administrations.
Adivaha gives you an issue of free assistance in the present software and sites innovation. Make Your Image Effectively is our key achievement factor for the fulfilment of our customers. The car rental organizations can concentrate more on the altered necessities of the customer than in some other travel business. Our Vehicle CRS and content we use will help the business people who need to begin a speciality car rental commercial centre. Car rental administration software will assist with interfacing the vehicle proprietors and travellers under a solitary stage. To get a one of a kind spot in car rental commercial centre we offer a car or bus booking software which empowers you to run your own online car rental framework that causes individuals to look, find and book different vehicles. To make your business one of a kind, we offer a wide scope of customization according to your necessity with cutting edge highlights to lease and book the vehicles without breaking a sweat.
At Adivaha, we give adaptable propelled car rental administration software application that can completely smooth out and robotize the car rental business forms, disentangling the general errand of the executives. The program can be worked in different dialects and empowers clients to deal with their whole armada of vehicles proficiently. Auto rental directors and their representatives can book reservations effortlessly and sparing time and vitality. As a financially savvy, simple to-utilize, and thorough arrangement, we offer car rental administrators access to an assortment of incredible assets that engage them in overseeing booking process and permit their clients to procure full control of their reservations. Our Vehicle CRS the executives is anything but difficult to-utilize, online car rental software makes the regular occupation of running a recruit vehicle activity as simple as could be expected under the circumstances, without settling on the choices and highlights required to make your business effective in an undeniably serious commercial centre. Our product can be rapidly and effectively executed on your site in the travel booking api framework, in this way giving potential shoppers to offer accessible vehicles in a necessary period.
Our Comprehensive List of Services
adivaha® is a one-stop-shop for all your travel website needs. We offer a multitude of services that empower you to become a market leader. Contact us for more info.
Have Questions?
The Internet is a huge resource, but
if your question requires particular expertise.
Keep Refreshing your customers - Who doesn't want his site to stand out from crowd? adivaha® gives you multiple options for home pages, headers, colors etc. Which can easily be managed from admin via shortcodes and settings. The theme supports almost all the big players in this market ie, WEGO, Travelpayouts, Agoda, Booking, Expedia etc.
Frequently Asked Questions
Below are some of the questions asked by visitors. Do visit our adivaha® Digest for more such questions. Don't hesitate to ask us if you have any questions
Do you have cruising ? And if not can we create our own(fake) package itineraries so we can insert cruise …

23

views

1

answers

0

votes
Contact
Have something unique in mind? Drop a message.
Estimated reply time: 3-5 Working Days