Build your own Travel Brand!
Ready to go-LIVE travel solutions that helps your travel agency to sell a range of travel services pretty instantly. adivaha® travel solutions make sure you have no boundation over your imagination, you can do everything online, without the need for any technical knowledge or design skills. Easy Backoffice, extensive reporting with integrated Funds Management System. Upload funds easily and instantly through Netbanking, Debit Card, Credit Card. The best part is, we do offer customizations in case you believe it will boost your business!
Elevate Your Corporate Travel Experience with Booking Tools
Discover how booking tools can revolutionize your corporate travel experience. Streamline planning, cut costs, and enhance traveler satisfaction. Explore the future of efficient travel inventory management.
How can booking tools streamline the corporate travel planning process for businesses?
Booking tools, like the ones provided by us, are instrumental in simplifying the corporate travel planning process for businesses. Our cutting-edge travel portal solution are designed to optimize every aspect of travel management, ensuring a seamless experience from start to finish.
Efficiency in Itinerary Creation: Adivaha®'s booking tools allow businesses to swiftly create detailed travel itineraries. With user-friendly interfaces and powerful search capabilities, you can quickly find the best flights, accommodations, and transportation options that align with your corporate travel platform needs.
Policy Integration: Our tools seamlessly integrate your company's travel policies, ensuring that all bookings adhere to established guidelines. This consistency not only saves time but also reduces the risk of non-compliance.
Centralized Reservation Management: Adivaha offers a centralized platform where you can manage all travel reservations in one place. This simplifies tracking, changes, and cancellations, leading to improved overall efficiency.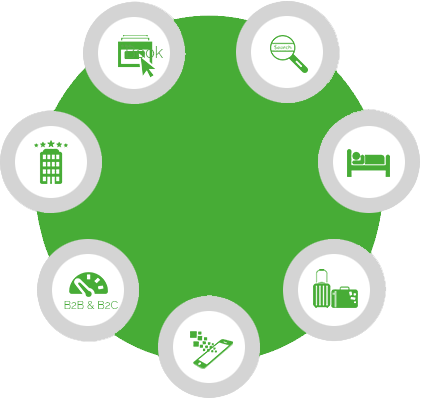 Corporate Booking Tools
What are the key benefits of using booking tools for corporate travel management?
Efficiency and Time Savings: Booking tools streamline the travel planning process, allowing travel managers to make reservations quickly and efficiently. This saves time that can be allocated to other critical tasks.
Cost Control: These tools enable businesses to track and manage travel expenses more effectively. They often provide access to negotiated rates, discounts, and cost-saving options, helping tarvel technology companies stay within their travel budgets.
Policy Compliance: Booking tools can be configured to enforce corporate travel policies, ensuring that employees adhere to guidelines regarding accommodations, airlines, and other travel-related expenses.
Data Analysis and Reporting: Booking tools generate valuable data and insights on travel expenses, booking trends, and traveler behavior. This data can be used to make informed decisions, negotiate better deals with suppliers, and optimize travel policies.
Integration Capabilities: Booking tools can integrate with other systems, such as expense management and HR software, streamlining administrative processes and reducing manual data entry.
Centralized Reservation Management: These tools centralize all travel software reservations in one platform, making it easier to track, manage, and modify bookings as needed.
How can businesses leverage data analytics within booking tools to make informed travel decisions?
Businesses can leverage data analytics within booking tools to make informed travel decisions by harnessing the wealth of information generated during the travel booking software and management process.
Booking tools collect a vast amount of data, including travel itineraries, booking history, travel expenses, traveler preferences, and more. Businesses should ensure that all relevant data is accurately captured and stored. Integrate booking tool data with other relevant sources, such as expense management systems, HR databases, and financial records. This provides a comprehensive view of travel-related expenses and patterns. Utilize data analytics tools and algorithms to analyze the collected data. Businesses can identify trends, patterns, and anomalies that may offer insights into travel spending, traveler behavior, and cost-saving opportunities. Monitor travel expenses in real-time, categorizing and segmenting them to understand where the company's travel budget is allocated. Identify areas where cost reductions are possible.
Analyze traveler behavior to identify preferences and trends. This can help in tailoring travel options to individual traveler needs, increasing satisfaction. Evaluate the performance of travel suppliers (airlines, hotels, car rental companies) based on data-driven metrics like on-time performance, satisfaction ratings, and cost-effectiveness. This can guide supplier selection and negotiations. Compare your travel technology company data to industry benchmarks and best practices. Identify areas where your travel program excels and where improvements are needed. Employ predictive analytics to forecast future travel expenses, demand for certain routes or accommodations, and potential travel disruptions. This enables proactive decision-making. Use data analytics to ensure compliance with travel policies. Identify instances of non-compliance and take corrective actions. Present travel data in visually engaging formats, such as charts and graphs. This makes it easier for decision-makers to grasp trends and insights quickly. Regularly review and update travel policies and strategies based on the insights gained from data analytics. Continuously refine the travel program to optimize costs and traveler satisfaction. Use data analytics to model various travel scenarios and assess their impact on the budget. This helps in making informed decisions regarding cost-saving measures and travel alternatives.
How can data analytics within booking tools lead to more informed travel decisions for businesses?
Data analytics within corporate booking tools can lead to more informed travel decisions for businesses by providing valuable insights and intelligence throughout the travel management process. Here's how this process works:
Comprehensive Data Collection: These tools continuously capture and store a wide range of information, from flight and hotel bookings to ground transportation and meal expenses. This comprehensive data repository becomes a valuable resource for businesses to analyze and extract insights.
Holistic Data Integration: By consolidating data from multiple sources, businesses gain a 360-degree view of their travel ecosystem. This integration ensures that decision-makers have access to all relevant information, facilitating more informed choices.
In-Depth Data Analysis: Advanced data analysis tools examine historical travel data to identify trends, highlight cost-saving possibilities, and predict future travel needs. Businesses can uncover vital information, like preferred airlines or hotels, which aids in making data-driven decisions.
Expense Monitoring and Control: The ability to track expenses as they occur provides transparency and control over the budget. This real-time monitoring ensures that businesses can react promptly to overspending or allocate additional resources to critical business trips.
Predictive Insights: Predictive analytics harness historical data to forecast future travel demands, enabling businesses to make informed decisions well in advance. This can lead to securing better rates, optimizing scheduling, and minimizing disruptions.
Continuous Improvement and Optimization: Regularly analyzing travel data facilitates a culture of continuous improvement. Businesses can adapt to changing circumstances, fine-tune their travel policies, and enhance the overall travel experience for employees while maintaining cost control.
How does Adivaha stand out in the realm of booking tools and what benefits does it offer for corporate travel management?
Adivaha stands out prominently in the realm of booking tools for corporate travel management, offering a range of distinctive features and benefits that empower businesses to enhance their travel programs.
Adivaha®'s booking tools are renowned for their seamless integration capabilities. They can effortlessly integrate with your existing systems, such as expense management and HR software, streamlining processes and reducing manual data entry. This integration ensures that all aspects of travel management are interconnected and efficient. Adivaha understands that each travel business has unique travel needs.
Our booking tools are highly customizable, allowing you to tailor travel itineraries to individual traveler preferences and corporate policies. This level of customization enhances the overall traveler experience and satisfaction. Our booking tools are designed to help businesses optimize travel costs. They provide access to negotiated rates, discounts, and cost-saving options from various travel technology services providers. This ensures that your corporate travel program operates within budget constraints while still delivering quality services.
Adivaha®'s booking tools harness the power of data analytics. We generate valuable insights into travel expenses, booking trends, and traveler behavior. This data can be used to make informed decisions, negotiate better deals with suppliers, and continuously improve the travel program's efficiency. We also prioritize traveler safety. Our booking tools include features for tracking and assisting travelers in emergencies or unexpected situations during best travel websites. This duty of care aspect ensures that your employees are well-supported and safe while on the road. With Adivaha, all travel reservations are managed centrally in one user-friendly platform. This simplifies the booking process, making it easier to track, modify, and manage bookings as needed. It eliminates the hassle of dealing with multiple systems and platforms.
Conclusion
In conclusion, embracing booking tools is the key to elevating the corporate travel experience for both employees and businesses alike. These powerful tools streamline travel planning, optimize costs, enhance traveler satisfaction, and provide invaluable data-driven insights. By harnessing the capabilities of booking tools, companies can not only navigate the complexities of corporate travel platform with ease but also pave the way for a more efficient, cost-effective, and traveler-centric approach.
Our Comprehensive List of Services
adivaha® is a one-stop-shop for all your travel website needs. We offer a multitude of services that empower you to become a market leader. Contact us for more info.
Have Questions?
The Internet is a huge resource, but
if your question requires particular expertise.
Keep Refreshing your customers - Who doesn't want his site to stand out from crowd? adivaha® gives you multiple options for home pages, headers, colors etc. Which can easily be managed from admin via shortcodes and settings. The theme supports almost all the big players in this market ie, WEGO, Travelpayouts, Agoda, Booking, Expedia etc.
Frequently Asked Questions
Below are some of the questions asked by visitors. Do visit our adivaha® Digest for more such questions. Don't hesitate to ask us if you have any questions
Hello team, can you tell me if I can connect several APIs in one platform or website?

20

views

1

answers

0

votes