Build your own Travel Brand!
Ready to go-LIVE travel solutions that helps your travel agency to sell a range of travel services pretty instantly. adivaha® travel solutions make sure you have no boundation over your imagination, you can do everything online, without the need for any technical knowledge or design skills. Easy Backoffice, extensive reporting with integrated Funds Management System. Upload funds easily and instantly through Netbanking, Debit Card, Credit Card. The best part is, we do offer customizations in case you believe it will boost your business!
Corporate Travel Made Easy: Top-notch Booking Services for Professionals
Discover how top-notch booking services from Adivaha simplify corporate travel for professionals. Streamline your travel business journeys with tailored solutions and 24/7 support.
At Adivaha, we understand the demands of today's corporate world. As a trusted third-party service provider, we specialize in delivering top-notch booking services that cater to the unique needs of travel businesses and professionals. In this comprehensive article, we'll delve into the world of corporate travel and explore how our services can streamline the entire process, ensuring a hassle-free and efficient journey for all.
Why is Corporate Travel Important for Professionals?
Corporate travel is important for businesses for several reasons, as it serves various critical functions and contributes to their growth and success. Here are some key reasons why corporate travel is important for business:
Client and Customer Engagement: Face-to-face interactions with clients, customers, and partners are often more effective in building relationships and trust than virtual communication. Corporate travel portal allows businesses to meet with stakeholders, discuss projects, negotiate deals, and provide personalized customer support.
Market Expansion: Corporate travel enables businesses to explore new markets and expand their reach. Companies can attend trade shows, industry events, and conferences to introduce their products or services to a broader audience, gather market insights, and identify potential opportunities.
Employee Training and Development: Businesses often send employees to workshops, training programs, and seminars to enhance their skills and knowledge. Corporate travel plays a vital role in facilitating continuous learning and professional development.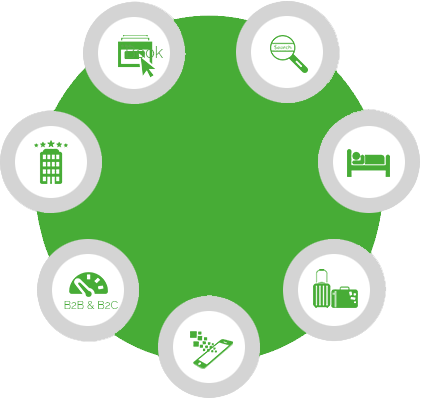 Top-notch Booking Services for Professionals
Networking: Corporate travel provides opportunities for networking with industry peers, experts, and potential business partners. Networking can lead to valuable connections, collaborations, and strategic alliances that benefit the company's growth.
Market Research: Visiting new markets and locations allows businesses to conduct firsthand market research. This includes studying consumer behavior, competitor analysis, and understanding local regulations and customs, which can inform business strategies and decisions.
What specific services and solutions do booking services offer to address these challenges?
Booking services offer a range of specific services and solutions to address the challenges and difficulties encountered during corporate travel. These travel portal solutions are designed to make the travel experience more efficient, cost-effective, and enjoyable for professionals. Here are some of the services and solutions commonly provided by booking services:
Travel Planning and Coordination: Booking services take care of the entire travel planning process, from arranging flights and accommodations to coordinating ground transportation. This comprehensive approach ensures that all aspects of the trip align with the traveler's schedule and business objectives.
Customized Travel Options: Booking services provide a range of travel options tailored to the specific needs and preferences of travelers. This includes choices of airlines, hotel categories, room types, and transportation methods, ensuring that each trip is personalized for maximum comfort and convenience.
Cost Optimization: Cost optimization is a priority for booking services. They use tools like fare comparison and corporate discounts to find the most cost-efficient travel options. By optimizing expenses, businesses can stay within budget while offering quality travel experiences.
24/7 Support: Many booking services offer round-the-clock customer support. This means that travelers can receive assistance at any time, whether they need to make last-minute changes to their itinerary or require help during emergency situations, ensuring peace of mind throughout their journey.
Integration with Corporate Systems: Booking services integrate seamlessly with a company's travel inventory management systems and expense-tracking software. This integration streamlines the booking process, automates reporting, and ensures that all travel plans adhere to company policies and guidelines.
Traveler Safety and Assistance: Traveler safety is paramount. Booking services provide up-to-date travel advisories, offer emergency assistance, and facilitate communication in case of unexpected events or crises. These services ensure that travelers are well-supported and secure during their trips.
How does Adivaha tailor its services to meet the unique needs of professionals?
Adivaha, as a travel technology solutions provider, is committed to tailoring its services to meet the unique needs of professionals in the corporate travel sector.
We offer versatile booking platforms that can be customized to match the branding and specific requirements of travel businesses. This flexibility allows professionals to have a seamless booking experience that aligns with their company's identity and processes. Adivaha®'s solutions are designed to integrate seamlessly with a wide range of travel management systems, expense-tracking software, and corporate systems. This integration ensures that professionals can easily incorporate Adivaha®'s travel technology services into their existing workflows, saving time and effort. Adivaha provides access to an extensive inventory of travel content, including flights, hotels, car rentals, and more. Travel businesses can choose and customize the content that best suits the preferences and needs of their professional clientele, ensuring a curated travel experience.
We design and develop branded travel portals and best travel websites that cater specifically to the unique requirements of corporate travelers. These portals can feature personalized content, booking options, and user interfaces that enhance the booking and travel management process. Adivaha provides comprehensive support and training to travel businesses and their professionals. This assistance helps users make the most of Adivaha®'s solutions, navigate the platform effectively, and resolve any issues that may arise during the booking process. Adivaha prioritizes traveler safety by incorporating features that provide real-time travel advisories, emergency assistance, and risk assessment tools. These functionalities enable professionals to make informed decisions and stay secure while traveling. Adivaha places a strong emphasis on data security and privacy, ensuring that sensitive traveler information is safeguarded. This commitment to data protection aligns with the strict requirements of corporate clients and helps build trust among professionals.
How does the integration with corporate systems contribute to a seamless experience?
At Adivaha, we understand that a seamless and efficient travel experience is paramount for professionals in the corporate world. That's why our integration with corporate systems plays a pivotal role in enhancing the overall journey. Here's how this integration contributes to a seamless experience:
● Our integration ensures that booking and managing travel plans become an integral part of your existing corporate workflow. Professionals can seamlessly access our travel portal solutions within the systems they are already familiar with, reducing the learning curve and streamlining the entire process.
● We recognize the importance of adhering to corporate travel policies and guidelines. With our integration capabilities, your travel technology company specific policies can be embedded directly into the booking process. This means that professionals are guided by your organization's rules and requirements, ensuring compliance at every step.
● Managing expenses is a critical aspect of corporate travel. Our integration allows for real-time expense tracking and reporting. Professionals can easily record expenses, attach receipts, and generate reports that seamlessly flow into your corporate finance and accounting systems. This simplifies the reimbursement process and provides accurate financial insights.
● Our integration ensures that data remains synchronized across platforms. This means that travel itineraries, booking details, and traveler information are consistently updated and accessible within your corporate systems. This real-time data synchronization minimizes discrepancies and keeps everyone on the same page.
● Our integration enables seamless data transfer to corporate reporting and analytics corporate travel tools. This empowers decision-makers with comprehensive insights into travel expenditures, patterns, and trends. By having access to accurate and up-to-date data, you can make informed decisions to optimize your corporate travel strategy.
What sets Adivaha apart from other booking service providers?
At Adivaha, we take pride in the unique features and capabilities that set us apart from other booking service providers in the corporate travel industry. Here's what distinguishes us:
Customization and Branding:
Adivaha offers extensive customization options, allowing travel businesses to tailor our booking solutions to match their branding and unique requirements. This level of personalization ensures that our services seamlessly align with your business identity.
Integration Expertise:
We excel in integrating our travel technology solutions with a wide range of corporate systems, travel management tools, and expense-tracking software. Our expertise in integration simplifies the implementation process and ensures that our services seamlessly fit into your existing workflow.
Personalized Travel Content:
Adivaha provides access to a vast inventory of travel content, from flights and accommodations to car rentals and activities. We empower you to choose and customize this content to cater specifically to the preferences and needs of your professional clientele.
Travel Policy Adherence:
We understand the importance of corporate travel policy compliance. Adivaha offers solutions that seamlessly integrate your company's travel policies into the booking process, guiding professionals to make bookings that align with your organization's guidelines.
Traveler Safety and Risk Management:
We prioritize traveler safety by offering real-time travel advisories, emergency assistance, and risk assessment tools. Adivaha empowers professionals to make informed decisions and ensures that they remain secure while traveling.
Conclusion
At Adivaha, we're dedicated to making corporate travel platform easy and efficient. By addressing the challenges faced by businesses and professionals, offering personalized solutions, and staying ahead of industry trends, we ensure that your travel experiences are nothing short of exceptional. Make the smart choice for your corporate travel needs by choosing Adivaha.
Our Comprehensive List of Services
adivaha® is a one-stop-shop for all your travel website needs. We offer a multitude of services that empower you to become a market leader. Contact us for more info.
Have Questions?
The Internet is a huge resource, but
if your question requires particular expertise.
Keep Refreshing your customers - Who doesn't want his site to stand out from crowd? adivaha® gives you multiple options for home pages, headers, colors etc. Which can easily be managed from admin via shortcodes and settings. The theme supports almost all the big players in this market ie, WEGO, Travelpayouts, Agoda, Booking, Expedia etc.
Frequently Asked Questions
Below are some of the questions asked by visitors. Do visit our adivaha® Digest for more such questions. Don't hesitate to ask us if you have any questions
Hello team, can you tell me if I can connect several APIs in one platform or website?

20

views

1

answers

0

votes