Build your own Travel Brand!
Ready to go-LIVE travel solutions that helps your travel agency to sell a range of travel services pretty instantly. adivaha® travel solutions make sure you have no boundation over your imagination, you can do everything online, without the need for any technical knowledge or design skills. Easy Backoffice, extensive reporting with integrated Funds Management System. Upload funds easily and instantly through Netbanking, Debit Card, Credit Card. The best part is, we do offer customizations in case you believe it will boost your business!
Elevate Your Corporate Travel Experience with Cutting-Edge Tools
Discover how cutting-edge tools can transform your corporate travel booking experience. Explore innovative solutions and expert insights to enhance efficiency and elevate your business travel to new heights.
At Adivaha, we know how important it is to improve the way you travel for work. In this article, we'll look at how your business can use these new tools to make business
How can businesses use technology to improve the corporate travel experience?
Businesses can leverage technology to significantly enhance the corporate travel experience in several ways:
Efficient Booking: Through Adivaha®'s advanced travel booking engine and seamless integration with travel APIs, businesses can simplify and expedite the booking process. This ensures that travelers have access to a wide range of options and can secure their reservations quickly and hassle-free.
Personalized Travel: Adivaha®'s customization capabilities allow businesses to tailor travel options to individual preferences. From seat preferences to accommodation choices, travelers can enjoy a personalized experience that caters to their specific needs and tastes.
Expense Management: Adivaha®'s integration with expense management tools helps businesses track and manage corporate travel expenses effectively. This promotes transparency and cost control, allowing businesses to stay within budget.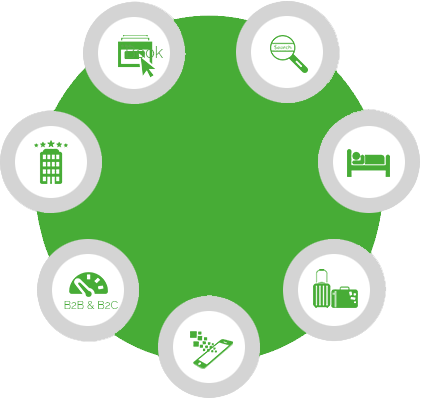 Corporate Travel Experience with Cutting-Edge Tools
Risk Mitigation: Adivaha®'s partnership with risk inventory management solutions ensures that businesses can access real-time information on potential travel risks and emergencies. This enables proactive risk mitigation strategies and enhances traveler safety.
Data Analytics: Adivaha®'s reporting and analytics tools provide businesses with valuable insights into their corporate travel portal patterns. By analyzing this data, businesses can make informed decisions, optimize travel strategies, and identify cost-saving opportunities.
Seamless Integrations: Adivaha®'s travel technology seamlessly integrates with various corporate travel tools and platforms. This ensures that businesses can consolidate their travel technology soultions, reducing complexity and streamlining their travel management processes.
What are the key challenges that cutting-edge tools can address in corporate travel?
Traditional booking methods can be time-consuming and error-prone. Cutting-edge tools streamline the booking process, making it quicker and more accurate. Tracking and managing travel expenses can be complex. These tools offer automated expense tracking and reporting, reducing the likelihood of overspending and facilitating budget control. Ensuring that employees adhere to company travel policies can be challenging. Technology can enforce policy compliance by flagging non-compliant bookings and providing real-time policy reminders. Managing travel-related risks, such as weather disruptions or security concerns, can be daunting. Cutting-edge tools provide real-time risk assessments and enable prompt response strategies. Traditional methods of analyzing travel data are often slow and inefficient. Advanced tools offer data analytics capabilities that help businesses identify trends, opportunities for cost savings, and areas for improvement. Meeting the unique preferences and needs of individual travelers can be a struggle. Cutting-edge tools enable personalization by offering tailored travel options and recommendations. Managing multiple travel-related tools and platforms can lead to integration challenges. Cutting-edge tools often offer seamless integrations with existing corporate systems, reducing complexity.
What advantages do cutting-edge tools offer in terms of cost-saving and efficiency in corporate travel?
Cutting-edge tools in corporate travel portal offer several significant advantages in terms of cost-saving and efficiency:
Accurate Expense Tracking: These tools automate expense tracking, reducing the chances of errors and overspending. This accuracy helps businesses stay within budget and identify cost-saving opportunities.
Optimized Travel Policies: Technology allows for the enforcement of travel policies and guidelines in real time. This ensures that employees make cost-conscious choices when booking travel arrangements.
Data-Driven Decision Making: Advanced tools provide in-depth data analytics, allowing businesses to identify trends and patterns in their travel expenses. This data-driven approach helps optimize travel budgets and negotiate better deals with suppliers.
Streamlined Approval Processes: Cutting-edge tools often feature automated approval workflows. This expedites the approval process for travel requests and expenses, reducing delays and bottlenecks.
Integrated Payment Solutions: Integration with payment platforms and corporate cards simplifies the payment process. It ensures that payments are made on time and helps capture relevant expense data.
Enhanced Negotiation Power: With access to comprehensive travel data, businesses can negotiate better contracts and discounts with travel suppliers, leading to cost savings on future bookings.
What support and guidance can third-party service providers like Adivaha offer to businesses looking to adopt these tools for corporate travel enhancement?
Adivaha excels in seamlessly integrating cutting-edge travel technology services into a business's existing systems, customizing solutions to align with specific needs and preferences. This ensures a tailored and efficient travel experience. We provide comprehensive training and educational resources to equip employees with the necessary skills to maximize the benefits of new tools. Their 24/7 customer support ensures businesses have assistance in case of issues or emergencies. We offer strategic guidance to help businesses select the right tools based on their travel goals and budget. They assist in identifying cost-saving opportunities, negotiating supplier contracts, and ensuring policy compliance. Adivaha grants access to advanced data analytics and reporting tools, allowing businesses to monitor travel performance, track expenses, and make data-driven decisions. This ensures transparency and optimization. Adivaha provides guidance on risk management strategies and offers real-time information to enhance traveler safety and security during corporate travel platform. We help businesses proactively address potential risks and emergencies. Adivaha keeps businesses up-to-date with the latest travel technology advancements, recommending upgrades or new tools to stay competitive. They offer scalable solutions that adapt to evolving travel needs and business growth.
Conclusion
The corporate travel landscape is evolving rapidly, and staying competitive requires embracing cutting-edge tools and technologies. At Adivaha, we are committed to helping travel business elevate their corporate travel experience and drive success. By addressing the highlighted sub-structured topics and leveraging our partnership with Adivaha, your business can unlock new opportunities, enhance customer satisfaction, and thrive in the ever-changing world of corporate travel.
Our Comprehensive List of Services
adivaha® is a one-stop-shop for all your travel website needs. We offer a multitude of services that empower you to become a market leader. Contact us for more info.
Have Questions?
The Internet is a huge resource, but
if your question requires particular expertise.
Keep Refreshing your customers - Who doesn't want his site to stand out from crowd? adivaha® gives you multiple options for home pages, headers, colors etc. Which can easily be managed from admin via shortcodes and settings. The theme supports almost all the big players in this market ie, WEGO, Travelpayouts, Agoda, Booking, Expedia etc.
Frequently Asked Questions
Below are some of the questions asked by visitors. Do visit our adivaha® Digest for more such questions. Don't hesitate to ask us if you have any questions
Hello team, can you tell me if I can connect several APIs in one platform or website?

20

views

1

answers

0

votes