Build your own Travel Brand!
Ready to go-LIVE travel solutions that helps your travel agency to sell a range of travel services pretty instantly. adivaha® travel solutions make sure you have no boundation over your imagination, you can do everything online, without the need for any technical knowledge or design skills. Easy Backoffice, extensive reporting with integrated Funds Management System. Upload funds easily and instantly through Netbanking, Debit Card, Credit Card. The best part is, we do offer customizations in case you believe it will boost your business!
Integrate Your website With The Powerful Flight Booking Softwares
adivaha® is a company that creates flight booking galileo reservation software which assists travel companies and travel agents by providing them with carrier reservation, our solutions provide you with stock, specialist control, appointments and ticket reservations across the board place. We offer completely modified B2B, B2C, B2B2C booking engine to travel agencies, tour administrators and travel organizations to expand income while shortening the time and exertion required to finish an exchange.
Our software is created with the most recent web innovation so any guests or trip specialists can get to your site from anyplace whenever. adivaha® gives flight reservation, flight booking system, tour booking solution to travel organizations around the globe. We comprehend the requirements of a worldwide travel organization, so we provide them with a stylish flight booking engine design. Our galileo flight booking engine will enable your clients to pick the trip based on airfare, location, time and more. We work with every single sought-after GDS providers that give all conceivable assistance to the clients visiting your website. Our API integration allows you to offer amazing arrangements to your clients. We will provide you with complete access to the flight programming interface by incorporating the equivalent on your webpage so you can add this to your administration list. Our group provides you with full combination support, empowering customers to make ongoing appointments from your site.
adivaha® is an airline reservation framework improvement organization, working with worldwide carriers, GDS frameworks, and flight consolidators. The hotel reservation framework, transfer, and significant bundling modules. We tend to incorporate a few GDS, hotel, and car consolidators for movement customers. Our carrier reservation frameworks fuse the trading of information through the GDS, for example, Amadeus merges the overall airline openness by estimating data and offers it through a web administration API. Utilizing these assortments of web benefits on the carrier reservation framework interface, the information for the aircraft check, accessibility and estimating can be given on an easy to use GUI interface. What's more, in this way can continue for the booking by picking the trips in sync with the inclination of the end-client. Over the past scarcely any years, galileo travel software organizations have indicated bigger dependence on the airline reservation framework, travel innovation and quality answers for developers. Accessibility, pleasant client commitment, different presentation decisions, and dynamic pressing frameworks are key focuses for our Flight Reservation Systems.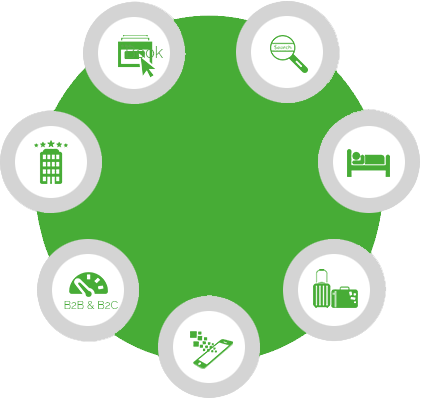 Easy Way to Integrate with Flight Booking Software
adivaha® offers you the most productive online flight booking software that encourages the quest for trips around the world. We have modules for an online booking software that makes your portal wealthy in features as well as making it simple to use, this is a major traffic puller to your website. With the assistance of flight API gds api integration, the client can guarantee exact and impeccable air ticket booking. The flight booking framework accompanies numerous features, for example, the executives of ticketing, cancellations, refunds, schedule of flights assisting the movement middle person with minimizing the expense acquired with the conveyance.
We give a completely coordinated Flight Reservation System with the most recent galileo flight booking api engine highlights like Online Booking Engine, GDS Booking System, Amadeus flight reservation system tweaked Airline Booking System for trip specialists and travel organizations around the world. Our Flight booking systems consolidate airline plans, traveller reservations, and ticket records. Our Air Booking Engine utilizes inventive techniques that upgrade the client experience by improving the showcase and design of our client's portal. Our flight booking system highlights incorporate alternatives to see booking subtleties and print e-tickets, permit travellers to choose their seats, show toll rules, and things data, underpins regular customers programs, a choice to book multi-city flights and the sky is the limit from there. Our flight reservation system is an electronic internet booking answer that helps in merging data from all carriers using worldwide dissemination systems. The system gives stock and rates progressively to customers additionally as trip specialists. As of late flight reservation system is being not exclusively to make flight reservations yet additionally being utilized to help with very surprising aircraft the board undertakings and to fulfil customer needs from the underlying booking right to finish the flight. Flight Booking System is an online application programming system acclimated to withhold, recover data and perform exchanges identified with air travel. Initially structured and performed via airlines, Flight Booking System was later created for the work of movement organizations.
Our flight booking system is a client confronting reservation system that airline customers use to book flights. Airlines influence our applications to deal with the entirety of their booking-related undertakings and smooth out the reservations technique. Our flight reservations systems think about different elements while dealing with the flight-booking strategy, including accessible stock (seats accessible), airline calendars, and duty rates. These are considered when figuring flight costs at the hour of procurement. Our airline staff utilizes a flight's galileo booking system technology to deal with the total reservations strategy, which may be complex, and airline clients utilize the application to book tickets. Airline reservations software system systems normally come as a piece of a greater arrangement of an avionics software system. At the base, these systems interface with worldwide dispersion systems (GDS) and individual airline appropriation systems. We will in general work with a few top travel aggregators, worldwide dispersion systems, channel chiefs and DMCs. We can guarantee the quality expectations and quick turnaround to make and convey adaptable travel entrances and booking motors, with clear thoughtfulness regarding technology' spry philosophy and change. We configuration, create, have and convey mechanization systems to the airline and travel ventures along with the most recent airline reservation systems which give present-day, adaptable reservations and stock administration answers for airlines which including call focuses, travel offices, and the web ticket deals and continuous bookings. Our standard arrangement furnishes a coordinated Departure Control System with an exceptionally simple to utilize interface for speedy traveller registration and continuous access to reservations. Stock, timetable, passages and operator, the executive module gives you all the answers for bookings and ticket reservations. Later, ground-breaking, and quantifiable reservations configuration gives a steady and fitting stage to airlines everything being equal and with industry-standard interfaces to all outside reservation systems. They incorporate GDSs, elective airline PC reservation systems, SSIM timetables, and ATPCO (Airline Tariff Distribution Company) costs. Our flight booking system is an online booking arrangement that helps in merging data from all the airlines using worldwide dispersion systems. Our system gives stock and rates continue to clients also as trip specialists.
At Adivaha, we have built up an incredibly valuable and responsive software for getting all the bookings and reservations done online. You can without much of a stretch incorporate it into any outsider APIs to start various kinds of bookings and reservations. This software can undoubtedly be coordinated into your movement entry and serve you to book the online flight tickets for your customers.
Flight Booking Engine
The Flight booking engine is a stage in airline reservation software systems that are expected to oversee air ticket booking, e-tagging, planning flights, and conveyance of important data to the end-user. adivaha® offers complete galileo flight booking api engine for a travel agency and travel companies. It gives carrier reservation system most recent flight booking engine attributes like web-based booking engines, GDS booking system, Amadeus airline reservation system, transport reservation systems and altered aircraft appointments for trip specialists and travel organizations around the world. Flight booking is a web-based booking system for end clients to look and book flight tickets. It helps voyagers to look through the worldwide goals, book and create the PNR by making instalment online. Flight booking engine has the choice to send citations for flight rates to clients and oversee client questions in same flight reservation system. adivaha® furnishes online flight booking engine with cutting edge inventory, ticketing and client the board apparatuses. We offer completely coordinated software, which takes care for the start to finish the business process, and tries to give every single required capacity in the flight booking engine. We create flight booking engines that bolster B2B and B2C trip specialists to get more flight appointments.
adivaha® offers flight booking system with a cutting edge, simple to utilize interface and vigorous engineering in the back. With a link to significant outsider airline provider systems, you will have the option to look and book airline situates effectively and quickly. Our flight search api integration booking module encourages you to develop efficiently handle more reservations without including new staff by selling airline tickets legitimately from the back-office system. Reduce cost no enrollment required of particular and guaranteed staff being used uniquely for taking care of flights, and expand your offer on the off chance that you don't have airline tickets as of now in your inventory. The flight booking system that we offer highlights contain alternatives to see booking subtleties and print e-tickets, permit clients to pick their own seats, display toll rules, and stuff information, supports regular customers program, the choice to book multi-city flights and more. We offer you the most proficient web-based booking software that encourages the quest for flights everywhere throughout the world. Our flight booking system is developing utilizing all around recognized applications utilized for online flight reservations for B2B/B2C in various goals over the world.
adivaha® gives an airline reservation system and a GDS booking system empowering with the most recent travel innovation features. We furnish completely coordinated Air reservation system with the most recent flight reservation system booking system highlights like Online Booking Engine, GDS booking system, Amadeus airline reservation system, altered Airline booking system for the movement office and travel organization around the world. Flight Booking System is one of the most advanced worldwide appropriation systems for the movement domain. A huge number of specialists are associated with a flight booking to process the reserving for their customers or corporate. Flight booking system gives the alternative of work area software white-name and web services. The flight booking system is overall popular. The flight API incorporation is the best choice for on the web or B2B travel office and at adivaha® we are master in flight booking system, software development, flight reservation system, flight booking engine reconciliation in the internet booking engine.
Most travel and aircraft organizations use web-administration to book flights. The combination of GDS web administrations is direct to your website, allowing you to keep up your web page's character and unique design. Our booking modules give you complete access to airline assets facilitated on different worldwide appropriation systems. GDS flight booking api cost keeps up booking and tagging of electronic tickets. Our airline reservation system comprises of the trading of information through the worldwide dispersion system, for example, Amadeus which merges the overall airline accessibility and evaluating data and offer through web administrations APIs.Using this web asset on the airline reservation system interface, the data for the airline accessibility and valuing can be distributed on an easy to understand GUI interface. End-client can favour the flight and continue the booking.
adivaha® is a predominant travel technology association offering venture out innovation things to associations busy with the movement division. Our things help travel associations in conveying basic administrations to their visitors. Through API/XML incorporation of GDS, for example, Amadeus, travel site we help in overhauling end-client experience by giving them refreshed data according to their need. We give business techniques to fill your planes, method of reasoning for your front lines, and innovation to take your transporter to the accompanying level. We convey travel innovation items for Flights, api for flight booking Engines, migration, journey, and redid bundles, and so forth. We have conveyed our work toward upgrading the effectiveness of the B2B travel booking system, B2C and B2B2B corporate all around.
adivaha® uses cloud-based and joined courses of action that offer assistance to all transporter strategies. The flight booking system of movement cloud suite computerizes your airline booking process in this way expanding revenue. It is intended for online travel organizations to give simplicity of booking to the clients, where they can look and book flight tickets in genuine time. Users have the usefulness to pick the favoured seat and refreshed with further phases of booking. Our booking arrangement shows airline accessibility and rates for various GDS and substance sources against client searches. The coordinated Airline booking system carries upper hands to your business by interfacing with an enormous store of flight data. We completely incorporated Flight booking engine with the most recent features. Our Airline reservation system causes make a trip offices to lessen look and book ratio. Auto scratch-off and auto emailer and SMS updates help to diminish the additional charge for movement organizations.
Utilizing adivaha® Flight booking system you can coordinate associate your GDS flight API utilizing an easy to use and responsive online flight booking system where B2B/B2C or client end can look and Book their flights. After booking, the client end will get a PNR and E-ticket through Email and SMS. The web-based booking system will help travel offices get GDS and NON gds api documentation content simultaneously in a solitary platform. Our Flight booking system is entirely moderate for a movement organization or agency. The cloud-based Flight booking system is reasonable and solid for the individuals who don't think about their traffic on their site and travel organization or office who needs to be the quicker outcome. Along these lines, adivaha® is assembled completely on new advancements to give an adaptable system and plan of action for profoundly effective tasks. Our propelled system gives a magnificent stage to smoothing out activities, controlling expenses, and accomplishing ideal exhibitions.
Advantages of flight booking engine
The reasons why an ever-increasing number of individuals are buying their flight tickets online are a direct result of the numerous focal points and accommodations airline booking engine brings to the table. Contradicted to the conventional method of buying the tickets through trip specialists' office, web-based booking today and gives access to many flight ways, their costs, and different administrations at the snap of a catch. This can be significant for the client to locate the most ideal arrangement and the most control to the clients as far as their vacation arranging and causes them to settle on educated choices. The system of looking through the flights is anything but difficult to the point, that anyone with a PC and web access can without much of a stretch hunt association, think about costs and buy any association they wish to. This, yet this technique is a lot quicker, simpler, bother free and helpful. Many flight associations these days moreover give various administrations, for instance, air terminal trade, settlement administrations, vehicle agreement, and air terminal leaving. The clients can likewise exploit visit limits, advancements, and different workplaces from the airlines through buying into their email or just by review their site. The customers can likewise completely know about the different arrangements of the organization, for example, crossing out, things rules, and others, and can without much of a stretch utilize those administrations. Online flight booking not just offers simple and quick assistance to the clients who can access it from the comfort of their home, it also offers different types of assistance at increasingly sensible costs. Most of the airline organizations offer additional assistance during online registration by providing their client with an option to stretch print the ticket at home and spare valuable time and worries.
Key Features Of Flight Booking Engine
24/7 customer support
Easy to use and integrate
User friendly and robust architecture
Search and book flight tickets
Cloud based Flight booking engine
Online flight booking with latest innovation
Connection to your B2B and B2C gateway
Connection to worldwide GDS likhe Amadeus
Our Comprehensive List of Services
adivaha® is a one-stop-shop for all your travel website needs. We offer a multitude of services that empower you to become a market leader. Contact us for more info.
Have Questions?
The Internet is a huge resource, but
if your question requires particular expertise.
Keep Refreshing your customers - Who doesn't want his site to stand out from crowd? adivaha® gives you multiple options for home pages, headers, colors etc. Which can easily be managed from admin via shortcodes and settings. The theme supports almost all the big players in this market ie, WEGO, Travelpayouts, Agoda, Booking, Expedia etc.
Frequently Asked Questions
Below are some of the questions asked by visitors. Do visit our adivaha® Digest for more such questions. Don't hesitate to ask us if you have any questions
I am setting up this plugin for my client's website, I tried registering and received the account activation email, but …

9

views

0

answers

0

votes