Build your own Travel Brand!
Ready to go-LIVE travel solutions that helps your travel agency to sell a range of travel services pretty instantly. adivaha® travel solutions make sure you have no boundation over your imagination, you can do everything online, without the need for any technical knowledge or design skills. Easy Backoffice, extensive reporting with integrated Funds Management System. Upload funds easily and instantly through Netbanking, Debit Card, Credit Card. The best part is, we do offer customizations in case you believe it will boost your business!
Get Started Quickly With Galileo Reservation Software
Galileo Reservation Software has several service providers, they take care of your airline, hotel, car rental, and numerous other services for you. An airline system with this integration system will take your company to new heights. You can check information related to seats, flight rates, discounts, and the available and occupied seats.
Galileo Travel Software is a convenient and user-friendly software to make sure that all your bookings related from air to hotel to holiday packages are hassle-free. You can also book your car or transfer bookings in a single go. It has an advanced reservation software that houses all the travel services in one place. By using this software, the air-travel business becomes easy because you can purchase, sell or distribute tickets; book seats, cars, and hotels for your travel. It is a handy solution for tour agents and operators all over the world. Our software is pre-integrated with a global distribution system that enables you to handle air-tickets worldwide. It is an economical measure as this flight reservation system is directly connected to galileo flight booking GDS systems. It is working on many sales channels at a time. This aids airline business in the management of their company and for selling their intelligence products.
GDS system stands for the Global Distribution System, it was created to distribute services and handle everything about them. Galileo GDS System is a digital network that is specifically designed to enable and handle transactions between service providers in industry and travel agencies. The main goal while starting this system was to create an advanced system for airlines. Still, over the years, it has expanded to various other businesses like hotels, car rentals, and other travel businesses. Galileo Software provides an advanced real-time inventory system. This makes sure that the number of available or occupied rooms in the hotel or number of cars available in a car rental company or number of seats in a particular flight of an airline is readily available to the service provider. This system has been a blessing for both travel agencies and service providers. It has reduced the time to get a booking and has improved efficiency unimaginably.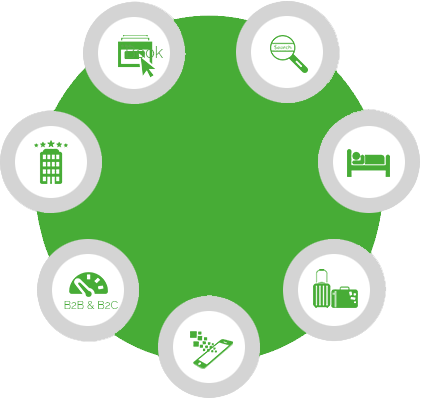 Start Using Galileo Reservation Software in Minutes
Galileo is an airline galileo flight booking api engine that is run by Travel Port. Galileo Reservation System is a renowned software known for its success with providing b2b travel agencies with a cost-effective opportunity to monitor their business. Global Distribution System brought huge changes in the airline industry. Thus, if an agency has integrated the GDS system in their b2b and b2c sites, they will have a vigorous airline reservation system. What's more, is that they can make a booking using the geographical location inventory from the same place.
Galileo Travel:

Exchange and communication of data take place using the GS systems like Amadeus,Sabre, or Galileo gds. It uses online services like Travel APIsand XMLs. The pricing information is readily accessible from all airline engines. It has a user-friendly interface that also provides desktop tools. Searching flights and booking them is on the tip of your finger. The availability of the needed seats can be checked through a web-based system. When such information is needed, Galileo Travel Software displays it in the air availability message in response to the request. This is called NDC-XML messaging through which pricing and availability are communicated to the airline handles. This gives travel agents a good opportunity to enhance their business by incorporating an efficient system that gives real time airline data, which in the form of a basic user-friendly display and saves you from the trouble from going through everything manually. Your content can be shared through multiple channels across GDS systems. Galileo Reservation System is preferred by many agencies because it conveniently shares and promotes data related to flight booking, sightseeing and hotel booking, etc. on web portals. Users can make payments online through an automated system. This system has revolutionized air travelling industry as it provides many utilities to the users under one platform. The users can find the best flight deals this way with a GDS system in their hands. This is why Galileo's clients have remained satisfied throughout the years. Passengers are directly in contact with the GDS applications. These applications are called Passenger service systems. These small systems developed into computer reservations software, one of which is the Galileo Reservation Technology. This software makes flight information api reservations for most airlines from one platform. It has a huge travel inventory which provides customers with great choices for travelling worldwide. Galileo is a comprehensive reservation system; it has access to worldwide air travel content. The booking system processes requests by clients through travel agents with GDS pre-integration from this portal.

There are many advantages of using galileo booking system Travel Software. The major benefit is that it provides easy connectivity through XMLs/APIs mode. The content of inventories is updated automatically in real-time this information is related to the availability and pricing of flights. The data is readily available in the form of a basic airline display. It also benefits the travel agents as they brand their white-label solutions to sell hotel bookings and air tickets with their name.GDS integration means that data related to flights, tours, hotels, and transfer can be provided to customers, travel agents, and tour creators round the clock. The highly accessible software connects all the B2B, B2C, B2E, and B2B2C sites through a global travelling system. It helps you boost your revenue and you are free from paying a hefty commission for every booking. It makes management of the airline bookings more efficient and distribution can be made on an online portal. Galileo Travel Software helps you monitor your business strategy and evaluate its shortcomings and thus leads you towards making the decisions. It also allows you to specifically go towards that audience that is ready to buy your product and services. Thus, a motivated market segment is provided to you to build a greater clientele. Its bigger is the increasing users of this system over the last 4 years worldwide. It is providing the corporate sector with an effective tool for travel marketing. Companies are evolving using Galileo Travel Software and tailoring exclusive corporate travel and leisure travel plans. Now thanks to this software customers can practically retrieve data that they need. It also helps you grow your business through a powerful travel engagement platform. It connects to multiple third-party APIs. It provides complete reservation management. It ensures a safe transactional accounting through its account system gds api integration. Users can access a comprehensive system to see the rates, discounts, and bookings. The online portals are multilingual and have offline travel bookings as well.

The flight reservation system also provides an efficient inventory which has information being maintained according to the global distribution system. It makes sure there is ample internal control through a standardized interface. You can also see the airline's yield and manage it proficiently. Thus, improving the online booking by Fare quote system becomes easier. The fulfilment of services is done in bulk through a single platform. It also saves a great amount of time for both the users and the agents. Now there is no need to spend hours on file finishing and sending invoices. You can focus on more important activities like designing a successful business strategy taking in view the flight reports. Users can view data in real-time. This cuts on the operation cost and increases the revenue. You can reach a wider audience through multiple channels. The old practices of spending huge sums on travel agencies have become outdated and are no longer useful. Profit focused airline business and switching to Galileo Reservation system.

The system has built-in automation mechanisms that help in designing and developing versatile and trendy reservations through online management. This is also a powerful solution for travel agencies and call centres. The passenger can easily check-in and make reservations in real-time. It also has an integrated Departure control system with a user-friendly interface. You can see flight inventory, fares, schedule, and modules for agent management for ticket reservations and bookings all in one place. You can interact with a bigger industry using this stable platform and control your outside reservations. You will also be provided ATPCO (Airline Tariff Publication Company) costs on requests. The Galileo Reservation System streamlines your tasks by arranging an organized inventory of flights and managing our booking tasks for you. It considers the multiple factors which can affect the air travel booking may it be the airline schedule or the tax rate. The flights' costs are schemed to keep these factors in view. The airline employees use the Galileo Reservation Solution which is less sophisticated and can be controlled in a better way. You can work with channel managers, gds api cost, and prime travel aggregators at a time. Booking engines are transparent that generate speedy turnout and deliver quality reports. It also provides enhanced reservation flow and analytics tools. It also offers solutions in the form of desktop applications. The online services directly connect to the XML database. Galileo Travel Software allows you to make generate billions of dollars in global travelling. Hotels and car rentals can be scheduled through designated inventories that are accessible online. The primary purpose of this system Is that it links all three major industries involved in global travelling in a single network. These three industries constitute airline, hotel reservations, and ground transportation.

The early travel systems were manual and labour-intensive. But due to the collaborative efforts of several big companies like IBM, GDS systems were evolved. Galileo Travel Software's most prominent feature is that it sends promotional messages to agents. This way agents get alerts about the best deals and rates for flight price api fares and travel packages. It connects agents to customers and increases satisfaction. This gets clients huge savings and builds on the clientele. It's a fundamental tool for travel retailers worldwide.

It is estimated by industry veterans that the revenue growth will continue to increase exponentially due to the Galileo revolution. The portals get instant response from the travellers. Galileo is the most reliable and trusted software approved by travel industrialists worldwide. All the services are integrated under one software. This software provides flight XML API integration for international and domestic flights. Ground transport solutions are also provided in the form of BUS API and CAR API integration. Tour packages for holidays and corporate trips can be managed. You can generate a sales report and get access to discount coupons for clients. There are markup management and booking management module to help boost your travelling tasks. There is a built-in Trip Advisor plugin. Its travel portal development systems provide efficient travel solutions and set your market value to heights. Galileo Travel Software also comes in the form of customized mobile applications that connect agents. You can access GDS on mobile and operate it. The booking tool facilitates consolidation business and is better adapted to customer needs. Galileo Reservation System has the most advanced travel domain. It is a powerful software that provides topline services incorporating GDS integrations. This is why its use is growing at a higher rate in countries like South Africa, India, Malaysia, the U.S and Mexico. The travel agencies and travel agents make airline bookings, hotel reservations, and car rentals using authenticated galileo api integration automation software. The systems operate on both B2C and B2B travel modules. This allows you to attract massive traffic to your travel website. The systems helps in establishing a connection with all of the leading major airlines. The XML and API integration is provided to the customer as per their own needs and necessities. The mapping is strong and has static data which aids in escalating the flow of travel business to volumes.

The travel industry meets multiple challenges on a day to day basis. This is why having a cutting-edge tool for handling the management and error-free support is need of the time. The features are enriched, tailor-made, user friendly, and flexible. Travel specialists like tour operators, travel agents and destination management companies have recognized the need for Galileo Travel Software as it enables them to respond to the customer's requisites effectively. The software is integrated with an online booking technology that delivers end-to-end solutions for the back office, contacts, travel reservations, and hotel reservations. It has highly advanced tools that support the travel agency in understanding the needs of its customers better. They will give you an insight into contriving and conceptualizing promotional campaigns according to your requirements. They provide you with developed and up to date technology which helps you battle the travel industries ever-evolving demands. It uses state of the art procedures to elevate the volume of incoming clientele. It also expands the growth based on improvement and quality delivery. This will boost your travel sales volume. The third-party flight search api integration will seamlessly streamline your schedules. It is easy to update and incorporate newer modules. You can also keep on adding better products and services according to the market after analyzing the flight reports. It masters in effectively controlling the airline-specific content. The content will be customized based on your and your customer's needs. There are multiple disposal points for sale ranging from B2B to B2C. You can host many products looking at the inventory. The content is user friendly and can be added, amended, and updated anytime. The documentation of your travelling business tasks is easy whether we talk about receipts, itineraries, vouchers, or purchase orders. And this all is done in an organized manner. The users can ever save, access, mail, and print the content.
Our Comprehensive List of Services
adivaha® is a one-stop-shop for all your travel website needs. We offer a multitude of services that empower you to become a market leader. Contact us for more info.
Have Questions?
The Internet is a huge resource, but
if your question requires particular expertise.
Keep Refreshing your customers - Who doesn't want his site to stand out from crowd? adivaha® gives you multiple options for home pages, headers, colors etc. Which can easily be managed from admin via shortcodes and settings. The theme supports almost all the big players in this market ie, WEGO, Travelpayouts, Agoda, Booking, Expedia etc.
Frequently Asked Questions
Below are some of the questions asked by visitors. Do visit our adivaha® Digest for more such questions. Don't hesitate to ask us if you have any questions
What all GDS and Providers are connected in the platform?

27

views

1

answers

0

votes