Build your own Travel Brand!
Ready to go-LIVE travel solutions that helps your travel agency to sell a range of travel services pretty instantly. adivaha® travel solutions make sure you have no boundation over your imagination, you can do everything online, without the need for any technical knowledge or design skills. Easy Backoffice, extensive reporting with integrated Funds Management System. Upload funds easily and instantly through Netbanking, Debit Card, Credit Card. The best part is, we do offer customizations in case you believe it will boost your business!
How to Set Up a Hotel Booking Engine in WordPress
Having a booking engine on your WordPress website allows you to accept direct bookings from guests without relying solely on third-party booking platforms or travel agencies. Direct bookings eliminate commission fees and give you more control over the booking process and guest relationships. A hotel booking engine in Wordpress takes control of your online bookings, provides a seamless booking experience for guests, maximizes revenue, and establishes a stronger online presence for your hotel business.
Choose a WordPress Booking Plugin
Look for a reliable booking plugin that suits your hotel's needs. Some popular options include "WP Hotel Booking," "Booking Calendar," "HBook," and "Checkfront." Research and compare different plugins to find the one that offers the features you require. They are built to work within the WordPress ecosystem, ensuring compatibility, stability, and ease of use. Without the need for extensive coding or development, you can add the booking functionality directly to your existing WordPress site with the help of a plugin. WordPress booking plugins often come with a wide range of features to handle various aspects of the booking process. These features may include availability calendars, booking management systems, payment gateway integration, email notifications, guest reviews, and more. You can efficiently manage bookings, streamline operations, and provide a smooth booking experience for your guests. A WordPress booking plugin can accommodate the growth of your hotel business. As your property expands, you can easily add more rooms, modify pricing structures, and adjust booking rules within the plugin. This scalability allows you to handle increased booking volumes and manage your hotel's availability effectively. Many WordPress booking plugins have active user communities and support resources available. You can find documentation, tutorials, and forums where you can seek assistance, ask questions, and share knowledge with other users. The community and support channels can be valuable in troubleshooting issues, learning new techniques, and staying updated on the latest plugin updates and features. WordPress booking plugins often offer integrations with other popular tools and services. These integrations can include payment gateways, email marketing platforms, property management systems (PMS), channel managers, and more. Integrating with other tools simplifies your workflow, automates processes, and enhances efficiency. Compared to developing a custom booking system from scratch, using a WordPress booking plugin is a cost-effective solution. Plugins typically offer a range of pricing options, including free versions with basic features and premium versions with advanced functionality. You can choose a plugin that fits your budget and upgrade as your hotel's needs grow.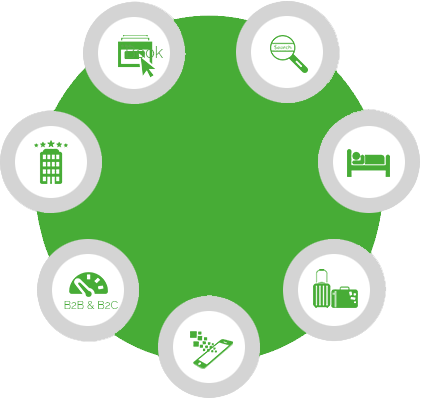 Easily Set Up a Hotel Booking Engine Plugin
Install and Activate the Plugin
Once you've chosen a booking plugin, install and activate it on your WordPress website. You can do this by navigating to the WordPress dashboard, selecting "Plugins" from the menu, clicking on "Add New," and then searching for the plugin by name. Once found, click "Install" and then "Activate." Installing and activating a plugin in WordPress is necessary to extend the functionality of your website and add new features. Plugins allow you to add specific features and functionality to your WordPress website that may not be available by default. Whether you need a contact form, SEO optimization, social media integration, or e-commerce capabilities, plugins provide a way to expand your website's capabilities and meet your specific needs. Plugins offer a wide range of customization options, allowing you to tailor your website to match your branding and design preferences. You can customize the appearance, layout, and behavior of various elements on your website, including headers, footers, sidebars, widgets, and more. Plugins give you the flexibility to create a unique and personalized website. Plugins can save you time and money by providing pre-built solutions to common website needs. Instead of developing custom functionality from scratch, you can leverage the work of plugin developers who have already created and tested the features you require. This allows you to focus on other aspects of your website or business. Plugins are designed to integrate seamlessly with WordPress, making it easy to add new features without extensive technical knowledge or coding skills. The installation and activation process is straightforward, and most plugins offer user-friendly interfaces for configuring settings and managing options. You can quickly integrate plugins into your existing website structure. Reputable plugins are regularly updated by their developers to ensure compatibility with the latest version of WordPress and to address security vulnerabilities or bugs. By installing and activating plugins, you can benefit from these updates and improvements. Additionally, many plugins provide support channels, such as documentation, forums, or customer service, to assist you with any questions or issues that may arise. The WordPress plugin ecosystem is vibrant, with a large community of developers and users. By installing and activating plugins, you become part of this community, enabling you to share knowledge, learn from others, and contribute to the growth and improvement of WordPress. You can benefit from the collective wisdom and resources available within the community.
Customization and Branding
Setting up a hotel booking engine in WordPress enables you to customize the booking process to align with your hotel's branding and WordPress website design. You can create a seamless experience for your guests by incorporating your logo, colors, and other visual elements, reinforcing your brand identity and enhancing guest trust and recognition. Plugins provide tools and options to modify the visual appearance of your website. You can customize colors, fonts, layouts, and other design elements to align with your brand identity. Whether it's adjusting the header, footer, or overall styling, plugins offer flexibility in visually customizing your website without the need for extensive coding. WordPress themes control the overall design and layout of your website. Plugins can complement your chosen theme by offering additional customization options specific to certain elements or sections of your website. For example, you might use a plugin to customize the appearance of your blog post layout, create unique page templates, or add custom widgets to your sidebars. Plugins allow you to incorporate branding elements seamlessly into your website. You can add your logo, tagline, or other brand-specific graphics to your website's header, footer, or other prominent sections. Plugins may also provide options to customize the favicon (site icon), which is the small icon that appears in the browser tab, reinforcing your brand identity across the user experience. Plugins can offer specialized content presentation options that align with your brand's style and goals. For instance, you might use a plugin to create interactive image galleries, sliders, or carousels to showcase your products or portfolio. Other plugins enable you to present content in grids, masonry layouts, or interactive maps, adding visual appeal and uniqueness to your booking website wordpress. If you use landing pages to promote specific products, services, or campaigns, plugins can provide dedicated tools for designing and customizing landing pages. These plugins often offer drag-and-drop builders, pre-designed templates, and customization options to create landing pages that reflect your brand and meet your conversion goals. If your brand operates in multiple languages or caters to an international audience, plugins can assist in localization and multilingual support. There are translation plugins available that help you create multilingual content and provide language switchers, ensuring your brand message reaches a wider audience effectively.
Integrate the Booking Engine
Depending on the plugin, you may need to create dedicated pages for your booking engine, such as a room listing page, booking form page, or booking confirmation page. Some plugins may provide shortcodes that you can use to embed the booking form on any page or post of your choice. Refer to the plugin's documentation to understand how to integrate the booking engine into your website effectively. Select a booking engine or online reservation system that suits your property's needs. Look for a solution that integrates well with WordPress and offers the features you require, such as room availability management, pricing options, and online payment processing. Popular booking engine options include Booking.com, Expedia, or specialized hotel booking systems like Sirvoy or HotelRunner. Sign up for an account with your chosen booking engine and follow their setup instructions. Configure the booking engine with your property's information, including room types, rates, availability, policies, and any additional details required for bookings. Most booking engines provide an integration code or widget that you need to insert into your WordPress website. This code is usually provided in the form of a snippet or script that you can copy from the booking engine's dashboard. Depending on your booking engine and its compatibility with WordPress, you may need to install and activate a specific booking plugin to facilitate the integration. Some booking engines offer their own WordPress plugins for seamless integration. If required, follow the instructions provided by the plugin developer to install and activate it. Save the changes in your WordPress editor and preview the page to ensure the booking engine appears as expected. Once you're satisfied, publish the page to make it live on your website. Test the online booking engine by making a test reservation or simulation to ensure that the integration is working correctly. Go through the booking process as a guest would, selecting dates, and rooms, and filling in the necessary details. Verify that the booking engine accurately reflects room availability, pricing, and any specific rules or restrictions you have set up.
Test and Launch
Before making your hotel booking engine live, thoroughly test the booking process to ensure it functions as intended. Make test bookings, verify that emails are being sent correctly, and check if the payment gateway is working correctly (if applicable). Once you're satisfied with the testing, you can launch your hotel booking engine on your live website. Testing allows you to identify any technical or functional issues with the travel booking engine before it goes live. It gives you an opportunity to catch and fix any bugs, errors, or issues that may affect the booking process, such as incorrect room availability, pricing errors, or broken payment integrations. By thoroughly testing, you can ensure a smooth and error-free experience for your guests. Testing helps you assess the user experience of the booking engine. It allows you to evaluate the ease of use, intuitiveness, and overall flow of the booking process from the guest's perspective. By testing different scenarios and user interactions, you can identify any usability issues, confusing steps, or bottlenecks that may hinder guests from completing their bookings. Addressing these issues ensures a positive and seamless experience for your guests. Testing the payment integration of your booking engine is crucial to ensure that payments are processed securely and accurately. It allows you to verify that sensitive payment information is handled securely and that the payment gateway is functioning correctly. Testing also helps you ensure that guest data is captured and stored securely, adhering to privacy regulations and protecting guest confidentiality. Launching a well-tested booking engine enhances guest satisfaction and increases the likelihood of successful bookings. By addressing any issues or improvements identified during testing, you provide a seamless and user-friendly booking experience, improving guest satisfaction. A smooth booking process also increases the chances of conversion, leading to more direct bookings and revenue for your property. A well-tested and properly functioning booking engine reflects positively on your property's reputation and builds trust with potential guests. By ensuring that the booking engine works flawlessly, handles payments securely, and provides accurate information, you establish credibility and reliability. This encourages guests to trust your property and make direct bookings on your website. Testing is not a one-time activity. Launching the booking engine is just the beginning. By continuously monitoring and gathering feedback from guests, you can identify areas for improvement and make necessary updates to enhance the booking process. Regularly reviewing and optimizing the top white label travel booking engine based on user feedback ensures that it remains efficient, user-friendly, and aligned with your guests' needs.
Our Comprehensive List of Services
adivaha® is a one-stop-shop for all your travel website needs. We offer a multitude of services that empower you to become a market leader. Contact us for more info.
Have Questions?
The Internet is a huge resource, but
if your question requires particular expertise.
Keep Refreshing your customers - Who doesn't want his site to stand out from crowd? adivaha® gives you multiple options for home pages, headers, colors etc. Which can easily be managed from admin via shortcodes and settings. The theme supports almost all the big players in this market ie, WEGO, Travelpayouts, Agoda, Booking, Expedia etc.
Frequently Asked Questions
Below are some of the questions asked by visitors. Do visit our adivaha® Digest for more such questions. Don't hesitate to ask us if you have any questions
I am setting up this plugin for my client's website, I tried registering and received the account activation email, but …

21

views

1

answers

0

votes