Build your own Travel Brand!
Ready to go-LIVE travel solutions that helps your travel agency to sell a range of travel services pretty instantly. adivaha® travel solutions make sure you have no boundation over your imagination, you can do everything online, without the need for any technical knowledge or design skills. Easy Backoffice, extensive reporting with integrated Funds Management System. Upload funds easily and instantly through Netbanking, Debit Card, Credit Card. The best part is, we do offer customizations in case you believe it will boost your business!
The Benefits of Integrating Hotel APIs into Your Business
If you are thinking of boosting your business with valuable insights or generating a business model from scratch, our Hotel API will help you in achieving your goals. You can get quick access to test environment enabling you to start shooting the APIs instantly. Our hotel API is a powerful one-way solution to search and book hotel content and services through a single platform.
Our hotel APIs consolidates hotel content from global hotel suppliers, consolidators, hotel chains and independent hotels. Our API provides detailed descriptions including room types, images, facilities. Our XML API displays distinct types of hotels with minimum prices from multiple API suppliers and wholesalers. Our hotel API interface enables online travel agencies, travel management companies and Corporate companies to search, book and manage relevant hotel content. The structure of the API and our technical API documentation have been built to ensure ease of integration for our valued clients. We provide our clients with the finished product within 7-12 days at an average.
The users can directly search for best hotels around the world after our hotel XML API integration. Our advanced API interface always provides a strong platform for travel distribution. We provide state-of-the-art technologies that assist travellers to find the right hotels for their next trip. The commission-based model that we use is the most preferred sales model in the hotel industry and guarantees long-term, mutually profitable business relationship with the hotels. Our API offers a simple way to manage every booking, payment, commission management and Payment Management. Hotel API enables to define search parameters among many others, resulting in valuable time-savings. Furthermore, our hotel API shows thousands of hotel properties from multiple suppliers. Our API enables a list of all the hotels in a particular that can be bifurcated using filters including country, region, area with some information about each property. We offer full location data support for the unique requirements for web and mobile applications, combined with a fast response and light-speed data through our API.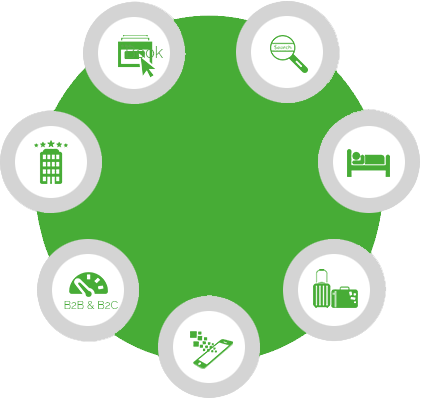 Integrating Hotel APIs into Your Business
Hotel Booking API
The booking engine is customized as per the client's requirements. We'll accommodate our system to fit your company brand and provide you with all the support needed to integrate your website with our up to date APIs. We are adamant to create a new dimension of service concept. We always strive to stay at the technological forefront at all times by offering contemporary solutions for the travel industry. We prefer designing, building and integrating APIs through our passionate and experienced in-house team consisting of travel website designers, project managers and developers who are skilled working with a range of various projects. We will guide you to achieve your goals no matter what your goals are i.e. if you are a start-up or a well-established travel agent, we will provide you with solutions that suit your business model. Our unique hotel API provides details concept including the type of room with images, book/cancel rooms, analytical reports of bookings and cancellations.
We offer easy to use, user-friendly hotel API interface for the global travel agency industry. Our user-friendly hotel API interface reduces a long list of results - that are often a challenge to navigate, to a more manageable list of the exact options. We provide seamless integration enabling our Hotel API to communicate directly with an agency's internet booking engine. We offer the most competitive and relevant prices by comparing offers from multiple vendors. We offer unique functionality through our hotel API to manage line by line reconciliation of every booking, payment and full commission management. Our hotel API supports standard payments and also provides a fully hosted virtual card solution. Our hotel API interface enables a display of a single hotel result with multiple rates, from multiple suppliers so you can select the best available rates in a real-time environment. Through our unique hotel API, we generate a list of all the hotels in a particular area by a set of coordinates or city and displays them on a map with additional information about each property. Our hotel API fully reflects the scope of hotel offers, allows selection and booking of special room features, special fares, bed type, breakfast, meals and many more. In addition to this, our Hotel gds api integration provides resizable pictures and images of the hotel properties straight from the source making the selection simple and easy therefore enabling you to provide your customers with the most conversant choices that ultimately will result in higher sales revenues.
Hotel API
We offer full location data support for the unique requirements of mobile applications, combined with a fast and light feed that returns only the data relevant for the end-user. With direct connections from the browser, our hotel API technology is an ideal place for all platforms and solutions, including mobile services and widgets. While selecting a hotel, all the information our clients need should be available in real-time at their fingertips. It helps to enable travel and tourism industry to grow their business by providing feasible and effective hotel api integration guide solution. Our hotel API integration has been planned to cover all real-time requirements of small-medium travel agents and guests, once it is integrated into your website, it will allow your clients and your travel business access to a great variety of services with a blink of their eyes.
Hotel gds api integration is a web service measuring the online functionality of searching and booking hotels. This web facility will make the domain of one's online booking site extensive. It gives all the consumers a wide range of opportunity, providing them with more options to choose their ideal hotel in a particular city or area. Thus, it increases your business beyond the boundary. We have a vast accommodation option available and user-friendly booking interface. Our hotel API will automatically draw attention to people to your website, thriving your customer base effortlessly and authorize you to focus on promoting new business through other avenues. People think of arranging a holiday as a complicated task, so it's our primary goal to make the process as simple as possible. By providing your consumers with a single platform that will enable them to search and book a large number of hotels, you will be making their lives simpler, your gds integration services will exceed their expectations.
Booking hotels will become much easier with real time-saving and quick process, due to a user-friendly interface and instant confirmation. As our Hotel APIs has all the details and information in one place, you do not need to enter data physically on different occasions. Cost savings will be obvious in many areas. We offer ease to the user in choosing from different business modules. We allow all-time presence and instant free flight booking api approval. We have an easy reservation system. The user will always get reliable and valid information. We have excellent assistance in the merger for our valuable clients. The user is conversant with real-time prices all the time. We facilitate the reduction in production expense and independence to market. Our hotel API does not depend on language factor and request structure. We allow tailored travel reservation requests development and timely revisions. We help in increasing production through tailored solutions and provide product solutions that can be enhanced regularly. We have a complete REST API format, coupled with JSON or XML responses. The user can explore the live expenses supplies. Our hotel API offers a large range of hotel options in all areas apart from this, it allows browsing through different suppliers' content. Our API provide unbeatable offers becomes easy with its implementation. We properly understand this better API is the valuable source of information which makes it possible for us to arrange as per customer interest. Our API collects hotel data from different hotel service providers and turns that into single information. Our hotel reservation system is getting much better with a chain of notable hotels. By totalling this travel and tourism sabre gds api using your software application, anyone can come up with amazing travel solutions to their prospective clients. Being one of the reliable and trusted API providers universally excels in Hotel API Integration.
Through our Hotel XML API which is an online service, we offer browsing and hotel reservation features. This further provides more options to the users. Hence it changes the entire picture of your business along with complete business execution under the brand, you can gather payment easily through the payment gateway integration. Our hotel API offers all-time integrations to clients and allows instant reservation approvals. We provide complete adaptability along with fully automated invoicing deliveries. We have connectedness with almost all major service providers. Our API empowers you with outstanding services that allow powerful backend support. It will save your money by avoiding the need for investment for commencing hotel booking api. Our hotel Reservation API enriched current websites with outstanding value. Regular dealings are what determines the effective capital. There is no such clause to keep minimum securities and amount.
Ota Integration with our hotel API will provide you with instant access to all the hotel suppliers we've partnered with enabling you to spend anything on the system or content development at any point. Our booking portal and hotel booking API is a full-fledged tool that allows taking direct booking through your booking portal 24/7 days. We offer Hotel Booking Portal with API products and services by creating various hotel portal application. We offer diverse travel portal solutions for b2b travel agencies across the Globe. Hotel Booking Engine is a feature-packed tool enabling you to take direct appointments through your website at any time. We have created a Hotel Booking Portal and incorporated with multiple hotel suppliers. Our hotel reservation software is incorporated with suppliers XML.
Our hotel booking API integrates hotel affiliate API network which includes many travel-related services such as flights, hotels, transfers, etc. for bookings. Our hotel booking api free india provides a solution adding hotel search and hotel room booking information into one application. The users can easily get all the information they require for planning a business or leisure tour. We offer the maximum number of hotels and accommodations of all categories and budgets through our hotel booking API. We are delivering all the bookings with the help of a single API hence, it reveals all the complication in booking and quick access to the systems. Easy cancellation of bookings through the online portal. Our hotel booking API integration is fully controlled over the booking processes and transactions. API plays an intermediary between the travel suppliers and the clients through integration. Our API will allow you to customize the solutions for a convenient and engaging Hotel Booking Engine.
hotels and holiday packages across India. Hotel site will work with online hotel reservation application with API transform the visits into bookings and generating higher revenues per booking. It will help the hotel to save time by decreasing the emails & phone calls for the management and the confirmation of their reservations. We offer a hotel booking application with API integration by developing various sorts of portals which nowadays are considering as the hotel availability api portal application. Our hotel booking application is holding strong potential online users and improve their business interactions, minimize their costs and thus get critical competitive advantages which can be obtained by using such kind of hotel portal.
A hotel room will be reserved from wherever you are and we will immediately send you the update when you call our API. Hotels use our PMS system to control their property and manage their inventory data by calling our API. We always analyze our proper audience and develop user experiences suited to websites audience. We are fully integrated into the travel ecosystem. The API integrates live with the hotel's inventory system. We will help you get more reservation and decrease stuck cases. We have great pride in saying that, we strive to maintain outstanding relationships with our clients with impeccable services of hotel api provider
Our Comprehensive List of Services
adivaha® is a one-stop-shop for all your travel website needs. We offer a multitude of services that empower you to become a market leader. Contact us for more info.
Have Questions?
The Internet is a huge resource, but
if your question requires particular expertise.
Keep Refreshing your customers - Who doesn't want his site to stand out from crowd? adivaha® gives you multiple options for home pages, headers, colors etc. Which can easily be managed from admin via shortcodes and settings. The theme supports almost all the big players in this market ie, WEGO, Travelpayouts, Agoda, Booking, Expedia etc.
Frequently Asked Questions
Below are some of the questions asked by visitors. Do visit our adivaha® Digest for more such questions. Don't hesitate to ask us if you have any questions
I am setting up this plugin for my client's website, I tried registering and received the account activation email, but …

9

views

0

answers

0

votes