Build your own Travel Brand!
Ready to go-LIVE travel solutions that helps your travel agency to sell a range of travel services pretty instantly. adivaha® travel solutions make sure you have no boundation over your imagination, you can do everything online, without the need for any technical knowledge or design skills. Easy Backoffice, extensive reporting with integrated Funds Management System. Upload funds easily and instantly through Netbanking, Debit Card, Credit Card. The best part is, we do offer customizations in case you believe it will boost your business!
Professional Hotel Listing Websites with This WordPress Plugin
Utilizing this WordPress plugin, you can create professional hotel listing websites that effectively showcase your accommodations, provide a seamless booking experience, and drive more bookings. The customizable design options, advanced search capabilities, online booking and reservation management, mobile-friendly design, payment gateway integration, and SEO-friendly features make this plugin a valuable tool for building a successful hotel listing website.
Customizable Design
To personalize the appearance of your hotel listing website the customizable design feature of this WordPress booking plugin allows you to do so. You have the flexibility to choose from various design options and customize them according to your preferences and branding. The plugin provides a collection of pre-designed templates as a starting point for your website design. These templates offer different layouts, and color schemes, and suit various hotel themes and aesthetics. You can choose by browsing and selecting the one which best along with your vision. Once you choose a template, you can customize the layout of your website. It allows you to select the color palette for your white label travel website. You can choose colors that complement your branding by creating a specific ambiance for your hotel. You can seamlessly integrate your hotel's logo and branding elements into the website design areas. Live editing capabilities make the customization process more efficient and user-friendly. By utilizing the customizable design feature, you can create a hotel listing website that is visually appealing, aligns with your branding, and provides a unique and engaging user experience.
Advanced Search and Filtering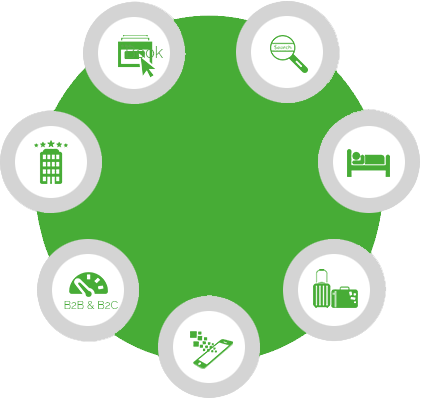 Hotel Listing Websites with This WordPress Plugin
This plugin enables visitors to find the most suitable accommodations based on their preferences by offering advanced search and filtering capabilities. To meet their need and find the perfect hotel, users can quickly search by location, dates, room types, and other criteria. The hotel plugin enables users to search for hotels based on their desired location. Visitors can input a city, region, or specific address to find hotels in the desired area. This feature is particularly helpful for travelers who have a specific destination in mind or want to explore accommodations in a particular neighborhood. Users can specify their desired check-in and check-out dates to search for available accommodations during their travel period. The plugin checks the availability calendars of the listed hotels and displays the options that match the specified dates. Users can set a price range to filter search results based on their budget. They can specify a minimum and maximum price, and the plugin displays hotels within that range. If the wordpress hotel booking plugin incorporates review and rating functionalities, users can filter search results based on guest ratings or reviews. This feature allows visitors to prioritize accommodations that have received positive feedback from previous guests, giving them confidence in their booking decision. As users input their search criteria, the plugin typically provides instant search results, updating the displayed options dynamically. This interactive experience enables visitors to see the available accommodations that match their preferences in real time, making the search process more efficient and user-friendly.
Online Booking and Reservation Management
The plugin facilitates seamless online booking and reservation management. It enables guests to check availability, view real-time pricing, and complete their bookings directly on your white label site. You can manage and track reservations, set booking rules, and customize confirmation emails to ensure smooth operations and enhance the guest booking experience. The plugin allows guests to check the availability of rooms or accommodations in real time. The availability calendar is synced with your inventory, ensuring that guests only see options that are actually open for booking. This eliminates the need for manual availability checks and reduces the chances of double bookings. A user-friendly booking form is integrated into your website, allowing guests to input their check-in and check-out dates, the number of guests, and any other required information. The form may also include optional fields for additional preferences or special requests. By capturing all necessary details upfront, you can ensure a smooth booking process. The plugin displays accurate pricing information for each booking, including room rates, taxes, and any additional charges or fees. Guests can view the total cost before proceeding with the reservation. The wordpress reservation plugin also supports multiple payment options, such as credit card payments or integration with popular payment gateways. This enables guests to make secure online payments, providing a hassle-free experience. The plugin may also provide a dashboard or interface where you can view and manage all reservations. This centralized system helps you stay organized and enables effective communication with guests. The plugin typically allows guests to modify their reservations, such as changing dates or updating guest details, as long as it falls within your specified policies.
Reviews and Ratings
The plugin integrates review and rating functionalities, allowing guests to leave feedback and ratings after their stay. These reviews can be displayed on your website, providing social proof and influencing potential guests' decisions. The ability to showcase positive reviews and respond to guest feedback demonstrates your commitment to guest satisfaction and helps build trust with prospective customers. After guests have completed their stay, they have the opportunity to provide feedback on their experience. The plugin typically includes a review form where guests can share their thoughts, opinions, and suggestions. This feedback can encompass various aspects, such as the quality of service, cleanliness, amenities, staff friendliness, and overall satisfaction. Alongside the review form, the plugin incorporates a rating wordpress booking system that allows guests to assign a numerical rating or star rating to different aspects of their stay. This provides a concise and visual representation of their overall experience. Common rating categories include cleanliness, comfort, location, facilities, and value for money. The plugin allows you to display guest reviews and ratings on your hotel listing website. You can choose to showcase reviews for each individual property or display an overall rating for your hotel as a whole. The reviews are typically presented in a visually appealing format, with options for sorting and filtering based on criteria like date, rating, or relevance.
Integration with Payment Gateways
The plugin integrates with popular payment gateways, allowing guests to make secure online payments for their bookings. This seamless integration streamlines the payment process and ensures a smooth and secure transaction for both you and your guests. The plugin supports integration with popular payment gateways, such as PayPal, Stripe, Authorize.Net, or other third-party payment processors. These gateways provide a secure infrastructure for processing online payments and offer various payment options, including credit cards, debit cards, and sometimes alternative methods like digital wallets or bank transfers. When a guest proceeds to make a payment, the wordpress booking plugin with payment securely transfers the payment information to the selected payment gateway. The payment gateway then processes the transaction, encrypting sensitive data and adhering to industry-standard security protocols to protect the customer's financial information. This ensures that guests' payment details are handled safely and securely. If your hotel operates in multiple countries or attracts international guests, the plugin may offer support for multiple currencies. This allows guests to view prices and make payments in their preferred currency, simplifying the booking process and reducing potential currency conversion issues. The integration with payment gateways ensures a seamless and user-friendly checkout experience for guests. Once guests have entered their booking details and reviewed the total cost, they can proceed to the payment page directly on your wordpress travel website.
Our Comprehensive List of Services
adivaha® is a one-stop-shop for all your travel website needs. We offer a multitude of services that empower you to become a market leader. Contact us for more info.
Have Questions?
The Internet is a huge resource, but
if your question requires particular expertise.
Keep Refreshing your customers - Who doesn't want his site to stand out from crowd? adivaha® gives you multiple options for home pages, headers, colors etc. Which can easily be managed from admin via shortcodes and settings. The theme supports almost all the big players in this market ie, WEGO, Travelpayouts, Agoda, Booking, Expedia etc.
Frequently Asked Questions
Below are some of the questions asked by visitors. Do visit our adivaha® Digest for more such questions. Don't hesitate to ask us if you have any questions
What all GDS and Providers are connected in the platform?

27

views

1

answers

0

votes