Build your own Travel Brand!
Ready to go-LIVE travel solutions that helps your travel agency to sell a range of travel services pretty instantly. adivaha® travel solutions make sure you have no boundation over your imagination, you can do everything online, without the need for any technical knowledge or design skills. Easy Backoffice, extensive reporting with integrated Funds Management System. Upload funds easily and instantly through Netbanking, Debit Card, Credit Card. The best part is, we do offer customizations in case you believe it will boost your business!
Amazing Hotel Reservation System With WordPress Plugins
WordPress plugins help to create an amazing hotel reservation system that offers a flexible, and cost-effective solution which streamline your hotel management processes by improving the booking experience for your guests.
Ease of Use
WordPress is known for its user-friendly interface, making it easy for hotel owners and administrators to manage their reservation system without technical expertise. Plugins often provide intuitive dashboards and settings, simplifying the process of configuring and maintaining the system. Not everyone who manages a hotel or its online presence has extensive technical expertise. WordPress plugins cater to a wide range of users, including those without programming knowledge. Hotel owners can easily set up and operate the reservation system without relying on technical assistance with a user-friendly interface and intuitive design. With user-friendly WordPress plugins, the setup and configuration process becomes much more efficient. The plugins typically offer clear instructions and step-by-step guides, making it easy to install, activate, and customize the reservation system. This saves time and effort for hotel owners and staff, allowing them to focus on other important aspects of managing the business. WordPress plugins for hotel reservation system often provide user-friendly dashboards and interfaces. These interfaces are designed to be easily navigable and offer straightforward controls for managing room availability, rates, bookings, and other essential aspects of the reservation system. Hotel staff can quickly learn how to use these interfaces, reducing the learning curve and minimizing errors in managing bookings and reservations. An easy-to-use reservation system contributes to a seamless user experience for your guests. Visitors to your website can effortlessly browse room options, check availability, and make bookings without encountering confusing or complicated interfaces. A smooth and intuitive booking process enhances customer satisfaction and encourages repeat business. WordPress plugins benefit from a large and supportive community. Plugin developers often provide comprehensive documentation, tutorials, and support resources to assist users in understanding and utilizing the plugins effectively. This accessibility to support and resources ensures that hotel owners and staff can find solutions to their queries or issues quickly and easily.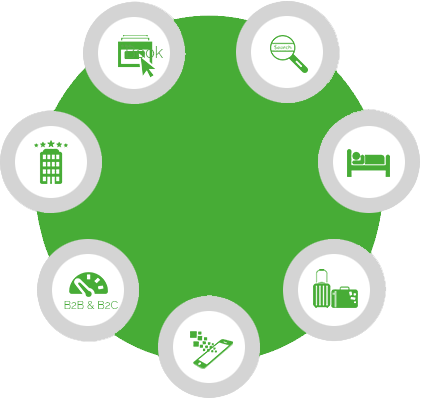 WordPress Plugins For Your Hotel Reservation System
Customization Options
WordPress plugins offer a wide range of customization options to tailor your reservation system to your hotel's specific needs. You can choose from different themes, layouts, and functionalities to create a unique and visually appealing booking experience for your guests. With WordPress plugins, you can customize the look and feel of your reservation system to align with your hotel's branding and design. You can choose from various themes, layouts, and color schemes to create a visually appealing and consistent booking experience that reflects your hotel's unique identity. Plugins provide flexibility in setting up booking rules and policies. You can define minimum and maximum stay durations, check-in/check-out times, cancellation policies, and special requirements. Customizing these rules ensures that the hotel reservation software aligns with your hotel's operational procedures and enhances the overall guest experience. Plugins enable you to create and define different room types with their respective amenities and features. You can showcase detailed room descriptions, images, and virtual tours to help guests make informed decisions. Customizing room types and amenities allow you to highlight the uniqueness and offerings of each accommodation option. WordPress plugins provide options to customize pricing structures for different seasons, weekdays, or special events. You can set up promotional discounts, package deals, or loyalty rewards to attract more bookings. Customized pricing and discount strategies help you maximize revenue and optimize occupancy rates. Plugins seamlessly integrate with various payment gateways, allowing you to offer multiple payment options to your guests. You can customize the payment process by selecting preferred payment gateways and configuring currency options. This flexibility ensures a smooth and secure payment experience for your guests. Many plugins offer additional features and functionalities that can be customized according to your specific requirements. These may include multi-language support, customer reviews, social media integration, email notifications, and reporting capabilities. Customizing these features helps you tailor the reservation system to your hotel's unique needs and enhances overall operational efficiency.
Integration Capabilities
WordPress plugins can seamlessly integrate with other third-party services and tools. This allows you to connect your reservation system with payment gateways, email marketing services, property management systems, and more. Integration streamlines operations and enhances the overall efficiency of your hotel management. WordPress plugins for hotel reservation systems integrate with popular payment gateways, allowing you to accept online payments from guests. Whether it's PayPal, Stripe, or other payment processors, integrating with these services ensures a secure and convenient payment process for your guests. You can customize the payment options and configure settings to meet your specific requirements. Integration with property management systems allows for seamless synchronization of data between your reservation system and PMS. This integration ensures that room availability, rates, and guest information are automatically updated in real time, eliminating the need for manual data entry and reducing the risk of double bookings. Integrating your reservation system with channel managers enables you to distribute your room inventory across multiple online travel agencies (OTAs) and hotel booking platform. This integration automates the process of updating availability and rates across different channels, saving time and minimizing the risk of overbooking or discrepancies in the information. Integration with email marketing services allows you to capture guest information during the reservation process and automatically add them to your email marketing campaigns. This integration enables you to send personalized emails, promotional offers, and post-stay follow-ups, enhancing guest engagement and driving repeat bookings. Integrating your reservation system with analytics tools such as Google Analytics provides valuable insights into your website's performance, conversion rates, and booking trends. These analytics help you make data-driven decisions, optimize your marketing efforts, and identify areas for improvement.
Extensibility
The WordPress ecosystem offers a vast selection of plugins, allowing you to expand the functionality of your hotel reservation system as your business grows. You can add features like room availability calendars, online payment options, booking notifications, and more, making your system more comprehensive and convenient for both guests and staff. As your hotel business grows and evolves, your reservation system needs to accommodate new requirements and features. WordPress plugins provide a scalable solution by allowing you to easily extend and enhance your reservation system. You can add new functionalities, such as advanced booking rules, room inventory management, multi-language support, or custom reporting, to meet the changing needs of your hotel. WordPress has a vast ecosystem of plugins available, covering a wide range of functionalities and integrations. This extensive library of plugins gives you the flexibility to choose and install additional plugins that seamlessly integrate with your existing reservation system. Whether it's adding a new payment gateway, integrating with a CRM system, or incorporating social media sharing, the extensibility of WordPress plugins allows you to adapt your reservation system to suit your specific requirements. In some cases, you may require specific features or functionalities that are not readily available in existing plugins. WordPress provides the flexibility for custom development, allowing you to create custom plugins or extend existing ones to cater to your unique needs. This extensibility empowers you to have a reservation system that is fully tailored to your hotel's operations and requirements. The extensibility of WordPress plugins ensures that your reservation system remains future-proof. As new technologies and trends emerge, you can easily adapt your system by integrating new plugins or updating existing ones. This flexibility allows you to stay ahead of the curve and provide a modern and competitive booking experience for your guests.
Cost-Effectiveness
Using WordPress plugins for your online hotel reservation system can be cost-effective compared to building a custom system from scratch. Many plugins offer free versions with basic features, and premium versions are often available at affordable prices, providing a cost-effective solution for small to medium-sized hotels. WordPress offers a wide range of plugins for various functionalities, including hotel reservation systems. Many of these plugins have free versions with basic features, allowing you to get started without incurring any additional costs. If you require more advanced features or premium support, there are often affordable premium versions available that offer additional functionality and dedicated assistance. Building a custom reservation system from scratch can be expensive, requiring the expertise of developers and designers. By using WordPress plugins, you can leverage pre-built solutions that are cost-effective compared to custom development. The plugins provide a solid foundation for your reservation system, eliminating the need to invest significant resources in coding and design. Developing a reservation system from scratch can be time-consuming. WordPress plugins provide ready-to-use solutions that significantly reduce the development time. You can quickly install and configure the plugins, customize them to your needs, and have a functional reservation system up and running in a fraction of the time it would take to build from scratch. WordPress plugins often come with regular updates and maintenance support from the plugin developers. These updates ensure compatibility with the latest versions of WordPress and provide bug fixes and security enhancements. By using plugins, you can rely on the developers to handle ongoing maintenance, reducing the need for dedicated technical staff or external support, which can be costly. As your hotel business grows and your reservation system needs to accommodate more bookings, WordPress plugins offer the scalability you need without incurring additional costs. You can easily upgrade to premium versions of the plugins or add new plugins to expand the functionality of your reservation system as your business requirements evolve. The WordPress community is vast and supportive. If you encounter any issues or have questions about using the plugins, you can find assistance through forums, documentation, and tutorials. This community support eliminates the need for costly consulting or troubleshooting services.
Our Comprehensive List of Services
adivaha® is a one-stop-shop for all your travel website needs. We offer a multitude of services that empower you to become a market leader. Contact us for more info.
Have Questions?
The Internet is a huge resource, but
if your question requires particular expertise.
Keep Refreshing your customers - Who doesn't want his site to stand out from crowd? adivaha® gives you multiple options for home pages, headers, colors etc. Which can easily be managed from admin via shortcodes and settings. The theme supports almost all the big players in this market ie, WEGO, Travelpayouts, Agoda, Booking, Expedia etc.
Frequently Asked Questions
Below are some of the questions asked by visitors. Do visit our adivaha® Digest for more such questions. Don't hesitate to ask us if you have any questions