Build your own Travel Brand!
Ready to go-LIVE travel solutions that helps your travel agency to sell a range of travel services pretty instantly. adivaha® travel solutions make sure you have no boundation over your imagination, you can do everything online, without the need for any technical knowledge or design skills. Easy Backoffice, extensive reporting with integrated Funds Management System. Upload funds easily and instantly through Netbanking, Debit Card, Credit Card. The best part is, we do offer customizations in case you believe it will boost your business!
Stunning Designs with The HotelsCombined WordPress Theme
To ensure that your site will have a professional and polished look the Hotel Combined theme is mainly designed for the hotel website. It provides attractive templates and layouts that are tailored to showcase your hotel's features and create a visually appealing design. Choosing the HotelsCombined b2b WordPress themes for stunning designs offers a combination of professional aesthetics, user-friendly customization, responsive design, an integrated booking system, multimedia support, integration with hotel comparison tools, and SEO-friendly features.
Customizable Layouts
The HotelsCombined WordPress theme offers customizable layouts as one of its key features. With this theme, you have the flexibility to personalize the layout of your hotel website according to your preferences and branding. Customizable layouts allow you to create a unique design that reflects your hotel's identity and sets it apart from competitors. You can choose from different layout options, rearrange elements, and customize colors, fonts, and images to match your brand aesthetics. Customizable layouts help you maintain brand consistency throughout your website. Different sections of your hotel booking website may require distinct layouts to effectively present the content. With customizable layouts, you can optimize the arrangement of elements to highlight important information, such as room features, amenities, dining options, or special offers. A well-designed layout enhances the user experience by providing a clear and intuitive navigation flow. You can structure the layout to guide visitors through the website, making it easy for them to find the information they need and encouraging them to explore further. Customizable layouts are designed to be responsive, meaning they adapt and display properly across various devices and screen sizes. This ensures that your website looks great and functions well on desktop computers, tablets, and smartphones, offering a consistent experience to all users. By customizing the layout, you can optimize it for better conversion rates. You can strategically place call-to-action buttons, contact forms, and booking widgets to encourage visitors to take desired actions, such as making a reservation or contacting your hotel booking system. As your hotel evolves and your website needs change, customizable layouts provide the flexibility to easily update and modify the design. You can add new sections, reorganize content, or incorporate new features without needing to start from scratch.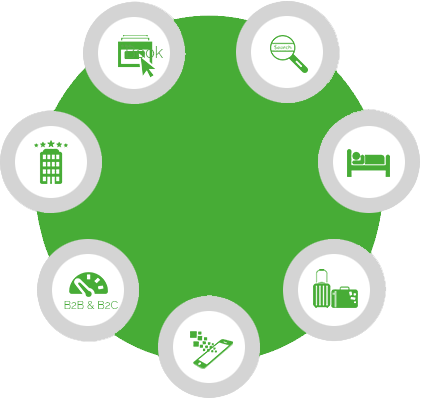 Designs with the HotelsCombined WordPress Theme
Responsive Design
In today's mobile-centric world, it's essential to have a wordpress travel website that looks great and functions well on all devices. The HotelsCombined theme is fully responsive, ensuring that your website will adapt seamlessly to different screen sizes and resolutions, providing an optimal user experience. With the increasing use of mobile devices to browse the internet, it's essential to provide a positive user experience on smaller screens. Responsive design ensures that your website is easy to navigate, read, and interact with on smartphones and tablets, resulting in a better user experience for your visitors. The responsive design caters to the growing number of mobile users. By providing a mobile-friendly experience, your website can attract and engage a larger audience, ultimately driving more traffic to your site. It also reduces the risk of visitors bouncing off your site due to a poor mobile experience. Responsive design allows your website to maintain a consistent look and feel across all devices. Your branding elements, such as logo, colors, and typography, remain intact, ensuring a cohesive brand experience for your users regardless of the device they are using. Developing separate websites or applications for different devices can be time-consuming and expensive. Responsive design eliminates the need for multiple versions of your website, reducing development and maintenance costs. You can focus on a single website that adapts to different devices, saving time and resources. Responsive design has a positive impact on search engine optimization (SEO). Search engines like Google prioritize mobile-friendly websites in their search results, as they aim to deliver the best user experience. A responsive design can improve your website's visibility in search engine rankings, leading to increased organic traffic. Responsive design ensures that your travel website development is ready for future technological advancements and new devices with varying screen sizes. As new devices are introduced, your website will be able to adapt to them without requiring major design changes or updates. Responsive design enhances the sharing and engagement of your website's content on social media platforms. Users can easily access and share your website's links across different devices, expanding your reach and potential audience.
Multimedia Support
To showcase your hotel's features and attract potential guests, the HotelsCombined theme supports multimedia elements such as image galleries and video backgrounds. You can create visually appealing presentations of your hotel's facilities, rooms, and surrounding attractions. Multimedia elements such as images, videos, and slideshows enhance the visual appeal of your website. They can showcase your hotel's amenities, rooms, dining options, and nearby attractions in a more engaging and captivating way, attracting the attention of your website visitors. Multimedia support enables you to tell a compelling story about your hotel. Through high-quality images and videos, you can create a narrative that highlights the unique features, ambiance and experiences your hotel offers, effectively capturing the interest and imagination of potential guests. With multimedia support, you can create virtual tours of your hotel, allowing visitors to explore your property remotely. This immersive experience gives potential guests a sense of what it would be like to stay at your hotel, increasing their confidence and likelihood of making a reservation. Multimedia elements can effectively demonstrate your hotel's facilities and travel technology services. For example, videos can showcase your fitness center, spa, conference rooms, or pool, giving potential guests a better understanding of the amenities available to them. Multimedia content tends to generate higher user engagement compared to text-only content. Visitors are more likely to spend time interacting with images, videos, and slideshows, resulting in longer website visits, increased brand exposure, and potentially higher conversion rates. Multimedia elements are highly shareable on social media platforms. Users are more inclined to share visually appealing content with their followers, extending the reach of your hotel's brand and potentially attracting new visitors to your website. Multimedia content has the power to evoke emotions and create a personal connection with your audience. By incorporating images and videos that resonate with your target market, you can establish an emotional bond, making your hotel more memorable and increasing the chances of repeat bookings. Multimedia content, when properly optimized, can contribute to better search engine optimization (SEO). Search engines consider the presence of images and videos as positive ranking factors. Additionally, multimedia elements can increase the time visitors spend on your website, which is another metric that search engines take into account when ranking websites.
Custom Widgets and Shortcodes
The theme offers a range of custom widgets and shortcodes that enable you to add interactive elements and functionality to your travel portal website. You can easily incorporate features like testimonials, social media feeds, contact forms, and more to enhance the overall user experience. Custom widgets and shortcodes allow you to extend the functionality of your website without writing custom code. You can easily add features such as testimonials, social media feeds, contact forms, reservation widgets, weather widgets, maps, and more to enhance the user experience and provide valuable information to your visitors. The custom widgets and shortcodes provided by the HotelsCombined theme are designed to seamlessly integrate with your website. They are specifically tailored to work well with the theme's design and functionality, ensuring a smooth and cohesive user experience. The custom widgets and shortcodes are highly customizable, allowing you to adjust their appearance and behavior to match your branding and travel website design. You can customize colors, fonts, styles, and other elements to create a cohesive and visually appealing website. Custom widgets and shortcodes save you time and resources by eliminating the need for custom development. Instead of building functionality from scratch, you can leverage the pre-built widgets and shortcodes provided by the theme, enabling you to focus on other aspects of your website. It gives you the flexibility to add functionality wherever you need it on your website. You can place widgets in sidebars, footers, or any widget-ready area, and you can use shortcodes to embed functionality within your content, providing a seamless integration of additional features. As part of the HotelsCombined theme, the custom widgets and shortcodes receive regular updates and support from the theme developers. This ensures compatibility with the latest WordPress versions and offers assistance in case of any issues or questions.
SEO-Friendly
The HotelsCombined theme is designed with search engine optimization (SEO) in mind, ensuring that your website ranks well in search engine results. This can drive organic traffic to your site and increase its visibility to potential guests. The theme follows best practices for clean and valid code structure, which is important for search engines to understand and index your website properly. Clean code enhances the website's overall performance, load speed, and accessibility, all of which contribute to better SEO rankings. The online booking wordpress theme incorporates responsive design, ensuring that your website is mobile-friendly. Since mobile optimization is a key factor in search engine algorithms, having a responsive website can positively impact your search rankings and improve visibility on mobile search results. Page load speed is an essential ranking factor for search engines. The HotelsCombined theme is designed to prioritize performance, minimizing unnecessary code and optimizing image sizes to ensure fast page loading times. This optimization can help improve your website's search rankings. The theme allows you to customize and optimize the URLs (permalinks) of your website's pages. You can include relevant keywords in the URLs, making them more search engine-friendly and increasing the chances of your pages ranking higher in search results. The theme integrates schema markup, which is a structured data markup language recognized by search engines. Schema markup provides additional context to search engines, helping them understand and display relevant information about your hotel, such as star ratings, reviews, and location details, in search results. The affiliate wordpress theme is compatible with popular SEO plugins such as Yoast SEO and All in One SEO Pack. These plugins offer additional tools and features to optimize your website's SEO, including meta tags, XML sitemaps, and social media integration, further enhancing your website's visibility in search results. The theme encourages the optimization of images and multimedia elements by automatically generating optimized versions of your media files. This optimization reduces file sizes without compromising quality, resulting in faster loading times and improved SEO performance.
Our Comprehensive List of Services
adivaha® is a one-stop-shop for all your travel website needs. We offer a multitude of services that empower you to become a market leader. Contact us for more info.
Have Questions?
The Internet is a huge resource, but
if your question requires particular expertise.
Keep Refreshing your customers - Who doesn't want his site to stand out from crowd? adivaha® gives you multiple options for home pages, headers, colors etc. Which can easily be managed from admin via shortcodes and settings. The theme supports almost all the big players in this market ie, WEGO, Travelpayouts, Agoda, Booking, Expedia etc.
Frequently Asked Questions
Below are some of the questions asked by visitors. Do visit our adivaha® Digest for more such questions. Don't hesitate to ask us if you have any questions