Build your own Travel Brand!
Ready to go-LIVE travel solutions that helps your travel agency to sell a range of travel services pretty instantly. adivaha® travel solutions make sure you have no boundation over your imagination, you can do everything online, without the need for any technical knowledge or design skills. Easy Backoffice, extensive reporting with integrated Funds Management System. Upload funds easily and instantly through Netbanking, Debit Card, Credit Card. The best part is, we do offer customizations in case you believe it will boost your business!
How to Create a Price Comparison Website with WordPress
Using WordPress to create a price comparison website has several benefits. It's easy to use, allowing you to set up and manage your website without technical expertise. You can personalize your site's appearance and features to suit your preferences. WordPress is cost-effective since it's free and offers affordable themes and plugins. It has a supportive community that can provide guidance and assistance. With WordPress, you can optimize your website for search engines, ensuring it's easily discoverable.
Choose a domain and Install WordPress
Your domain name is your website's unique address on the internet. It represents your brand and helps users easily find and remember your wordpress travel website. A well-chosen domain name can contribute to your website's visibility and credibility. Having your own domain gives your website a professional and authentic image. It allows you to create custom email addresses that align with your domain, which adds professionalism to your communications. WordPress is a popular and user-friendly content management system (CMS) that powers millions of websites. You can manage and update your website's content, themes, and plugins without requiring technical knowledge as it provides an intuitive interface. WordPress offers a wide range of themes and plugins that allow you to customize the design and functionality of your website. You can choose a theme that suits your price comparison website's needs and install plugins to add features such as price comparison, search functionality, and affiliate api integration. WordPress has a large and active community of users and developers who contribute to its development and provide support. This means you can find resources, tutorials, and forums to help you with any issues or customization needs you may have.
Select a suitable theme and Install a price comparison plugin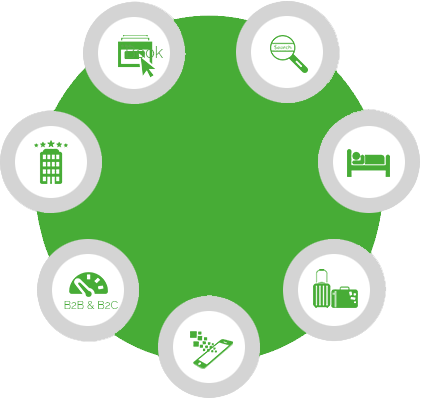 Create Price Comparison Website WordPress
A suitable theme provides the visual design and layout for your price comparison website. It allows you to create an appealing and user-friendly interface that engages visitors and encourages them to explore and use your site. A well-designed theme enhances the user experience and makes it easier for users to navigate, search for products, and compare prices. Themes often offer customization options that allow you to personalize the look and feel of your wordpress booking website. To match your branding and create a unique website that stands out from competitors you can customize colors, fonts, layouts, and other elements. Choosing a theme specifically designed for price comparison websites or one that supports price comparison plugins ensures seamless integration and functionality. These themes often have built-in features and templates that are optimized for displaying product listings, search results, and comparison tables, making it easier to showcase prices and relevant information. Price comparison plugins add the core functionality to your website, enabling you to import and display product data, compare prices from different sources, and integrate affiliate links. These plugins typically provide search filters, sorting options, and other features that enhance the user experience and help visitors find the best deals. Many price comparison websites earn revenue through affiliate marketing by including affiliate links to products. Price comparison plugins often have built-in features for managing and tracking affiliate links, making it easier to monetize your website and earn commissions from sales generated through your best wordpress websites.
Configure the plugin and Customize your website
Configuring the plugin allows you to set up and fine-tune its functionality according to your specific requirements. By specifying the affiliate networks you want to work with and configuring data feeds, you ensure that your website can fetch and display accurate and relevant product information from multiple sources. This helps provide comprehensive price comparisons and enhances the usefulness of your travel website templates. Customizing search options and filters enable users to find products more efficiently. By setting up parameters such as categories, brands, and price ranges, you enable users to narrow down their search and discover the best deals based on their preferences. This enhances user experience and helps users quickly find the products they are looking for. Customizing the design of your website ensures that it aligns with your branding and provides a visually appealing experience to visitors. By modifying colors, fonts, layouts, and other design elements, you can create a unique and attractive website that reflects your brand identity and engages users. A visually appealing website enhances user trust, encourages exploration, and helps establish a professional image. Configuring navigation menus and search bars makes it easier for users to navigate your wordpress website themes. By strategically placing a search bar and creating clear navigation menus, users can quickly find relevant product categories, search results, and other important pages. A user-friendly navigation system improves the overall user experience and reduces bounce rates. Customizing the content on your website, such as product descriptions, reviews, and comparison articles, allows you to provide valuable information to your users. By creating compelling and informative content, you can engage users, build trust, and position your website as a reliable source for price comparison and product information. This can ultimately drive more traffic and increase user engagement.
Optimize search functionality and Enhance user experience
By optimizing the search functionality, you make it easier for users to find the products they are looking for. Implement features like autocomplete suggestions, filters, and sorting options to help users refine their search criteria and quickly find relevant results. A user-friendly and efficient search system enhances usability and encourages users to stay on your site. Fine-tuning the search functionality ensures that users receive accurate and relevant results when they search for products. Implement algorithms or wordpress travel plugins that prioritize the most up-to-date prices and display products from reliable sources. This ensures users get the latest information and increases their trust in your website. Provide advanced filtering options that allow users to narrow down their search based on various criteria such as price range, brand, features, customer ratings, and more. This empowers users to find products that meet their specific requirements and preferences, resulting in a more personalized and satisfying user experience. Presenting product information in clear and easy-to-read comparison tables allows users to quickly assess different options. Include key details such as prices, features, ratings, and availability, enabling users to make informed decisions. Ensure the tables are responsive and optimized for different screen sizes to accommodate mobile users. With the increasing use of mobile devices, it is essential to optimize your price comparison website for mobile responsiveness. Ensure that the website layout, search functionality, and product listings are easily accessible and visually appealing on mobile devices. A mobile-friendly white label website improves the user experience and attracts a broader audience. Streamline the navigation of your website to ensure users can easily browse through categories, search results, and comparison pages. Use clear labels and logical hierarchies to guide users to the information they need. Implement breadcrumb navigation or a persistent menu to help users understand their location within your website.
Monitor and maintain
Regularly update product data, check for broken links, and monitor user feedback to ensure your website remains functional and provides accurate and up-to-date information. Regular monitoring helps ensure that your website performs optimally and that all features and functionalities work as intended. It allows you to identify and address any issues or errors that may arise, such as broken links, slow page load times, or malfunctioning search filters. Maintaining a high-performing website improves the user experience and increases user satisfaction. Monitoring and maintaining your website helps ensure that the product data, prices, and availability displayed on your website are accurate and up to date. By regularly updating and validating the data from affiliate networks or data feeds, you can provide users with reliable and trustworthy information. This builds user trust and increases the credibility of your website. Monitoring user feedback and addressing user concerns or issues promptly demonstrates your commitment to providing a positive user experience. Regular maintenance helps you identify areas where user satisfaction can be improved, such as navigation, search functionality, or overall website usability. By making necessary improvements based on user feedback, you can enhance user satisfaction and loyalty. Regular maintenance includes updating plugins, wordpress themes, and the WordPress core to their latest versions. These updates often include security patches that help protect your website from vulnerabilities and potential security breaches. Additionally, staying compliant with legal requirements, such as data privacy regulations, ensures that your website operates within the law and protects user data. Regular monitoring and maintenance enable you to identify and address performance bottlenecks that can impact the speed and responsiveness of your website. By optimizing page load times, fixing broken links, and improving overall website performance, you create a smooth and efficient user experience. This not only benefits users but also positively impacts search engine rankings and user engagement.
Our Comprehensive List of Services
adivaha® is a one-stop-shop for all your travel website needs. We offer a multitude of services that empower you to become a market leader. Contact us for more info.
Have Questions?
The Internet is a huge resource, but
if your question requires particular expertise.
Keep Refreshing your customers - Who doesn't want his site to stand out from crowd? adivaha® gives you multiple options for home pages, headers, colors etc. Which can easily be managed from admin via shortcodes and settings. The theme supports almost all the big players in this market ie, WEGO, Travelpayouts, Agoda, Booking, Expedia etc.
Frequently Asked Questions
Below are some of the questions asked by visitors. Do visit our adivaha® Digest for more such questions. Don't hesitate to ask us if you have any questions